Writing an Abstract for Your Research Paper
Definition and Purpose of Abstracts
An abstract is a short summary of your (published or unpublished) research paper, usually about a paragraph (c. 6-7 sentences, 150-250 words) long. A well-written abstract serves multiple purposes:
an abstract lets readers get the gist or essence of your paper or article quickly, in order to decide whether to read the full paper;
an abstract prepares readers to follow the detailed information, analyses, and arguments in your full paper;
and, later, an abstract helps readers remember key points from your paper.
It's also worth remembering that search engines and bibliographic databases use abstracts, as well as the title, to identify key terms for indexing your published paper. So what you include in your abstract and in your title are crucial for helping other researchers find your paper or article.
If you are writing an abstract for a course paper, your professor may give you specific guidelines for what to include and how to organize your abstract. Similarly, academic journals often have specific requirements for abstracts. So in addition to following the advice on this page, you should be sure to look for and follow any guidelines from the course or journal you're writing for.
The Contents of an Abstract
Abstracts contain most of the following kinds of information in brief form. The body of your paper will, of course, develop and explain these ideas much more fully. As you will see in the samples below, the proportion of your abstract that you devote to each kind of information—and the sequence of that information—will vary, depending on the nature and genre of the paper that you are summarizing in your abstract. And in some cases, some of this information is implied, rather than stated explicitly. The Publication Manual of the American Psychological Association , which is widely used in the social sciences, gives specific guidelines for what to include in the abstract for different kinds of papers—for empirical studies, literature reviews or meta-analyses, theoretical papers, methodological papers, and case studies.
Here are the typical kinds of information found in most abstracts:
the context or background information for your research; the general topic under study; the specific topic of your research
the central questions or statement of the problem your research addresses
what's already known about this question, what previous research has done or shown
the main reason(s) , the exigency, the rationale , the goals for your research—Why is it important to address these questions? Are you, for example, examining a new topic? Why is that topic worth examining? Are you filling a gap in previous research? Applying new methods to take a fresh look at existing ideas or data? Resolving a dispute within the literature in your field? . . .
your research and/or analytical methods
your main findings , results , or arguments
the significance or implications of your findings or arguments.
Your abstract should be intelligible on its own, without a reader's having to read your entire paper. And in an abstract, you usually do not cite references—most of your abstract will describe what you have studied in your research and what you have found and what you argue in your paper. In the body of your paper, you will cite the specific literature that informs your research.
When to Write Your Abstract
Although you might be tempted to write your abstract first because it will appear as the very first part of your paper, it's a good idea to wait to write your abstract until after you've drafted your full paper, so that you know what you're summarizing.
What follows are some sample abstracts in published papers or articles, all written by faculty at UW-Madison who come from a variety of disciplines. We have annotated these samples to help you see the work that these authors are doing within their abstracts.
Choosing Verb Tenses within Your Abstract
The social science sample (Sample 1) below uses the present tense to describe general facts and interpretations that have been and are currently true, including the prevailing explanation for the social phenomenon under study. That abstract also uses the present tense to describe the methods, the findings, the arguments, and the implications of the findings from their new research study. The authors use the past tense to describe previous research.
The humanities sample (Sample 2) below uses the past tense to describe completed events in the past (the texts created in the pulp fiction industry in the 1970s and 80s) and uses the present tense to describe what is happening in those texts, to explain the significance or meaning of those texts, and to describe the arguments presented in the article.
The science samples (Samples 3 and 4) below use the past tense to describe what previous research studies have done and the research the authors have conducted, the methods they have followed, and what they have found. In their rationale or justification for their research (what remains to be done), they use the present tense. They also use the present tense to introduce their study (in Sample 3, "Here we report . . .") and to explain the significance of their study (In Sample 3, This reprogramming . . . "provides a scalable cell source for. . .").
Sample Abstract 1
From the social sciences.
Reporting new findings about the reasons for increasing economic homogamy among spouses
Gonalons-Pons, Pilar, and Christine R. Schwartz. "Trends in Economic Homogamy: Changes in Assortative Mating or the Division of Labor in Marriage?" Demography , vol. 54, no. 3, 2017, pp. 985-1005.
Sample Abstract 2
From the humanities.
Analyzing underground pulp fiction publications in Tanzania, this article makes an argument about the cultural significance of those publications
Emily Callaci. "Street Textuality: Socialism, Masculinity, and Urban Belonging in Tanzania's Pulp Fiction Publishing Industry, 1975-1985." Comparative Studies in Society and History , vol. 59, no. 1, 2017, pp. 183-210.
Sample Abstract/Summary 3
From the sciences.
Reporting a new method for reprogramming adult mouse fibroblasts into induced cardiac progenitor cells
Lalit, Pratik A., Max R. Salick, Daryl O. Nelson, Jayne M. Squirrell, Christina M. Shafer, Neel G. Patel, Imaan Saeed, Eric G. Schmuck, Yogananda S. Markandeya, Rachel Wong, Martin R. Lea, Kevin W. Eliceiri, Timothy A. Hacker, Wendy C. Crone, Michael Kyba, Daniel J. Garry, Ron Stewart, James A. Thomson, Karen M. Downs, Gary E. Lyons, and Timothy J. Kamp. "Lineage Reprogramming of Fibroblasts into Proliferative Induced Cardiac Progenitor Cells by Defined Factors." Cell Stem Cell , vol. 18, 2016, pp. 354-367.
Sample Abstract 4, a Structured Abstract
Reporting results about the effectiveness of antibiotic therapy in managing acute bacterial sinusitis, from a rigorously controlled study
Note: This journal requires authors to organize their abstract into four specific sections, with strict word limits. Because the headings for this structured abstract are self-explanatory, we have chosen not to add annotations to this sample abstract.
Wald, Ellen R., David Nash, and Jens Eickhoff. "Effectiveness of Amoxicillin/Clavulanate Potassium in the Treatment of Acute Bacterial Sinusitis in Children." Pediatrics , vol. 124, no. 1, 2009, pp. 9-15.
"OBJECTIVE: The role of antibiotic therapy in managing acute bacterial sinusitis (ABS) in children is controversial. The purpose of this study was to determine the effectiveness of high-dose amoxicillin/potassium clavulanate in the treatment of children diagnosed with ABS.
METHODS : This was a randomized, double-blind, placebo-controlled study. Children 1 to 10 years of age with a clinical presentation compatible with ABS were eligible for participation. Patients were stratified according to age (<6 or ≥6 years) and clinical severity and randomly assigned to receive either amoxicillin (90 mg/kg) with potassium clavulanate (6.4 mg/kg) or placebo. A symptom survey was performed on days 0, 1, 2, 3, 5, 7, 10, 20, and 30. Patients were examined on day 14. Children's conditions were rated as cured, improved, or failed according to scoring rules.
RESULTS: Two thousand one hundred thirty-five children with respiratory complaints were screened for enrollment; 139 (6.5%) had ABS. Fifty-eight patients were enrolled, and 56 were randomly assigned. The mean age was 6630 months. Fifty (89%) patients presented with persistent symptoms, and 6 (11%) presented with nonpersistent symptoms. In 24 (43%) children, the illness was classified as mild, whereas in the remaining 32 (57%) children it was severe. Of the 28 children who received the antibiotic, 14 (50%) were cured, 4 (14%) were improved, 4(14%) experienced treatment failure, and 6 (21%) withdrew. Of the 28children who received placebo, 4 (14%) were cured, 5 (18%) improved, and 19 (68%) experienced treatment failure. Children receiving the antibiotic were more likely to be cured (50% vs 14%) and less likely to have treatment failure (14% vs 68%) than children receiving the placebo.
CONCLUSIONS : ABS is a common complication of viral upper respiratory infections. Amoxicillin/potassium clavulanate results in significantly more cures and fewer failures than placebo, according to parental report of time to resolution." (9)
Some Excellent Advice about Writing Abstracts for Basic Science Research Papers, by Professor Adriano Aguzzi from the Institute of Neuropathology at the University of Zurich:
Academic and Professional Writing
This is an accordion element with a series of buttons that open and close related content panels.
Analysis Papers
Reading Poetry
A Short Guide to Close Reading for Literary Analysis
Using Literary Quotations
Play Reviews
Writing a Rhetorical Précis to Analyze Nonfiction Texts
Incorporating Interview Data
Grant Proposals
Planning and Writing a Grant Proposal: The Basics
Additional Resources for Grants and Proposal Writing
Job Materials and Application Essays
Writing Personal Statements for Ph.D. Programs
Before you begin: useful tips for writing your essay
Guided brainstorming exercises
Get more help with your essay
Frequently Asked Questions
Resume Writing Tips
CV Writing Tips
Cover Letters
Business Letters
Proposals and Dissertations
Resources for Proposal Writers
Resources for Dissertators
Research Papers
Planning and Writing Research Papers
Quoting and Paraphrasing
Writing Annotated Bibliographies
Creating Poster Presentations
Thank-You Notes
Advice for Students Writing Thank-You Notes to Donors
Reading for a Review
Critical Reviews
Writing a Review of Literature
Scientific Reports
Scientific Report Format
Sample Lab Assignment
Writing for the Web
Writing an Effective Blog Post
Writing for Social Media: A Guide for Academics
Magnum Proofreading Services
How to Write an Abstract Before You Have Obtained Your Results
Updated: Jul 5, 2021
When you need to produce an abstract for research that has not yet been carried out, you should write what is known as a descriptive abstract . In this type of abstract, you explain the background, purpose, and focus of your paper but not the results or conclusion.
Obviously, it is preferable to write the abstract for your research after you have obtained your results. While you might be under pressure to submit an abstract months before your research has been completed, it is still best to postpone writing your abstract until you have your results if this is at all possible. The advice given in this article is intended for authors who have no choice but to submit an abstract before they have their results.
Guidelines and Tips for Writing an Abstract without Results
When you need to write an abstract but haven't yet gathered your results, you can write a descriptive abstract . While these are typically used for papers written in the humanities and social sciences, you may adapt them to a scientific work if you have no other option — for example, if you need to submit an abstract eight months before your research is scheduled to be completed.
A typical descriptive abstract accomplishes three things — namely, it (1) provides background information about your study topic, (2) expresses the purpose of your study, and (3) explains what you will do to accomplish your study's purpose. Descriptive abstracts do not usually make any mention of a study's results. However, if a description of the results is a general requirement for your abstract, you can briefly state that you intend to express your results at a later time (after you have gathered your data).
This article will guide you through writing all three parts of a descriptive abstract for a scientific paper. Afterward, examples of full abstracts written in this style are provided.
1. Background: Give general information about your topic.
The background section of a descriptive abstract is longer than that of an informative abstract (which is the abstract style used in most scientific works). The background information provided in an informative abstract is often restricted to two sentences, one mentioning the study topic and the other introducing the general problem to be addressed. A further discussion of these kinds of abstracts can be found here . In a descriptive abstract, you can use two sentences for each of these purposes, which allows you to give more detailed background information.
The background section of an informative abstract might read as follows:
Body dissatisfaction has adverse effects on women of all ages. However, research suggests that women can apply self-compassion to reduce body dissatisfaction and create a positive body image instead. This paper aims to…
In this example, the author very quickly lets the reader know the overall topic of their paper (body dissatisfaction among women) and what avenue of this topic they will explore. They then immediately transition into discussing the purpose of their paper.
If the author had written a descriptive abstract instead, the background section might look like this:
Body dissatisfaction has adverse effects on women of all ages. It has been linked to low self-esteem, depression, social anxiety, and eating disorders. These problems can be made worse when a woman criticizes herself because of her body. Conversely, practicing self-compassion, which entails being warm towards oneself when recognizing one's failures or inadequacies, can reduce body dissatisfaction and help to create a positive body image. This paper aims to…
In this second example, the author uses an extra sentence to list some of the specific adverse effects of body dissatisfaction. The author also defines the key term of "self-compassion" to give non-experts of the subject a better understanding of the topic.
2. Purpose: Describe the general problem that your research aims to explore.
This part of a descriptive abstract is typically made up of a single sentence. Here, you should describe your purpose for conducting your research work. This sentence should be more specific than the preceding sentences, as it should describe the specific constructs that the study will investigate. Unlike the other parts of a descriptive abstract, the sentence describing the study's purpose should be the same as it would appear if you were writing an informative abstract.
This paper aims to explore sources of positive and negative body image by investigating whether the association between self-esteem and body image avoidance behaviors is mediated by self-compassion and appearance contingent self-worth.
This example was taken from an informative abstract but could just as well be included in a descriptive abstract.
3. Focus: Explain what you intend to do to solve the problem.
Normally, you would now describe what you did to accomplish your research goal. However, if you have not yet carried out your research, you have nothing to report. As such, you should instead explain what you intend to do to accomplish your goal. It is best to be specific regarding what tools you will use and what parameters you will measure.
In an informative abstract, the author could express the focus of their research as follows:
Using a multiple mediation model, we assessed the responses of 222 female participants who completed the Body Image Avoidance Questionnaire.
Here, the author quickly explains who the participants were, what the researchers measured, and what tool they used.
If you are writing a descriptive abstract because you do not yet have your results, then this part of your abstract will be different in two ways. First, you will have to leave out information that you do not have (e.g., the number of participants). Second, you cannot write this sentence in the past tense since you haven't done anything yet. If the example sentence above were part of a descriptive abstract, it might read as follows:
We will employ a multiple mediation model to assess the responses given by a group of females to the Body Image Avoidance Questionnaire.
Here, the author has not included the number of participants, and they have stated what they will do rather than what they have done.
Do not in any way express what you expect or hope to find.
If you were writing an informative abstract, the next step would be to describe your results. If you are writing a descriptive abstract instead, you might be tempted to describe what you expect or hope to find. However, this should be avoided, as it reflects a lack of scientific integrity and will be perceived as misleading if you do not obtain the expected results.
On this note, you must be very careful about how you express the purpose of your study. To clarify this, I will revisit a previous example.
The use of the word "whether" is crucial in this sentence, as it expresses doubt. That is, it indicates that you don't know what you will find. Therefore, no matter what results you obtain, this sentence cannot be considered misleading.
The following example includes a subtle change in wording, but it changes the implied meaning of the sentence:
This paper aims to explore sources of positive and negative body image by showing that the association between self-esteem and body image avoidance behaviors is mediated by self-compassion and appearance contingent self-worth.
"Investigating whether" has been changed to "showing that." Because of this change, the author is now claiming that they will obtain a certain result (i.e., that self-compassion and appearance contingent self-worth mediate the relationship in question). This statement will be considered misleading if either variable does not turn out to be a mediating factor.
Examples of Abstracts without Results
I will begin with an abstract from the field of English literature, where descriptive abstracts are common. Afterward, I will provide a second example that shows how you can adapt this style to an abstract written in a scientific field.
(1) Revolutions are considered as a way to replace a situation or system of government with a better one. (2) However, many writers have addressed the question of whether revolution really is the right way to improve people's lives or if it merely changes the faces of rulers or the names of governments. (3) George Orwell, who was considered an apolitical writer, is one of the writers who tackled this issue. (4) His novella Animal Farm is an allegorical story of some animals living on a farm who successfully revolt against their owner, only to create a dystopia in the end. (5) This paper aims to explore the nature of revolution throughout human history in general and how this phenomenon is treated by Orwell in his novella. (6) Specifically, we intend to use examples from Animal Farm to investigate whether we should consider revolution as an appropriate way to generate a true change in a political system and in the way people think.
The above abstract is a modified version of the abstract from "The Nature of Revolution on Animal Farm." It contains the three main parts that have been described in this article:
First, Sentences (1)-(4) provide background information for the present study. In sentence (1), the author makes a very broad statement about a widespread topic (i.e., revolutions). Sentence (2) describes the general problem that the paper addresses. The author then gets more specific in Sentences (3) and (4), mentioning a specific writer and a specific novella.
Second, the author states their purpose for writing the paper in Sentence (5), indicated by the introductory phrase "this paper aims to." Notice that the purpose stated in this sentence is quite general, though it is more specific than the problem described in Sentence (2).
Third, in Sentence (6), the author explains what particular question they intend to answer (i.e., "Should we consider revolution as an appropriate way to generate a true change in a political system?"), and they mention what tools they will use to do this (i.e., examples from Animal Farm ).
(1) The physical self has been considered one of the most important factors impacting global self-esteem. (2) Moreover, the physical self has recently become widely accepted as a multidimensional construct that contains several specific perceptions across various domains. (3) However, limited research has examined the physical self of athletes with physical disabilities, especially in Middle-Eastern countries. (4) Therefore, the purpose of this study is to explore the physical self-esteem and global self-esteem of wheelchair basketball players from Middle-Eastern countries. (5) Using the Physical Self-Description Questionnaire (PSDQ) as a measurement tool, this study aims to determine (i) whether there is a correlation between physical self-esteem and global self-esteem and (ii) which of the nine domains of the PSDQ (Health, Coordination, Activity, Body Fat, Sport Competence, Appearance, Strength, Flexibility, and Endurance) are correlated with physical self-esteem.
The above abstract is a modified version of the abstract of the article entitled "Physical self-esteem of wheelchair basketball players." It has the same three main parts as the first example:
First, Sentences (1)-(3) are devoted to providing the background of the study. Specifically, Sentences (1) and (2) describe the general topic that will be investigated, while Sentence (3) states the general problem that the author intends to explore.
Second, in Sentence (4), the author states the overall purpose of their study by explaining what aspect of the issue mentioned in Sentence (3) they will be tackling.
Third, Sentence (5) describes the specific questions that the study will address (i.e., "Is there a correlation between physical self-esteem and global self-esteem, and which of the nine domains of the PSDQ are correlated with physical self-esteem?"). It also lets the reader know what kind of data will be used to answer these questions (i.e., PDSQ scores). Notice that the authors do not state that they expect to find any correlations.
Generate accurate APA citations for free
The Scribbr Citation Generator will automatically create a flawless APA citation
Knowledge Base
APA Style 7th edition
How to write and format an APA abstract
APA Abstract (2020) | Formatting, Length, and Keywords
Published on November 6, 2020 by Raimo Streefkerk . Revised on January 3, 2022.
An APA abstract is a comprehensive summary of your paper in which you briefly address the research problem , hypotheses , methods , results , and implications of your research. It's placed on a separate page right after the title page and is usually no longer than 250 words.
Most professional papers that are submitted for publication require an abstract. Student papers typically don't need an abstract, unless instructed otherwise.
Table of contents
How to format the abstract, how to write an apa abstract, which keywords to use, frequently asked questions, apa abstract example.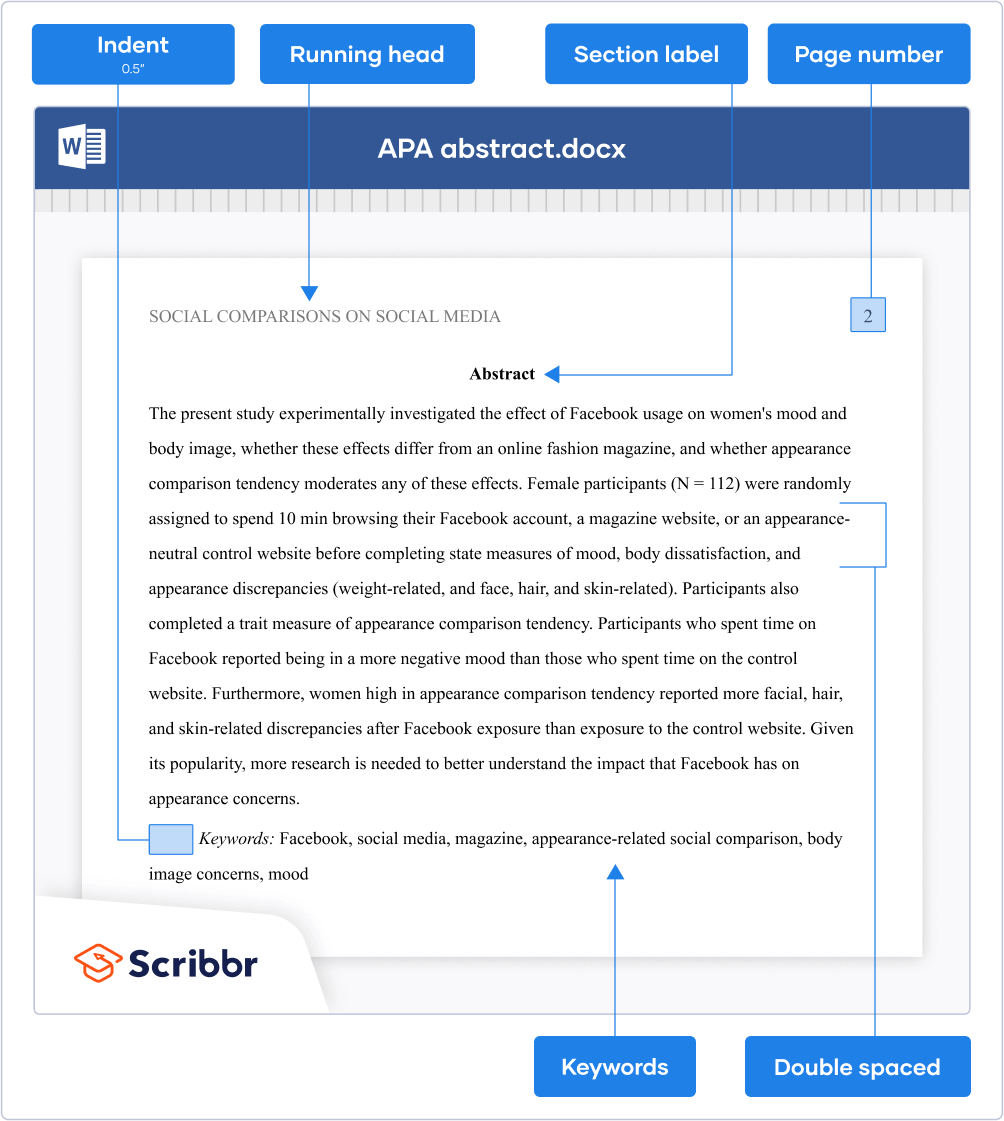 Formatting instructions
Follow these five steps to format your abstract in APA Style:
Insert a running head (for a professional paper—not needed for a student paper) and page number.
Set page margins to 1 inch (2.54 cm).
Write "Abstract" (bold and centered) at the top of the page.
Do not indent the first line.
Double-space the text.
Use a legible font like Times New Roman (12 pt.).
Limit the length to 250 words.
Indent the first line 0.5 inches.
Write the label "Keywords:" (italicized).
Write keywords in lowercase letters.
Separate keywords with commas.
Do not use a period after the keywords.
The abstract is a self-contained piece of text that informs the reader what your research is about. It's best to write the abstract after you're finished with the rest of your paper.
The questions below may help structure your abstract. Try answering them in one to three sentences each.
What is the problem? Outline the objective, research questions , and/or hypotheses .
What has been done? Explain your research methods .
What did you discover? Summarize the key findings and conclusions .
What do the findings mean? Summarize the discussion and recommendations .
Check out our guide on how to write an abstract for more guidance and an annotated example.
Guide: writing an abstract
Scribbr Citation Checker New
The AI-powered Citation Checker helps you avoid common mistakes such as:
Missing commas and periods
Incorrect usage of "et al."
Ampersands (&) in narrative citations
Missing reference entries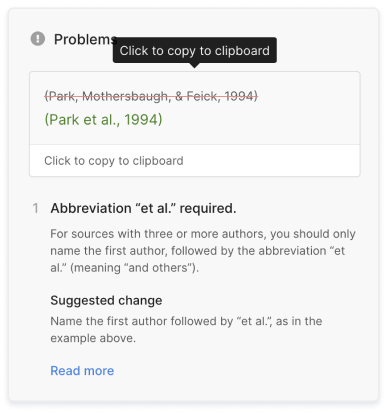 At the end of the abstract, you may include a few keywords that will be used for indexing if your paper is published on a database. Listing your keywords will help other researchers find your work.
Choosing relevant keywords is essential. Try to identify keywords that address your topic, method, or population. APA recommends including three to five keywords.
An abstract is a concise summary of an academic text (such as a journal article or dissertation ). It serves two main purposes:
To help potential readers determine the relevance of your paper for their own research.
To communicate your key findings to those who don't have time to read the whole paper.
Abstracts are often indexed along with keywords on academic databases, so they make your work more easily findable. Since the abstract is the first thing any reader sees, it's important that it clearly and accurately summarizes the contents of your paper.
An APA abstract is around 150–250 words long. However, always check your target journal's guidelines and don't exceed the specified word count.
In an APA Style paper , the abstract is placed on a separate page after the title page (page 2).
Avoid citing sources in your abstract . There are two reasons for this:
The abstract should focus on your original research, not on the work of others.
The abstract should be self-contained and fully understandable without reference to other sources.
There are some circumstances where you might need to mention other sources in an abstract: for example, if your research responds directly to another study or focuses on the work of a single theorist. In general, though, don't include citations unless absolutely necessary.
Cite this Scribbr article
If you want to cite this source, you can copy and paste the citation or click the "Cite this Scribbr article" button to automatically add the citation to our free Citation Generator.
Streefkerk, R. (2022, January 03). APA Abstract (2020) | Formatting, Length, and Keywords. Scribbr. Retrieved February 27, 2023, from https://www.scribbr.com/apa-style/apa-abstract/
Is this article helpful?
Raimo Streefkerk
Other students also liked, apa headings and subheadings, apa running head, apa title page (7th edition) | template for students & professionals, scribbr apa citation checker.
An innovative new tool that checks your APA citations with AI software. Say goodbye to inaccurate citations!