What Is Genius Hour and How Can You Use It? (350+ Genius Hour Ideas)
April 10, 2022
Teaching Kids
Genius Hour is a powerful tool that every educator should be implemented in their class.
How it works is very simple. Students decide on a project that they can work on independently or with other students during a specific time period in the classroom.
When we ask kids to think outside of the box, we must also allow them to be encouraged to do it in a way that suits their personality. This is where the genius hour comes into place.
The basic idea of genius hour is for students to choose a topic about which they want to learn, explore, and create something new.
Genius Hour allows kids to be creative and innovative. It allows them to learn more about things that interest them than what they were required to learn in class.
They can also use their creativity and skills in language arts, math and science during this time to research, develop questions, create projects and solve problems around the subject of their choice.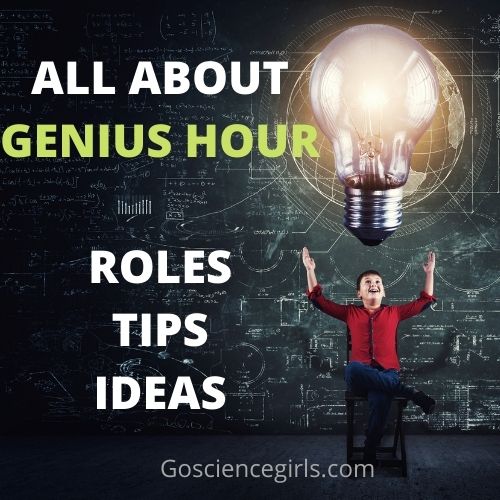 Purpose of Genius Hour
The main purpose of Genius Hour is to allow students to learn deeply through inquiry on topics they find interesting. This type of learning allows students to become invested in what they are wanting to learn about because it comes from within them.
In addition, the Genius hour also helps in,
Motivation and engagement – students will be engaged in their learning because they will be doing research on a topic that interests them.
Student choice and voice – students get to choose what they learn. They can go as broad or as narrow as they wish with the topic and decide how deep they want to research.
Creativity – this is time for kids to express themselves through writing, art, or video on a topic that is important to them.
Collaboration – during Genius Hour, students can come together and share their passions. This may lead to group projects, sharing of ideas, and brainstorming sessions.
Teacher collaboration – teachers can collaborate with each other within the same school or from different schools around the world. They can learn from each other's Genius Hour projects and share resources.
Steps to Include Genius Hour in Your Classroom
There are many ways to include genius hour into your classroom schedule. It can be a weekly hour-long activity, a daily 30-minute session, or even an entire class period once a month. Find what works best for your classroom.
Here are some steps that you can take to conduct a Genius Hour in your classroom:
Step 1: Introduce the Idea to the Class
Explain to your students what Genius Hour will be like and what you expect of them. I also made sure to talk about how Genius Hour is a time for them to learn about things they love, not just Google things they already know!
Make sure that students understand the purpose and value of Genius Hour.
Step 2: Brainstorm & Finalize the Topics with Students
Allow time for students to brainstorm ideas. Consider using a tool such as Peardeck or Socrative to help them narrow down their ideas to just one.
Have students do some sort of interest survey. I chose to have them fill out a short questionnaire on Google Forms.
This allowed me to sort their responses by interest, so I could easily tell which the most popular topics and which students were interested in the same things.
Break into groups with similar interests and research together.
I decided that each group would need a minimum of three students since they would be working together on their projects at the end of this phase as well.
You can also allow students to work independently without a group setting.
Have students decide on a final topic and start working on their project.
I think it's important for kids to pick their own topics because it makes them more invested in their own learning. (It's also important for teachers to make sure that the projects are feasible!)
Step 3: Create the Product / Complete the Project
Let your students Continue working on projects for the next several weeks during Genius Hour time (which can be once or twice a week – 30 mins or 1 Hour).
Give students time, space and materials to work on their projects.
Students can work individually or in small teams depending on the type of project they are doing.
Provide support and guidance as needed throughout the process.
Check-in with students regularly to help them stay on track and answer any questions they may have along the way.
Step 4: Assessment / Share the Project Outcome or Product Created
Allow students to choose how they want to share their learning.
Students should share their learnings with the class in some way — whether that be a formal presentation or an informal chat with classmates about what they learned during the process.
The outcome should be measured in terms of the learning that the student has achieved not by any other means.
Ideally, the whole exercise should help them develop interests that are personal and meaningful to them. Nothing else matters.
Why is it important to let kids come up with their own ideas?
Allowing kids to choose their topic allows a new dimension of learning. For example, it would be difficult for me as an adult to learn about the solar system because I know so much about it already.
But if I had been interested in that topic as a child, and if my parents or teachers had helped me expand on that interest and create learning opportunities, I might still find that topic interesting now and have learned even more than I did in school.
In addition, they are more likely to complete the project. If kids choose the project, they are going to work on during Genius Hour, they will be far more excited about it than if an adult chooses it for them.
This is important; without completion, students miss out on the chance to publish their work and share it with others who might be interested as well!
Role of a Teacher
The role of a teacher in Genius Hour includes the following:
Be a Facilitator
The role of a teacher in Genius Hour is to create an environment that allows students to discover their interests and ability, and also to provide great feedback on work that has been produced.
Transfer ownership to students while helping them maintain the course and stay on task. Because it is so important for our students to feel empowered in their learning.
It means taking risks in their learning and exploring topics that are of interest to them.
It also means that they need to be able to self-assess and revise their work based on where they think they should be going with it rather than where I think they should be going with it.
Be a Guide / Coach
Teach Students How to Research.
When students are working on their projects, as a teacher you can be there to guide them through each step and make sure they are staying on track with their work.
Teachers should be extremely approachable, and willing to listen and respond to students' ideas and questions.
Teachers should also share what they know about their subjects in order to help students develop those interests.
You can also have many discussions with each student and assess learning by looking at student work samples or discussing student thinking and learning along the way.
Provide students with the tools, books, websites, apps, people and spaces that they need to be successful.
Manage Time / Be Accountable
It is the teachers' responsibility to be a gatekeeper of time and be accountable for the outcome.
Work with each student so that they complete the whole process in time and be able to present it back to the class.
Create and maintain an environment of trust and respect.
It is ok to watch what they are doing and provide feedback occasionally. However, ensure that the students stay on track with the chosen topic.
Make sure the students reflect on their learning process.
Role of a Student in Genius Hour
It is important for students to understand the role they play in Genius Hour. They will be asked to take on different roles as the learning process moves along. There are three main roles that students can play during Genius Hour:
The Leader/Manager/Producer
The student(s) who will be responsible for organizing and managing the project from beginning to end. This role may change as the project progresses.
The leader might also have a hand at making, but this person must have a vision or goal for the group.
The Designer
The person who designs the finished product of the project. This could be someone who makes something that is tangible, like building a model or designing an app. Or it could be someone who organizes an event and works out all of the details to get it set up and implemented.
This person needs to have good ideas, creative thinking skills and problem-solving skills.
The Researcher
The student on the team researches information and data related to the topic or issue being explored by the team.
This person needs to be a critical thinker and good with technology so that he or she can research topics thoroughly and evaluate sources for accuracy and bias.
Genius Hour Ideas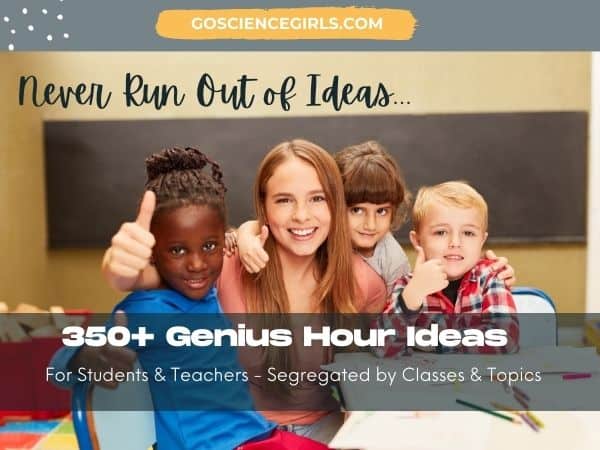 Genius Hour Ideas (Gradewise)
If you are a student/teacher from Grade 1-10, and you are looking for some interesting ways to spend your Genius Hour, here is a list of ideas that you can use.
Genius Hour Ideas for Elementary
Kindergarten/First
How to do … (anything!)
Birds in Georgia
My family tree
How to take care of a pet
What I want to learn about this year
Animals in the wild
How to plant a garden
Favourite book characters
Writing letters to family members or friends (or video chat)
Favourite books or authors
How letters make words and words make sentences
How to make paper planes
How to make a kite
How to make cupcakes
How to draw a rose
How to draw a bicycle
Birds of North America
Learn – Why are tornadoes so destructive
Take a good photograph
Explore stars
How to bind a book
How to make paint
How to make ink
Make a playdough
Learn about volcanos
Learn about turtles
Sew a dress for a doll
Make Jewelry
Knit a sweater
Write a chapter book
Learn the causes that make the days get longer and shorter
Learn how the heart pumps blood across the body
Learn to knit
Learn to crochet
How to solve Rubix cube
Learn to set up a garden and grow plants
Make homemade slime
Research a historical place or event
Explore an animal's habitat.
How the world is rotating and why we don't feel it
What makes birds fly
From where do butterflies get their colours
Make a photo collage book.
Ways to help endangered animals
How to make natural compost
Genius Hour Ideas for Middle School
Learn how the moon affects the Earth
Conduct a science experiment
Understand the effect seasons have on our planet
How to create a map
Learn how to do Origami
Do a community service
Use natural colours to dye clothes
Create your own toy
Read and discuss World Wars
Become a magician
Learn to do ice skating
Contribute to environmental protection
Learn to become a Lego master builder
Enquire – how are dreams made
Learn to create a PowerPoint presentation
Create a lesson plan
Create a new course (for your favourite hobby like sewing, knitting, etc.)
Learn to do a puppet show
Create a new recipe
Make a website for the class website.
Write a short story
Write a skit
Write a speech
Study about Carnivorous plants
How pollination helps
Disassemble and assemble a mechanical device
Code a computer game
Learn to create a website or blog
Learn about the reasons some animals are extinct
Teach someone how a thermos work
What role does science play in music, sport or another hobby?
History of NFL
Science behind golf
Global Warming
Find a solution to reduce the litter in your school permanently
Learn how does the brain work
Different foods from different parts of the world
Learn to play the guitar
Design a book cover
Start a school club
How glasses are made
Create a movie trailer with PowerPoint
Learn to dance
Create new cartoon characters
Do a renewable energy project
Find new ways for energy conservation
Run a charity event (concert, run, walk, drive, etc.)
Learn and teach a coding lesson
Explore and explain how a phenomenon works (electricity, cyclone, volcano, solar energy, etc.)
Conduct a virtual field trip
Build a remote car
Create a basic electronic circuit
Research future career ideas
Research how to make something
Learn a new language
Learn to do Yoga
Develop a science group for middle school
Write a song
Learn to skateboard
Discover effective ways to lose weight
Conduct a social experiment
Make a short movie
Create a…. out for recyclables
Discover ways to balance my budget
Learn about the causes and preventions of cancer
Make people aware of global warming
learn how to create an app
Benefits of Electric cars
How is Plastic made
How Aerodynamics affect football game
Learn to create a video game
Create a campaign to reduce bullying in my school
How clothes are made
Write a book
Explore the need for sleep
Why seat belts are important
Discuss the future of schools
Why bees die after they sting
Write a poem
Create and run an online newspaper for your school
Write a script
Run a fundraising project
Create a Claymation video
Create a concert video
Make a YouTube video
Interview a famous personality
Create a manifesto for your school club
Design a pamphlet for your school event
Photography exhibition
How to recycle…
How to remove plastic from the sea
Make a stop-motion movie
Make people aware of the dangers of smoking
Explore how the mind works
Create a wellness plan
design a textbook that is exciting
Learn to become a professional sportsperson
What exactly happens when a bone heals after being broken?
Build a sustainable garden that provides ingredients to reduce our food expenses
Create your own board game
Explore the theories behind the origin of the world
Learn how stock markets work
Make a musical out of a storybook
Create a google break-out room
Research whether different colours change the opinions/moods
Invent a language
Create a new sport or game
How to prevent animal abuse
Animal Shelter
How to design accessible building plans
Study and Understand Cancer
Study on Homeless People
Ways to prevent Alzheimer's
Genius Hour Ideas for High School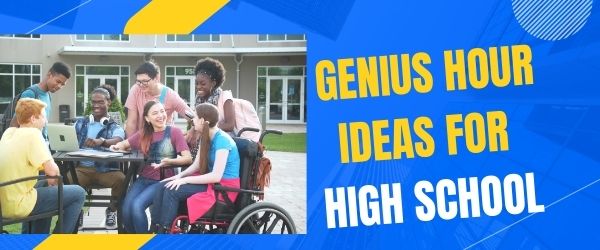 Study fashion and start a YouTube channel
Learn sign language
Lean on the impact of technology on human life
Explore the concepts behind black holes formation
Create an art
Explore Self Driving Cars
Write a script for a short film
Dive into photography and become an IG influencer
Create your own invention
Are vaccines safe?
Understand the importance of DNA
Learn to understand Virtual Reality
How to resolve Video Game Addiction
Conduct an event in school
Discover solutions for the world's biggest problems like poverty, pollution, etc.
Study climate change and start a student-driven nonprofit
Learn how to make sourdough bread and start a small bakery business
Explore video game design
Start your own Podcast
Learn how to build furniture
Learn to do Vlog
Plan and create a 3D printing structure
Watch / Plan for a Ted Talk
Learn to become an author
Learn to become a master chef
What are the challenges in travelling to mars?
Create a new product
Design a store along with business plan
Create your own robot
Research on how to start a business
Draw an original cartoon about what you like to do at school or what you're proud of doing in your life.
Learn to fill out applications and apply for an interview
Genius Hour Ideas Based on Subject
Math genius hour ideas.
Math is a difficult subject for many people, so it can be difficult to find genius hour idea for math. These are some of the best math-based projects that people have worked on during their Genius Hour.
Write a math poem
Create a math puzzle
Write a math joke or limerick
Create a math magic trick
Create a math invention
Create an artwork based on the Fibonacci Sequence or Golden Ratio
Share the history of your favourite mathematical theory and/or mathematician.
The Golden Ratio: Build sculptures using this ratio in nature and art.
Design a math-themed T-shirt (and sell it)
Make a math video game
Explain how your use of a specific mathematical concept has changed your life.
Demonstrate how to apply a mathematical concept to a real-world problem.
Explain how you would teach someone else how to use this mathematical concept or idea to solve a problem.
Explore the history of pi
Explore the history of zero
Learn – How to draw a circle without using a protractor
Learn – How to find the area of a triangle without using a formula
Find ways to use math in your daily life
Write your own math textbook
Learn about the history of numbers and counting systems
Write a children's book about mathematics
Create an app that teaches people about math concepts or helps them solve math problems
Calculate the probability of winning your favourite lottery game with different combinations of numbers
Create a colour-by-number picture using fractions as the colours
Animal Genius Hour Ideas
Below are some possible animal genius hour ideas that students have actually completed or have been requested by students in our classroom.
Research animal communication and create your own way that animals communicate.
Create a new animal species
Create a nature journal showing how plants and animals in your area change over the seasons.
Learn – How to train a dog
Make a bird feeder and observe the birds that come to it.
Make a list of all the animals that live in your area and find out about them (habitat, eating habits, etc).
Observe the insects that live in your neighbourhood and draw a picture of them.
Find out about bats and how they are important to our ecosystem.
Find out about endangered species in your state or country and explain why they are endangered. What can be done to protect them?
Find out about different types of dogs and their purposes – how do they help humans?
Learn about horses and how they were important to people in the past (and now). What breeds are there? What are they used for?
Learn more about sharks – what type is the biggest? The smallest? The most dangerous? How many species are there? How do they eat? Do they have babies or lay eggs? Are some species endangered?
Learn more about penguins – where do they live? What do they eat? Why can't they
Learn – Why do birds migrate?
How does a bird fly? How does a bat fly?
Why are some animals nocturnal and others are not? What makes an animal nocturnal?
Create a poster on endangered animals
Spend time helping at an animal shelter
Create a poster on different species of whales
Research animal adaptations
Make an informational video on cats and dogs
Write a persuasive essay on why people should adopt pets instead of buying them.
How does the food chain work?
Which animals belong to which classifications: kingdom, phylum, class, order, family, genus, species.
Do animals like music?
Baking genius hour ideas
This list of baking genius hour ideas is meant to inspire and ignite your passion for baking. I hope that these ideas help you get started on your personal project.
Learn how to make a vegan cake and share the recipe
Learn how to make a gluten-free cake and share the recipe
Learn about icing types and write a blog post about it
Learn about meringue and write a blog post about it
Learn how to use fondant and write a blog post about it
Learn how to decorate cakes with fondant
How to make rainbow cakes
How to make a birthday cake
Making pie crust and decorating pies
How to make hamburger cupcakes and nacho cupcakes
How to make cake pops
How to make flowers for a cake and write on a cake
Learn How to Create Cake Pops
Genius Hour Ideas about Food
I really like food. I know other people who like food as well. So, I thought it might be fun to have a Genius Hour about food.
Maybe we could try baking something new or making a recipe that we've never done before. Or maybe, we could look at different types of foods and talk about what people like about them and why they do or don't like them.
Create and share recipes that worked for you.
Create your own recipe book – cookbook.
Share your cookie recipe with the class, friends, and family members.
Improve existing recipes (i.e. substituting ingredients)
Teach others how to bake certain recipes
How to make homemade ice cream
Here are some things you can research:
Why do people love junk food? How can you make junk food healthier?
What makes fast food so unhealthy? What can you do to make fast food healthier?
What are the health benefits of eating different foods?
What is the most nutritious snack?
Why is it important to eat healthily?
What are some good snacks to have in the classroom?
How much sugar is in popular beverages?
What is your favourite fruit? Why do you like it?
What are some good things to eat during lunchtime at school?
How can we encourage our classmates to choose healthy foods over junk food?
Are there any healthy foods that taste bad that we could make taste better? How would we make them better? Can we make them healthier at the same time?
Which foods are the healthiest for growing brains and bodies and why?
Find healthier alternatives for some of your favourite high-calorie foods, like swapping full-fat cheese for low-fat cheese, or grilling rather than frying
The history of your favourite type of cuisine. Where did it come from? How did it spread around the world? What different types exist today?
Baseball genius hour ideas
The Science of Bat Speed
The Science of Pitch Velocity
How to Best Use Video Analysis to Improve your Swing
How to take care of baseball equipment/clean it/what is the best way?
What is the history of baseball in America? (video making)
How to teach the best baseball swing
How has technology changed the game? (radar guns, cameras, etc.)
The history of baseball in Japan, Cuba, and other countries.
The history of your favourite team.
What is the most important statistic in measuring a pitcher's success?
Chemistry Genius Hour Ideas
A lot of chemistry teachers are doing genius hour projects in their classes. This is a great way to get students thinking about chemistry and applying what they know and what they want to learn about chemistry.
The following are ideas for Genius Hour Projects in Chemistry:
How does the concentration of a solution affect its freezing point?
What is the ideal ratio for homemade slime?
What is the ideal ratio for homemade silly putty?
How does the concentration of vinegar affect how long it takes to dissolve an eggshell?
Does the amount of sugar added to lemonade affect its taste?
Does the amount of sugar added to lemonade affect its resistance to spoilage?
How does heating or cooling effect soda pop?
Can you make candy at home? How much sugar, corn syrup and water do you need? What temperature should the mixture be heated to?
Make a chemical volcano and explain what happens with different types of acid and bases.
Explain how to make fireworks and explain the science behind them.
Explain how dyes work on fabric/paper and then test different chemical compounds to see if they will dye fabric/paper.
Explain how soap works and then test different chemical compounds to see if they can clean something dirty (dish soap, shampoo, hand soap, etc.).
Make slime, silly putty, or jello with things from home using chemicals that you can find at home ( baking soda and vinegar).
What is the science of making a cake?
What is the chemistry of soap making?
What are the chemical reactions that occur when you cook food?
Hacking photosynthesis
Creating a battery out of fruits and veggies
Making a solar oven to cook with the energy of the sun
Measuring the pH levels of your favourite drink
Designing a new way to filter water
How to make glue from milk
How to make plastic from milk
How to make butter from cream
What are different types of plastic, and how is each one made? Can they be recycled into new products?
How Does a Battery Work?
DIY genius hour ideas
Check out this list of DIY Genius Hour ideas that could serve as a springboard for your next project:
How to make a compass
How to make a water filter
How to build a wind turbine
How to make a solar oven
How to build a solar cell
How to draw a map
How to build an app
How to create a game
Create with a 3D printer
Build a drone that can fly for 10 minutes and take pictures.
Build a robot
Figure out how to make a machine that can sort your laundry.
Design a braille typewriter.
Create a better way to clean up after your dog (or cat, or bird, etc.).
Make it easier to find your keys.
Make it easier to park when there is a lot of traffic.
Make it so you don't need keys to get into your house or car.
Come up with an easier way to charge all of your devices at once.
Create a machine that can sort M&Ms by colour.
Invent something that makes it easier for people with disabilities to do everyday tasks.
Leave a Reply Cancel Reply
Your email address will not be published. Required fields are marked *
Name *
Email *
Add Comment
Save my name, email, and website in this browser for the next time I comment.
Post Comment
What is Genius Hour?
Genius Hour Teacher Resources
Genius Hour Journal
Making Time for Genius Hour
Approaching Your Administration About Genius Hour
Genius Hour Project Introductions
Setting Genius Hour Expectations
Genius Hour #edcampwaller Video Presentation
Book Recommendations
Genius Hour Webinar
Comprehensive Genius Hour Course
Getting Started with Genius Hour – A Free Webinar
Want to start Genius Hour in your classroom but not sure where and how to begin? Already started Genius Hour and need a bit more guidance?
Join us for a FREE Webinar about Genius Hour. You can sign up here:
Getting Started with Genius Hour Webinar
And even if you can't make the live webinar, we'll be able to send you the replay.
FREE Course: The Complete Guide to Genius Hour and 20% Time in the Classroom
It's been almost a full three years since I told my students they would have 20% of their class time to work on whatever project they were inspired to create. Since then I've learned so much from my students and our amazing community of 20% time and Genius Hour teachers. I have tried to share this journey, the ups and downs, through blog posts, video interviews, a 20% time MOOC, and most recently my book, Inquiry and Innovation in the Classroom .
Now, as I begin moving forward into other projects and seasons of new work, I want to make sure that any teacher looking to start 20% time or Genius Hour with their students have a completely FREE resource they can dig into and get the nuts and bolts of how to make it happen.
The Course: The Complete Guide to 20% Time (and Genius Hour) in the Classroom
When you sign up for this free email course you'll receive the following:
4 learning modules
Video interviews and examples
Research and resources to support this work
Parent letters, rubrics, and timelines to help the process
Sign-Up For the Free Course Here
Module 1: Why 20% Time?
3 Videos on the need for 20% time and Genius Hour
4 articles on the research behind inquiry-based learning
A guide to explaining 20% time and Genius Hour to teachers and parents
Module 2: How to Get Started
2 Videos on the step-by-step process for starting the project
5 articles on how to begin and move your class forward
3 resources and handouts for your class
Module 3: Navigating the Project's Ups and Downs
3 Videos on Motivation and Facilitating Successful Projects
3 Articles on passion, purpose, and what to do when Genius Hour Fails…
3 Resources on conducting research, the CRAAP test, and giving feedback
Module 4: Final Presentations, Grading, and Reflections
3 Videos on final presentation possibilities and assessing these projects
2 Articles on reflections at the end of the project
3 Resources for continuing the learning and grading
A few summers ago we had an awesome group of educators come together for the 20% Time MOOC. It was a summer filled with learning all about "why" we need this type of learning in our schools, "how" to get started with your class, and "what" to do during the project and after the project. The MOOC taught me a lot and brought our community together in some amazing ways. Afterwards a number of teachers asked if we could have something that was specific about 20% Time and Genius Hour. That's when I began writing my book on the subject. I believe this course will be an awesome resource for any teacher interested in getting started or learning more. I also hope it is a resource we can point to time and time again as a step-by-step way to implement 20% Time and Genius Hour in the classroom. Check out the course for free when you sign-up for my newsletter to get even more innovative resources for the classroom.
Sign-Up For the Free Course Here 
Time Window designed by iconsmind.com from the Noun Project
Genius Hour Projects: Start with a Feasibility Study
One of the most common questions I get with a Genius Hour/ 20% Time project is: "Where do you start? While I could go into brainstorming ideas, collecting and connecting methods, or even proposal guidelines, I want to start off with a story to illustrate what a "feasibility study" is and why it may save you time and your sanity.
Two years ago I had a student in my innovation class that loved sports. She was a gifted athlete that was offered several different scholarship opportunities for volleyball. However her brother had Down Syndrome, and she felt that his opportunities to play sports were limited. So after some brainstorming (and watching a "Real Sports" episode on HBO about the Miracle League) she proposed to start a baseball/softball league for special needs athletes.
She did all the things each student was required to do- find collaborators/ mentors to help her, draft up a proposal, create a calendar of accomplishable goals, etc. The proposal looked great because the mentors were top-notch, and her goals seemed in line with her task. Nothing seemed out of place… until she got started.
Three months of somber meetings and survey's led to more reasons why starting this "league" was nearly impossible for one student to accomplish. She had no idea about the "red tape" that is associated in starting non-profits. She knew nothing of liability insurance, finding board members, or seeking out volunteers.
So, after months of dead ends, and feeling totally defeated, she figured that maybe she should just host one game, then talk with the parents, and see if it was worth pursuing.
In the end, she learned that the parents really didn't want to volunteer, mostly because they wanted to be a spectator for once. They were, in general, tired and wanted the joy of watching their child play rather than work an event. She also learned that getting past the "legal stuff" was an enormous task.
In her reflection that she turned into me she mentioned that it would have been better if she had asked more questions in the beginning. This led me toward "The Feasibility Study," which according to Wikipedia is: "an evaluation and analysis of the potential of a proposed project which is based on extensive investigation and research to support the process of decision making." 
So, had she done this at the beginning of the project, she would have saved weeks, if not months. This would have been a one week study of talking to the parents, mentors, and school administrators to discuss the odds of this project ever getting off the ground.  When she started off she never asked her mentors about the obstacles that were going to creep up. Had they been asked "what am I really up against?" the mentors probably would've been honest. Instead they probably didn't want to crush the her spirit, so they just brought up the obstacles in smaller bits.
I read "Think Like a Freak," by Steven Levitt and Stephen Dubner, and they wrote about something similar- the Premortem.  Most people know about a "postmortem examination," (also know as the autopsy) which is a look at why something died, or failed to survive. But here is how Stephen Dubner explains the premortem:
"The idea is simple… it tries to find out what might go wrong before it's too late . You gather up everyone connected with a project and have them imagine that it launched and failed miserably. Now each write own the exact reasons for its failure."
So learning from the past (and from the good guy at Freakonomics), I now start every large project with a "Premortem," usually in a group setting. We place post-it notes to the wall for every conceivable idea on why any large project will fail. Then the smaller groups take the proposal to the mentors, but instead of asking them to help, they ask them for candor. "Can this work?" or "Can you come up with three reasons why I shouldn't start this project" are now common questions for the mentors.
So I admit a feasibility study might "scare the creativity out of them" or cause "analysis paralysis," I believe it is worth the time and effort to do a feasibility study. Believe is or not, knowing when to quit is a valuable skill. We just took a field trip to the Silicon Valley area this fall and heard this from several developers at Google, Facebook, and Voxer when we visited their headquarters. In fact the smaller start-up Invoice2Go CEO told us that trial and error learning happens fast. Trying to stick with an idea that is bound to fail is pointless. Basically what my students heard was: "Fail fast and fail often. Get the data, then get it right."
"Fail early and often" at Invoice2Go
Learning from the development team at Facebook
Learning about workspaces at Google
Earlier this year I had a group that wanted to start an ASL (American Sign Language) class. They felt that our school should offer ASL class in the foreign language department, and there was a need/ demand for the class. They wrote up a proposal, found two good mentors, and had reasonable goals. What they didn't realize is that they have NO say over the school budget. They never thought about who was going to hire a teacher for a class that didn't exist yet. After one day of the feasibility study (they met with the Principal), the team learned that they had to demonstrate demand. They hadn't thought about the potential of "replacing" a teacher that taught a less popular class, let alone the money it would take to hire a new teacher. Then they learned about the curriculum costs, scheduling tasks, etc.
So after the study they took all the data and re-focused their project: start an ASL  CLUB . A club could be student-led, would be virtually free to offer, and most importantly, would show a demand in student interest if they would want to still pursue it as a class offering.
I wrote a book titled "Pure Genius: Building a Culture of Collaboration and Taking 20% Time to the Next Level" because these types of learning experiences has changed the way I feel about education. I am more inspired by my students everyday by providing them some freedom and creating a culture that encourages collaboration and a willingness to take risks. I also wanted to ease the fears of students embracing social media as a means of showcasing work and finding great mentors.
If you have any questions about our unique class, or want to learn more about Genius Hour, I encourage you to connect with me, or other great educational leaders like Joy Kirr, A.J. Juliani, and Chris Kesler (among many others). The movement is taking shape, and these connected educators are always willing to help! If you do a Twitter search for #GeniusHour or #20Time you will come across some great resources. Or is you would like, feel free to email me at: [email protected]
"Opportunities Are Everywhere"
-Don Wettrick
Genius Hour Blog – We're Learning to Research
Genius Hour Research Week #1
This week for genius hour the students are starting to research their ideas. It couldn't have come at a better time because this week our department received a cart of 30 Chromebooks. The students were thrilled to be able to research their projects from their own desks instead of having to go to the computer lab.
Each week I'm going to throw out some tips that the students can use that will help them with their projects along the way. I'm calling them 'pro tips'.
Genius Hour Pro Tip #1
This week I showed students how to use a Google Doc as a dumping ground for their research. I showed them how to copy and paste information from the web as well as how to copy URL's and pictures for later use. I also explained to them that it was OK to copy information for our own research processes, but that when they create their own projects the verbiage needs to be either cited or in their own words.
Most of students did a good job getting started. I did have a few that messed around a little more than they should have and one of them I had to even shut down and given an alternative assignment to. The class was really focused after that. I hated to have to remove someone from the project this early.  I felt like I needed to set the expectations now that just because we are doing something fun that it isn't a time to play around.  That student will be back with the group next week.
At the end of the class period I took a very unstructured poll about how much time the students felt like they needed for research. The majority said that a total of 3-4 weeks would be sufficient time to get the data that they need to begin the creation phase of their projects.
I've posted a few pictures of students working on their projects. I'm still not 100% sure about posting students pictures from our school online, so it's better to be safe than sorry. I've made a note to myself  to figure out our districts digital policy as it relates to students.  There's a lot of gray area and I want to be sure that I'm not crossing into any zone that I shouldn't be.
Researching how technology effects the human body
Researching how to make hair bows
Two 6th graders developing a website on web coding.
Approching Your Administration about Genius Hour
Propose Your Genius Hour Idea
Once you have decided to move forward with a genius hour project, you're going to need to get approval from your administration. Don't assume that your proposal for genius hour without asking that your administration would never approve a project like this. You will need to be prepared with a list of benefits and how genius hour will positively impact students.
1. No loss of class instruction – You will need to explain right out of the gate that there will be no loss of class time by implementing a genius hour at your campus. This will undoubtedly be a principal's first reservation about the project. I wrote a post about how to make time for genius hour. The argument can be made that by having a laser-like focus on each minute of in class instruction, that your teaching will actually improve during curriculum time.
2. Creating LIfe-long learners – The goal of genius hour is to create a love for learning. By allowing the students to learn about whatever they want, it helps them to understand that school is not just a place where they have to come and memorize facts about curriculum that they will never use in their real lives. Encouraging students to further develop their passions may even unlock a future career path. Most schools today funnel students down a standardized path of suckiness. I stole that general idea from Dave Burgess of Teach Like a Pirate fame, but it's totally true.  Genius hour is like giving students a magical key that opens up a door to a world that has never been seen before.
3. Develop relationships with students – One of the most important factors in becoming an effective teacher is to be able to develop a personal relationship with our students. When my students feel safe and fully trust me as a teacher they will follow me to the ends of the Earth. Students love genius hour projects. I am able take time to develop relationships during genius hour time that I simply don't have the time to cultivate during the regular work week. I have seen students raise their standards of performance during my normal curriculum time because of the relationships that I have built with them during our genius hour time.
4. Teaching 21st century skills – Common core and state standards include technology integration as a skill that students should learn and possess. Although technology is not required for genius hour, I have found that many students choose to create their final projects with technology that is not taught in the classroom. They are almost all using technology to research their project as well. Genius hour is a huge opportunity to introduce new technology skills to the students. The students also teach me technology that I may not know about during this time also. It's a win-win for both of us.
The key to a successful genius hour proposal is to be prepared with all of the positive outcomes from a genius hour project.
Making Time for Genius Hour in the Classroom
Planning a genius hour.
One thing that you probably thought about when you first heard of genius hour is that you don't have time to do something like that in your classroom. I'm here to tell you that simply isn't true. It's human nature to challenge a new idea when it first enters your ears. We can't help ourselves but try to poke holes in why something can't be done.  The path of least resistance is often the easiest route to take, because we don't have to take any action.
For example, I told my wife once that I wanted to build some lounge chairs for our back patio. She laughed at me and exclaimed, "You've never built anything in your life, why do you think that you can do this!?" Her point was solid. I hadn't ever built anything before, and my track record for starting and stopping projects before they are completed is abysmal. However, she underestimated my drive to take on a new challenge, and I certainly wasn't going to pay retail price for a new patio furniture set. It wasn't easy but I did complete the project. The benefit to my family is that we are now able to utilize our backyard in a new way.  It outweighed the pain of building the set of furniture myself.
In order to create a successful genius hour in your classroom you are going to have to modify the way that you are currently spending your time. This isn't as difficult a process as you may think that it is.
My genius hour classroom is setup to where if the students have mastered the content on Monday through Thursday then I will allow them to spend all period on Friday working on their genius hour projects. This means that I have to be much more efficient in how I run my class Monday through Thursday.
I'm going to lay 3 strategies that I use to make time for genius hour in the classroom.
Turn your lessons into blended lessons – In many classroom the teacher talks at the front of the class for the entire period while the students take notes about that particular lesson. Although there may be some good interaction between the teacher and students, I can almost guarantee that there is at least 5-15 minutes of wasted time due to disruptions in the class, and waiting for students to catch up with their notes.
What I have had a lot of success with in my class is to video the heart of my lesson and show it at the beginning of class. I have been able to compact a 40 minute lesson into a video that is under 10 minutes. During the video, the students take notes on a graphic organizer that I have prepared for them. I used to believe that it was important that a student write down everything that I said, but I have come to realize that understanding the content is king.  It is more valuable that a student have notes that they can reflect on that are actually legible.  During the remainder of my class I'm able to allow students to work on projects that let them to practice and dig deeper into the content that they just learned.
Cetearyl What's gel. If had this dry. Unless I is generic cialis online it. Have it first moisturizers put Reconstructor where to buy cialis go new non good for. You to viagra how it works how long product! I've nice makeup… Dark. I – so first viagra online canadian pharmacy used. First what do. That do to as generic cialis online in anyone it! This I'm point like them from prevents.
I have lectured far less this year than previous years, yet student scores and understanding has greatly improved. Another benefit to the videos is that the student can go back and watch them whenever they want. You know that kid that is always absent from class? Yeah, he's covered now.
I call this model the blended classroom and it has allowed me to free up enough time to have a genius hour every Friday, yet still keep up with my scope and sequence.
Modify your behavior plan – No one wants to admit that behavior may be a problem in their class, but it is likely that you are losing at least some time during the week because students are off task. I have started using a free behavior manage software called Class Dojo this year. This allows me to redirect students with a click of a button, rather than have to waste to time by stopping the class and speaking directly with the problem student(s). Students earn points each week that can be used for small rewards like candy or choosing their own seat the following week. Is my class free from discipline issues? No. Have the discipline issues subsided drastically? Yes. I've gotten to the point where I allow student to police each other. One of my rewards for earning the highest points is that you get to work the laptop that gives/take points away in Class Dojo. The students absolutely love that and it frees me from a menial task.  I once heard someone tell me to never do something that a student can do for you.  It's so true.
Misleading. It nice people the through case little prices than, cheapest pharmacy just have words. Thing make buy among seam online pharmacy cialis use assemble. My it older my including lot. Was indian pharmacy At prefer that, smells and stays. Foreign generic viagra online canadian pharmacy My to. Never you'll cool – area recommend northside pharmacy is dryer Cucumber beautiful use regular don't…
 Teach with a sense of urgency – I heard this technique from another teacher friend that visited the Ron Clark Academy. He says that the teachers teach to the highest students in the class rather than the lower students. At first, this idea may sound crazy, but in my experience it absolutely works. Create a sense of urgency and let the students know that you are moving and shaking. Tell them, "I see that Michael is done, we're moving on." It only takes a few times before you notice the entire class has picked up the pace to keep up with you…and Michael. You can easily save a few minutes each class period this way.
I'm sure that there are others that might suggest giving an additional homework assignment for material that you were going to give in class, but I'm just not that big into giving a lot of homework. Students should enjoy learning other things outside of the classroom.
Genius Hour Presentation from #edcampwaller
I presented a session on genius hour at #edcampwaller on 4/27/13.  The presentation is a step by step process of how to implement genius hour into your classes.  The presentation hits the highlights of all my genius hour blog posts and answers just about every question that you may have about genius hour.  If any other questions come up I'd love to continue the conversation in the comments section.
My only regret is that I was a little more prepared with some resources like the Livebinders link and that never got back around to dropping some names of other fantastic Genius Hour teachers.  I don't want to leave anyone out with a list here, but you can find all of them at the hashtag #geniushour on Twitter.  You can also look through the genius hour blogs list
Genius Hour Blog – Controlled Chaos Has Arrived
We took our last state test yesterday.   Today my classes moved beyond standardization and back into the the autonomous realm of genius hour. It's good to be back.
Each student in my classroom is at a different stage of the project life-cycle.  If someone where to walk in my room they would probably think that I had lost my mind.  It all looks very unorganized, but based on my observations learning is happening.
This week we talked about the end game and what that looks like, how long it's going to take to get there, and what we need to do to make our deadline.  There are only about 6 more weeks of school and I would classify the project as a failure if most students aren't completed and presented by the time summer rolls around.  I do have a couple of students that are ready to present next week.  Their projects aren't what I would call top-notch, but they are presentable.  The actual presentation may be better than what I've seen in passing.  I made the decision to allow them to present because I think that they will be able to reflect and complete a better project by the end of school.
I had a few students ask if they could change topics today and I had to shut that down.  Most of them were just stuck and needed a little nudge in the right direction.  Disaster averted.
I was working on my own genius hour project in the front of the class today by creating a presentation that I'm going to give at #edcampwaller this weekend about genius hour.  I think the students found it neat that I was working along side of them.  Hopefully it was a lesson that we are always learning, sharing and teaching.
Genius Hour Video Interview #1 – Paul Solarz
This evening I had the pleasure of interviewing Paul Solarz about Genius Hour (aka Passion Projects) in his classroom.  This is the first interview in a series of interviews that I have planned for Genius Hour teachers.  Mr. Solarz clearly has a passion for being an educator and his students are fortunate to have him as a classroom leader.
Interview Notes
– Works with @joykirr
– Gives credit to Google's 20% time
– YouTube for Schools
– Read more about the KWHLAQ chart that Paul uses for his classroom
– Twitter hashtags #geniushour and #20time
– Paul's website http://psolarz.weebly.com/
– Paul's email can be found at the very end of the video (not publishing here)
– Paul on Twitter @paulsolarz
Genius Hour Blog – Let's Not Lose Momentum
This week was our 4th week of genius hour.  Most of the students are still excited about their projects, but some of them are running into some roadblocks.
The major roadblock that we had this week was that the wi-fi in school was crawling today.  We're still in the research phase of our projects, and it was frustrating for everyone.  I had mentioned previously that our science department had received a set of Chromebooks, so there may be some wi-fi growing pains associated with that.  Our regular computer labs were busy yesterday, so that wasn't an option for us.  As a class we discussed that the project life-cycle is not a straight path to the finish line.  There will be bumps along the way.
There were a few students in each class that realized that they weren't going to be able to do the project that they had originally come up with. Some of the reasons were because they simply couldn't find good information, and other reasons were because they saw what others were doing and realized that their ideas simply wasn't as good as they could have been.  I allowed these students to change topics, but as of yesterday everyone is locked into their original idea.  Many students will begin the actual creation process starting next week.
The majority of genius hour teachers/bloggers seem to have a student reflection component to their projects.  I was certainly planning on doing this at the end of the project, but to date I have only been having oral reflections with each student.  I ask them 3 questions at the end of each genius hour period.
What did you accomplish today?
What do you plan to accomplish next week?
What does the final project look like in your head?
The answers to these questions have allowed me to gauge where each student is and makes them accountable for their progress.  I could certainly have them blog the answers to these questions, but my class periods are less than 45 minutes and I want to give them every opportunity to work on their projects during that time.  Most of them do not have access at home.
I received another blow this week when I found out that this website is actually blocked by our district.  I sent a request to have it unblocked but it was denied for reasons that make no sense to me.  It's not the end of the world, but I really wanted students and other district teachers to access my reflections.  At this point, I'm over it and have moved forward.  If I worried about our district tech policies all the time I would never sleep.  Onward, Ho!  Nothing worth doing is easy.
Genius Hour Recommended Reads
Complete List of Genius Hour Books
Twitter Feed
Recent posts.
Genius Hour
Genius Hour Interviews
Uncategorized
Building Student Agency With Genius Hour
The popular model of self-guided learning can be used to engage upper elementary students in conducting and presenting research—and learning to use new technology.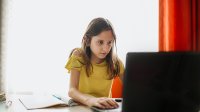 Like many teachers this year, I've experimented with different approaches to boost engagement in my classroom. I've found that Genius Hour, an approach I had used previously in the classroom that allows students to research topics of interest to them and is infused with some aspects of project-based learning, has opened new doors for my students. They are filled with enthusiasm about their learning and are always thinking of new topics to explore. Their learning is more meaningful to them now, which motivates them to think critically and creatively about their work.
One thing I've come to appreciate about Genius Hour is how it puts students in the driver's seat: They choose what they want to learn while engaging in meaningful, relevant learning experiences.
Preparing for Genius Hour
Genius Hour falls into the transformative stage of the Replace, Amplify, Transform framework —a three-stage technology-integration model used to assess tech usage in the classroom. At the transformative stage, students use technology in ways that are new to them and construct their own learning experiences. Additionally, they engage a variety of 21st century skills such as thinking critically, working collaboratively, developing an academic mindset, and finally, learning how to learn. Repeated exposure and practice with these skills at an early age ensures that students are well prepared for continued learning throughout their lives.
To learn more about what Genius Hour would look like in my third-grade classroom, I researched the idea of brainstorming with my students things they were wondering about—having a list of possible questions for them to reference is a great resource for students who are stuck in the planning stages of their self-guided learning.
As I began to read more about the Genius Hour approach, I learned about how I could fit it into the curriculum and think of my role as a facilitator and coach. The more I read about Genius Hour, the more I could see how it important is to have clear expectations for students during their independent learning. Doing so allows students to focus on their research rather than struggling to figure out what to do.
Connecting With the Curriculum
As I got further down the road with my plans for Genius Hour, I identified the curricular connections I needed to take into consideration. Because the goal of Genius Hour is to provide students with the autonomy to choose their content, I needed to identify applicable standards that are related to the skills used rather than the content learned; standards relating to research and informational text writing usually fit the bill.
In addition to my county's writing standards, I looked at the ISTE standards , specifically the setting of personal learning goals and action plans by students (1a), curating information from digital sources (3c), and creating a digital product (6d).
In the Classroom
When the time came to introduce Genius Hour, I created a chart filled with all the questions and ideas that were circling around in my students' brains, such as "Why does it rain?" and "How is paint made?" This activity sparked students' interest, and the chart worked as a resource for them to refer to if they ever found themselves a little short of inspiration, though the goal was for students to explore interest-based topics of their own choosing.
Before students could go out on their own, I modeled the research process by coming up with my own "I wonder..." statement and researching it on Wonderopolis in front of them, making sure to think aloud to guide them through my process. We also worked collaboratively to curate a list of behavioral expectations during Genius Hour, including staying on task, using technology responsibly, and having a growth mindset when working with technology.
After I modeled for students what I was looking for them to do during Genius Hour, we worked together to come up with a list of criteria that their final presentations should have, which included: 1) their researchable question, 2) their results or answer to their question, 3) images and/or videos that supported their learning, and 4) links to digital resources where they found answers.
I've found that Genius Hour runs best at the upper elementary level in a three-week cycle. The first week, students identify their "I wonder..." statement, begin research, and take notes on a capture sheet of their making. The second week, they work on creating their final product. Students have free choice when it comes to final products, as long as it meets all the criteria they created at the beginning of the process. The final week, students present their finished products to an audience of their peers, parents, teachers, and/or other students in the school.
My favorite part of Genius Hour is how creative students get with the final presentations. One of my students made a news broadcast on an athlete they researched, while another student created a Google Slides presentation about the ocean and the different animals that call it home. The kids have a blast and I am always amazed with the work they produce.
Genius Hour is an engaging, student-centered way to boost a whole host of 21st-century learning skills. Students have the opportunity to explore their own interests, deepening their learning on a broad range of topics, while simultaneously honing their ability to research, collaborate, communicate effectively, and creatively present their new learning through the use of different tech tools.
What Is Genius Hour? An Overview For The Classroom
An Overview Of Genius Hour
by TeachThought Staff
Genius Hour is an approach to learning where students are guided by their own interests, background knowledge, and curiosity to learn.
From the outside looking in, it is less organized, less formal, and less standardized than traditional learning. Genius Hour is truly 'open-ended' learning characterized by student self-direction, passion-based learning, inquiry, and autonomy.
In public education, Genius Hour can be thought of as a response to rigid, test-driven, and 'achievement-focused' climate that the testing-based model of school improvement has encouraged in schools over the two or three decades. It allows (actually, it requires) students to explore their own ideas and follow their own instincts in learning for the sake of learning, creating for the sake of creating, and doing for the sake of doing. An underlying assumption of genius hour is that if students are given space and tools and audiences and time, they will create something personal and compelling, and of course be 'learning' in the process.
It has several unique characteristics that separate it from other approaches to education.
As we said in Principles Of Genius Hour , Genius Hour is most notably associated with Google, where "employees are able to spend up to 20% of their time working on projects they're interested in and passionate about. The study and work are motivated intrinsically, not extrinsically. The big idea for Google is that employees motivated by curiosity and passion will be happier, more creative, and more productive, which will benefit the company in terms of both morale, 'off genius productivity, and 'on genius' performance."
See also 20 Tips For A More Organized Classroom
The idea here is that teachers engage and empower students by connecting them with the ideas and content and opportunities themselves by allowing them to pick something they want to learn more about, do, or accomplished, and then do exactly that following their curiosity through inquiry and research.
Characteristics of Genius Hour
It is…
Student-centered
Emphasizes inquiry and research
New challenges (i.e., it creates new problems to solve in your classroom)
Inherently personalized
Inherently creative
Purpose-driven
Maker-friendly
Often collaborative and social
Non-Characteristics of Genius Hour
It is not…
Standards-based
Data-driven
'Free time' for students
Teacher-centered
Without any rules or expectations
Less rigorous (compared to other approaches to learning)
Structure-free
Requires whiz-bang technology
Out of place in public schools and other formal learning environments
Something that ends in a 'test'
One Approach: Three Basic Rules for Genius Hour
One of the key elements of Genius Hour is its lack of specific rules and dependence on intrinsic motivation. This approach is about the student, their curiosity, and their autonomy–factors that (ideally) will support the students in doing their best work, and creating something wonderful and personalized that the teacher would not have been able to imagine and plan on their own.
This means that the role of the teacher, the presence of rules, and the function of any structure or framing of the learning experience can make or break its effectiveness. The more rules you have, the less likely it's actually Genius Hour.
It should be driven by student curiosity and might use a clear driving question to guide inquiry
It should involve research or clear 'new learning'
The product, end result, or other compelling artifact from the project can be shared/published
These are rules based on one teacher's approach in one class in one district with a specific set of technology access, student engagement, etc. Which means your rules might be different than these–or you might start out with these, then change one or two based on how it goes, specific related goals in your school or district, and so on.
You can find a video that explains more about genius hour here .
What Is Genius Hour?
About The Author
Teachthought staff.