Financial Aid
Scholarships
Student Loans
Majors & Careers
Online Grad School
Credit Transfer
Preparing For Grad School
Student Life
Study Abroad
Top 10 Best PhD in Law Programs [2023]
Table of Contents
Yale university, law school, stanford university, the university of chicago, the law school, columbia university, law school, harvard university, law school, the university of pennsylvania, carey law school, the university of arizona, james e. rogers college of law, the university of texas at dallas, school of economic, political, and policy sciences, abraham lincoln university, school of law, walden university, what do you need to get a phd in law, preparing for a law doctorate program, things to consider when choosing a law phd program, jobs for phd in law degree holders, course costs, course length, skills you'll gain through a phd in law, key takeaways, what is a phd in law called, is a phd in law the same as a jd, what is the highest degree in law, how long is a phd in law, what does a phd in law do.
A PhD in law is an advanced qualification that will make you a true legal expert. You can use that credential to work as a legal research scholar or teach at a post-secondary level. This is not only a prestigious career path but also a lucrative one — today's law PhD holders have an average salary  of $93,000.
Today's law schools emphasize an interdisciplinary approach to legal education, equipping students to work in a diverse range of fields.
Interested in an advanced criminal justice  career? Below we'll cover the top PhD in law programs, universities, and what you need to know before pursuing a doctorate in law.
Top PhD in Law Programs
Yale University's Law School ranks first  in the nation, with its 20 legal clinics offering an immersive experience for students. This PhD program has a purely academic focus. To qualify for admission, you'll need to already have a JD (Juris Doctor) degree. If accepted, you'll be able to benefit from Yale Law School's acclaimed "Yale Teaching Program."
Courses: Criminal law & administration, international human rights, and complex civil litigation.
Duration:  3 years
Delivery: On-campus
Tuition: Fully funded
Financial aid: Full tuition coverage, health insurance, and stipend.
Acceptance rate:  7%
Location: New Haven, Connecticut
Doctor of the Science of Law (JSD)
Stanford University is another highly acclaimed institution in the field of law education with a tough admissions process. Only a few exceptionally gifted students with an international JD or LLB or a SPILS (Stanford Program in International Legal Studies) qualification are accepted into this program every year. The program has an emphasis on an interdisciplinary approach to law.
Courses:  Advanced antitrust, current issues in business law, and reinventing American criminal justice systems.
Credits: 44 units
Duration: 4 years
Tuition : $64,350 per year
Financial aid: Scholarships, fellowships, grants, assistantships, federal work-study, and loans.
Acceptance rate: 5%
Location:  Stanford, California
Doctor of Jurisprudence (JSD)
The Law School of the University of Chicago is renowned for its interdisciplinary approach to teaching and cross-lists its courses with other departments. The faculty include philosophers, political scientists, historians, and law scholars. Students also have the option to pursue a Doctorate in Comparative Law (D.Comp.L.) instead of a JSD if they wish.
Courses: Antitrust & intellectual property, civil rights clinic: police accountability, and American legal history.
Duration: 5 years
Tuition : $7,647 per year
Financial aid: Full tuition scholarship, fellowship, and health insurance.
Acceptance rate: 7%
Location: Chicago, Illinois
JSD Program
The Columbia Law School emphasizes experiential learning with law clinics, moot courts, and externships, offering opportunities for innovative education and valuable intellectual exchange. Students can conduct independent research with the help of their faculty advisors and they need to submit a DPR (Dissertation Progress Report) at the end of each year.
Courses:  Intellectual property & technology, international & comparative law, and law of the workplace.
Duration:  5-6 years
Tuition : $75,572 per year
Financial aid: Grants, loans, and first child allowance.
Location:  New York City, New York
Doctor of Juridical Science (SJD)
Harvard University is one of the world's most famous centers for education, and its Law School  is equally renowned. The school has a unique grading system that uses the classifications honors, pass, low-pass, and fail. This flexible SJD program allows students to design their own study plan and choose faculty supervisors for independent research.
Courses: Advanced comparative perspectives on US law, environmental justice, and strategic litigation & immigration advocacy.
Duration:  4 years
Delivery:  On-campus
Tuition : $67,720 per year
Financial aid:  Scholarships, grants, and loans.
Location: Cambridge, Massachusetts
Doctor of Science of Law (SJD)
Carey Law School's curricula cut across disciplinary and international lines to create law experts in every field, including business, health, technology, education, and social work. For admission to the Carey Law School PhD, you must already hold an LLM or JD from the same school or an institution of similar standing.
Courses: Privacy & racial justice, appellate advocacy, and disability law.
Tuition : Refer tuition page
Financial aid: Full tuition, stipend, health insurance, and scholarships.
Acceptance rate: 9%
Location: Philadelphia, Pennsylvania
The University of Arizona's James E. Rogers College of Law is one of the country's most affordable top-tier law schools. This PhD law degree offers the choice of two concentrations: International Trade & Business Law, and Indigenous Peoples Law & Policy.
Courses:  International business & investment structuring, federal Indian law, and trusts & estates.
Duration:  3-5 years
Tuition and fees : $26,000 per year
Financial aid:  Scholarships, federal work-study, loans, veteran benefits, and fellowships.
Acceptance rate: 85%
Location: Tucson, Arizona
Doctor of Philosophy in Criminology
The University of Texas' School of Economic, Political, and Policy Sciences creates professionals capable of dealing with modern issues like risk management, political violence, social inequality, healthcare, and international trade & conflict resolution. You'll need a bachelor's in criminology or a related discipline to apply for this PhD in criminology.
Courses: Advances in criminology theory, evidence-based crime prevention, and regression & multivariate analysis.
Credits: 75 semester credit hours
Financial aid: Scholarships, grants, and loans.
Acceptance rate: 79%
Location:  Richardson, Texas
Juris Doctor (JD)
This school was founded with to provide affordable education to working professionals who cannot attend regular law school. This doctorate in law is a flexible JD degree that can be completed entirely online through the university's high-level education technology.
Courses:  Criminal law, civil procedure, and wills & trusts.
Delivery: Online
Tuition : $10,100 per year
Acceptance rate: 90.3%
Location:  Glendale, California
Online PhD in Criminal Justice
Walden University aims to help working professionals pursue advanced degrees and has been ranked #1  in research doctorates for African-American students. This program was one of the first online doctorates in criminal justice and allows students to explore national and international issues in criminal justice administration with a dual emphasis on contemporary theory and practice.
Courses: History & contemporary issues in criminal justice, policy & analysis in criminal justice systems, and research theory, design & methods.
Credits: 77 quarter credits
Tuition : $636 per quarter hour
Financial aid: Grants, scholarships, loans, and veteran benefits.
Acceptance rate: 100%
Location: Minneapolis, Minnesota
The exact requirements vary depending on the program, but you'll typically need a LLB, LLM, or JD as a basic prerequisite.
As part of the admission process, you usually need to submit:
Academic transcripts from previous studies
Personal essay and/or research proposal
Recommendation letters
To earn your doctorate, you'll have to complete coursework, qualifying examinations, and usually a dissertation to a high standard.
The best PhD in legal studies programs are competitive, so it's important to start preparing early. Keep up to date on developments in the field and research the best universities that offer your preferred specialization.
Look into leading faculty members in your areas of interest, and network by joining relevant professional communities. Once you've decided on your dream program, check admission requirements to prepare the strongest possible application.
Choosing the best law PhD program will depend on a range of factors, including your passions and interests. However, there are a few general factors that are essential for everyone deciding on a law school for their PhD to consider:
Location:  First, a school close by could save you on accommodation costs. But that's not the only location consideration. You should look at your school destination for evidence of a booming legal or education industry. For example, New York is a hub for business, while Boston is known as a center for technology.
Cost and funding:  Ensure the program costs align with your budget and explore financial aid opportunities.
Specialization:  Some schools offer unique specializations like social justice, law and economics, and international law. Choose a program with a focus on your preferred specialization.
Faculty:  The university's reputation is important, but its faculty credentials are equally critical. Explore faculty backgrounds by researching published papers and social media profiles like LinkedIn.
Class sizes:  Smaller class sizes mean better one-on-one attention; however, a larger cohort offers better networking opportunities.
Placement support:  What happens after graduation? Are you on the hook for finding a job on your own, or does the school offer placement options? Find out where alumni are employed to get an idea.
Why Get a Doctorate in Law?
A doctorate degree in law will allow you to pursue roles in the legal field as a scholar, researcher, or academic, and build a worthwhile career.
Several candidates apply for admission to PhD in jurisprudence programs every academic year, but top law schools have low acceptance rates, and only a few are accepted. For example, Harvard only has around 70 SJD students  while hundreds or thousands may apply. Therefore, with this qualification, you'll belong to an exclusive group of in-demand professionals.
Here are some common roles for PhD holders in law with the average annual salaries for each:
General Counsel ($170,183 )
Staff Attorney ($71,106 )
Professor of Law ( $131,926 )
Project Manager ( $76,264 )
Senior Research Associate ( $75,029 )
The cost greatly depends on where you study, but prestigious law schools can charge annual tuition of around $65,000. Once you factor in living expenses, books, and facility fees, the total cost can add up to around $100,000 a year. However, you can find programs with tuition and fees for as little as $7,500 a year. Moreover, most top institutions offer full-tuition scholarships, stipends, and similar financial aid that cover almost all of your expenses.
Typically, a PhD in law takes 3-5 years to complete. However, most programs will give you extra time to complete your doctorate if needed.
Aside from giving you in-depth and expansive legal knowledge, PhD in law programs can also help you develop the following skills:
Communication
Presentation
Critical Thinking
Project Management
Problem Solving
A PhD in law is an excellent choice for legal professionals seeking a career in research or academia. While a JD or Juris Doctor is equivalent to a PhD, the former equips you to become a law practitioner.
On the other hand, if you want to teach at a post-secondary level or conduct further legal research, you will need a PhD. Prepare early and choose a program that will best help you to achieve your career goals.
For more law education advice, take a look at our guide on the best master's in criminal justice programs , or weigh up your options with the highest-paying PhDs .
PhD in Law FAQs
A PhD in law is usually called a Doctor of Law or Doctor of Laws. Some universities offer a JD (Juris Doctor or Doctor of Jurisprudence) degree, while others offer SJD (Doctor of Juridical Science) or JSD (Doctor of Science in Jurisprudence) programs.
A JD (Juris Doctor) degree is suitable for anyone who wants to practice as a licensed legal professional. These programs usually take three years to complete and are mostly coursework-focused.
On the other hand, a PhD in law may take 5-6 years to complete and usually involves a dissertation or major research project. If your aim is professional research or a job in academia in the discipline rather than practicing law, a PhD is better for you.
A PhD in law is generally considered the most advanced law degree. While some universities call it by other names, such as SJD (Doctor of Juridical Science) or JSD (Doctor of Jurisprudence degree), this is essentially the same thing.
PhD Law programs typically take 3-5 years to complete. You may take longer for individual reasons, such as if you choose to study part-time.
A PhD in law will equip you to work in legal research or academia.
Lisa Marlin
Lisa is a full-time writer specializing in career advice, further education, and personal development. She works from all over the world, and when not writing you'll find her hiking, practicing yoga, or enjoying a glass of Malbec.
Lisa Marlin https://blog.thegradcafe.com/author/lisa-marlin/ 10 Best Master's in International Relations Programs
Lisa Marlin https://blog.thegradcafe.com/author/lisa-marlin/ 10 Best PhD Programs in Pennsylvania
Lisa Marlin https://blog.thegradcafe.com/author/lisa-marlin/ 10 Best Psychology Master's Programs in California
Lisa Marlin https://blog.thegradcafe.com/author/lisa-marlin/ Top 10 Best Master's in Forensic Science Programs
Top 12 Best Laptops for Graduate Students in 2023
Top 10 best phd in theology programs [2023], related posts.
10 Best Master's in International Relations Programs
10 Best PhD Programs in Pennsylvania
10 Best Psychology Master's Programs in California
Top 10 Best Master's in Forensic Science Programs
Top 10 Best Online CRNA Programs
Best Online MBA in Florida: Top 7 Choices [2023 Review]
Leave a Reply Cancel reply
Your email address will not be published. Required fields are marked *
Save my name, email, and website in this browser for the next time I comment.
Recent Posts
Is Your Pro & Con List Setting You Up For Failure?
How To Beat The AI Bots When You're Applying For A Job
5 of the Best Tech Careers with Growth Potential for 2023
Top 20 Best iPad Apps for Students [2023]
Partner With Us
Terms of Service
Results Search
Submit Results
Write For Us
Join the community
Register for our newsletter to get the inside scoop on graduate application trends, admissions acceptance data, and to receive activity alerts on your graduate school or program.
Copyright © 2022 TheGradCafe.com All rights reserved.
Find the Best Law Schools
For full rankings, LSAT scores and employment statistics, sign up for the U.S. News Law School Compass.
2023 Best Law Schools
# 1 Yale University New Haven, CT
# 2 Stanford University Stanford, CA
# 3 University of Chicago Chicago, IL
Search Law Schools
Law Programs, Specialties and Additional Rankings
Specializing in an area of law can marry a few of your interests. Learn about the types of law through electives and general courses, and then further focus on areas like tax law, family law, environmental law or immigration law.
2023 Part-time Law
Business/Corporate Law
Clinical Training
Constitutional Law
Contracts/Commercial Law
Criminal Law
Dispute Resolution
Environmental Law
Health Care Law
Intellectual Property Law
International Law
Legal Writing
Trial Advocacy
Lists: Law School Costs, Aid and Debt
Find out which schools offer the most financial aid and which are the priciest.
Law Schools Where Graduates Have the Most Debt
Public Law Schools That Award the Most Financial Aid
Private Law Schools That Award the Most Financial Aid
Priciest Private Law Schools
Priciest Public Law Schools
Additional Law School Resources
Here are some more tools to help you make your decision.
A-Z List of Law Schools
Best Law Firms Rankings
How to Prepare for and Apply to Law School
How long is law school, how to get into law school, what do you learn in law school and why enroll, is law school worth it, how much does law school cost, when should i apply to law school, considering law school.
Sign up for a free U.S. News account to receive expert advice on topics like should you go to law school, LSAT prep, and personal statements.
Law School Advice
Applying to Law School
LSAT Test Prep
Paying for Law School
More About Law Schools
Combined m.d.-j.d. degrees: what to know.
This grueling academic path takes six years, and experts say finishing is more about a committed work ethic than intelligence.
LaMont Jones Feb. 28, 2023
Pros and Cons of Part-Time Law School
Part-time J.D. programs are more flexible and manageable, but students may feel excluded from some opportunities.
Gabriel Kuris Feb. 27, 2023
Law School Application Deadline Myths
It's never too late to apply to law school, but it's better not to cut it close.
Gabriel Kuris Feb. 21, 2023
Law School Students With Disabilities
Know your legal rights, identify who can help you advocate for yourself, and seek accommodations early, experts advise.
Nicolette White Feb. 17, 2023
NextGen Bar Exam: What to Know
This new exam, set to roll out in 2026, will emphasize skills-based knowledge more than content memorization.
Sarah Wood Feb. 15, 2023
Tips on a Relationship During Law School
As you transition to law school, don't lose sight of what's most important.
Gabriel Kuris Feb. 13, 2023
Applying to Law School With a Low GPA
Low grades can sink a law school application, and here are three tips to handle them wisely.
Gabriel Kuris Feb. 6, 2023
Future Private Sector Lawyers in School
Applicants should research potential career paths and not shy away from expressing interest in the private practice of law.
Gabriel Kuris Jan. 30, 2023
What Is a Good GPA for a J.D. Applicant?
Among the U.S. News top 20 law schools, the median GPA for accepted students in 2021 was 3.86.
Sarah Wood Jan. 27, 2023
Don't Pen Your Law School Recommendation
Self-written recommendation letters are easy to spot and are seen as inauthentic.
Gabriel Kuris Jan. 23, 2023
Studying Law at Yale
Areas of Interest
Degree Programs
Clinical and Experiential Learning
Academic Calendar & Resources
Alumni & Student Profiles
Law Library
The Tsai Leadership Program
Our Faculty
Lecturers & Affiliates
Faculty Activities & Scholarship
Centers & Workshops
Student Life
Our School & Location
Student Services
Career Development
Health & Wellness
Student News & Opinion
Programs and Funding Opportunities
Student Journals & Organizations
Commencement
Diversity & Inclusion
Policies, Resources, and Reporting
Admissions & Financial Aid
JD Admissions
Graduate Admissions
Financial Aid
Nondiscrimination, Title IX, and Clery Act Statements
Virtual Tour
News & Events
In The Press
Reports & Publications
Social Media
Media Inquiries
Submit an Event
Ph.D. Program
Graduate Programs
The Ph.D. in Law Degree
The Ph.D. in Law degree program is designed to prepare J.D. graduates for careers as legal scholars and teachers through a doctoral program aimed at the production of a substantial body of academic research and writing under the close supervision of a three-member faculty dissertation committee. Unlike programs designed for students who wish to learn about law from the disciplinary perspectives of the social sciences or the humanities, the Ph.D. in Law is directed at students who wish to pursue advanced studies in law from the perspective of the law. This program offers emerging scholars an opportunity to contribute to the development of law as an academic field, and it provides an alternate pathway into law teaching alongside existing routes such as fellowships, advanced degrees in cognate fields, legal practice, and clerkships.
Because our entering Ph.D. students will have already completed their J.D. degrees, the anticipated course of study toward the Ph.D. in Law degree is three academic years and two summers in residence. In their first two semesters, Ph.D. students will enroll in courses designed to help them acquire the background and research skills needed to complete a dissertation in their field of interest and to prepare them for qualifying examinations that test the depth and breadth of the literacies and skills they have acquired. During their second year, students will prepare a dissertation prospectus and begin work on a dissertation. The dissertation may take the form of either three law review articles or a book-length manuscript and will make up a portfolio of writing that will be essential for success in the job market. Ph.D. students will also gain experience in the classroom, and receive the full support of Yale Law School's Law Teaching Program , which has had remarkable success in placing graduates in tenure-track positions at leading law schools.
Ph.D. students receive a full-tuition waiver, a health award for health insurance coverage, and a stipend to cover their year-round living expenses, as well as support for participation in national and international conferences.
Applications for admission to the Ph.D. in Law program are available starting on August 15. The deadline for submission of all materials is December 15. Applicants to the Ph.D. in Law program must complete a J.D. degree at a U.S. law school before they matriculate and begin the Ph.D. program. Any questions about the program may be directed to Gordon Silverstein, Assistant Dean for Graduate Programs, at [email protected] .
Watch Gordon Silverstein, Assistant Dean for Graduate Programs, describe the Ph.D. program at Yale Law School.
Student Profile Videos
Amanda Shanor
A student perspective on the PhD in Law program and graduate programs. 
Molly Brady
A student perspective on property law, the PhD degree, and the job market process.
Thomas Kadri
A student perspective on the Ph.D. in Law program and his research on tort liability.
Graduate Student Life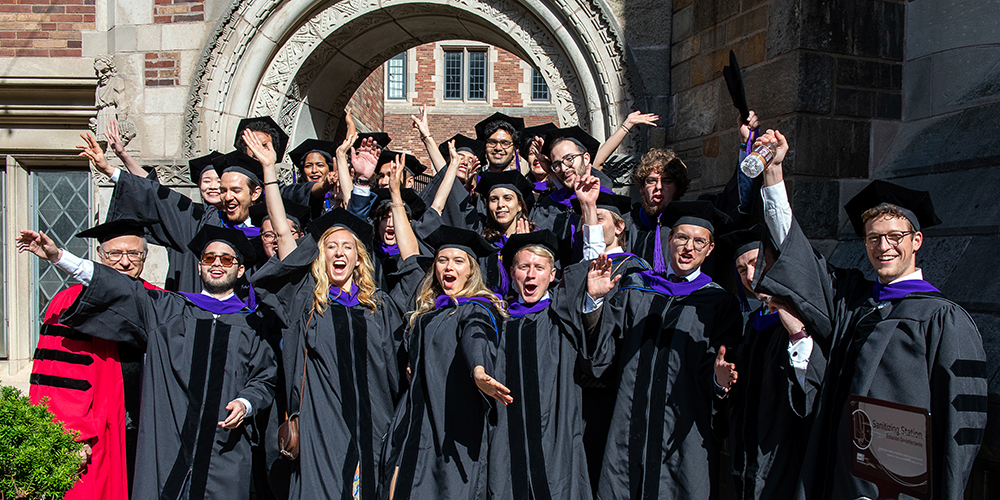 " 1L year is really hard.…You're just grinding all the time. And when you come out the other end, you realize that you've got skills to make changes in the world. And that feeling is so cool."
Rebecca Wexler
Class of 2016
Graduate Program
The Graduate Program attracts lawyers of demonstrated intellectual and academic excellence from all over the world. The LL.M. and S.J.D. programs expose students to American modes of legal education (which emphasize critical thinking and self-inquiry) as well as to substantive law, and enhance our students' ability to do advanced scholarly work. The Graduate Program also hosts the Visiting Scholar/Visiting Researcher program, which accommodates a small number of legal scholars and researchers from around the world who are engaged in major research projects for which the Law School's outstanding library resources may be of assistance.
LL.M. Program
S.j.d. program, visiting scholar/visiting researcher program, graduate program alumni, admissions & financial aid.
Learn more all aspects of the admissions processes for our LL.M., S.J.D., and Visiting Scholar/Visiting Researcher programs, as well as financial aid and billing.
Graduate Program Admissions & Financial Aid
News from the Graduate Program
Make a gift for graduate financial aid, ll.m. class profile, world class: news and profiles for the graduate program community, modal gallery.
2023 University Rankings for PhD Study - A Guide
2023 University Rankings for PhD Study
Written by Mark Bennett
University rankings aren't necessarily designed with the needs of PhD students in mind, but they can still help you in your search for the best PhD programmes in the world.
This page will show you how to get the most out of the various global university rankings, using their metrics and league tables to decide on the best research universities for PhD study.
On this page
Top universities for phd study in 2023.
This is the only resource that compares all three major rankings, side by side, and properly explains how the things they measure are (or aren't) relevant to PhD study.
By selecting a university you can use our listings to see exactly what kinds of PhD projects and doctoral degree programmes it currently has available.
Using university rankings as a research student
Now that you've had a chance to take a look at the three main university rankings, compared side by side, it's worth getting a sense of how rankings work as a whole – and what to pay attention to when using them to evaluate the top PhD universities in the world.
Each ranking uses a slightly different methodology, but they all aim to produce a list of the very best universities in the world, according to the quality of their research, teaching and wider reputation.
To do this, they collect a range of data about each institution. They then use their own systems to weight and normalise this data in a way that allows universities to be given a specific place in a global league table.
Turning university rankings into 'PhD rankings'
An overall league table is great if you're a higher education anorak, looking to see which university is 'best' or who 'beats' who in a given year. But it's not necessarily that useful for PhD students and won't always show you where the best PhD programmes are. At least not on its own.
You'll obviously benefit from the overall quality and reputation of your university, but you're going to rely much more on the skills and expertise of your supervisor (and other academic staff) as well as the quality of your graduate school's facilities and resources.
What's more, the quality and potential of your actual PhD research will matter at least as much as the reputation of your university.
So, when it comes to PhD study, it's important to take rankings with a pinch of salt. That's what the following explanation will provide.
Making sense of metrics – what do rankings actually measure?
To get the most out of university rankings when choosing a PhD, you need to be able to do two things:
Firstly, you need to know how rankings work and what they measure. Secondly, you need to be able to know which of those measurements matter most for PhD-level work.
#1 Research
Research includes all a university's published scholarship, together with its impact (how often its publications are actually cited by other scholars).
Does it matter for PhD students?
Absolutely. As a doctoral student you'll be a postgraduate researcher, working on an original research project, supervised by an experienced researcher and working within a wider research group or department. It stands to reason that you'll want to be at one of the best research universities during your PhD programme.
A university with a track record of successful and impactful research will normally have the systems in place for effective PhD supervision and support. They'll be training you to do what they do best.
#2 Teaching
This one doesn't require much explanation. Teaching metrics look at the quality of instruction a university gives its students.
Rankings calculate this using student satisfaction, reputation with employers or outcomes such as graduation rates and future prospects.
A PhD is a research degree, not a taught degree, right? So teaching doesn't matter? Well, not quite.
It's true that broad teaching metrics (such as staff-student-ratio) don't relate well to PhD training. It's also true that no ranking measures specific factors such as the quality of a university's PhD supervision (not yet, anyway). But you shouldn't completely discount teaching metrics. A commitment to providing sufficient staff and support for its students may well translate into its postgraduate training – particularly for more structured PhD programmes offered by graduate schools.
Some rankings also include metrics that relate specifically to advanced postgraduate teaching – the Times Higher Education , for example, measures the number and ratio of PhDs a university awards.
#3 External engagement
This is a catch-all term for a university's relationships with businesses, industry and other external partners.
Different rankings measure this in particular ways. Some look at investment as a measure of a university's success in forging partnerships and carrying out work with wider impact. Others look at the way employers view an institution – and the graduates it produces.
Does it matter to PhD students?
The ability to attract investment can reflect the wider quality and reputation of university research. It may also indicate the potential to work with partners outside the academy and produce PhD work with commercial potential and / or wider benefits for society.
#4 International profile
These metrics measure how focussed a university is on building links with other countries.
This can include measuring how many international students and staff a university recruits, or how much time it spends collaborating on international research projects.
Internationalisation can be a strong indicator of how vibrant a university's research and teaching is.
Institutions with lots of partnerships will be involved in tackling key questions and solving global problems. There's no reason why that shouldn't be reflected in their PhD opportunities. The presence of lots of international staff and students can also help introduce you to multiple ideas and perspectives – and provide a welcoming environment for PhD study abroad .
Using this information
Understanding what rankings measure is vital if you want to get the most out of them as a PhD student. But it's also handy to know how specific rankings use these metrics – and how they're put together.
The following sections will explain that, looking at three of the biggest world university rankings (ones that compare universities from across the globe). The exact details of their methodologies aren't necessarily the most exciting thing you'll ever read (unless your PhD is in statistics, perhaps) but we think it's probably handy to have all of this information in one place. We've also given our take on how useful each ranking is for PhD study.
Search for your perfect PhD
Did you know that we list PhD projects and programmes at universities around the world? Why not take a look ?
Top research universities
The Times Higher Education magazine (THE) is a British magazine that regularly produces university league tables.
Its flagship global ranking has been published since 2010 and currently includes over 1,250 universities .
The Times Higher Education World University Rankings is based partly on data provided by universities themselves, partly on indexes of citations and partly on responses to a survey carried out by THE.
Its methodology (and weightings) are quite complex, but the main focus is on teaching, research and internationalisation (similar to ARWU and QS).
Usefully, the THE rankings include an option to sort universities according to their performance in the research metric. As you can see in the table below, there's quite a high correlation between an institution's research output and their overall ranking.
For more information, see the official THE Ranking website .
Other rankings for PhD study
The THE, ARWU and QS tables are the most well-known and 'visible' rankings. But they aren't the only rankings available. And they certainly aren't the only rankings to consider for your PhD.
Here we've quickly summarised some of the other options available to you and explained how to get the most use out of them.
Subject rankings
Global rankings are great if you want to know about a university's overall and standing. They also allow you to drill-down to discover more about its performance in specific areas such as research and teaching.
But global rankings do have an obvious limitation for graduate students: they don't tell you much about how well a university does in your specific subject (let alone the specialist area you'll be working on during your doctoral programme).
One way to get around this is to use subject rankings. As their name suggests, these focus on specific academic disciplines. They're often based on 'parent' global rankings, with results re-evaluated and re-ordered.
The following subject rankings are available:
The THE World University Rankings by Subject – adjusted from the Times Higher Education World University Ranking and published shortly after it each year.
The QS World University Rankings by Subject – based on the main QS World University Rankings. QS offers the widest range of rankings for different academic specialisms, with 42 specific disciplines and subjects covered.
The Shanghai Subject Rankings – published along with the ARWU, these focus on STEM (Science, Technology, Engineering and Mathematics) areas. ARWU also publishes broader rankings by academic field.
Targeted rankings
It's no secret or surprise that the top global rankings spots are held by historic universities with international reputations and significant resources.
Unfortunately, this tends to mask the performance of newer universities and makes it harder to see where new, innovative work is being done outside the 'top' universities. And new, innovative work is what you should be seeking to do for your PhD.
This is where more targeted rankings come in. There are two main types:
Regional rankings focus on universities in specific parts of the world. They can be useful if you want to narrow down your opportunities in an area with lots of universities (such as North America) or if you want to find the best universities in emerging study abroad regions. Both THE and QS publish a range of regional rankings.
Rankings of newer universities do exactly what you'd expect. By leaving out the historic universities that dominate global rankings these tables can reveal the achievements of smaller, innovative institutions. They usually do this by setting a strict 'age cap' for inclusion. THE publishes a list of the best universities under 50 years old as the Young University Rankings . QS publishes its own Top 50 Under 50 .
The best universities in different countries
Want to quickly find the highest ranked universities for a particular study destination? Our guides to PhD study abroad include details for the top institutions in different countries.
Research assessments
Finally, there are rankings that aren't really rankings at all.
Many countries (including the UK) award public funding to higher education institutions based on their research performance.
Unsurprisingly, these don't tend to rely on league tables to do this (though that doesn't mean they won't celebrate their universities' performance). Instead they tend to carry out their own assessment exercises to find out the best research universities
These aren't really designed for use by students, but they can be very relevant to PhD work. One good example of this is the UK's Research Excellence Framework (REF). This assesses the quality of research a university produces, its wider impact and how well it supports researchers (including postgraduates).
The latest REF exercise took place in 2021. You can check out all the REF results right here or read our detailed guide to how the REF works .

Interested in studying a PhD degree in Germany? Our guide tells you all about the different universities that offer PhD programmes and how they rank on global tables so that you can make the best decision.

The Research Excellence Framework is a valuable resource for prospective PhD students looking to assess the standard of research at UK universities.

Our guide covers everything you'll need to know to study in Canada this year, including fees, funding, visas and more.

Understand what a successful PhD research proposal needs to include and how to go about writing one for your project application.
FindAPhD. Copyright 2005-2023 All rights reserved.
Unknown ( change )
Have you got time to answer some quick questions about PhD study?
Select your nearest city
You haven't completed your profile yet. To get the most out of FindAPhD, finish your profile and receive these benefits:
Monthly chance to win one of ten £10 Amazon vouchers ; winners will be notified every month.*
The latest PhD projects delivered straight to your inbox
Access to our £6,000 scholarship competition
Weekly newsletter with funding opportunities, research proposal tips and much more
Early access to our physical and virtual postgraduate study fairs
Or begin browsing FindAPhD.com
or begin browsing FindAPhD.com
*Offer only available for the duration of your active subscription, and subject to change. You MUST claim your prize within 72 hours, if not we will redraw.
Already have a my FindAPhD Account? Log in
Create your account
Looking to list your PhD opportunities? Log in here .