We use cookies to enhance our website for you. Proceed if you agree to this policy or learn more about it.
Essay Database >
Essay Examples >
Essays Topics >
Essay on Women
Antigone Essay Samples
Type of paper: Essay
Topic: Women , Character , Human Rights , World , Sophocles , Human , Pride , Antigone
Published: 02/24/2020
ORDER PAPER LIKE THIS
Written around 441 BC, Antigone is one of the seven surviving plays produced by the Greek playwright Sophocles and is considered to be the classic example of hubris, meaning extreme pride or arrogance that is ultimately a person's undoing. This play, however, has several other important themes including Sophocles perspectives on human rights and women's rights. Both are quite fascinating considering ancient Greece practiced slavery and certainly was a male dominated society, but the burial of Polyneices by the hand of Antigone, as well as her rejection of Creon's decree denying those funeral rites, illustrate Sophocles felt people automatically possessed specific rights to act as they should in certain situations. Also women did not need to be subservient to men and were not inferior. The daughter of an incestuous marriage between King Oedipus of Thebes and his mother Jocasta, Antigone's brothers Polyneices and Eteocles perished battling each other in the Theban civil war. The new monarch, Creon declares Eteocles will be honored, while Polyneices will be shamed. He orders Polyneices body to be left outside the city where it lay to be ravaged by animals, insects and the elements. Antigone beseeches her sister Ismene to help her perform the burial rituals for their brother, but Ismene refuses out of fear of Creon's wrath. Antigone entertains no such concerns and is intent on doing what is right by her brother, no matter what the cost, even if Creon snuffs out her breath. She says to Ismene, "Yes. I'll do my duty to my brother-and yours as well, if you're not prepared to. I won't be caught betraying himBut he has no right to keep me from what's mine." Antigone buries Polyneices, openly defying Creon, who then orders her punishment to be imprisonment within a cave for the rest of her life. Flouting Creon again, Antigone hangs herself rather than suffer her fate. Creon, the new king of Thebes and Antigone's uncle, is nothing short of a tyrant and is the tragic character in this work as through his pride, which is represented by him not tolerating Antigone's disobedience of his edict, even if it is unfair at best, he loses his son Haemon and is cursed by his cherished wife Eurydice. By not allowing Antigone to bury her brother, Creon loses all that is dear is to him simply because he cannot let go of his own self-importance. Portrayed as beautiful and submissive, Ismene refuses to aid her sister, yet when questioned by Creon as to her role, she lies and says she was in on the plan. Antigone refuses to allow her to be punished when she never had a hand in Polyneices burial. To the end she was the strong sister that stood up for what she believed was right, while Ismene was content to save her skin despite her Polyneices being her brother. Although it was written thousands of years ago, the themes of human rights and women's rights in Antigone still hold true in our modern world. Antigone's defiance of Creon over her brother's basic human right to a decent burial show and her steadfast determination not to be denied illustrate these themes. They are even more apparent by using Ismene's weakness of character as a foil. Antigone is one of the first works in the history of the world to address both these concepts.
Cite this page
Share with friends using:
Removal Request

Finished papers: 1950
This paper is created by writer with
ID 265947733
If you want your paper to be:
Well-researched, fact-checked, and accurate
Original, fresh, based on current data
Eloquently written and immaculately formatted
275 words = 1 page double-spaced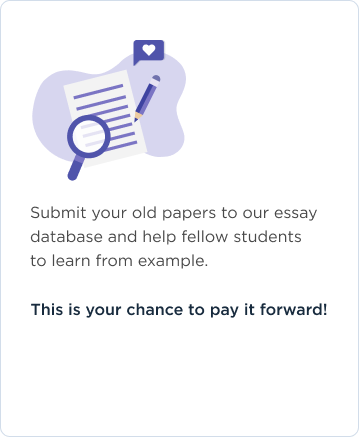 Can't find a free sample that matches your requirements?
Subscribe to WowEssays Premium and get access to over 1 MILLION high-quality downloadable samples
GET ACCESS NOW
Related Essays
Appeal letter for admission personal statement examples, good example of facebook status essay, good example of franchising article summary and analysis research paper, good example of general course work, good example of european union essay, good example of evaluation protocol research paper, good example of federalism essay, good example of ethnography caught on celluloid course work, good example of globilization essay, good example of future use current use essay, good example of find and evaluate argument article review, good example of functionalist course work, good example of expenses projections research paper, good example of factors that influence consumer buying behavior when selecting mobile operators dissertation methodology, good example of food companies should not market to children research paper, good example of ethical issues in human relations counseling essay, good example of fairness of obtaining a government contractnameinstitution essay, great example of finance academic essay, good example of gardner's theory of multiple intellgence essay, good example of food security and food systems essay, good example of evidence based practice for quality improvement essay, good example of evaluation of stock project essay.
Password recovery email has been sent to [email protected]
Use your new password to log in
You are not register!
Short on a deadline?
Don't waste time. Get help with 11% off using code - GETWOWED
No, thanks! I'm fine with missing my deadline
by Sophocles
Antigone essay questions.
Why does Ismene object to Antigone's plan to bury Polyneices?
Possible Answer:
Ismene believes the men who rule Thebes must not be disobeyed because men are stronger and their will must be respected.
How does Antigone demonstrate pre-feminist ethics?
Antigone believes that a woman's duty is not to the men who rule a domain, but rather to her own instincts and her own sense of right and wrong. She believes that the gods do not dictate through a ruler, but rather through individual beliefs.
When does Creon become apologetic for his actions?
Creon never apologizes for his actions. Instead, he simply orders Antigone to be freed because he knows that Teiresias is never wrong - and therefore that his own life is at risk. However, he never truly believes that his order to imprison her was the wrong course of action.
What is the seeming reason for Haemon's suicide? Does he kill himself only out of desperate love for the dead Antigone?
Haemon's suicide seems to have two motivations - first out of anguish over Antigone's death, but also because he is so furious with his father for having betrayed his trust. Early in the play, Haemon tells his father that as long as he offers wisdom, Haemon will follow him. But now it is clear that his father led him astray, and for that Haemon believes that one of them must die.
Why isn't Creon killed by the plague that befalls him at the play's end?
Creon's punishment is to suffer without a family, and to suffer the guilt of knowing he destroyed the lives of innocents to preserve obsolete traditions and a misconceived legacy of misogynist rule.
What is Creon's tragic flaw?
Creon's tragic flaw is that he believes that men have the right to interpret divine will and impose absolute power in their name. As a result, a simple belief - men cannot be wrong in the face of women - is elevated to law and thus leads to multiple (unnecessary) deaths.
Is Antigone ever apologetic for burying Polyneices?
Though Antigone bemoans her fate and believes death is a cruel and unnecessary punishment for burying Polyneices, she is never apologetic for actually covering his body. She believes until the end that she did the right thing.
Why does Antigone not allow Ismene to join her in her death sentence?
Antigone does not want her sister laying claim to an act that was solely hers for two reasons: one, because she wants her sister to remain alive, and two, because she wants her sister to feel the shame of abandoning her principles for the sake of staying alive and being subservient to men.
What is the role of the Chorus?
The Chorus is meant to reflect the conscience of Thebes - they are the elders who expect Creon to guide them towards wisdom. As they lead him astray, they begin to sense this and reflect their feelings in their choral poems.
What is unusual about the Watchman's speech?
Unlike the other characters, the Watchman's speech is written in more natural rhythms and dialect.

Antigone Questions and Answers
The Question and Answer section for Antigone is a great resource to ask questions, find answers, and discuss the novel.
demonstration of pre feminist ethics in sophocles antigone
Antigone's gender has profound effects on the meaning of her actions. Creon himself says that the need to defeat her is all the more pressing because she is a woman. The freedom of Greek women was extremely limited; the rules and strictures placed...
Whose rights should assume priority - Creon's to legislate and punish, or Antigone's to bury her brother? Is there any way to resolve the competing claims of Creon and Antigone?
I like Antigone. Some critics see Antigone as too self-righteous, even alienating, but others claim her as a seminal feminist, determined to do what is right even in defiance of patriarchal law. Indeed, Antigone captured the public imagination...
To what extent do Creon and Antione control their own fates?
Check this out:
Study Guide for Antigone
Antigone study guide contains a biography of Sophocles, literature essays, quiz questions, major themes, characters, and a full summary and analysis.
About Antigone
Antigone Summary
Character List
Lines 001-241 Summary and Analysis
Essays for Antigone
Antigone essays are academic essays for citation. These papers were written primarily by students and provide critical analysis of Antigone by Sophocles.
Influence of Antigone on A Doll's House
The Use of Light and Dark Images in Antigone
Batman and Creon: Denied the Glory?
Relativist Justice in Antigone
Hubris in Antigone and Oedipus
Lesson Plan for Antigone
About the Author
Common Core Standards
Introduction to Antigone
Relationship to Other Books
Notes to the Teacher
Related Links
Antigone Bibliography
E-Text of Antigone
Antigone e-text contains the full text of Antigone by Sophocles.
Wikipedia Entries for Antigone
Introduction
Historical context
Notable features
Significance and interpretation
Home — Essay Samples — Literature — Antigone — Book Review: Antigone written by Sophocles

Book Review: Antigone Written by Sophocles
Subject: Literature
Category: Books , Plays , Writers
Essay Topic: Antigone , Antigone Tragic Hero , Sophocles
Words: 1292
Published: 28 February 2023
Downloads: 152
Lauriola, R. (2007). Wisdom and Foolishness: A Further Point in the Interpretation of Sophocles' Antigone. Hermes, 135(H. 4), 389-405.
Martens, K. (2018). Reimagining heroism: A conceptual analysis through antigone and medea. Journal of Humanistic Psychology, 58(4), 431-443.
Soliah, N. (2011). Conflict of Interest Between The Family and The State In Sophocles' Antigone (1912): Psychoanalytic Criticism (Doctoral dissertation, Universitas Muhammadiyah Surakarta).
Segal, C. P. (1964). Sophocles' Praise of Man and the Conflicts of the" Antigone". Arion: A Journal of Humanities and the Classics, 3(2), 46-66.
Moro, V. (2021). SAILING TOGETHER: THE AGONISTIC CONSTRUCTION OF SISTERHOOD IN SOPHOCLES'ANTIGONE. Ramus, 50(1-2), 109-126.
Remember! This is just a sample.
You can get your custom paper by one of our expert writers.
121 writers online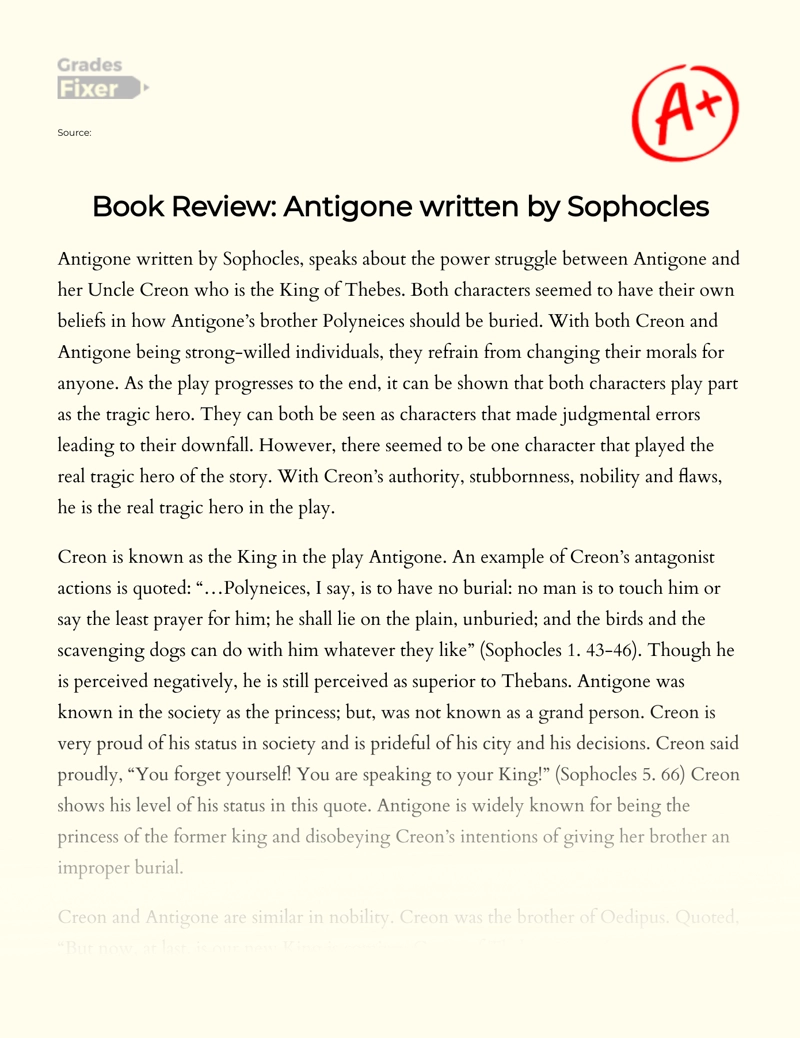 There are several improvements that need to be made to the first paragraph. Firstly, the writer has not started the first paragraph with a hook sentence that generally alludes to the thesis statement. Moreover, the writer needs to introduce the text more extensively in two to three sentences. While the ... thesis statement has been identified, the writer needs to state it in a more concise way in a single sentence. For example, the thesis statement may be changed to "Creon and Antigone have established and firmly rooted beliefs in how Antigone's brother Polyneices should be buried since both characters are strong-willed and refrain from altering their behavior." The evidence presented to support this thesis statement is quite extensive since the writer has used both examples and direct quotations from the text. It is recommended that word choice can be improved to enhance eloquence and expression. Sentence construction is appropriate and there are no major problems. However, it is suggested that organisation of the essay may be further improved. This may be done by adding subheadings and making sure that each paragraph elaborates only one point. Show more
Remember: This is just a sample from a fellow student.
Related Essays
In both Homer's The Odyssey and Sophocles' Antigone, violence and war seem to be considered honorable; great fighters such as Antilokhos, Akhilleus and Odysseus of The Odyssey and Eteocles of Antigone are glorified and [...]
Sophocles' play Antigone centers around a conflict between oikos and polis. Oikos, "home," is the concept of the household, dominated by women and kinship; polis, "city," is the concept of the collective city-state, dominated by [...]
While it is likely that Oedipus Rex is the only character who completely embodies Aristotle's idea of a tragic hero, there are many characters who possess enough of his defined characteristics to qualify as the tragic hero of [...]
The "Golden Age" of Greece is notorious for its many contributions to the creative world, especially in its development of the play. These primitive performances strived to emphasize Greek morals, and were produced principally [...]
No doubt, the most famous theatrical version of Antigone is the Greek original. Sophocles dramatized Antigone's choice and fate first, but he certainly was not the only playwright to see that Antigone's story is choice material [...]
History has been, and always will be, a matter of perspective. Wars, for example, will be viewed and taught differently by each respective country involved. Some things will be written off and forgotten, while somewhere else [...]
In George Orwell's 1984, Winston Smith cannot escape the state's domination. Yet his inability is not only because of government power. Rather, even if he did have an opportunity to leave Oceania, his actions indicate that he [...]
Problems faced by characters in literature often repeat themselves, and when these characters decide to solve these standard problems, their actions are often more similar than they first appear. This idea is evident when [...]
The power of words is enough to control an entire nation. Although many would consider physical power and brute force to be absolute power, George Orwell's 1984 demonstrates a dystopian society where language is the ultimate [...]
Find Free Essays
We provide you with original essay samples, perfect formatting and styling
Cite this Essay
To export a reference to this article please select a referencing style below:
Related Topics
By clicking "Send", you agree to our Terms of service and Privacy statement . We will occasionally send you account related emails.
Where do you want us to send this sample?
By clicking "Continue", you agree to our terms of service and privacy policy.
Be careful. This essay is not unique
This essay was donated by a student and is likely to have been used and submitted before
Download this Sample
Free samples may contain mistakes and not unique parts
Sorry, we could not paraphrase this essay. Our professional writers can rewrite it and get you a unique paper.
Please check your inbox.
We can write you a custom essay that will follow your exact instructions and meet the deadlines. Let's fix your grades together!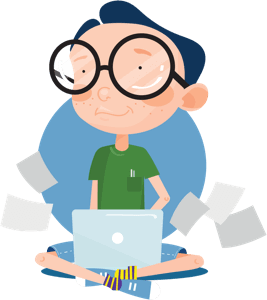 Are you interested in getting a customized paper?
We use cookies to personalyze your web-site experience. By continuing we'll assume you board with our cookie policy .
We can help you get a better grade and deliver your task on time!
Instructions Followed To The Letter
Deadlines Met At Every Stage
Unique And Plagiarism Free
Plagiarism checker
Writing help, paraphrasing tool, analysis of antigone by sophocles.
Analysis , Antigone , Tragedy , Tragic Hero
How it works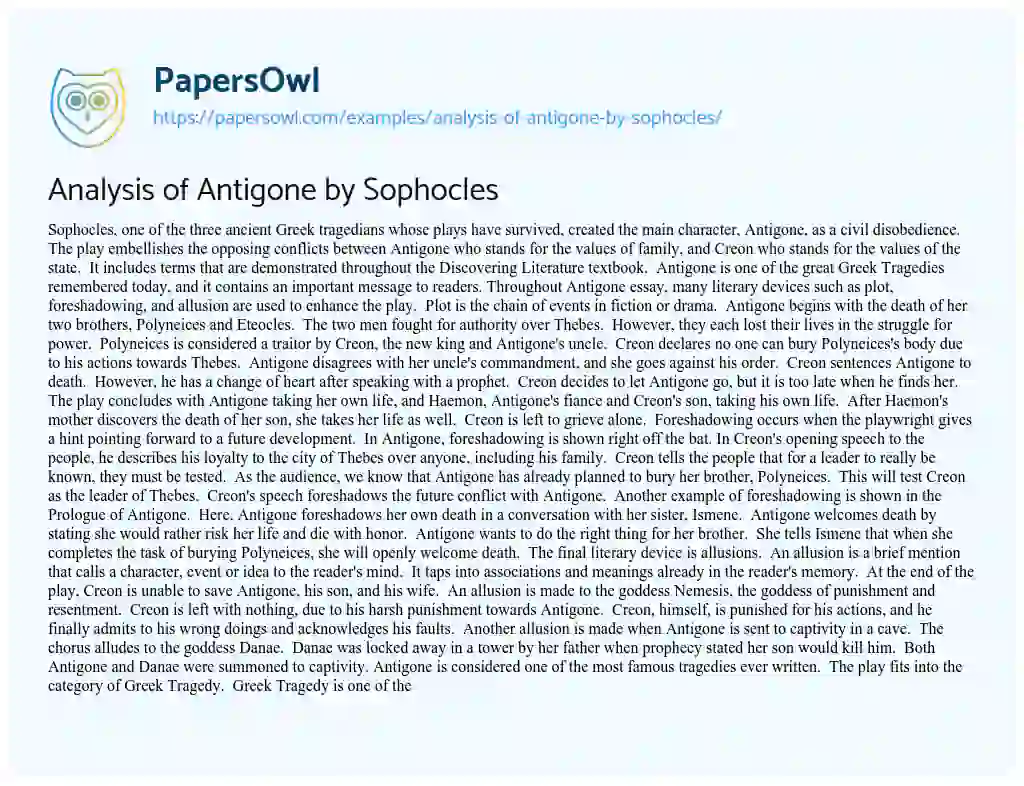 Sophocles, one of the three ancient Greek tragedians whose plays have survived, created the main character, Antigone, as a civil disobedience.  The play embellishes the opposing conflicts between Antigone who stands for the values of family, and Creon who stands for the values of the state.  It includes terms that are demonstrated throughout the Discovering Literature textbook.  Antigone is one of the great Greek Tragedies remembered today, and it contains an important message to readers.
In Creon's opening speech to the people, he describes his loyalty to the city of Thebes over anyone, including his family.  Creon tells the people that for a leader to really be known, they must be tested.  As the audience, we know that Antigone has already planned to bury her brother, Polyneices.  This will test Creon as the leader of Thebes.  Creon's speech foreshadows the future conflict with Antigone.  Another example of foreshadowing is shown in the Prologue of Antigone.  Here, Antigone foreshadows her own death in a conversation with her sister, Ismene.  Antigone welcomes death by stating she would rather risk her life and die with honor.  Antigone wants to do the right thing for her brother.  She tells Ismene that when she completes the task of burying Polyneices, she will openly welcome death.  The final literary device is allusions.  An allusion is a brief mention that calls a character, event or idea to the reader's mind.  It taps into associations and meanings already in the reader's memory.  At the end of the play, Creon is unable to save Antigone, his son, and his wife.  An allusion is made to the goddess Nemesis, the goddess of punishment and resentment.  Creon is left with nothing, due to his harsh punishment towards Antigone.  Creon, himself, is punished for his actions, and he finally admits to his wrong doings and acknowledges his faults.  Another allusion is made when Antigone is sent to captivity in a cave.  The chorus alludes to the goddess Danae.  Danae was locked away in a tower by her father when prophecy stated her son would kill him.  Both Antigone and Danae were summoned to captivity.
Antigone is considered one of the most famous tragedies ever written.  The play fits into the category of Greek Tragedy.  Greek Tragedy is one of the more unique categories in drama.  The tragedy contains a plot, a tragic hero, theme, diction, a chorus, and spectacles.  Sophocles used these six characteristics when creating Antigone.  One of the more noticeable characteristics is the chorus.  The chorus is introduced to the audience near the beginning of the play.  The chorus comes in celebrating the recent victory in Thebes.  Here, the chorus provides background information about the scene.  It is clear to the audience that Thebes has just won a battle.  In Greek Tragedies, the purpose of the chorus is to describe the background information about a scene, and help the audience follow along with the play.  In Antigone, the chorus does just that.  Another important characteristic contained in Antigone is the use of a tragic hero.  Throughout the play, Antigone displays herself as the tragic hero in a variety of ways.  In the play, Antigone is pure in the eyes of others.  However, she is guilty in the eyes of Creon.  Antigone is willing to make the ultimate sacrifice, death, to do what she considers an honorable act towards her brother.  Antigone receives sympathy because she chooses to stand alone.  In Greek Tragedy, the tragic hero is the character who has heroic traits, but often has flaws or make mistakes that lead to their own downfall.  Antigone's tragic flaw is her arrogance.
Although Antigone may be difficult to understand, I believe it contains many important lessons that others should read.  I first became familiar with Antigone my sophomore year of high school, when I read it in English class.  At first, I honestly was not interested in the play because I had a difficult time comprehending what was happening.  However, after completely dissecting the play in class, everything was put into perspective for me.  I became aware of Creon's unbelievable pride in Thebes over his family.  I was in awe after reading and understanding Creon's opening speech.  However, I believe he got what he deserved in the end.  A reoccurring theme in Antigone is how power both corrupts and blinds the characters in the play.  Creon is the most evident example of this theme.
Sophocles' tragedy, Antigone, is a play that is still widely known today.  Antigone's character is described as a civil disobedience, and the tragic hero of the play.  Antigone believed that Creon's law was unjust, and she had the moral right to defy it.  Antigone's belief in family values ultimately sentenced her to death.  Antigone embodies the characteristics of a Greek Tragedy and contains important terms from our Discovering Literature textbook.  Antigone also contains a memorable lesson readers should take away from the play.
The deadline is too short to read someone else's essay
Cite this page.
Analysis of Antigone by Sophocles. (2019, Feb 07). Retrieved from https://papersowl.com/examples/analysis-of-antigone-by-sophocles/
"Analysis of Antigone by Sophocles." PapersOwl.com , 7 Feb 2019, https://papersowl.com/examples/analysis-of-antigone-by-sophocles/
PapersOwl.com. (2019). Analysis of Antigone by Sophocles . [Online]. Available at: https://papersowl.com/examples/analysis-of-antigone-by-sophocles/ [Accessed: 2 Mar. 2023]
"Analysis of Antigone by Sophocles." PapersOwl.com, Feb 07, 2019. Accessed March 2, 2023. https://papersowl.com/examples/analysis-of-antigone-by-sophocles/
"Analysis of Antigone by Sophocles," PapersOwl.com , 07-Feb-2019. [Online]. Available: https://papersowl.com/examples/analysis-of-antigone-by-sophocles/. [Accessed: 2-Mar-2023]
PapersOwl.com. (2019). Analysis of Antigone by Sophocles . [Online]. Available at: https://papersowl.com/examples/analysis-of-antigone-by-sophocles/ [Accessed: 2-Mar-2023]
Don't let plagiarism ruin your grade
Make sure your essay is plagiarism-free or hire a writer to get a unique paper crafted to your needs.
Plagiarized Text
Leave your email and we will send a sample to you., not finding what you need, search for essay samples now.
Having doubts about how to write your paper correctly?
Our writers will help you fix any mistakes and get an A+!
Please check your inbox.
Don't use plagiarized sources
Where do you want us to send this sample, attention this is just a sample..
You can order an original essay written according to your instructions.
Trusted by over 1 million students worldwide
1. Tell Us Your Requirements
2. Pick your perfect writer
3. Get Your Paper and Pay
Hi! I'm Amy, your personal assistant!
Don't know where to start? Give me your paper requirements and I connect you to an academic expert.
short deadlines
100% Plagiarism-Free
Certified writers
StudyDriver in your Smartphone!
Essays on Antigone
Antigone: a tragedy.
Antigone is a Greek tragedy written by Sophocles set in the Bronze Age at the dawn of day in the royal palace of Thebes. It is story of a driven young girl named Antigone who is determined to bury her recently deceased brother, Polynices, by defying the orders of the new king of Thebes', Creon. . The definition of an Ancient Greek tragedy thought up by Aristotle explains that tragedy is "an imitation of an action that is serious, complete […]
Antigone Moral Obligation and Civil Disobedience
Greek tragedy often teaches moral lessons at the expense of human life and political will. Antigone is the tragic story of the daughter of Oedipus and Jocasta of Thebes after the army of Argos vanishes and her brothers have killed each other on opposite sides of the battle. While the Greeks were well-aware of the literary history, the tragedy still provides a historical and modern perspective for one of the oldest questions in society: how does one protest an unjust […]
A professional writer will make a clear, mistake-free paper for you!
Antigone Revealed
"The penalty- stoning to death in the public square (Sophocles 24-25)." This is the edict (almost like a law) declared by Kreon. This edict basically states that anyone who dares to bury Polyneices would be declared a traitor to the city of Thebes. Antigone, the main character, ends up breaking this rule to give her brother a proper burial and becomes portrayed as a hero. Greek tragedies are infamous for displaying common emotions that not many are used to sharing, […]
Antigone by Sophocles
Antigone by Sophocles is one of the most well-written Greek tragedies. At first, it may seem that Antigone is the tragic hero, but details support the fact that Kreon is the tragic hero. Kreon may be seen as neither good nor bad, which is why readers might feel an understanding or connection between themselves and Kreon. Kreon is not trying to be unjust, biased, or wrongful, but his decisions make him seem that way and affect many of the outcomes […]
Antigone Fights for her Family
Heroes are virtually always portrayed as courageous, autonomous, and without error whereas villains are depicted as evil, tyrannical, and controlling. This is not the case in Sophocles Antigone. In this play, Sophocles contrasts his hero, Antigone, with another hero, Creon. Both of them compete for honest and justifiable reasons, but they have different motives. Although it may seem that both of them have ethical intentions, Antigone is the true hero because her actions are motivated by religious and family purposes […]
Antigone is a Tragic Story
Antigone is a tragic story that shows when a human makes laws that do not emulate Divine ones, there will be suffering. Antigone is the protagonist who believes that it is better to disobey a law from the king than to disobey a principle. Antigoner's sister, Ismene, feels that even though the kingr's regulation is bad, there is nothing anyone can do about it because it is the law. Creon, the antagonist, is the king who made that law and […]
Antigone is from Ancient Times
Though the play "Antigone," is from ancient times, it possess many modern elements. The struggles displayed in the play have survived time and are still relevant today. A popular conflict we see in both "Antigone" and modern day life is the issue of civil disobedience. In the play, we are first introduced to Antigone and the other dominating characters. The Chorus explains that Antigone's brothers, Eteocles and Polynices, killed each other in battle. When their father died, they were supposed […]
Antigone Vs. Kreon
Upon currently taking a college course based upon what the good life consists of, Sophocles Antigone offers a new perspective that helps students gain a much better understanding of how others share a different view of what the good life may be. The play offers a multitude of situations, which allows for perfect opportunities to relate the playr's content to the class itself. In the first act, the audience is introduced to the characters Antigone and Kreon, who share separate […]
Antigone is a Drama Based
Antigone Antigone is a drama based on a fictional work written by Sophocles, that recounts the tragic plight of Antigone, after she defied the order of King Creon. However, the civil disobedience exemplified by the main character seeks to awaken the moral courage of every citizen who lives under a harsh rule. It is submitted that every person has a moral obligation to stand against oppression and injustice, even if it means offending the existing laws. The story of Antigone […]
Antigone Define the Law
Oedipus just passed away in Clonus when Antigone together the sister decided of returning to Thebes to help their brothers, Polyneices and Eteocles in avoiding the prophecy predicting their death. Upon the arrival in Thebes, Antigone realizes that the brothers are already dead. The throne has already been inherited by Creon after the death and the burial of Eteocles. The chorus explains the existed battle that transmitted between Eteocles and Polyneices. Upon the arrival of Creon, he arrives and announces […]
Antigone is a Greek Tragedy
Antigone is a Greek Tragedy written by Sophicles. Etocles and Poyneices, two brothers, are fighting for the throne. Because of fight between the two brother, Creon becomes the new ruler of Thebes. Creon is also the brother of the form queen, Jocasta. Creon makes a decision that Polyneices will suffer the consequences and Eteocles will be honored. The body of Polyneices would be unburied. Ismene and Antigone are siblings of the Eteocles and Polyneices. In the beginning, Ismene is summoned […]
Antigone is a Play
Antigone is a play that demonstrates a variety of emotions throughout the play. The story starts off with the protagonist, Antigone, battling to give her brother, Polyneices a proper burial. The antagonist, Creon, who can also be referred to as Antigoner's uncle, and the ruler of Thebes, issued a royal edict banning for the burial of Polyneices. Antigone is baffled by this ban and fights for justice for her brother throughout the excerpt. The author, Sophocles, portrays the three rhetorical […]
Antigone Speech
In Sophocles play, Antigone, tell us the fate of the main character by choosing what is morally right, or to follow the law of the state. In the play, Antigone brother, Polyneices dies in a war between him and his brother Eteocles. He was considered a traitor to the Theban people, and will not receive a proper burial ordered by the King, Kreon. Antigone believing that Kreon decree is unjust, took the matter into her own hands and buried her […]
Antigone was Willing to Take Full Responsibility
Antigone says to her sister Ismene, I am not afraid of the danger; if it means death, it will not be the worst of deaths- death without honor (Sophocles 80) when Ismene refuses to help her bury their dead brother after the king made burying their brother illegal. Antigoner's I am not afraid of danger, shows her resolution to do the right thing, even if that meant going against the kingr's law. Ismene is rightfully afraid to help the brother […]
Antigone Tragic Hero
Heroic Characteristics Creon is the leader or person of status in the play, "Antigone" by Sophocles. His status was the new king of Thebes right after the previous kings Laius and Oedipus had fled. As the king, he seems to care more about the loyalty and the obedience of the laws in his city than his own proper family. Even though the reason he became king was due to his sister, Jocasta who was the wife/ mother of the former […]
Antigone Ethical Issues
Historians have determined that there are 5 characteristics that are required for a civilization to be considered as such. The first trait a civilization needs is a system of specialized workers. The second is advanced cities. The third characteristic necessary is a system of complex institutions. Next, the need for and development of record-keeping or writing is important. Finally, a group of people can be considered a civilization if they have developed some form of advanced technology. The Greeks were […]
Antigone Questions
 I think I can, relate to the dilemma faced by Antigoné emotionally, at least. She is in a position where she has to choose between her beloved brother or her kingdom, and she chooses her brother because she loves him more than she cares about Creon's decree. I relate to her emotion-fueled decision because I would do the same if I were in her shoes, and I can understand why she would disregard Creon. Laying a family member to rest […]
Antigone Moral Evaluation
Families belong together "Family means no one gets left behind or forgotten" -Lilo and stitch "To become truly great, one has to stand with people, not above them." -Montesquieu There a is a lot of problems in this world today. The topic I chose to focus on was families belonging together. I will be comparing this to a book called The burial of Thebes. The main character I am going to be focusing on is Antigone. During the book, Antigone wanted […]
Antigone Heroes
Different people share different experiences and therefore everyone establishes their own truth. Truth is something that is created by one's opinions and although the truth is something that we consider as morally right, the truth is not always used for the right reasons. The truth never shifts into something else and it is in constant no matter the circumstances. Those who seek the truth can be regretful of it and realize that life might have been better without it. Certain […]
Antigone Literary Analysis 
1.Backround Information on Euripides Around 485 B.C. a man named Euripides was born in Athens, Greece. Euripides mother's name was Cleito and his father's name was Mnesarchus. In Athens Euripides father worked as a retailer. Euripides had two marriages that both failed. Euripides is most known for his influential Greek myths which seem to always have dark or alternative meaning. He was also an author of 90 expressive plays. For example, the play of "Medea" contains unfortunate concepts that relate […]
Antigone Critical Thinking Questions
1. Antigoné faced a dilemma of picking a side between her family. Should she side with her loyal family members that disowned a son, or should she break forbidden rules and bury her brother that she once loved? I can understand why she felt indecisive to help put her brother to rest, even if he was a traitor to the city and king, but I can also understand if she leaves him lay in the empty field to make […]
Antigone Right with Right
While reading and studying Antigone, I believe that Antigone and Creon are both stubborn, self-centered people. They both remind me of how a lot of humans do these days. . Each one is knows they are righteous and is going to stick to that no matter what. The unwillingness to change or compromise is also a trait of them both, and because of their refusal to see anything beyond what they believe. As Antigone states, "You may do as […]
Antigone Nature of the Relationship
Normative ethics is the exploration of the question if religion dictates morality and what the foundation of morality is. Whether it is even possible to combine them and if possible identify a set of basic moral rules that unify all the principles. Plato's argument in Euthyphro conceptualizes that a benevolent being exists. But also fundamentally questions the nature of the relationship between a benevolent being and the forum of morality. That a benevolent being was loved by all gods thus […]
Sophocles Antigone was a Book
Sophocles Antigone was a book that had a unique plot. One of the ideas presented in this specific play was feminism and Antigoner's determination to go against their ruler. Along with this idea occurred a number of tragedies, which means therer's also a tragic hero. There are numerous debates in determining the tragic hero in this play, between the protagonist Antigone and Creon, Antigoner's cruel uncle. Tragic heroes, in any work, is a character not necessarily the protagonist- with a […]
Sophocles' Antigone
Sophocles' Antigone was a book that had a unique plot. One of the ideas presented in this specific play was feminism and Antigone's determination to go against their ruler. Along with this idea occurred a number of tragedies, which means there's also a tragic hero. There are numerous debates in determining the tragic hero in this play, between the protagonist Antigone and Creon, Antigone's cruel uncle. Tragic heroes, in any work, is a character – not necessarily the protagonist- with […]
Sophocles's Antigone is Rational Leader
Result, when Clytemnestra commits murder by killing her husband and king, even though the chorus and audience are horrified by her action there are some sympathetic reasons for the murder to be found. Not only does Clytemnestra have a strong motive in her desire for vengeance, but Agamemnon was also clearly a flawed character with extreme hubris and by no means was he a paragon of virtue. Agamemnon's third crucial mistake is the fact that he returned from the ten […]
Sophocles' Antigone Inequality in Society
One iconic saying that is known worldwide is "women and children first," and it is usually used whenever we find ourselves in a life-threatening situation. Some could argue that people are just trying to be mindful of the vulnerable people who are not capable of saving themselves, but some could disagree and say that women and children are the future in society. It is a bit obvious that everyone has different opinions to various views. Back in the Greek era […]
Sophocles' Antigone Human Rights
Inequality in Society One iconic saying that is known worldwide is "women and children first," and it is usually used whenever we find ourselves in a life-threatening situation. Some could argue that people are just trying to be mindful of the vulnerable people who are not capable of saving themselves, but some could disagree and say that women and children are the future in society. It is a bit obvious that everyone has different opinions to various views. Back in […]
The Play Antigone Presents
The play Antigone presents the conflict between Antigone and king Creon. Antigone holds religious beliefs and respect of the dead while king Creon stood for the rule of law. Antigone made the choice to give her brother a proper burial after he was killed, hereby disobeying the orders of king Creon which eventually let to her death sentence. Thoreau wrote in his essay If it [the injustice] is of such nature that it requires you to be the agent of […]
Genesis Vs. Antigone
Throughout time, one could see the consistency on what is thought to be the womenr's role in society. As consistent as waves washing upon a shore, society has thought that the womenr's role is to be inferior to the men. The role of a woman is seen clearly in Sophocles Antigone and Genesis, as they both contain a convoluted view of womenr's submission and liberation. Even today, pieces from both works are pulled to argue for or against gender dominance, […]
Essay On Antigone
Aristotle's definition of a tragic hero states that a tragic hero is a noble person who makes an error, in judgment or actions due to a central flaw, which causes their downfall. They then have a revelation and realize their mistake, but it is too late to amend for their villainy. In the Greek tragedy "Antigone", by Sophocles, many think Antigone is the tragic hero. However, Creon fits Aristotle's definition better. He makes an immense mistake by having Antigone executed that triggers his demise and loses everything he loves before fixing his mistake. Antigone would not be the tragic hero even though she stubbornly gets herself killed; she does not regret her actions.
Creon's decision to have Antigone killed is his fatal mistake. He is angered that Antigone, a woman, has the courage to break his law. Creon wants to "carry her far away,/Out there in the wilderness, and lock her/Living in a vault of stone. She shall have food,/And there let her pray to the gods of hell:/They are her only gods:/Perhaps they show her an escape from death,/Or she may learn,/though late,/That piety is shown the dead is a pity in vain" (3.142-149) to prove he is a strong ruler, whose heart cannot be softened by a female "For they are but women and even brave men run/When they see Death coming"(2.162-165). He has guards take them away and lock up both Antigone and her sister, Ismene, until their death. Haemon, Creon's son and Antigone's fiance, comes to reason with his father. Creon becomes even more stubborn and tells his son that he is foolish to let a woman seduce him. Creon's fatal flaw, hubris, leads him to question "you want me to show myself weak before the people?/Or to break my sworn word? No, and I will not./The women dies"(3.26-28). He follows through with his word making the biggest mistake in his life and Antigone is sent to her death.
After Creon makes his poor choice an old prophet Tiresias comes to Creon and warns him of the great sorrows that are coming. Creon realizes his mistakes and goes to repair them. Yet, it was too late, for Antigone "had made a noose of her fine linen veil/And hanged herself. Haemon lay beside her,/His arms about her waist, lamenting her,/His love lost underground, crying out/That his father had stolen her away from him./When Creon saw him, the tears rushed to his eyes,/And he called to him: 'What have you done, child? Speak to me./What are you thinking that makes your eyes so strange?/O my son, my son, I come to you on my knees!'/But Haemon spat in his face. He said not a word,/Staring—/and suddenly drew his sword/And lunged. Creon shrank back; the blade missed, and the boy,/Desperate against himself, drove it half its length/Into his own side and fell. And as he died,/He gathered Antigone close in his arms again,/And now he lies dead with the dead, and she is his/At last, his bride in the houses of the dead"(Exodus 64-76). This was not the only thing that Creon lost that day. His wife was later found dead she had "stood before the altar, and her heart/Welcomed the knife her own hand-guided,/And a great cry burst from her lips for Megareus dad,/And for Haemon dead, her sons. And her last breath/Was a curse for their father, the murderer of her sons./And she fell, and the dark flowed in through her closing eyes"(Exodus 111-117). Creon lost everything and fell into despair "he was happy once, as I count happiness:/Victorious in battle, sole governor of the land/Fortunate father of children nobly born./And now it has all gone from him! Who can say/That a man is still alive when his life's joy fails?/He is a walking dead man. Grant him rich;/Let him live like a king in his great house:/If his pleasure is gone, I would not give/So much as the shadow of smoke for all he owns" (Exodus 7-15). Now Creon had nothing and had to live with the fact that it was all his fault.
Antigone would not be a tragic hero because she never regrets her actions. She thinks what she did was right and she "dared/It was not God's proclamation. That final Justice/That rules the world below makes no such laws./Your edict, King was strong, /But all your strength is weakness itself against/The immortal unrecorded laws of God./They are not merely now: they were, and shall be,/Operative forever, beyond man utterly./I knew I must die, even without your decree: I am only immortal/Now before it is my time to die,/Surely this is no hardship: can anyone/Living, as I live, with evil all about me,/Think Death less than a friend? This death of mine/Is of no importance; but if I had left my brother/Lying in death unburied, I should have suffered./Now we do not./You smile at me. Ah Creon,/Think me a fool, if you like: but it may well be/That a fool convicts me of folly" (2.57-74). This shows that Antigone was not only doing the right thing but she was punished for it. Antigone expected her punishment even though it meant her death, and still, that didn't scare her into not burying her brother.
Antigone and Creon are very similar: they both are stubborn, they both make a 'mistake', they both meet their downfall because of that mistake. However, Creon is the tragic hero in the Greek tragedy. He realizes his mistake and tries to make it right, but it was too late. This comes to show that overall Creon better fits the definition of a tragic hero in the play Antigone. 
Antigone Essay
Recognizing the true issue in antigone.
The play Antigone begins with a very basic introduction to fifth and sixth century Greek theatre and gives the audience (or readers) a simple synopsis of the importance of Greek theatre at the time and by extension its ultimate value to the writers themselves. However, once those basic fundamentals are understood, Sophocles then turns our attention to the personality traits of the main characters pointing out their many admirable qualities and their faults as well.
However, there are some distinct irregularities in the story that do not blend well with the existing culture of the time. For one thing, Sophocles shifts our focus from a male dominated art by making the main character female, a very unusual move for the time. It also addresses the question as to whether or not god has given her special favor by making her a hero or whether that favor was removed by allowing her to die for her beliefs.
The setting for the play takes place in the City of Athens, a major center for intellectuals and artists alike. The culture is very affluent and because so many of the city at the time possessed great wealth, people had become accustomed to spreading out great feasts and festivals in a state of constant celebration. It is these free spirits that are forced to make a decision about the primary influences in their lives. Should they be governed by fate or by individualism?
Unlike other plays of the time, the main characters in Antigone could be gods or heroes or they could be unique men and women. Throughout the story, you find that the gods were constantly being questioned or challenged and talked about in some form or fashion. You get the sense that you really know and understand them even if they are not present in front of you on the stage.
This type of story telling is termed "history telling" and presents a problem for the audience as facts could change from one location to the next. And while the basic theme continues to run throughout, the individual vs. the government, you'll find that many of Creon's words in the play are often taken out of context and skewed to teach others about the importance of patriotism. One's loyalty to their state must be stronger than even familial the bonds of love.
Get high quality custom written essay just for $10
The play looks at two conflicting sets of values from different points of view. Antigone, while she values her relationship within the gods unit sincerely believes that the laws of the gods should not take priority over any other more private aspects of her life, especially in more personal matters held within the household. Creon on the other hand feels that the superior law should be that of the government to the point that all other beliefs should be disregarded in preference to the state.
Creon reinforces his viewpoint by voicing his belief that Antigone's brother, Polyneices, should not be buried because of his disobedience to the state when he attacked Thebes. To do so would be considered a betrayal of the state. While the conflict between Creon and Antigone is the main focus, Creon's act instills fear into many people resulting in obedience by coercion and not by loyalty.
This fear is clearly seen when Ismene tries to convince Antigone not to go through with the burial of her brother. Ismene is torn between that familial loyalty and her obligation to the government. Her comment, "We must obey them…I yield to those who have authority" shows how strongly she felt that those who dishonored the law would have a fate worse than death; to die of shame.
The play leaves us all contemplating an age old question. Who should have the supreme authority over the people? We all may have different opinions on the very topic. Even today, the line is clearly drawn and you have people on both sides. The expression 'blood is thicker than water' is not a new one. It will continue to be debated far into the future. For Antigone, it is impossible for the king to possess more authority than the gods.
Related Samples :
Oedipus Essay
Anthropology Essay
The Odyssey Essay Sample
The Great Gatsby Essay
Othello Essay
Imperialism Essay
Rely on professional writers with your college paper and take a load off your mind. Relax while we are working on your essay. Your peace of mind is just one click away
Home - Essay - Antigone
Category: Essay
Subcategory: Classic English Literature
Level: College
Student's Name Instructor's Name Course Date Antigone The play Antigone was written by Sophocles in 426 B.C. The play is basically about the woman known as Antigone who wanted to bury her brother even though this had been outlawed by the Thebian king, Creon. The king believed that his word was law and that no one had the authority to question him even though the issue seemed justified or not. Antigone, however, dares to challenge him knowing that the consequence of her actions might be far-reaching. Though the poem was written over 2,000 years ago, the themes in the play seem to resonate so well with many of the events happening in the current World we live in. Some of the prevalent issues in the play that are still relevant include the role of women vs women in the society and civil disobedience. The theme of civil disobedience is seen when Antigone decides that the decree against burying her brother was unjustified. She then decides to bury her brother even after being warned by her sister Ismene. She believes that her brother deserves a decent burial and is ready to all she can to ensure that this happens. According to her, his body was to "lie in the fields, a sweet treasure for carrion birds to find as they search for food." (Sophocles, Npag) She believed that she is totally justified to break the law as she did although she would be guilty of a serious crime. She basis her argument on the belief that laws would only be superior if they came from the god…
Free Antigone Essay Sample, Download Now
Order Original Essay on the Similar Topic
from $10 per-page
Leave a Reply Cancel reply
Your email address will not be published.
Top writers
97% Success rate
165 Finished orders
127 Reviews
Ph.D. Degree
96% Success rate
129 Finished orders
Master's Degree
Related samples
Categories of Supply Chain Operations Student's Name Institution Affiliation Categories of Supply Chain Operations Plan In connection with supply chain...
Name: Instructor: Course: Date: Strategy to Budget and Manage Power Cost In a residential area, there are many ways through which people use electricity....
Discussion Board Name Institutional Affiliation Pontiac describes the relationship between Native Americans and British as complex and often violent because the...
This example is not unique.
If you want to use the materials in your work, create a unique and discounted paper on this topic with our specialist.
Want to get a "Sanderberg Lean In" essay sample?
Please write your email to receive it right now
Admission Essay
Article Review
Biographies
Book/movie review
Biography essay
Business Plan
Annotated Bibliography
Book Report
Argumentative Essay
Autobiography Essay