Type your email…
Words and Phrases to Use for Summarizing
Published by my lingua academy on 30 jul 2022 30 jul 2022, word and phrases to use for summarizing.
Hi English learners! Are you writing an essay? Then you probably need to consider using different linking words. Today, we will look at different words and phrases to use for summarizing.
The words and phrases we're going to look at are as follows:
To sum (things) up
Finally/lastly/ultimately, the long and the short of it, in a nutshell.
Words and phrases to use for summarizing
We normally use the phrase to give a short summary at the end of a speech, report, etc.
To sum up , there are a few different approaches to the problem of poverty in modern society.
To sum things up , I'll go through a list of government directives associated with providing food in remote areas of the country.
And finally, to sum up , if you want to be fit and healthy, you need to go on a balanced diet and consider an active lifestyle.
We use the phrase to repeat and give the main points in a summary of a speech, research paper, etc.
To recap , the primary objective of the survey is to collect data in order to provide answers to the questions of literacy.
Let me recap where we've got so far in our research relating to exploiting natural mineral resources.
To recap briefly, we aim to increase sales by 10 per cent in the next year.
Use the phrase to say that you are considering everything.
All in all, plenty are reasons for the gender gap, such as employment inequality, medical care, etc.
All in all , it took us two months to identify the population, to choose and plan our data…
Use the phrase "in a word" to give a short answer or summary.
In a word , the demand for the Covid-19 vaccine falls as people become reluctant to get another shot.
In a word , there are three ways to tackle the problem.
Use the phrases to close a statement or a speech after all the items in the list mentioned.
Finally , I'd like to say that it's been a great pleasure working with you, and I want to thank you for all your support.
Lastly , thank you all for your attention, care and support in our efforts to save our one and only planet.
Ultimately , the end goal of our marketing concept is a customer-oriented market in which it is easy to understand customers' needs and desires.
The phrase is used to say that you will say something long and probably complicated shortly without many details.
The long and the short of it is that it is necessary to exercise regularly and stop smoking to get fit and healthy.
We did some research and the long and the short of it is that the number of people who are using our website is increasing.
You can use the phrase to give a short summary.
In a nutshell , these are the main outcomes of the study based on the behaviour of teenagers.
This, in a nutshell , is the concept of healthy habits you should try to introduce into your daily routine.
Let me take your English to the next level. If you feel that you are not making much progress with your English or as quickly as your academic or professional requirements demand, how about trying my reasonably-priced one-to-one English lessons that I can tailor to whatever needs you may have like sitting forthcoming English certification exams, or taking part in business meetings with your international colleagues, or passing your job interview in English. Book an online English lesson with me or one of my fellow certified and experienced English teachers, and see for yourself. You won't feel let down because we are going to make sure that you have a good run for the money you are investing in your linguistic education. Waste no time and take a trial test for only 1 euro.
Share this:
Click to share on Twitter (Opens in new window)
Click to share on Facebook (Opens in new window)
Click to share on LinkedIn (Opens in new window)
Click to share on Tumblr (Opens in new window)
Click to share on Pinterest (Opens in new window)
Click to email a link to a friend (Opens in new window)
Click to print (Opens in new window)
Click to share on Reddit (Opens in new window)
Click to share on WhatsApp (Opens in new window)
My Lingua Academy
My Lingua Academy is an online school of English language. We give one-on-one lessons to students of English of all ages and all levels of knowledge all around the world. With us you can prepare for written assignments and exams, attend a general or business English course, or have conversation classes with qualified English teachers who have years of experience.
Leave a Reply Cancel reply
Related posts.
Useful Phrases Vocabulary
40 ways to say "you're welcome".
Hello English learners! Welcome to a new lesson. We thank people to show our gratitude and appreciation. One of the most common and typical ways to respond to someone's "thank you" is "you're welcome". In today's lesson, we will look at 40 different ways to say "you're welcome'.
Grammar tenses Useful Phrases
Will, shall, be going to.
Hello English learners. Welcome to a new lesson. Many of my students cannot always tell whether to use will or be going to in their sentences. Since grammar is very important, in today's lesson, we will talk about how to use will, shall and going to to express future.
Grammar Useful Phrases Vocabulary Writing
Time conjunctions in english.
Hello English learners. Welcome to a new lesson. We will talk about time conjunctions. As you probably know, we use conjunctions to join sentences. Time conjunctions tell us the time when things happen. Here is the list of 9 time conjunctions we will be discussing in today's lesson: After/before Until/by the time As soon as Once Since When/while
Summary Writing Format
When writing a summary, remember that it should be in the form of a paragraph.
A summary begins with an introductory sentence that states the text's title, author and main point of the text as you see it.
A summary is written in your own words.
A summary contains only the ideas of the original text. Do not insert any of your own opinions, interpretations, deductions or comments into a summary.
Identify in order the significant sub-claims the author uses to defend the main point.
Copy word-for-word three separate passages from the essay that you think support and/or defend the main point of the essay as you see it.
Cite each passage by first signaling the work and the author, put "quotation marks" around the passage you chose, and put the number of the paragraph where the passages can be found immediately after the passage.
Using source material from the essay is important. Why? Because defending claims with source material is what you will be asked to do when writing papers for your college professors.
Write a last sentence that "wraps" up your summary; often a simple rephrasing of the main point.
Example Summary Writing Format
In the essay Santa Ana , author Joan Didion's main point is ( state main point ). According to Didion "… passage 1 …" (para.3). Didion also writes "… passage 2 …" (para.8). Finally, she states "… passage 3 …" (para. 12) Write a last sentence that "wraps" up your summary; often a simple rephrasing of the main point.
Provided by : Lumen Learning. Located at : http://lumenlearning.com/ . License : CC BY: Attribution
Authored by : Paul Powell. Provided by : Central Community College. Project : Kaleidoscope Open Course Initiative. License : CC BY: Attribution
Authored by : Elisabeth Ellington and Ronda Dorsey Neugebauer. Provided by : Chadron State College. Project : Kaleidoscope Open Course Initiative. License : CC BY: Attribution
Table of Contents
Instructor Resources (Access Requires Login)
Overview of Instructor Resources
An Overview of the Writing Process
Introduction to the Writing Process
Introduction to Writing
Your Role as a Learner
What is an Essay?
Reading to Write
Defining the Writing Process
Videos: Prewriting Techniques
Thesis Statements
Organizing an Essay
Creating Paragraphs
Conclusions
Editing and Proofreading
Matters of Grammar, Mechanics, and Style
Peer Review Checklist
Comparative Chart of Writing Strategies
Using Sources
Quoting, Paraphrasing, and Avoiding Plagiarism
Formatting the Works Cited Page (MLA)
Citing Paraphrases and Summaries (APA)
APA Citation Style, 6th edition: General Style Guidelines
Definition Essay
Definitional Argument Essay
How to Write a Definition Essay
Critical Thinking
Video: Thesis Explained
Effective Thesis Statements
Student Sample: Definition Essay
Narrative Essay
Introduction to Narrative Essay
Student Sample: Narrative Essay
"Shooting an Elephant" by George Orwell
"Sixty-nine Cents" by Gary Shteyngart
Video: The Danger of a Single Story
How to Write an Annotation
Writing for Success: Narration
Illustration/Example Essay
Introduction to Illustration/Example Essay
"She's Your Basic L.O.L. in N.A.D" by Perri Klass
"April & Paris" by David Sedaris
Writing for Success: Illustration/Example
Student Sample: Illustration/Example Essay
Compare/Contrast Essay
Introduction to Compare/Contrast Essay
"Disability" by Nancy Mairs
"Friending, Ancient or Otherwise" by Alex Wright
"A South African Storm" by Allison Howard
Writing for Success: Compare/Contrast
Student Sample: Compare/Contrast Essay
Cause-and-Effect Essay
Introduction to Cause-and-Effect Essay
"Cultural Baggage" by Barbara Ehrenreich
"Women in Science" by K.C. Cole
Writing for Success: Cause and Effect
Student Sample: Cause-and-Effect Essay
Argument Essay
Introduction to Argument Essay
Rogerian Argument
"The Case Against Torture," by Alisa Soloman
"The Case for Torture" by Michael Levin
How to Write a Summary by Paraphrasing Source Material
Writing for Success: Argument
Student Sample: Argument Essay
Grammar/Mechanics Mini-lessons
Mini-lesson: Subjects and Verbs, Irregular Verbs, Subject Verb Agreement
Mini-lesson: Sentence Types
Mini-lesson: Fragments I
Mini-lesson: Run-ons and Comma Splices I
Mini-lesson: Comma Usage
Mini-lesson: Parallelism
Mini-lesson: The Apostrophe
Mini-lesson: Capital Letters
Grammar Practice - Interactive Quizzes
De Copia - Demonstration of the Variety of Language
Style Exercise: Voice
Have a language expert improve your writing
Run a free plagiarism check in 10 minutes, generate accurate citations for free.
Knowledge Base
Working with sources
How to Write a Summary | Guide & Examples
How to Write a Summary | Guide & Examples
Published on November 23, 2020 by Shona McCombes . Revised on May 31, 2023.
Summarizing , or writing a summary, means giving a concise overview of a text's main points in your own words. A summary is always much shorter than the original text.
There are five key steps that can help you to write a summary:
Read the text
Break it down into sections
Identify the key points in each section
Write the summary
Check the summary against the article
Writing a summary does not involve critiquing or evaluating the source . You should simply provide an accurate account of the most important information and ideas (without copying any text from the original).
Table of contents
When to write a summary, step 1: read the text, step 2: break the text down into sections, step 3: identify the key points in each section, step 4: write the summary, step 5: check the summary against the article, other interesting articles, frequently asked questions about summarizing.
There are many situations in which you might have to summarize an article or other source:
As a stand-alone assignment to show you've understood the material
To keep notes that will help you remember what you've read
To give an overview of other researchers' work in a literature review
When you're writing an academic text like an essay , research paper , or dissertation , you'll integrate sources in a variety of ways. You might use a brief quote to support your point, or paraphrase a few sentences or paragraphs.
But it's often appropriate to summarize a whole article or chapter if it is especially relevant to your own research, or to provide an overview of a source before you analyze or critique it.
In any case, the goal of summarizing is to give your reader a clear understanding of the original source. Follow the five steps outlined below to write a good summary.
Scribbr Citation Checker New
The AI-powered Citation Checker helps you avoid common mistakes such as:
Missing commas and periods
Incorrect usage of "et al."
Ampersands (&) in narrative citations
Missing reference entries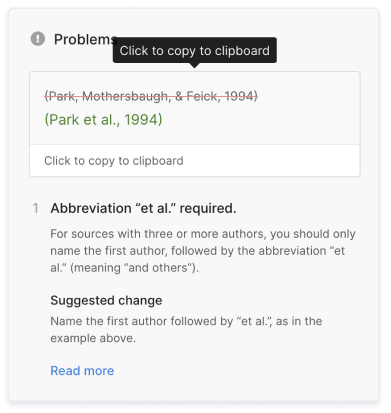 You should read the article more than once to make sure you've thoroughly understood it. It's often effective to read in three stages:
Scan the article quickly to get a sense of its topic and overall shape.
Read the article carefully, highlighting important points and taking notes as you read.
Skim the article again to confirm you've understood the key points, and reread any particularly important or difficult passages.
There are some tricks you can use to identify the key points as you read:
Start by reading the abstract . This already contains the author's own summary of their work, and it tells you what to expect from the article.
Pay attention to headings and subheadings . These should give you a good sense of what each part is about.
Read the introduction and the conclusion together and compare them: What did the author set out to do, and what was the outcome?
To make the text more manageable and understand its sub-points, break it down into smaller sections.
If the text is a scientific paper that follows a standard empirical structure, it is probably already organized into clearly marked sections, usually including an introduction , methods , results , and discussion .
Other types of articles may not be explicitly divided into sections. But most articles and essays will be structured around a series of sub-points or themes.
Now it's time go through each section and pick out its most important points. What does your reader need to know to understand the overall argument or conclusion of the article?
Keep in mind that a summary does not involve paraphrasing every single paragraph of the article. Your goal is to extract the essential points, leaving out anything that can be considered background information or supplementary detail.
In a scientific article, there are some easy questions you can ask to identify the key points in each part.
If the article takes a different form, you might have to think more carefully about what points are most important for the reader to understand its argument.
In that case, pay particular attention to the thesis statement —the central claim that the author wants us to accept, which usually appears in the introduction—and the topic sentences that signal the main idea of each paragraph.
Now that you know the key points that the article aims to communicate, you need to put them in your own words.
To avoid plagiarism and show you've understood the article, it's essential to properly paraphrase the author's ideas. Do not copy and paste parts of the article, not even just a sentence or two.
The best way to do this is to put the article aside and write out your own understanding of the author's key points.
Examples of article summaries
Let's take a look at an example. Below, we summarize this article , which scientifically investigates the old saying "an apple a day keeps the doctor away."
Davis et al. (2015) set out to empirically test the popular saying "an apple a day keeps the doctor away." Apples are often used to represent a healthy lifestyle, and research has shown their nutritional properties could be beneficial for various aspects of health. The authors' unique approach is to take the saying literally and ask: do people who eat apples use healthcare services less frequently? If there is indeed such a relationship, they suggest, promoting apple consumption could help reduce healthcare costs.
The study used publicly available cross-sectional data from the National Health and Nutrition Examination Survey. Participants were categorized as either apple eaters or non-apple eaters based on their self-reported apple consumption in an average 24-hour period. They were also categorized as either avoiding or not avoiding the use of healthcare services in the past year. The data was statistically analyzed to test whether there was an association between apple consumption and several dependent variables: physician visits, hospital stays, use of mental health services, and use of prescription medication.
Although apple eaters were slightly more likely to have avoided physician visits, this relationship was not statistically significant after adjusting for various relevant factors. No association was found between apple consumption and hospital stays or mental health service use. However, apple eaters were found to be slightly more likely to have avoided using prescription medication. Based on these results, the authors conclude that an apple a day does not keep the doctor away, but it may keep the pharmacist away. They suggest that this finding could have implications for reducing healthcare costs, considering the high annual costs of prescription medication and the inexpensiveness of apples.
However, the authors also note several limitations of the study: most importantly, that apple eaters are likely to differ from non-apple eaters in ways that may have confounded the results (for example, apple eaters may be more likely to be health-conscious). To establish any causal relationship between apple consumption and avoidance of medication, they recommend experimental research.
An article summary like the above would be appropriate for a stand-alone summary assignment. However, you'll often want to give an even more concise summary of an article.
For example, in a literature review or meta analysis you may want to briefly summarize this study as part of a wider discussion of various sources. In this case, we can boil our summary down even further to include only the most relevant information.
Using national survey data, Davis et al. (2015) tested the assertion that "an apple a day keeps the doctor away" and did not find statistically significant evidence to support this hypothesis. While people who consumed apples were slightly less likely to use prescription medications, the study was unable to demonstrate a causal relationship between these variables.
Citing the source you're summarizing
When including a summary as part of a larger text, it's essential to properly cite the source you're summarizing. The exact format depends on your citation style , but it usually includes an in-text citation and a full reference at the end of your paper.
You can easily create your citations and references in APA or MLA using our free citation generators.
APA Citation Generator MLA Citation Generator
Finally, read through the article once more to ensure that:
You've accurately represented the author's work
You haven't missed any essential information
The phrasing is not too similar to any sentences in the original.
If you're summarizing many articles as part of your own work, it may be a good idea to use a plagiarism checker to double-check that your text is completely original and properly cited. Just be sure to use one that's safe and reliable.
If you want to know more about ChatGPT, AI tools , citation , and plagiarism , make sure to check out some of our other articles with explanations and examples.
ChatGPT vs human editor
ChatGPT citations
Is ChatGPT trustworthy?
Using ChatGPT for your studies
What is ChatGPT?
Chicago style
Paraphrasing
 Plagiarism
Types of plagiarism
Self-plagiarism
Avoiding plagiarism
Academic integrity
Consequences of plagiarism
Common knowledge
A summary is a short overview of the main points of an article or other source, written entirely in your own words. Want to make your life super easy? Try our free text summarizer today!
A summary is always much shorter than the original text. The length of a summary can range from just a few sentences to several paragraphs; it depends on the length of the article you're summarizing, and on the purpose of the summary.
You might have to write a summary of a source:
As a stand-alone assignment to prove you understand the material
For your own use, to keep notes on your reading
To provide an overview of other researchers' work in a literature review
In a paper , to summarize or introduce a relevant study
To avoid plagiarism when summarizing an article or other source, follow these two rules:
Write the summary entirely in your own words by paraphrasing the author's ideas.
Cite the source with an in-text citation and a full reference so your reader can easily find the original text.
An abstract concisely explains all the key points of an academic text such as a thesis , dissertation or journal article. It should summarize the whole text, not just introduce it.
An abstract is a type of summary , but summaries are also written elsewhere in academic writing . For example, you might summarize a source in a paper , in a literature review , or as a standalone assignment.
All can be done within seconds with our free text summarizer .
Cite this Scribbr article
If you want to cite this source, you can copy and paste the citation or click the "Cite this Scribbr article" button to automatically add the citation to our free Citation Generator.
McCombes, S. (2023, May 31). How to Write a Summary | Guide & Examples. Scribbr. Retrieved December 5, 2023, from https://www.scribbr.com/working-with-sources/how-to-summarize/
Is this article helpful?
Shona McCombes
Other students also liked, how to paraphrase | step-by-step guide & examples, how to quote | citing quotes in apa, mla & chicago, the basics of in-text citation | apa & mla examples.
Other examples of frames: According to ___________________ (author's last name) (year), ____________________________________ (main idea; S + V + C). _______________ (author's last name) (year) argues that ___________________________________________ (main idea; S + V + C). If no author is given, use the title of the article : According to "_____________________" (Title of the Article) (year), _________________________________ (main idea; S+V+C). _________________ (topic/NP) has had a major impact on the_________________ (NP) of _________________ (main idea; NP) (author's last name, year). ________________'s (author's last name) article on __________________ (topic/NP) (year) discusses the _____________ (main idea; Noun Phrase) of _____________ (NP).
The main idea or argument needs to be included in this first sentence. Then mention the major aspects/factors/reasons that are discussed in the article/lecture. Give a full reference for this citation at the end of the summary (see #6. below).
For a one-paragraph summary , discuss each supporting point in a separate sentence. Give 1-2 explanations for each supporting point, summarizing the information from the original.
For a multi-paragraph summary , discuss each supporting point in a separate paragraph. Introduce it in the first sentence (topic sentence).
Example : The first major area in which women have become a powerful force is politics.
Support your topic sentence with the necessary reasons or arguments raised by the author/lecturer but omit all references to details, such as dates or statistics.
Use discourse markers that reflect the organization and controlling idea of the original, for example cause-effect, comparison-contrast, classification, process, chronological order, persuasive argument, etc.
In a longer summary, remind your reader that you are paraphrasing by using " reminder phrases ," such as
The author goes on to say that ...
The article (author) further states that ...
(Author's last name) also states/maintains/argues that ...
(Author's last name) also believes that ...
(Author's last name) concludes that
Restate the article's/lecturer's conclusion in one sentence.
Give a full reference for the citation (see the example below for the in-text citations in #2). For citing electronic sources, please see Citation of Electronic Resources .
Further illustrations : Please see the video Tips on Summarizing on the Ohio State Flipped ESL YouTube channel. This video investigates the basic elements needed to create an effective one sentence summary and a summary paragraph.
References Serwer, A. (1997, Sept. 8). Michael Dell turns the PC world inside out. Fortune , 76-86. Steinbeck, J. (1945). The pearl . New York: Penguin Books.
© 2006 Christine Bauer-Ramazani , Saint Michael's College. Last updated: June 21, 2018
Summary Writing
Process and hints to summary writing.
One major challenge with summary writing is deciding what to include and what to leave out. A bit of instruction on the process to follow, along with useful techniques, will have you writing expert summaries in no time.
Read the text for understanding, without editing. Make sure you understand the content, including major and minor sections, as well as the overlying message being conveyed. Look closely at topic sentences and key words repeated throughout.
Read through the material and cross out non-vital information. Underline what you believe to be the most important points, even if those points are words or phrases.
Write your summary in your own words. Follow both the organization of the original as well as its tone, though you need to make sure your own point of view is purely objective (reporting content of the text, only). Opinions should not appear in a summary. Any words or phrases from the original need to be properly documented and punctuated.
Your summary should be 15 to 20% the length of the original.
Be sure to go back when you've finished your summary and compare it to the original for accuracy.
Effective and Ineffective Summaries
Original text.
"For nearly 1,400 years Islam, though diverse in sectarian practice and ethnic tradition, has provided a unifying faith for peoples stretching from the Atlantic to the Indian Ocean and beyond. Starting in the 1500s, Western ascendancy, which culminated in colonization, eroded once glorious Muslim empires and reduced the influence of Islam. After the breakup of the Ottoman Empire following World War I and the decline of European colonial empires following World War II, Muslim nations adopted Western ideologies–communism, socialism, secular nationalism, and capitalism. Yet most Muslims remained poor and powerless. Their governments, secular regimes often backed by the West, were corrupt and repressive" (Belt 78).
Belt, Don. "The World of Islam." National Geographic. January 2002: 76-85. Print.
Poorly Written Summary
Despite Western-style governments, Muslim countries are mired in deep poverty and radical governments. This despite the fact that the religion has existed for several centuries. European colonization ruined the Islamic religion for a long time. You would find it hard to imagine how many Muslims there really are out there.
This summary
does not follow the order of information found in the original
the phrase "several centuries" minimizes the historic significance of the religion
sentence-level problems like "mired," "you would," and "out there" change the formal tone of the original to a biased, informal representation
it is approximately half the length of the original, which is too long
no credit is given to the original source
Well-Written Summary
For almost 1,500 years, Islam has united people globally. Western interference, through colonization and political ideologies, has not improved Muslims' lives (Belt 78).
follows the order of the original
maintains the original tone
is approximately 20% of the original's length
is properly documented and punctuated
Practice Summarizing
Try your hand at summarizing the following passages.
Practice Paragraph 1
"In 1925 the land aristocracy of Germany owned most of the large estates which occupied 20.2 per cent of the arable land of the country. They had 40 per cent of the land east of the Elbe River. All told, these large estates constituted but 0.4 per cent of the total number of landholdings in Germany. At the base of the pyramid were those who occupied small holdings: 59.4 per cent of the total holdings of Germany accounted for only 6.2 per cent of the arable land" (Lasswell 17).
Lasswell, Harold. Politics: Who Gets What, When, How . New York: Meridian Books, Inc. 1960. Print.
Type your summary in the space provided. 
Practice Paragraph 2
"The Indian tribes of North and South America do not contain all the blood groups that are found in populations elsewhere. A fascinating glimpse into their ancestry is opened by this unexpected biological quirk. For the blood groups are inherited in such a way that, over a whole population, they provide some genetic record of the past. The total absence of blood group A from a population implies, with virtual certainty, that there was no blood group A in its ancestry; and similarly with blood group B. And this is in fact the state of affairs in America" (Bronowski 92).
Bronowski, J. The Ascent of Man . Boston: Little Brown and Company, 1973. Print.
Practice Paragraph 3
"A solenoid is an electrically energized coil that forms an electromagnet capable of performing mechanical functions. The term 'solenoid' is derived from the word 'sole' which in reference to electrical equipment means 'a part of,' or 'contained inside, or with, other electrical equipment.' The Greek word solenoides means 'Channel,' or 'shaped like a pipe.' A simple plunger-type solenoid consists of a coil of wire attached to an electrical source, and an iron rod, or plunger, that passes in and out of the coil along the axis of the spiral. A return spring holds the rod outside the coil when the current is deenergized, as shown in figure 1" (Lannon 432).
Lannon, John. Technical Communication . New York: Longman, 2000. Print.
Revision and Adaptation. Provided by : Lumen Learning. License : CC BY-NC: Attribution-NonCommercial
Summary Writing. Authored by : David Wehmeyer. Provided by : Wisc-Online. Located at : https://www.wisc-online.com/learn/humanities/literature/trg2603/summary-writing . License : CC BY-NC: Attribution-NonCommercial