Press Enter to search
How to List Research Experience on Your Resume
Applying for a role that requires research skills? Here's how to list your research experience on a resume, with examples you can follow.
2 years ago • 7 min read
Research experience isn't just for science and academia. Research is a valuable skill that's required for a number of roles and industries, which means it almost certainly has a place on your resume. And no — that doesn't mean writing "research" in your skills section and moving on.
Why you should list research experience on your resume
If you're applying for a job that involves research, listing research experience is a no-brainer. Research-specific positions, scientific jobs like Research Assistants , Lab Assistants or Technicians, graduate school applications, and most jobs in academia all require evidence of research skills. Even outside these positions, research experience demonstrates valuable transferable skills, like critical thinking and attention to detail . Which is not to say that you need to include research experience on every resume — if it makes you a stronger candidate, include it, but if it isn't relevant and doesn't add anything else to your candidacy, leave it off.
Research experience resume example
Before we dive right in, here's a sample resume that emphasizes research skills. You can use this as a template or as inspiration to write your own resume from scratch.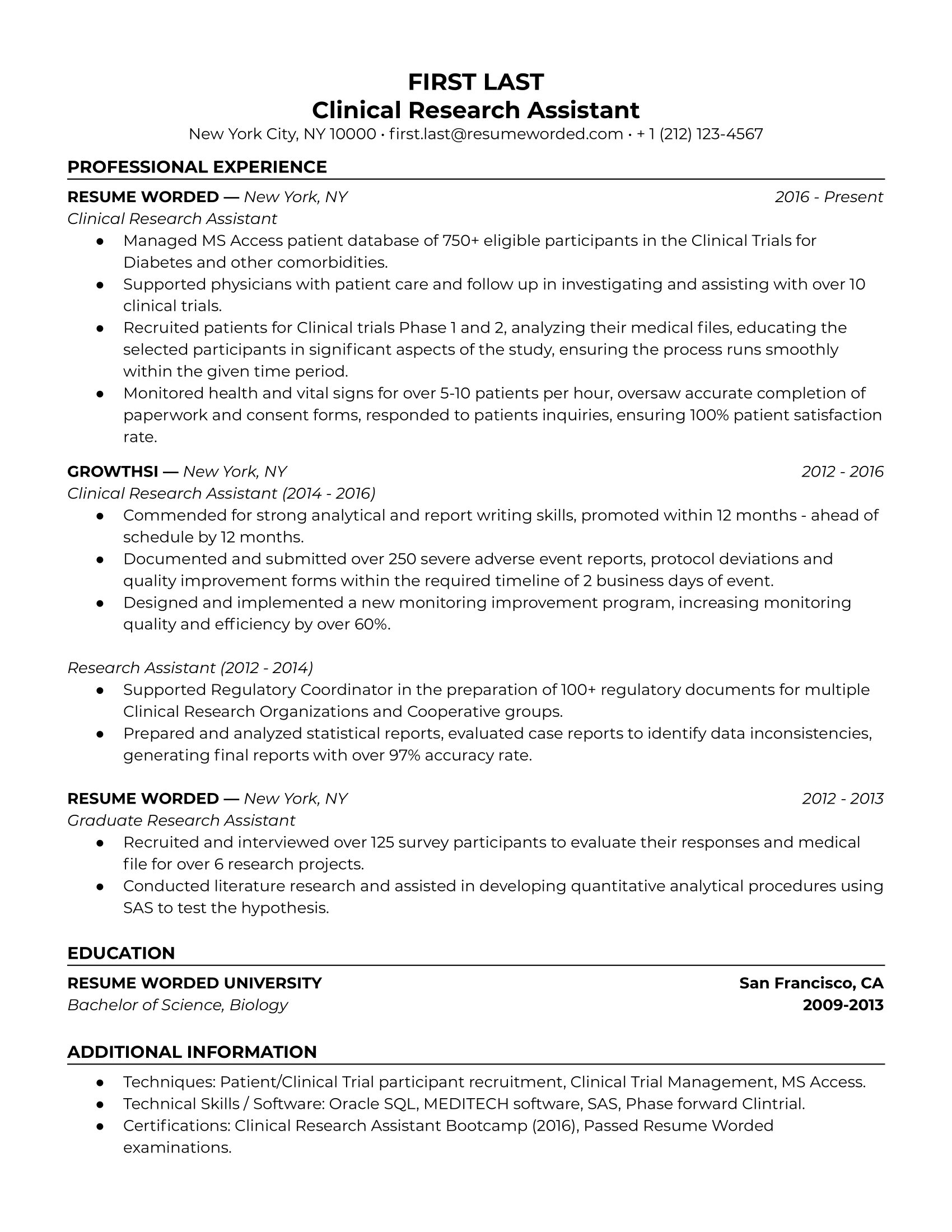 Download: PDF | Google Docs
How to list research experience in your resume
Like a lot of desirable skills, research is a soft skill , meaning it's not something you can claim as an objective fact on your resume without backing it up. What you can do instead is prove it — what previous role involved a lot of research? What resume accomplishments do you have that highlight your research experience? Showing how you used research skills in action is the best way to demonstrate the value you could bring to the company and role you're applying for.
There are a number of ways you can highlight research experience on your resume:
In a dedicated section
In your work experience, in your education section, listing research publications, in a projects section, in your skills section, in your resume summary.
Let's take a look at each of these options in a little more depth. But first, let's look at an annotated example to help set the context.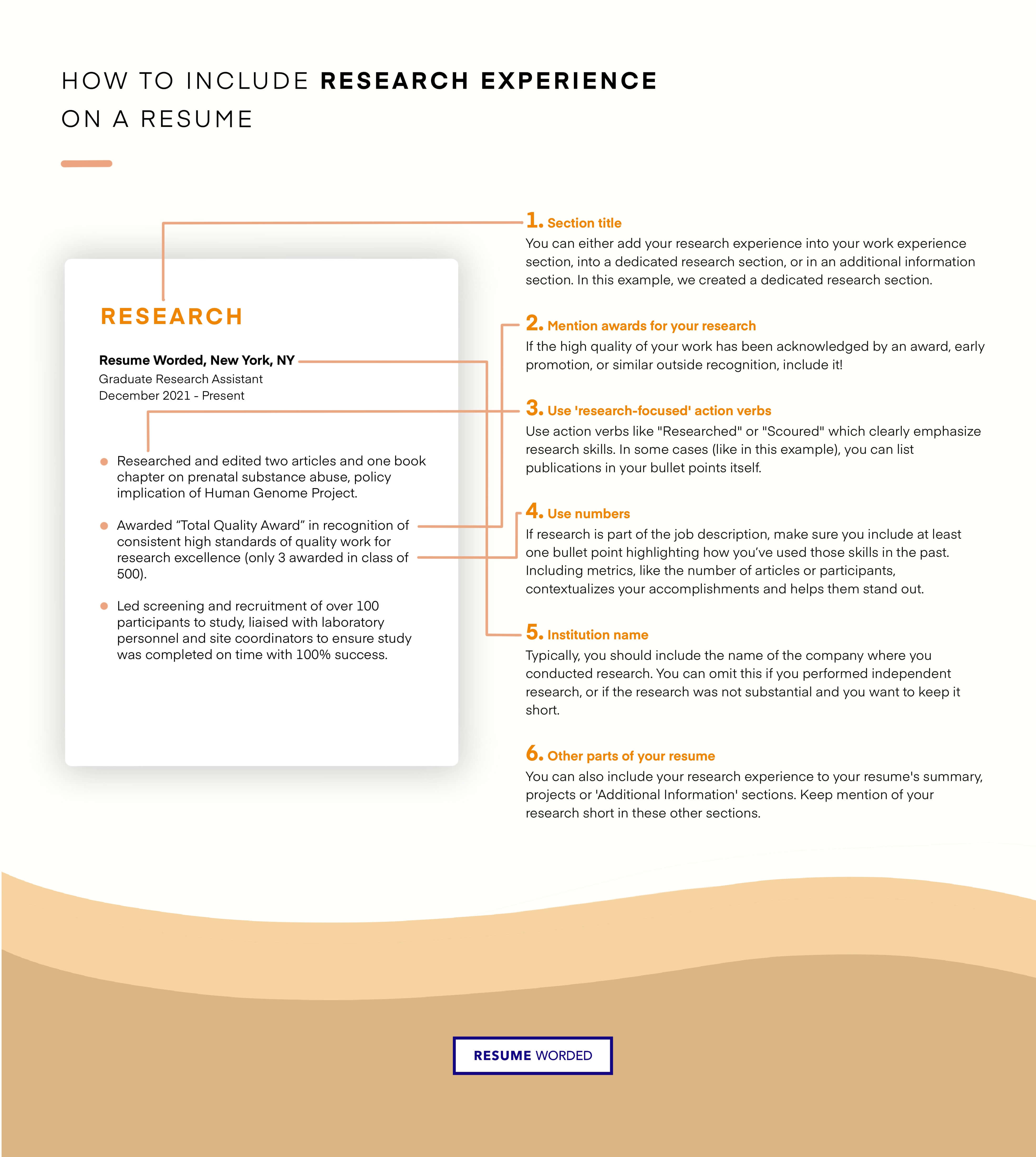 If you come from a research background, you might want to title your work experience 'Research.' Alternatively, you could create two experience sections — one titled 'Work Experience' and one titled 'Research Experience' — if you also have a lot of non-research experience but want to highlight your most relevant experience first. You can go into more detail when applying for a research-focused role by describing the project and specifying the nature of the research and your role in it.
More information: How to title different sections of your resume
Including research experience in your main work experience section is appropriate if it was paid work or if it was your most recent and relevant experience. List the employer — for example, the university or research department — job title, dates, and accomplishments, just like you would any other work experience.
More information: How to list your work experience on your resume
If you're a current student or recent graduate, you can list your education section at the top of your resume. You can also make this section a little more comprehensive if you don't have a lot of work experience, by including things like awards, coursework, and academic research.
If you undertook research as part of your studies and it demonstrates skills relevant to the job you're applying for, list your research accomplishments in bullet points under the education section of your resume.
More information: The must-haves when writing your education on your resume
If you have a lot of publications that came out of your research, and you want to draw attention to them — and if they're relevant to the job you're applying for — consider creating a separate publications section . Formal publications like these are an excellent way to add credibility to your research experience.
List each publication in a new bullet point with the title, year, and name of the magazine, website, or journal. Academic publications can be listed more formally if it's relevant, like if you're applying for graduate school or a role in academia.
When it comes to listing research on your resume, like other soft skills, you need to show you've used this skill in your previous roles by showcasing your research related accomplishments. Upload your resume to the tool below to find out if your resume highlights your most relevant research experience and achievements.
If your research experience is less extensive or wasn't quite relevant enough to include alongside your work experience or education, you can still highlight it in a projects section. Keep this brief and include 1-2 bullet points showcasing your key research accomplishments.
More information: How to list projects on a resume
Research skills can go in your skills section — as long as they're hard skills. Steer clear of listing generic skills like "Research" — instead, use our keyword finder to look for relevant skills and keywords and include specific hard skills like data analysis, project management, software proficiency, and certifications.
You can also use the skills search tool below to get a list of hard skills relevant to the research-focused role you're applying for.
More information: How to write a resume skills section
If you're applying for a position where research experience is essential, consider emphasizing your experience by including a short resume summary at the top of your resume. This should include the title of the job you're applying for and a brief overview of your background and key skills.
More information: Generate a summary for your resume
Examples of listing research experience on your resume
No matter where you choose to include it, always list research experience in concise, accomplishment-focused bullet points . These should follow the structure of action verb + what you did + what the result was. Here are some examples of resume bullet points you can use or modify to suit your own research experiences.
Highlight research projects
Assisted with cell development research projects as part of the Leukemia Research team — identifying cell changes, determining cell counts and coulter counters with 98% accuracy.
If you have significant research experience, describe it! The more relevant it is to the position you're applying for, the more detail you can go into. Make sure to specify exactly what stages of research you worked on and what your contribution was.
Mention awards for your research
Awarded "Total Quality Award" in recognition of consistent high standards of quality work for research excellence (only 3 awarded in class of 500).
If the high quality of your work has been acknowledged by an award, early promotion , or similar outside recognition, include it! In addition to the name of the award or accolade, don't forget to specify context (e.g. 'out of class of 500 people' to increase its credibility.
Demonstrate technical expertise
Created over 75 3D models with CAD tools such as Solidworks and ANSYS.
If you have experience with specific software or tools that you'll be using in the position you're applying for, include a bullet point accomplishment specifying how you've used them. While this isn't direct 'research' experience, it uses tools that are relevant to research projects — this is a good way of showing that you have research skill sets without having formal research experience.
Use 'research-focused' action verbs
Researched and edited two articles and one book chapter on prenatal substance abuse, policy implication of Human Genome Project.
Use action verbs like "Researched" or "Scoured" which clearly emphasize research skills. In some cases (like in this example), you can list publications in your bullet points itself. If you've authored academic papers, books, or articles, this is a great way to show the validity and importance of your research.
Include accomplishments related to research studies
Oversaw screening and recruitment of over 100 participants to study, liaised with laboratory personnel and site coordinators to ensure study is completed on time with 100% success.
Not all research positions involve pure research. Make sure you highlight appropriate related accomplishments, like managing research study participant data and enrolments or managing a team of research assistants.
Include accomplishments relating to research in your field
Conducted legal research; organized and analyzed data and evidence for over 50 cases annually.
If research is part of the job description, make sure you include at least one bullet point highlighting how you've used those skills in the past. Including metrics, like the number of cases you've researched, contextualizes your accomplishments and helps them stand out.
Conducted marketing research for both buy-side and sell-side resulting in 15 strong leads.
Research isn't just limited to science and academia. Demonstrate your skills in action by the context and end results of your research, like the number of leads it generated or the increase in sales figures.
Spread the word
How to list your work experience on your resume, you lied on your resume and got the job. what now, keep reading, should you put jobs you were fired from on your resume (and how), creating your resume with google docs: career coach's playbook, resume punctuation rules from a recruiter's perspective, subscribe to our newsletter.
Stay updated with Resume Worded by signing up for our newsletter.
🎉 Awesome! Now check your inbox and click the link to confirm your subscription.
Please enter a valid email address
Oops! There was an error sending the email, please try later

Resume builder
The Best Research Skills for a Resume
If you want to apply for a research position, you need to provide evidence of research skills on your resume. In this article, we explore what the best research skills for a resume are, why they are important and how to list them properly. We also provide a researcher resume sample to get you started – you can use it as inspiration or a template.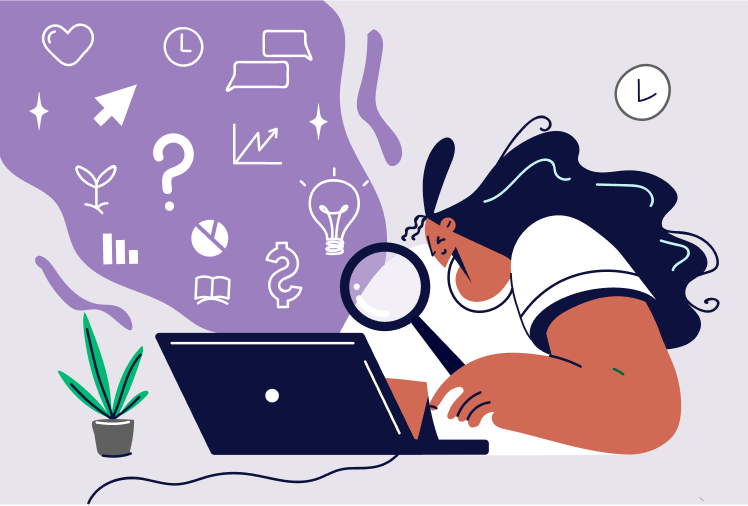 Table of Contents
What Are Research Skills?
A career like research is an excellent option for anyone who can collect, analyze and interpret data, solve complex problems, dive deep into discovery, and offer innovative solutions. The best thing about being a researcher is that you can not only succeed in science and academia but also climb up the career ladder in the corporate world. Indeed, having solid research skills opens the door to many roles and industries, including academic environments, government settings, transnational corporations, startups, tech giants, and non-profit organizations, to name but a few.
From human behavior to regional studies to biotech, there are myriads of research spheres where a qualified individual can make a difference. Researchers utilize their skills to explore a variety of topics, and if you have your mind set on pursuing a career as a researcher, you need to understand what skill set is pivotal for success in this field.
In a nutshell, research skills are all about searching ways to resolve problems. They are knowledge, abilities and competencies that ensure you can investigate particular topics, perform critical analysis, extract and organize data, interpret results, form hypotheses, and derive data-driven conclusions.
As a researcher, you are expected to be capable of relaying your findings to other people in a compelling and digestible form and even inspire action, both in yourself and in others.
Whether you are a seasoned researcher or a novice in this field, you need to put the right skills on your resume . Below you will find a list of the most in-demand research skills in today's job market.
The Top 10 Research Skills for a Resume
Communication.
Communication is a crucial aspect of a research career since you are required to share information, relay findings and spread knowledge efficiently and effectively, both orally and in writing . While communication skills certainly have a place on your resume , that doesn't mean adding "Communication" to your list of skills is enough to move on. You need to provide relevant examples verifying that you can research things as part of a team and work towards a common goal. You could add something like this to add credibility to your claim:
Recruited 7 research assistants for clinical studies by visiting clinics and sending out email invites, increasing participation by 20%.
Explained 100+ research procedures to a group of study participants in 10 days, resulting in a 0% incident rate.
Problem Solving
Being an advanced problem solver means you can consistently identify issues and find effective and efficient solutions to them . It is an extremely valuable skill when it comes to research-based activities, and 86% of employers look for workers who are capable of solving problems in the workplace according to the National Association of Colleges and Employers' Job Outlook 2022 survey. If you want to add problem-solving skills to your resume, you need to underpin them with relevant accomplishments. For instance, you could add examples like these:
Resolved course accessibility issues by creating interactive presentations for remote learners, increasing student satisfaction by 89%.
Developed and introduced a new computing environment for analysis, identifying 100% of failure patterns and improving issue detection by 75%.
Analytical Skills
Having analytical skills means you can parse data into digestible pieces, interpret them correctly and make data-based connections and conclusions . Data analysis incorporates a vast set of competencies, including technical skills like proficiency in programming languages, such as Python and R, familiarity with data visualization tools, like Tableau and Power BI, and a strong grasp of statistical analysis methods, such as hypothesis testing, regression analysis, and sample size determination. Armed with these skills, a researcher can take data to the next level and drive both innovation and profitability.
Being able to make sense of facts and figures both manually and using automated solutions will help you thrive in most roles, so recruiters would love to know that you are an analytical thinker when considering your candidacy. Your best bet here is to make sure they can find this out by examining your resume. You can add examples like the ones below to prove you can tackle complicated issues using your analytical skill set:
Collected, cleaned and analyzed first-party data from 10+ departments to identify the socio-economic impact of the COVID-19 pandemic on the company.
Performed regression analysis to determine the effects of a company-wide minimum wage increase, concluding that the hiring process was accelerated by 25% due to the wage change in question.
Qualitative Analysis
Qualitative analysis allows you to analyze a research subject using non-numerical and non-quantifiable parameters, characteristics and indicators and is based on abstract concepts . For instance, you can use qualitative attributes like human behavior or brand reputation to make business decisions or recognize investment opportunities. This skill is in demand today as it helps researchers use their observations to make conclusions, identify patterns and tackle challenges. Since you cannot quantify this area of your expertise, you need to provide relevant context to convince the reader that you are capable of analyzing non-tangible aspects of a subject. You can do that by using appropriate examples, like the following ones:
Evaluated the quality and accuracy of 200+ data sources in a month.
Performed quality control of high-volume content in a rapidly changing environment, maintaining a quality score of 99.9%.
Quantitative Analysis
Quantitative analysis is an approach that allows you to collect, study, measure, and analyze data . From statistical research to financial modeling, quantitative analysis includes a powerful toolkit that helps a researcher refine and simplify vast amounts of raw data to make better decisions and forecast trends.
Quantitative analysis has countless applications: with it, you can track metrics, measure variables and evaluate parameters in multiple fields, from finance and accounting to molecular biology and astrophysics. Therefore, it is no wonder that it is one of the most important research skills for a resume and highlighting it the right way is likely to help you move forward in the job searching process. You can prove that you know how to work with tangible data by providing relevant examples, like the following ones:
Designed a new data analysis technique, saving 30 monthly hours in parameter comparisons.
Used SQL to analyze customer data and identify areas for improvement related to customer conversions, resulting in a conversion boost by 75%.
Academic Writing
Academic writing is the ability to create complex documents containing scientific data, such as formulas, graphs, and charts . Academic writing skills help researchers prepare reports, presentations and articles for scientific journals and magazines, and if you have them, it means you know how to present technical information clearly and concisely. Recruiters from scientific fields are especially interested in candidates capable of writing academically, so submitting a resume with examples of written work is likely to help you secure a position as a researcher. Listing your publications to prove your expertise is the best option here, but since you might not have enough space to add all your papers, books and articles, you could highlight your academic writing proficiency with something like this:
Created 350+ articles on the principles of academic research for the university's database, increasing student satisfaction by 60%.
Published 30+ papers focused on structural changes in protein conformations.
Literature Review
Literature review is a methodology that implies conducting rigorous research on a particular topic . Having literature review skills means you can explore your subject area in greater depth using sources like books, journal articles, industry magazines, etc. Such competencies allow you to build upon existing knowledge and generate new ideas, accelerating your research and pushing it to its full potential. Naturally, your literature review skills are a valuable asset to your resume. We recommend you to illuminate them with appropriate examples, focusing on tangible outcomes:
Gathered and reviewed 10+ articles on Stata to extract variables from a dataset.
Performed 100+ literature reviews to implement changes in clinical practice, boosting quality of care by 70%.
Time Management
Time management is a powerful soft skill that is especially valuable in research environments. It allows you to manage your time effectively, break large tasks into manageable chunks and prioritize them properly, set up measurable, attainable, and time-bound goals, and even juggle your responsibilities . Proper time management helps you stay focused on your work, boosts your productivity and thereby leads to consistently high results and impressive outcomes. From carrying out experiments to writing reports to teaching, as a researcher, you need to apply time management strategies on a daily basis to successfully accomplish your tasks. You can show you are good at time management on your resume by showcasing your successes, like in the examples below:
Developed a database for organizing behavioral data for 100+ study participants, decreasing data processing time by 30%.
Implemented data analysis techniques in Python, increasing the amount of data analyzed per hour by 17% and accelerating project completion by 40%.
Attention to Detail
Paying attention to detail is a vital aspect of being a researcher. Having this skill helps you gather credible information, perceive meaningful connections, notice discrepancies, and deliver high-quality work based on correct evidence. Since each and every aspect of a career in research requires efficiency and trustworthiness, attention to detail is something you cannot go without – otherwise, your progress will come to a screeching halt. Naturally, you need to illuminate this skill on your resume as recruiters seek candidates who can look at details with a critical eye and minimize distractions. And the best way to do that is by providing a relevant example of success. You can use the ones below for reference:
Checked 10 + data sheets for completion and quality per day, resulting in a <1% error rate.
Supervised the maintenance and updates of the lab's database with a 99% accuracy rate.
Editing & Proofreading
Editing and proofreading skills are essential to perform successful research since they ensure it is both accurate and easy to read . While editing is more about making your text more digestible and improving the overall quality of your writing, proofreading corrects surface issues like errors in spelling, punctuation and grammar. Both require you to have a solid command of the language you use and a certain degree of focus. The devil is indeed in the details, so you need to always polish your texts before submitting them. Only this way will they be perceived by your peers and superiors as constructive and professional. And to prove you are good at editing and proofreading, you need to add appropriate examples to your resume. Here is how you can demonstrate your ability to provide high-quality texts:
Edited 11 federal grant proposals designed by my team, which generated $200+ in lab funding.
Edited a research paper co-authored with 2 postdoctoral employees regarding protein generation, which received the Best Paper Award in 2020.
How to List Research Skills on a Resume
Your resume is the best place to highlight your research experience and the value you could bring to your next role. The key here is to put your research skills in the right section so that they get noticed by the reader. You have no fewer than 7 options here:
A dedicated research section
Your work experience section
The education section
The list of your research publications
The projects section
The skills section
Your resume summary
If you have a solid research background, you may want to create a separate section on your resume and call it Research or Research Experience . This place will help you expand on your projects and their details, specify the nature of your research, and describe the specifics of your previous roles, providing relevant examples and demonstrating the most prominent accomplishments.
If your career is all things research, the work/professional experience section can incorporate your research skills and accomplishments. List your employers and your duties, along with the dates of your employment, like you would do when describing your non-research work experience.
Your education section is an appropriate place to highlight your research skills if you are a student or a recent graduate. You can put it at the top of your resume if you want to draw more attention to your research background when applying for your first job in science or academia.
If you have a whole host of published works, it could be a great idea to create a separate section for listing your publications . This will help you add credibility to your research skills and accomplishments. Research-related accomplishments can also be highlighted as projects on your resume. This might be appropriate if your research background is not so extensive or not quite relevant to your current career aspirations.
You can list your research skills in your skills section as long as they are tangible and relevant for the job you want to land. We recommend you to avoid general skills here and focus on industry-specific expertise, illuminating it with the keywords you can find in the corresponding job listing and relevant skill levels .
Highlighting your research skills in the summary section is appropriate if you are applying for a role where a robust research background is essential. Your resume summary is just a few lines appearing at the top of the document, so make sure to add only the most important research skills there – those that you want the reader to see first and foremost.
Why Are Research Skills Important?
Research-oriented positions and most jobs in academia require you to have a solid set of research skills. Employees outside these roles can also benefit from research experience – research skills are transferable , meaning you can bring them to the table no matter your position, career field or job level. Therefore, they are a valuable addition to a resume in many cases.
Businesses and organizations are eager to employ candidates with proven research skills because they can
come up with original plans and ideas,
design innovative products and services,
improve processes,
keep up with technology,
identify customers' needs and requirements and find ways to meet them,
resolve complicated issues,
analyze competitors' strengths and weaknesses,
By adding research skills to your resume, you show recruiters that you can think outside the box, know how to work with data and technology, are capable of making well-informed decisions, and are good at solving problems. This makes you a valuable hire in today's skill-based job market
A Resume Sample to Apply for a Research Position
JOHN/JANE DOE Research Assistant Location ⋅ Email ⋅ Phone number Diligent and hardworking clinical researcher seeking a position at [Name of Company] to apply academic expertise and facilitate biological research. PROFESSIONAL EXPERIENCE Company/Organization, Location Dates of Employment Research Assistant Assisted scientists in 30+ research projects related to therapeutics for COVID-19 Conducted data-driven testing with an accuracy rate of 98% Supervised a team of 3 junior research assistants with daily laboratory duties Company/Organization, Location Dates of Employment Graduate Research Assistant Participated in cell research projects as part of a cross-departmental team of 30 researchers. Performed cell counts with 99% accuracy Was engaged in developing a platform to investigate immune responses to virus-infected hepatocytes. … Company/Organization, Location Dates of Employment Research Student Assistant Gathered and analyzed data and evidence for 10+ clinical research cases monthly. Awarded "Research Impact Award" in recognition of consistent research excellence (only 1 student is awarded in a class of 100). … EDUCATION NAME OF UNIVERSITY Location Degree, Major Dates of Education SKILLS Molecular cloning RNA isolation Cell counting Knowledge of SQL code and queries Data analysis Literature review
A career in research is an extremely exciting yet quite a demanding path. Since the competition for positions in the field is very fierce, as a researcher, you need to have high levels of determination and persistence and a powerful combination of skills. The research skills we have outlined in this article are what recruiters expect to see on your resume, so make sure to expand on them to get the job of your dream, rise to the top of your game and deliver ground-breaking research.
Leave a Reply Cancel reply
Your email address will not be published. Required fields are marked *
Save my name, email, and website in this browser for the next time I comment.
Graduate Jobs
Careers Advice
Research skills
Updated on 04 June 2020
Research skills are in demand. This guide explains what research skills are and how you can prove you've got them!
What are research skills?
In a nutshell, research skills help us find answers to questions.
Research skills are the ability to search for, find, collect, analyse, interpret and evaluate information that is relevant to the subject being studied.
Research shapes the future, it teaches us new things and helps us adapt and evolve. Without research, we wouldn't have cars, smartphones or the internet (or this website for that matter!)
Everyone is a researcher
We all research, even if we don't know it.
The internet is a huge part of our lives. Using search engines (like Google) is a way of researching. Whether you're finding cheap flights or a top restaurant, it's all research!
Why are research skills important?
Employers love research skills. Research is an important part of business because it helps companies:
Report writing
Keep an eye on their competitors
Develop new products
Identify what customers want
Get better at what they do
Keep up with changing technologies
Research skills show companies you're able to suggest new ideas and help the business adapt to the ever changing world we live in.
Research saves money
Launching a new product is expensive. Research helps companies find out if anyone will buy it.
Launching a product without research is risky. There might not be a demand for it. The money spent on launch, marketing and production could've been saved if the company did some research.
How can you gain research skills?
You can research using tools and methods like:
How can you demonstrate your research skills?
As a graduate, It's likely you've done a lot of researching! For example during:
Your dissertation
Assignments
Group projects
In interviews
Talk about what you researched, how you did it and what you found. Explaining research you've done as part of a group will also demonstrate your teamwork skills #2birds1stone.
Using the S.M.A.R.T framework is helpful way to structure your answer. You can read more about S.M.A.R.T in our planning and organising guide.
Show what you know
Demonstrate your research skills by sharing what you know about the industry or company you want to work for. The more you know, the more likely you are to impress.
Add your research skills to your CV
Especially if you're applying for a job that requires research skills.
In many cases, your CV is your chance to make a first impression. Your CV will help employers check you've got the right skills. If they can see you've got them, it's likely you'll get to the next stage.
Examples of research skills
Here's a list of some research skills for your CV:
Data collection
Analysis of information from different sources
Finding information off the internet
Critical thinking
Planning and scheduling
Interviewing
Critical analysis
Which careers require research skills?
Research plays a key role in several industries. For example:
We love cookies! We use them to improve your experience and help you find jobs. By clicking "Got it" you agree to our Privacy Policy. View terms .
How to List Publications on Your Resume: A Guide for Researchers (+Examples)
Job seekers whose experience includes research and publications often wonder how to include that information in their resumes. After all, few resume templates are designed to highlight such accomplishments, and most people are reluctant to significantly alter those widely-accepted resume formats. 
So, how can people in the scientific, literature, or academic fields properly showcase their research and publications on a resume or curriculum vitae (CV)? We have the tips you need to properly document those important achievements and citation examples you can use as a helpful guide.
Why publications matter on a resume
If you have experience doing academic/scientific research or writing publications, then you have skills that set you apart from most job seekers. Your research and publications identify you as someone with clear writing skills.
They also demonstrate analytical skills – which employers tend to value highly – and a capacity for being a thought leader. Those qualities are important qualifications for anyone seeking a job in academia or any science and engineering field.
For published authors and writers, having material go through to publishing can speak volumes about your experience and the quality of your work. 
Publications on a resume example
Regardless of which option you choose, it is important to use the proper APA formatting for publications when including your publications on your resume. Be sure to use a consistent format when listing publications and describe your research, focus, and efforts as briefly as possible. Consider the following examples.
Published article or paper
[Your Name], [Title of article], [Title of publication], [Publication date], [Pages]
Authored Book
[Your last name, Your first name], [Title of your book], [Place of publication and publisher], [Year published]
Your options for including publications on a resume
Fortunately, you have several options when it comes to listing publications in your resume. The option you choose will probably depend upon the nature of your research and publications and the type of position you're seeking.
There are three main options for including these details in your resume in an organized manner: creating a separate section, using a summary, or documenting them on a separate page.
Option # 1: Create a separate section for your research and publications
One way to highlight your publications is to create a separate section for them.
(We wrote a good post here on what sections a resume should include )
You should only consider this option if you have a limited number of citations to list or if your work has appeared in important industry journal publications.
By separating them in this way, you can help to focus attention on these accomplishments. At the same time, that separation helps to ensure that your other skills and achievements are not overshadowed in any way.
Option # 2: Using a summary for your publications
Another great way to showcase relevant publications in your resume is to include them in a short summary. This option is best used when the achievements are not crucial to landing a job. It's also a good option when there are only one or two citations to list.
Simply insert a bullet point or two at the end of your achievements section and include the appropriate details.
Option # 3: Create a separate page for your publications
If you have a substantial number of accomplishments that involve research and publications, you could consider a separate page for those details.
Simply create a list of these citations for a page titled "Publications" or "Research." There, you can list all relevant citations in reverse chronological order. If you choose this option, be sure to mention in your cover letter that you've included the list.
What are research skills?
As we move on from talking about publications to discussing research, let's first define research skills. Research skills are all those skills needed to investigate and analyze a subject and then communicate your findings to others. In short, there is no simple easily-defined skill that encompasses all these talents. Instead, your ability to research involves the effective use of a range of other skills, including
Critical thinking
Data interpretation
Information synthesis
Effective communication
Research skills are highly prized across a wide spectrum of industries. The fact is that researchers are invaluable for many employers and hiring managers. After all, new ideas often come only after an exhaustive analysis of existing practices. Is it any surprise, then, that many of the most innovative companies in the world look for employees who possess these skills?
The good news is that most of us possess at least some skill in researching. Unfortunately, too many of us don't recognize those skills or why they matter to employers. Most of these skills relate to critical thinking in some way. They involve accumulating information and using it to draw reasoned conclusions. Naturally, those conclusions need to be conveyed to others with effective communication skills.
Research skills are among the most highly-prized transferable skills employers are looking for in today's competitive job market.
Employers value these skills because they are essential to progress. Innovation only comes from research and inspired insight. As a result, companies that rely on innovation to remain competitive tend to rely on employees who are talented researchers. Obviously, there are entire fields of industry that use researchers only for that purpose. In a more general sense, however, research skills are widely used by many different types of employees. And they use them in almost every industry in the marketplace.
How to list research on a resume
Including information about your research skills on a resume can be challenging because people perform research in a number of different capacities. Regardless of if you were the lead researcher or part of a team, it's encouraged to include your research projects on your resume. You can detail how your efforts helped them move the project forward and what contributions you made. 
Even if your findings weren't published, or are in the process of being published, you should include your work in research on your resume still. This is because the skills acquired during research are, again, highly prized by employers. It's less about the result and more about what kind of professional qualifications your research efforts are able to embody. 
Including research on your resume:
To describe your experience performing research on a subject, summarize your accomplishments in a brief section. You should include a description of your role in the research, the topic that you were exploring, and some information about your findings. 
Example of research listed on a resume:
Economics Research Project, Dynamic University 
Dec 2017 – Apr 2020
Key participant in research project examining blockchain technology's potential impact on financial intermediation. Explored use case studies for cross-border payment systems, intrabank transactions, and microtransactions for e-commerce.
Designed model simulation to study blockchain-based payment system
Worked in tandem with Alpha and Delta Finance to create simulated intrabank transfers using digitalized tokens
Studied e-commerce script integration for cryptocurrency payments
Member of a 3-person team tasked with presenting findings to 2018 National Banking Technology Conference
You can also combine your research with other sections:
Research and Publications
Research and Professional Development
Educations and Research
Why the cover letter may be a superior choice
There are some very good reasoning for using a cover letter as a vehicle for talking about research and publication citations. That option can help you avoid confusion within your resume and keep the resume length under control. It can also help to ensure that your cover letter is more than just a rehash of your resume. Most importantly, using the cover letter in this way can help to establish your expertise right away.
If you have a lot of experience in research, it can help you save space on your resume too. Your resume can have lists of your participating research and publications, but that list doesn't always represent your efforts well. In your cover letter, you can expand upon the specific professional skills that you developed from your experience. 
Even though the cover letter is formatted differently than a resume, when including research and publications in a resume or cover letter, make sure you use proper citations and give credit where due. 
Research and publications can land coveted interviews
While it is tempting to include every noteworthy achievement in your life, it is important to maintain focus and perspective. Only cite publications that enhance your qualifications or demonstrate skills relevant to the position. Anything relevant to your industry or skill set obviously falls into this category. Casual articles published in a hobbyist magazine probably don't need to be shared.
However, your research and publications can help employers to identify you as a recognized expert in your field. That can only help to enhance your chances of landing a great job. So, choose your resume options carefully and make sure that you use proper citation formats to convey this important information to every prospective employer.
ZipJob's team of professional resume writers knows how to properly showcase your publications on a resume to get past an ATS and impress a hiring manager. 
Recommended reading:
10 Best Skills to Put on Your Resume
Resume Format Types: Examples & Which Option Is Best?
How to Include Research on a Resume
Emma Elizabeth, Resume Writer, Emma Elizabeth, Resume Writer
Emma is a certified employment specialist with over 6 years of experience in career mentorship and employment training. With an affinity for technical writing, Emma is passionate about developing training, policy, and procedure manuals. In 2020 she helped design Colorado's first state-certified training program for people with disabilities entering the workforce.
Our resume services get results.
We've helped change over 30,000 careers.
Get a free resume review today
Our experts will review your resume's grammar, layout, and ability to pass ATS — all free and delivered straight to your inbox.

146 Key skills for your CV

If you want to land job interviews, your CV needs to be packed with valuable skills.
Skills show recruiters and employers that you have the ability to perform tasks well, and you have expertise in your profession, as well as soft skills.
This guide will show you 146 CV skills that employers love to see, and a guide on how to add them to your own CV

Soft skills

Soft skills are personal attributes which are not specific to a particular profession and can be applied to any job or industry. They are just as valuable as hard skills, but they are more common and harder to measure and prove in a CV.
Adaptability – The ability to quickly adjust to new situations and environments whilst maintaining a high level of performance
Attention to detail – Spotting small details that could have big consequences to your employer and dealing with them accordingly
Communication – Delivering information to others so that they receive and understand your ideas – This can be written (emails, letters, messaging systems) spoken (conversations, meetings, presentations) visual (videos, posters, images)
Creativity – The ability to generate new ideas such as new marketing campaigns, staff initiatives or images for adverts
Decision making – Choosing to take actions that could have big effects on colleagues and customer, especially in pressured situations
Diplomacy – Dealing with people sensitively and tactfully whilst trying to reach agreements that satisfy differing needs as closely as possible
Flexibility – willingness to make sudden changes when unexpected circumstances arise
Initiative – The ability to think independently and make responsible decisions, without asking management for guidance
Motivation – The ability to stay driven and focused to achieve targets, especially during difficult times
Organisation – Putting systems and order in place to ensure routine tasks are carried out efficiently
Planning – Preparing how tasks will be delivered, putting processes into place
Problem solving – Dealing with situations that pose threats to the running of your organisation, and providing solutions to combat them
Reliability – Being trusted to complete tasks and deliver results without being checked on
Team work – Working collaboratively with colleagues and external individuals to achieve common goals
Time management – Being aware of time limitations ensuring deadlines are met
Quick tip: Try to show your soft skills, rather than simply stating them.
Instead of writing " I am a good written communicator " give examples of how you apply your communication skills in the workplace, such as; " Providing management with accurate email updates on team activity "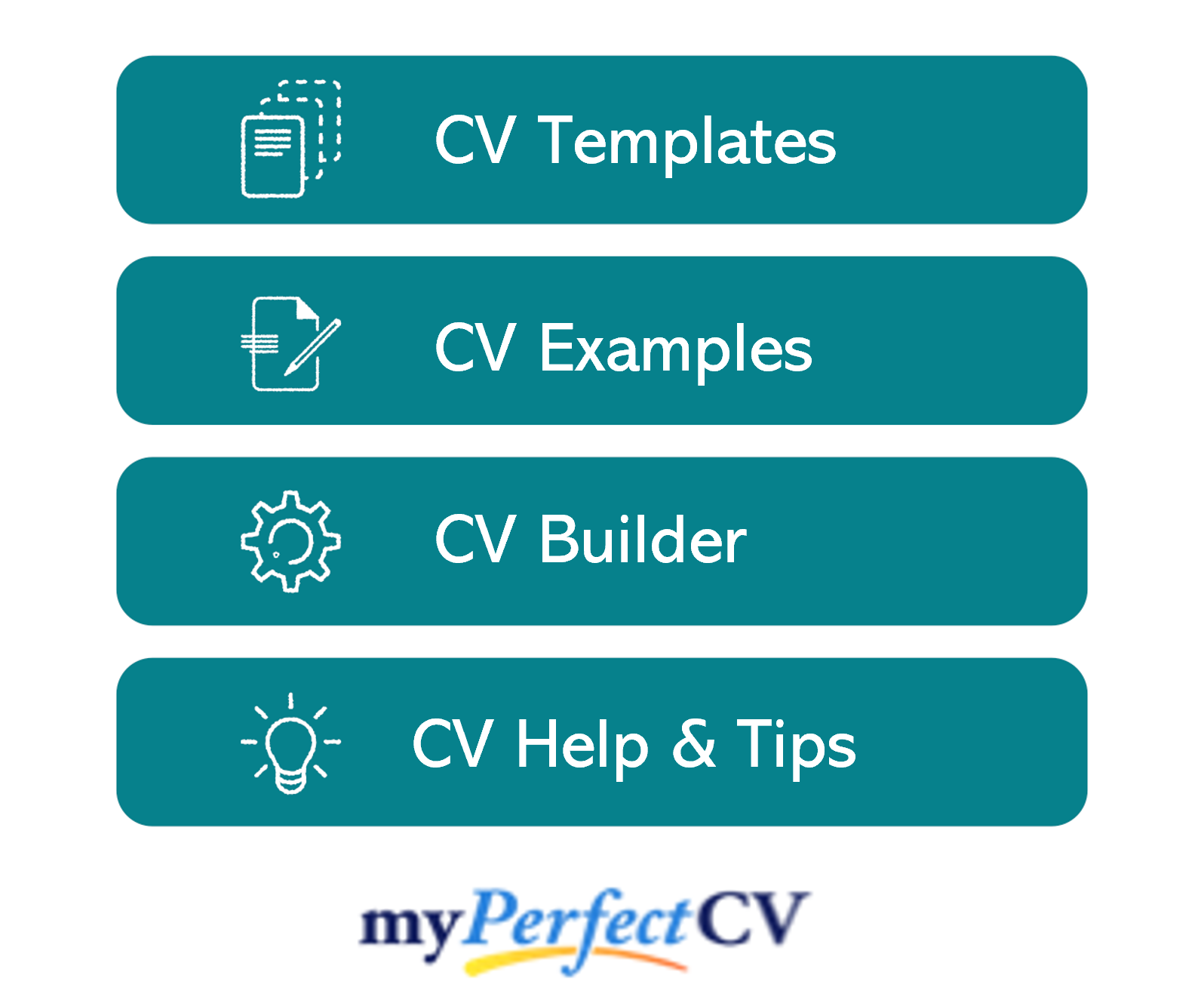 Admin skills

Efficient administration is vital to the smooth running of an organisation, so whether you work directly in admin or not, you are likely to need some administration skills .
Business software – Being a confident user of business IT tools such as Outlook, Gmail, Excel, Windows etc.
Business support – Assisting senior business figures with ad hoc tasks such as note taking, diary management etc.
Communications – Creating and distributing messages internally to keep colleagues informed of news and changes within the organisation (usually via email)
Data analysis – Taking raw data sets and using the information to spot trends and make predictions
Data entry – Inputting information into databases to keep organisation records up to date
Diary management – Organising schedules for a team or senior staff members
Document management – Creating, updating and formatting important business documents such as staff lists or HR records
Email management – Managing the organisation and distribution of emails for a company, department or individual
Post distribution – Collecting incoming post and delivering to relevant people or teams
Process management – Ensuring admin processes are completed correctly, such as customer onboarding or invoice input.
Query handling – Providing accurate answers to questions from internal staff, suppliers and customers
Reporting – Creating and distributing reports containing business figures such as sales, profits and costs
Typing – Creating Word documents, emails and other typed information
Creative skills

Whether you work directly in a creative role ( graphic design etc.) or not, creativity can play vital role across any business, helping to drive marketing initiatives or solve internal problems.
Attending briefs – Meeting with clients to understand their requirements and asking effective questions to extract the information needed to carry out the work correctly
Brainstorming – Meeting with team members to discuss new ideas for a project – contributing ideas and providing feedback
Branding – Contributing to a company's look and feel by providing input on logos, copy, product design etc.
Designing – Creating effective looks and functions for anything from advertising material to buildings
Idea generation – Thinking of new approaches for marketing campaigns, office designs, company slogans and more
Collaboration – Being able to work closely with co-workers or other departments on projects that benefit you both, for example, the sales and marketing teams working together on ad campaigns
Idea generation – Producing and sharing new and innovative ideas that drive the business forward, be that a new product, service, strategy or internal process
Digital tools – Proficiency with popular digital tools like social media, design software, instant messaging and video conferencing tools
Versatility – Seamlessly adapting to changes or switching from one task to another to keep the workplace running smoothly and projects on track
Innovation – Fostering growth, sharing new ideas and ensuring the business stays competitive
Visual communications – Communicating information in a visual way, whether that's an internal presentation, marketing materials, floor plans or 3D models
Imagination – The ability to think up new ideas, respond to problems in a creative way and handle unexpected situations
Customer service skills

In any customer facing role , strong customer service skills are essential if you want to keep customers happy and maintain a good reputation for your employer.
Complaint resolution – Dealing with complaints from customers in a retail environment, and providing solutions to rectify their issues
Customer service – The ability to deal with customers on a regular basis to fulfil their requirements in line with business goals
Identifying opportunities – Listening to customer and spotting opportunities to recommend products or services
Meeting and greeting – Welcoming customers and making them feel comfortable, whether in person, via phone or email
Product/service knowledge – Having a solid understanding of company products and services in order to explain features and benefits to customers
Promoting – Making customers aware of offers and deals to promote sales
Query handling – Answering question from customers and providing  accurate answers and advice
Transaction processing – Taking payments for goods via cash or card and providing customers with receipts
Self-Control – The ability to communicate calmly and professionally at all times, particularly in the face of challenging customers
Listening – Actively listening to customers, showing that you value what they are saying and taking it onboard to ensure the best possible experience
Attentiveness – Checking in with customers, listening to what they say and going the extra mile to ensure repeat business and positive outcomes for the business
Empathy – Creating positive interactions between you and your customers, whether over the phone, email or in person, making them feel heard and valued
Patience – Dealing with challenging situations like difficult or irate customers with ease and professionalism
Education & training skills

Whilst education skills are most frequently used in teaching roles, they can also be applied utilised in business within areas such as training or learning & development.
Assessments – Evaluating student's ability and learnings in exams and observations
Coaching – Working one-to-one with students, providing advice and guidance to support their development
Lesson planning – Preparing how individual lessons will be delivered to students, including topics and lesson structure
Performance tracking – Monitoring student performance over long-term periods
Resource planning – Preparing learning resources required for lessons such as handouts, tests and checklists
Teaching – Delivering lessons to students, ensuring information is correctly received and handling questions
Active listening – Encouraging meaningful conversations with students to find out more about their strengths, weaknesses and interests
Conflict resolution – Settling issues or disputes between students to reach a fair solution
Classroom management – Keeping students under control and introducing effective classroom management strategies
Commitment – Taking accountability for student's education, encouraging them and motivating them to keep working hard
Public speaking – Delivering lessons to a full classroom, as well as occasionally speaking to larger groups at assemblies or school events
Subject matter expertise – Understanding the curriculum or your subject matter in great detail; learning more about it whenever the opportunity presents itself
Finance skills

The following roles apply to finance and accounting roles, or any roles which involve an element of financial responsibility.
Account preparation – Preparing company financial accounts for public records and management
Auditing – Checking company accounts for anomalies and reporting findings
Bookkeeping – Recording company income and expenditure for records and taxation purposes
Budgeting – Managing funds on behalf of an employer and allocating spending effectively and responsibly
Cost saving – Using multiple methods to reduce employer spending whilst maintaining or even improving standards
Credit control – Managing records of customers owing money to the business and communicating with them to ensure prompt payment
Financial reporting – Creating reports to inform stakeholders on varying aspects of business performance
Forecasting – Using past data, trends and analysis to predict future revenue streams for products and services
Investing  – Placing company funds into assets such as stocks and property in order to generate profits
Payroll – Calculating and processing staff payment and ensuring correct amounts of tax are levied
Profit and loss responsibility – Overall responsibility for the profitability of a business or business unit
Spending – Purchasing goods and services for an employer, ensuring the price is beneficial for the business
Taxation – Handling tax issues such as advising on tax saving methods and submitting tax returns to HMRC

Technology is present in the vast majority of workplaces nowadays, so  even if you don't have a technical IT role, you will probably still need some IT skills to perform it well.
Cyber security – Defending networks and websites from malicious attacks using modern defence tools and techniques
Data analysis – Using large data sets to spot trends and provide valuable insights to business leaders
Database administration – The management and maintenance of a set of data within a company database
Development – Coding using programming languages to develop web sites, pages, or applications
Installation – setting up new hardware or software systems and tailoring them to business needs
IT support – Dealing with IT issues from employees or customers and providing workable solutions
Programming – writing sets of rules to inform computer systems to carry out automated tasks
Recommending – Assessing an organisation's IT requirements and suggesting suitable technology solutions
Requirements gathering – Speaking with colleagues to collect an understanding of what they require from an IT system before a build or upgrade
Software/tool knowledge – The ability to use software or tools specific to your role such as Microsoft Excel, Outlook, or Photoshop
Testing – Trying out features of a system to ensure they work before going live
Troubleshooting – Diagnosing issues with hardware and software to determine causes and suggests fixes
Cloud Computing – Proficient use of popular cloud platforms, with the ability to develop software that operates in the cloud
Mobile Development – Using popular programming languages to develop innovative new apps for mobile devices
Management skills

Whether you manage a team of people or simply have to manage your own time or company resources, management skills should be present in your CV.
Delegation – Alleviating suitable responsibilities to junior staff to aid their progression whilst freeing up your time to perform more demanding activities
Goal setting – Planning targets for a business, team or individuals in order to meet long-term objectives
Leadership – Providing direction to staff on an ongoing basis to ensure they perform at the best of their abilities and achieve organisational goals
Leading meetings – Creating agendas for staff meetings and directing the topics and flow
Motivating – Instilling staff with confidence and enthusiasm to carry out their jobs effectively
Process improvement – Identifying under-performing procedures within the business and changing them to become more efficient
Resource management – Allocating roles to staff and setting time scales for tasks to be completed
Staff development – Ensuring that staff receive sufficient progression throughout their career in order to gain promotions and grow professionally
Strategy – Developing a long-term plan to achieve overall business goals
Training – Teaching staff vital skills and system knowledge to improve their ability to perform in their roles
Positive Reinforcement – Recognising workers and providing praise and feedback to boost morale
Multi-tasking – Overseeing multiple members of staff, ensuring that all deadlines are met and delegating tasks where required
Team building – Encouraging individuals to work together to improve efficiency and achieve shared goals
Digital communication – Utilising digital tools like instant messaging to keep the team connected and increase productivity
Recruiting – Reviewing applications and interviewing candidates to find the best fit for the team and company culture
Marketing skills

Marketing is the process of making customers aware of a service or product and moving them closer to a sale – so marketing skills are extremely valuable to employers .
Advertising – Buying paid media placements, creating images and text, driving customers to websites, shops, restaurants etc.
Campaign management – Devising and carrying out marketing campaigns through various channels, measuring performance
Content creation – Creating marketing content in the forms of articles, videos, landing pages, podcasts and more
Copywriting – Writing engaging content to inform, entertain and persuade customers to buy
CRM tools – Knowledge and confident use of popular Customer Relationship Management tools
Email marketing – Creating email campaigns to build relationships with customers and generate leads and sales
Market research – Investigating audiences and buying trends to determine demand for products and services
Outreach – Contacting potential partners to promote content and suggest mutual deals
SEO (Search Engine Optimisation) – The process of driving organic traffic to websites by making them search engine friendly
Social media management – Managing social profiles of organisation accounts (Twitter, Facebook, LinkedIn)
UX (User experience) – Optimising web pages to make them easy for users to navigate and lead them towards making a purchase.
Content management – Using CMSs to create, edit, publish and manage content, allowing for multiple contributors across the team
Strategic planning – Identifying opportunities and developing marketing strategies that align with the company's wider goals
Statistical analysis – Using data from social media platforms like Instagram and Facebook to assess the effectiveness of existing campaigns and make changes accordingly
Project management skills

Project management is prevalent across all industries, and even if you aren't a dedicated project manager , you could still find yourself supporting or leading projects in your role.
Delivery – Ensuring that projects are completed on time and within budget whilst producing all of the pre-determined goals
Gaining buy-in – Persuading senior business figures to back initiatives and provide permissions and funding
Leadership – Managing people and guiding them towards the completion of a common goal
Presenting business cases – Building strong cases to get sign-off for projects, explaining the business benefits to senior management
Risk management – Identifying potential project risks and putting procedures in place to minimise their impact on project delivery
Scheduling – Planning a succession of activities and monitoring progress to ensure the overall project is delivered on time
Stakeholder management – Managing the expectation of senior business figures and keeping them updated on project progress
Productivity – Setting realistic deadlines and monitoring progress throughout to ensure these are met
Critical thinking – Identifying new challenges or issues and using this information to solve the problem as quickly and effectively as possible
Change management – Assessing current business operations and making adjustments to ensure best practices
Project Tracking – Utilising project management software to track and manage tasks to ensure deadlines are met
Task management software – Using management tools to handle tasks across multiple projects, organising and prioritising as required
Sales skills

Private sector business are driven by sales , so sales skills are vital in the workplace – even if you are not in a direct sales position.
Some of these skills are also valuable when dealing with colleagues in internally also.
Influencing – Persuading others to agree with your opinions and back your ideas
Lead generation – Providing a business with a pipeline of potential customers who are likely to buy products or services
Negotiation – Holding discussions with colleagues and clients to reach favourable outcomes and agreements
Networking – Growing your list of personal contacts by seeking out valuable connections and building relationships with them
Presenting – Delivering presentations to clients to explain the benefits of products and services
Relationship management – Building and maintaining relationships with customers (or even colleagues) to foster positive outcomes for employers
Sales closing – Generating sales of products and services by obtaining final agreements from clients
Target achievement – The ability to reach and exceed targets set by your employer (usually sales targets but could cover other areas)
Confidence – Giving sales presentations and pitching products in a clear and persuasive way to make the sale
Emotional intelligence – Listening to customers or prospects to understand their needs and offer the best solutions
More skills
Transferable skills – CV adjectives – Leadership skills – CV buzzwords – Hard skills – Marketing skills – Digital skills – Student skills – Creative skills – Hospitality skills
How to list skills on your CV
Now you have a good idea of the types of skills that need to be present in your CV ( curriculum vitae ).
But, how you demonstrate those skills can make the difference between a winning CV, and a losing one.
Soft skills VS hard skills
Skill is defined as the ability to do something well, or having expertise in a particular area.
So, it's understandable that employers want to hire candidates with plenty of skills.
At a high level, skills can firstly be categorised into 2 main categories ; hard skills and soft skills .
Type 1) Role specific skills – also called hard skills
Type 2) Generic skills – also called soft skills or personal skills .
Role specific or hard skills are specific profession-related skills that are needed to carry out particular job functions (e.g. speaking a foreign language , budgeting for finance roles or negotiation for sales roles)
Generic skills or soft skills are common skills that are required for most roles, such as communication , teamwork and problem solving .
Now that you understand the main types of skills available to use in your CV , it's important to understand how to add them both to your CV
Many modern roles will require you to have skills from more than one of these categories.
For example, a sales role could require skills from sales , customer service , marketing and management + a range of soft skills
Always research your target roles thoroughly to determine which in-demand skills you need to  include in your CV .
How to add hard skills to your CV
It's crucial to highlight role specific skills in your CV (or resume if you are in the USA) because they are normally what recruiters are briefed to look for above all else.
For example, a hiring manager will often tell a recruiter…
"I need you to find me somebody with 5 years sales experience who can generate leads, build relationships, lead negotiations and close deals"
They won't usually give a soft skill brief like this…
"I need somebody who is a well organised, team-player with good communication skills"
Although those soft skills may be needed for the role, they are needed for most roles, so they won't help recruiters find the right candidate – that brief could be applicable to thousands of jobs.
Role specific skills are so important to your CV because …
a) Recruiters search for hard skills only on job site CV databases, internal CV databases and LinkedIn
Therefore, the more relevant role specific skills you have in your CV, the more searches you will appear in.
The more searches you appear, the more times your CV will be opened – which will increase your chances of being called in for interviews .
b) Recruiters scan your CV for hard skills when they open your CV
When a recruiter opens your CV, they will firstly look to pick out some of the most important hard skills they've been asked to look for ( sales , negotiation , deal closing etc.)
Initially they won't be looking for soft skills like planning and organisation – that will come later in the screening process.
So these two reasons make it vital for you to pack your CV with role specific skills, and make them easy to spot
So, how do you do this?
1) Add hard skills to the top quarter of your CV
The first few seconds of a recruiter or hiring manager opening your CV are crucial to the success of your CV.
If a busy recruiter with hundreds of CVs to review doesn't see the skills they are looking for in the top quarter of your CV, they may close it down without even reading it in full.
So pack the area above the fold in your CV ( the areas visible without scrolling down ) full of in demand hard skills and relevant action verbs – to create a powerful first impression, like in the CV below with skills highlighted in yellow.
Quick tip:  If you struggle with spelling and grammar, try our partner's CV builder
Add hard skills to your headline , profile or personal statement , and your core skills section .
As always, research your target roles thoroughly to determine which of your skills should be featured at the top of your CV.
See our best CV templates for more examples of CV profiles.
2) Add hard skills to your roles… with results
To show hiring managers how you apply your skills in the workplace, you need to weave them into your roles descriptions.
But simply listing the skills you use will not be enough.
You need to explain how you apply them, and what positive results they achieve for employers, clients and colleagues.
For example,
Don't just write:
"Negotiating with customers"
Expand to say,
"Negotiating with customers to increase purchase values and boost monthly revenue for the business"
Expanding to show your results tells employers how valuable your skills are, and what impact you could bring to a new workplace.
Check out this example CV role description for inspiration.
How to add soft skills to your CV
Generic/soft skills are a little more difficult to express in your CV because they need to be implied rather than stated.
If you fill your CV up with terms that plainly state your soft skills, no recruiters will be able to understand what you do.
For example, look at the CV profile below.
It's impossible to establish what this person does without any hard skills in the profile.
They could be a doctor, pilot, accountant , footballer …. Anything
Also, as I mentioned earlier, recruiters aren't searching for soft skills, so you want to keep them to a minimum and save space for your hard skills.
So, how do you demonstrate your soft skills without simply writing them down on your CV?
You show them, rather than tell them.
So, rather than simply writing…
"I am organised"
"I am motivated"
"I am a team player"
(Tired phrases that recruiters have seen thousands of times and are meaningless on their own)
Instead, you should prove that you are an organised, motivated team player – by giving real life examples of this in your role responsibilities and achievements .
Leading a team of 10 to generate a target pipeline of leads over 3 months with regular check ins, progress updates, and supporting under-performers
By writing a sentence like this, you prove a multitude of soft skills such as motivation and team work , (without having to write them down) and demonstrate your role specific skills at the same time.
Junior candidate tip: If you have little or no work experience, you can use your hobbies and interests section to demonstrate soft skills. For example captaining a sports team can show elements of team work , leadership and motivation .
Key skills for your CV
Adding skills to your CV is absolutely essential if you want to get noticed and land job interviews.
But you must ensure that you understand the core skill requirements of your target roles so you can reflect them throughout your CV.
It's also important to understand the difference between hard skills and soft skills, and how each should be added to your CV.
Hard skills are arguably more important to get down in writing, whereas soft skills should be implied throughout your role descriptions.
You can also check out our sample CVs for more inspiration, and our cover letter guide to ensure your CV gets opened.
Good luck with the job hunt!
Explore Jobs
Jobs Near Me
Remote Jobs
Full Time Jobs
Part Time Jobs
Entry Level Jobs
Work From Home Jobs
Find Specific Jobs
$15 Per Hour Jobs
$20 Per Hour Jobs
Hiring Immediately Jobs
High School Jobs
H1b Visa Jobs
Explore Careers
Business And Financial
Architecture And Engineering
Computer And Mathematical
Explore Professions
What They Do
Certifications
Demographics
Best Companies
Health Care
Fortune 500
Explore Companies
CEO And Executies
Resume Builder
Career Advice
Explore Majors
Questions And Answers
Interview Questions
Clinical Researcher skills for your resume and career
How To Hire
Best States
Best Cities
Job Outlook
Clinical researcher skills summary. Below you'll find the most important clinical researcher skills. We sorted the top clinical researcher skills based on the percentage of clinical researcher resumes they appeared on. For example, 15.7% of clinical researcher resumes contained patients as a skill.
The most common clinical researcher hard skill is patients. 15.7% of clinical researchers have this skill on their resume.
The second most common hard skill for a clinical researcher is informed consent appearing on 11.7% of resumes. The third most common clinical researcher skill is irb on 9.9% of resumes.
Three common clinical researcher soft skills are communication skills, interpersonal skills and leadership skills.
After you find the clinical researcher skills you need, you can them to your resume using an AI resume builder .
Below we've compiled a list of the most critical clinical researcher skills. We ranked the top skills for clinical researchers based on the percentage of resumes they appeared on. For example, 15.7% of clinical researcher resumes contained patients as a skill. Continue reading to find out what skills a clinical researcher needs to be successful in the workplace.
15 essential clinical researcher skills for your resume and career
1. patients.
Educated eligible patients about our research study, and explained potential benefits of study participation.
Interacted with and assessed patients to determine effectiveness of medicine.
Provided nutritional care to hospitalized patients, including tube feeding/TPN.
Performed General outpatient procedures for patients with corneal disorders.
Educated patients on general health and Cardiovascular Diseases.
2. Informed Consent
Obtain informed consent, gather clinical and research data.
Organized all forms, administered Informed Consents, administered Investigational Product.
Developed Protocol specific Case Report Forms, Informed Consents, and Protocol guidelines for unit-based and multi-center NIH sponsored research studies.
Performed protocol required clinical assessments, informed consents, determine eligibility of subjects for protocols and maintain adherence to protocol requirements.
Worked independently providing study coordination, including screening of potential patients for protocol eligibility and participating in the informed consent process.
An institutional review board (IRB), is a form of committee that applies research ethics by vetting research procedures to ensure they are ethical. In order to decide whether or not research can be undertaken, they often perform a kind of risk-benefit analysis. The IRB's function is to ensure that adequate safeguards are in place to protect the interests and health of humans who are participants of a research sample.
Served as the IRB liaison for the Division of Urology.
Gathered and prepared documents for IRB submission.
Received IRB approval for this fieldwork study.
Coordinate and monitor SAEs in compliance with the IRB and regulatory offices.
Assisted principal investigators in proposal preparation/electronic grant submissions, maintain IRB database, assisted with the supervision of undergraduate student assistants.
4. Clinical Trials
Supported clinical trial implementation through technological support and creating care team resources.
Improved efficiency and ensured compliance of clinical trial registration across the different global platforms in accordance with WHO and ICJME requirements.
Ensured compliance by improving the process and standardization of clinical trial registration across the different trial registry platforms.
Managed multiple activities associated with the conduct of clinical trials, from study start-up through close-out.
Manage the implementation of clinical trials from initiation through the stages of data collection.
5. Data Collection
Data collection means to analyze and collect all the necessary information. It helps in carrying out research and in storing important and necessary information. The most important goal of data collection is to gather the information that is rich and accurate for statistical analysis.
Managed relationships with consultants to provide adequate support and services for data collection and analysis.
Collaborated with team to complete research tasks and data collection efficiently and effectively.
Produce detailed product reports and data collection/analysis of device market.
Conducted participant recruitment, data collection and scoring.
Distributed food frequency questionnaire (FFQ) and participated in clinical data collection field research trips.
The Food and Drug Administration (FDA) is a division of the US Department of Health and Human Services that regulates the production and sale of food, pharmaceutical products, medical equipment, and other consumer goods, as well as veterinary medicine. The FDA is now in charge of overseeing the manufacture of products like vaccines, allergy treatments, and beauty products.
Prepared for and guided coordinators, medical directors, and investigators during FDA audits and sponsor initiated quality assurance audits.
Coordinated pharmaceutical hypertension research protocols within FDA guidelines; maintained critical documents; prepared strategies for patient recruitment and retention.
Worked with legal and regulatory on FDA regulations/ICH guidelines regarding conduct of clinical studies for investigator initiated programs.
Developed programs in support of creation, preparation, maintenance and implementation of FDA regulatory documentation practices.
Work closely with investigators in identifying and managing adverse events and report events according to FDA requirements.
7. Data Management
The administrative process that involves collecting and keeping the data safely and cost-effectively is called data management. Data management is a growing field as companies rely on it to store their intangible assets securely to create value. Efficient data management helps a company use the data to make better business decisions.
Created requirements for computer programs for data management and/or analysis for individual projects/trials.
Transformed clinical trial data and loaded into Clinical Data Management System.
Maintained and constructed computer clinical database for data management.
Attended Institutional Review Board workshops dealing with patient selection, data management, and ethical components of a research study.
Manage start-up of data management vendor specifically CRF development, timeline of deliverables, & DMP review.
8. Data Entry
Data entry means entering data into a company's system with the help of a keyboard. A person responsible for entering data may also be asked to verify the authenticity of the data being entered. A person doing data entry must pay great attention to tiny details.
Created various forms of databases including forms and reports for ease of data entry and information retrieval Certifications and Memberships
Trained departmental supervisors and employees on implementation techniques involving personnel training and data entry guidelines vital to computer conversion target dates.
Maintain communication with designated Data Coordinating Center to ensure the accuracy of data entry and timely completion of data queries.
Oversaw/assisted vendors with clinical study guidelines and research subject instructions; assisted with data entry format/design clarifications.
Designed database and documented data elements to be collected in data dictionary improving overall data entry quality.
Prepared and submitted all regulatory documentation in compliance with Institutional Review Board and HIPAA guidelines.
Study regulatory document (ICF, HIPAA) development/writing/editing/revising/resolution/implementation/correspondence for the IRB process.
Maintain confidentiality of patient-related records (HIPAA) including written and verbal communications.
Recruited participants through abstraction of health information while carefully following HIPAA guidelines.
Monitored compliance of research protocols across departments; ensured patient confidentiality under HIPAA regulations.
10. Clinical Research Studies
Worked directly with industry sponsors in initiating and conducting clinical research studies as coordinator and sub-investigator.
Coordinated clinical research studies involving cognitively healthy older adults, older adults with cancer and subjects with Alzheimer's disease.
Performed clinical research studies, planned and implemented clinical research projects * Analyzed, interpreted, and presented clinical research data
Conduct clinical research studies and quality improvement projects related to pain, anxiety, and appearance concerns.
Involved in multiple clinical research studies in the Orthopedic division of Duke Medical Center.
11. Data Queries
Reviewed, clarified, and resolved data queries.
Respond in a timely manner to data queries requested by investigators and regulatory agencies.
Issued and helped to resolve data queries with sites.
Track and manage data queries for site review and resolution.
Review of patient eCRFs and created data queries using INFORM.
12. Consent Forms
Consent forms refer to something that a person signs or attests to in order to agree for something that involves them to happen. They are used in various fields and applications. It is a legal document that can have repercussions if forged or denied later. In medical terms, it is the informed consent of the patient agreeing to the medical procedure they are about to undergo in a sound state of mind.
Entered patient data per visit requirements and maintained proper consent forms necessary for patient participation in studies.
Assist PI in written modifications of investigator initiated protocols and consent forms.
Assured that amended consent forms are appropriately implemented and signed.
Prepare subject information/consent forms and source documents.
NIH stands for the National Institutes of Health. This organization oversees a series of research institutions, each focused on a different area of study involving anatomical systems or diseases. As the organization is affiliated with the government, a great deal of the funding institutions receive come from Congress.
Prepared drafts and manuscripts for NIH grants and assisted principal investigators in finalizing submissions.
Perform research protocols based on NIH Guidelines, particularly the study on HIV transmission and educated clients on their disease process
Helped with NIH and CDC extramural grants application in collaboration with CMO, CFO; also, maintained two rotating grants.
Managed a large NIH hypertension study that included my administering study drugs, drawing blood, and managing symptoms.
Served as Primary Research Coordinator at the coordinating Center for a National NIH sponsored study: SAMMPRIS.
14. Institutional Review
Tracked adherence to Institutional Review Board protocols.
Assist investigators with correspondence involving the Institutional Review Board, including preparation of New and renewal applications, and amendments.
Submitted progress reports to the Principal investigator, steering committee, sub-investigators and Institutional Review Board for different clinical trials.
Maintained regulatory binders and composed and coordinated Institutional Review Board submissions to ensure compliance with regulations and external auditors.
Corresponded with the local Institutional Review Board regarding regulatory requirements, protocol submissions and followed up with regulatory compliance.
Epic is a private healthcare company which developed and continues to provide a software intended for healthcare professionals and the organization and management of medical records. It is by far one of the largest in its field, with over 50% of patients having a medical record present in their system. Patients, as well as clinics and various medical professionals and facilities are all able to use this system to keep medical history and information safe and easy to reach, alter, and share with the necessary people.
Looked up patient information utilizing electronic medical records such as Epic.
What skills help Clinical Researchers find jobs?
Tell us what job you are looking for, we'll show you what skills employers want. Get Started
List of clinical researcher skills to add to your resume
The most relevant clinical researcher skills for your resume, according to recent trends include:
Informed Consent
Clinical Trials
Data Collection
Data Management
Clinical Research Studies
Data Queries
Consent Forms
Institutional Review
Data Analysis
Patient Data
Consent Process
Research Projects
Infectious Disease
Clinical Data
Federal Regulations
Patient Recruitment
Statistical Analysis
Clinical Trial Management
Vital Signs
Rehabilitation
Research Organization
Blood Samples
Literature Reviews
Blood Pressure
Query Resolution
Immunization
Real examples of clinical researcher skills on resumes
Build a professional clinical researcher resume in minutes. Browse through our resume examples to identify the best way to word your resume. Then choose from 5 + resume templates to create your clinical researcher resume.
Online courses to improve clinical researcher skills
One of the best ways to learn the skills needed to bea clinical researcher is to take online courses to advance your career, like those provided by Udemy and Coursera.
1. Good Clinical Practice ICH GCP for Clinical Research
Certification on ICH GCP E6 R2 Good Clinical Practice for Clinical Research The Only Complete Course You Can Find Online...
2. Basic of Clinical Data Management
Clinical Data Management...
3. The Beginners Course for Clinical Research
The Essentials of Clinical Trials - Clinical Research for Beginners...
4. The Simplest Guide to Clinical Trials Data Analysis with SAS
Step into the world of Pharmaceutical industry Clinical Trials Clinical Research Biostatistics Clinical SAS SAS...
5. Good Clinical Practice for Clinical Research Professionals
The Complete, Certified ICH GCP (R2 & R3) Course for Investigators, Study Coordinators, Sponsors, Monitors and Study staff...
6. Certificate Course in Clinical Research (CCCR)
A Clinical Research Course-ICH-GCP E6(R2), Clinical Trials, Essential Documents, Sponsor, Investigator, Pharmaceuticals...
7. Clinical Research for beginners
The Art of Publishing - Master Pub Med, Study design, Biostatistics, Journal choice, Manuscript writing & Referencing...
8. Good Clinical Practice (GCP)
Key features of the GCP guideline, roles and responsibilities involved and the requirements of essential documentation...
9. Statistics / Data Analysis: Survey Data and Likert Scales
How to Process Survey Data and Analyze Likert Scales In SPSS...
10. Health Data 101
An Introduction to Health Data for data analysts...
11. Research Methodology: Complete Research Project Blueprint
Research Methodology From A-Z. A Step-by-Step Guide Through Research Design, Data Collection, Analysis, & Interpretation...
Ready To Build Your Resume?
Clinical Researcher Related Skills
Clinical Associate Skills
Clinical Coordinator Skills
Clinical Project Manager Skills
Clinical Research Assistant Skills
Clinical Research Associate Skills
Clinical Research Coordinator Skills
Clinical Research Manager Skills
Clinical Trial Coordinator Skills
Clinical Trial Manager Skills
Coordinator And Research Assistant Skills
Research Administrator Skills
Research Coordinator Skills
Research Nurse Skills
Research Project Coordinator Skills
Researcher Skills
Clinical Researcher Related Careers
Clinical Associate
Clinical Coordinator
Clinical Project Manager
Clinical Research Assistant
Clinical Research Associate
Clinical Research Coordinator
Clinical Research Manager
Clinical Trial Coordinator
Clinical Trial Manager
Coordinator And Research Assistant
Research Administrator
Research Coordinator
Research Nurse
Research Project Coordinator
Clinical Researcher Related Jobs
Clinical Associate Jobs
Clinical Coordinator Jobs
Clinical Project Manager Jobs
Clinical Research Assistant Jobs
Clinical Research Associate Jobs
Clinical Research Coordinator Jobs
Clinical Research Manager Jobs
Clinical Trial Coordinator Jobs
Clinical Trial Manager Jobs
Coordinator And Research Assistant Jobs
Research Administrator Jobs
Research Coordinator Jobs
Research Nurse Jobs
Research Project Coordinator Jobs
Researcher Jobs
What Similar Roles Do
What Does a Clinical Associate Do
What Does a Clinical Coordinator Do
What Does a Clinical Project Manager Do
What Does a Clinical Research Assistant Do
What Does a Clinical Research Associate Do
What Does a Clinical Research Coordinator Do
What Does a Clinical Research Manager Do
What Does a Clinical Trial Coordinator Do
What Does a Clinical Trial Manager Do
What Does a Coordinator And Research Assistant Do
What Does a Research Administrator Do
What Does a Research Coordinator Do
What Does a Research Nurse Do
What Does a Research Project Coordinator Do
What Does a Researcher Do
Zippia Careers
Executive Management Industry
Clinical Researcher
Clinical Researcher Skills
Research Assistant CV Sample
Home » Education Resume Examples » Research Assistant CV Sample
Are you a Research by profession and looking for a career change? We have good news for you! use our job-winning professional Research Assistant CV Sample template. You don't have to start writing from scratch. Just click "Edit CV" and modify it with your details. Update the template fonts and colors to have the best chance of landing your dream job. Find more Resume Templates.
Jessica Harry
Research assistant.
Motivated and detail-oriented Research Assistant with a strong background in data analysis and project management. Proficient in conducting literature reviews, collecting and organizing data, and facilitating research experiments. Skilled in using various software for statistical analysis and data visualization. Excellent communication and problem-solving abilities. Dedicated to contributing to the advancement of research in the field.
Research design
Experiment development
Literature reviews
Research and analysis
Lab Equipment management
Project Management
Documentation abilities
Technical writing
Presentation skills
Work Experience
Working as a research assistant on multiple projects, mainly focusing on surface modifications of different polymeric substrates for diverse applications, synthesis of organic compounds and role of nanoparticles in catalysis
Worked as a Research Assisstant under the supervision of Dr.Basit Yameen on the project; Development of functional UV curable coatings .
Science Teacher
In order to get experience and exposure worked in a private college as a chemistry teacher and Invigilator.
MS (Chemistry)
Dean's List graduating class of 2019
Graduated with 3.70 CGPA
Thesis: Metallic Nanoparticles Decoratd Functional poly(propylene Films
Coursework : Advanced Physical Chemistry, Advanced Inorganic chemistry, Advanced Organic Chemistry, Polymer Science and technology, Organic Spectroscopy, Quantum Chemistry, and Nanomedicine
BS Chemistry
Graduated with 3.72 GPA
Majored in Analytical Chemistry
Minored in Inorganic Chemistry
Metallic nanoparticles Decorated Functional Poly (propylene) films
Fabrication of nanostructured films for antimicrobial & sensing applications, designing of new magnetically recoverable catalyst, career expert tips:.
Always make sure you choose the perfect resume format to suit your professional experience.
Ensure that you know how to write a resume in a way that highlights your competencies.
Check the expert curated popular good CV and resume examples
What is the Role of a Research Assistant?
Being a Research Assistant is a dynamic and vital role within the academic and scientific community. This position involves assisting in the execution and management of research projects, providing support to senior researchers, and contributing to the development of new knowledge and discoveries. Let's explore the multifaceted responsibilities and contributions that define the role of a Research Assistant, a position that requires a keen eye for detail, a passion for discovery, and a commitment to the advancement of research.
What are the Job Requirements for a Research Assistant?
Embarking on the path of becoming a Research Assistant demands a strong academic foundation and a passion for contributing to the field of research. Let's delve deeper into the prerequisites that one needs to fulfill to excel as a Research Assistant:
A Bachelor's or Master's degree in a relevant field, showcasing a solid understanding of research methodologies and techniques.
Proficiency in data analysis and interpretation, enabling effective contribution to research projects and publications.
Strong organizational and time management skills, essential for managing research tasks efficiently and meeting deadlines.
Excellent communication skills, facilitating effective collaboration with the research team and the dissemination of research findings.
Ability to adapt to different research environments and methodologies, showcasing versatility and a willingness to learn.
Experience with research tools and software, demonstrating a strong technical aptitude in handling research data and processes.
Continuing education and staying abreast of advancements in the field can significantly enhance your capabilities and make you a valuable asset in the research community.
What are the Responsibilities of a Research Assistant?
The role of a Research Assistant is integral to the success of any research project, encompassing various responsibilities that contribute to the smooth execution and completion of research initiatives. Let's explore the key responsibilities that define the role of a Research Assistant:
Conducting literature reviews and gathering relevant information for research projects, laying the foundation for informed analysis and conclusions.
Assisting in the design and execution of research experiments, ensuring adherence to research protocols and ethical guidelines.
Collecting and analyzing data, employing statistical tools and methodologies to derive meaningful insights and conclusions.
Preparing research reports and presentations, effectively communicating research findings to the broader academic community.
Collaborating with senior researchers and faculty members, actively contributing to the development of research proposals and grant applications.
Managing research documentation and administrative tasks, ensuring the smooth flow of information and maintaining research integrity.
Providing support in the training and supervision of junior research staff and students, fostering a culture of learning and knowledge sharing.
Each responsibility presents an opportunity to contribute to the advancement of knowledge and make a meaningful impact in the research field.
Research Assistant CV Writing Tips
Your CV is your primary tool to showcase your academic achievements, research experience, and skills to potential employers. Here are some tips to help you create an impressive CV that highlights your qualifications effectively:
Highlight your academic accomplishments and any research-related awards or scholarships you have received.
Detail any research projects you have contributed to, emphasizing your role and the outcomes of the research.
Include any publications, presentations, or posters you have authored or co-authored, showcasing your contributions to the academic community.
List any relevant technical skills and research methodologies you are proficient in, demonstrating your ability to handle complex research tasks.
Personalize your CV for each application, highlighting specific skills and experiences that align with the requirements of the research position.
Each tip is a step towards crafting a compelling CV that highlights your potential as a valuable Research Assistant in the academic and scientific community.
Research Assistant CV Summary Examples
Your CV summary serves as an introduction to your academic and research background, providing a snapshot of your capabilities and potential contributions as a Research Assistant. Here are some examples to inspire you:
"Dedicated Research Assistant with a strong background in data analysis and project management. Experienced in conducting literature reviews and contributing to impactful research projects."
"Detail-oriented Research Assistant with a passion for scientific inquiry and a track record of effectively managing research tasks. Skilled in research documentation and communication of complex findings."
"Research Assistant with a keen interest in experimental design and data interpretation. Proficient in research software and tools, contributing to the success of various research initiatives."
Each summary offers a glimpse into your academic journey and your potential as a valuable member of the research team.
Create a Comprehensive Experience Section for Your Research Assistant CV
Your experience section is an opportunity to detail your research contributions and showcase your role in various research projects. Here are some examples to guide you in crafting an impactful experience section:
"Contributed to a longitudinal research study on environmental sustainability, collecting and analyzing data that led to the publication of a research paper in a leading environmental science journal."
"Assisted in the design and execution of clinical trials, ensuring compliance with ethical standards and protocols, resulting in the successful completion of a groundbreaking medical research project."
"Managed research databases and conducted statistical analysis for a multidisciplinary research team, facilitating data-driven decision-making and contributing to the successful acquisition of research grants."
Each experience highlights your contributions to the research process and demonstrates your ability to handle complex research tasks effectively.
Education Section for Your Research Assistant CV
Your educational background is a testament to your academic achievements and your commitment to the field of research. Here's how you can showcase your educational milestones effectively:
Master of Science in [Your Field of Study], [University Name], a comprehensive academic journey that equipped you with advanced research skills and knowledge, [Year of Graduation].
Bachelor of Science in [Your Field of Study], [University Name], a foundational step in your academic pursuit of knowledge and research, [Year of Graduation].
Any relevant research certifications or workshops attended, highlighting your commitment to continuous learning and professional development in the field of research.
Each educational qualification represents a milestone in your academic journey, laying the groundwork for your success as a Research Assistant.
Key Skills for Your Research Assistant CV
Your skill set is your arsenal, encompassing a diverse range of skills and competencies that make you an effective Research Assistant. Let's outline the key skills that a Research Assistant should possess:
Soft Skills:
Attention to detail, ensuring accuracy in research data collection and analysis.
Strong analytical skills, enabling effective interpretation of research findings and data.
Excellent time management, facilitating efficient handling of multiple research tasks and deadlines.
Effective communication, fostering collaboration with the research team and clear dissemination of research findings.
Adaptability and flexibility, allowing for seamless adjustment to different research environments and project requirements.
Hard Skills:
Proficiency in statistical analysis software, a vital skill in conducting data analysis and interpreting research results.
Familiarity with research methodologies, facilitating effective contribution to various research projects and experiments.
Knowledge of laboratory equipment and protocols, ensuring adherence to research standards and safety procedures.
Experience with data management software, enabling efficient organization and storage of research data.
Understanding of academic writing and citation styles, facilitating the preparation of research reports and publications.
Each skill represents a key component in your ability to contribute effectively to the research process and make meaningful contributions to the academic and scientific community.
Common Mistakes to Avoid When Writing a Research Assistant CV
While crafting your CV, it's crucial to avoid common mistakes that could potentially hinder your chances of securing a research position. Here are some common pitfalls to steer clear of:
Exaggerating your research contributions, which can lead to misrepresentation and undermine your credibility.
Omitting relevant research experiences or academic achievements, which could downplay your qualifications and potential contributions.
Neglecting to tailor your CV to the specific research position, missing the opportunity to highlight your alignment with the role requirements.
Using overly technical jargon without providing context, which can alienate non-specialist readers and potential employers.
Forgetting to proofread your CV, leading to errors and inconsistencies that reflect poorly on your attention to detail and professionalism.
Avoiding these mistakes can significantly enhance the impact of your CV and increase your prospects of securing a rewarding research position in your field of interest.
Key Takeaways for Your Research Assistant CV
As we conclude this comprehensive guide, it's important to remember the key elements that can make your Research Assistant CV stand out:
Emphasize your academic achievements and research contributions, showcasing your dedication to advancing knowledge in your field of study.
Highlight your proficiency in research methodologies and data analysis, demonstrating your ability to contribute effectively to research projects.
Showcase your experience in managing research tasks and collaborating with research teams, highlighting your strong organizational and communication skills.
Illustrate your commitment to continuous learning and professional development, emphasizing any relevant certifications or workshops you have completed.
Finally, feel free to utilize resources like AI CV Builder , CV Design , CV Samples , CV Examples , CV Skills , CV Help , CV Synonyms , and Job Responsibilities to create an impressive application and prepare for the Research Assistant job interview .
Check Other Great Resumes:
Sports Director CV Sample
Entertainment Entrepreneur CV Example
Assistant Director Health CV Sample
R Programmer CV Example
Office Manager CV Example
Biotechnologist CV Sample
Special Needs Educator CV Example
Physical Therapist CV Sample
Commercial Airline Pilot CV Example
Senior Security Administrator CV Sample
More Resume Examples:
Privacy overview.
Side Hustles
Power Players
Young Success
Save and Invest
Become Debt-Free
Land the Job
Closing the Gap
Science of Success
Pop Culture and Media
Psychology and Relationships
Health and Wellness
Real Estate
Most Popular
Related Stories
Work This common resume tip is   'overrated,' says hiring expert
Work Asking this question in a job interview is   'the worst advice,' says recruiter
Land the Job ZipRecruiter: 3 in-demand soft skills   candidates are 'most lacking in'
Land the Job Do these 3 things on LinkedIn to be   'head and shoulders above' others
Land the Job The top 3 things recruiters   always look for on your resume
Could resumes soon be a thing of the past? Experts give their verdict
More often than not, the first step of a job application is submitting your resume.
That's your basic person details, education, job experience. And perhaps a section on volunteering work, personal interests or skills.
But only if those fit on the one A4 sheet of paper then that is traditionally the limit for a resume.
Slowly but surely though, this looks to be changing as employers are realizing a college degree and related internships don't always mean they've found the right candidate.
Instead, a job seeker's skills are now key .
A skills first approach
The trend toward skills-based hiring has been accelerating in recent months as businesses are battling with tight labor markets, economic pressures and higher expectations from prospective employees.
In June, LinkedIn data shared with CNBC Make It suggested around 45% of companies had specifically used skills-related data to source new talent over the previous year, a number that appears to have increased since.
"More than 50% of hirers on LinkedIn now explicitly use skills data to fill their roles, and LinkedIn members have added more than 500 million skills to their profiles over the last 12 months," Adam Hawkins, head of search and staffing for EMEA and LATAM at LinkedIn, told CNBC Make It.
The impact for both companies and applicants could be immense as skills-based hiring expands who can apply for open positions, giving employers more choice of candidates and job seekers more choice of opportunities.
"LinkedIn's research finds that a skills-first approach can add up to 20x more eligible workers to employer talent pools, and increase the proportion of women in the talent pool by 24% in industries where women are underrepresented," Hawkins said.
And so, the future of the resume is uncertain. What could it look like and will it even still exist?
Resumes of the future
One thing is clear to experts: Resumes of the future will look nothing like they do now.
That includes both their content and look, Dave Rizzo, talent strategy and operations leader at Deloitte told CNBC Make It. They will include more details that bring candidates "to life" such as "their skills, their impact, their personality, what purpose are they trying to achieve, what's important to them," he said.
Strict layout rules are also disappearing quickly, Rizzo added.
"The format of the traditional resume, which leads with a chronology of education, titles/job descriptions, and years of experience, and other resume 'rules of the road' are fading away," he said.
Having a "perfect" resume also no longer means as much to employers as it has done in the past, Julia Pollock, chief economist at ZipRecruiter, told CNBC Make It. The emergence of ChatGPT and other artificial intelligence based tools have made having a strong resume easier, which means they are less valuable and informative to employers. 
"Your resume has to be perfect, but will no longer be sufficient," she said.
No more resumes?
So if resumes won't look or read like resumes anymore, could they be replaced altogether?
Deloitte's Rizzo sees them at least evolving into what he calls "digital dossiers." Those would be "portable, linked to industry or domain credentials, and can be easily uploaded into a job-pairing engine," he said.
Pollak from ZipRecruiter foresees a similar development.
"There will be ever more digital analogs, like online job seeker profiles incorporating online degree and credential verification, skill endorsements and recommendations, video elevator pitches, links to multimedia products," she said.
As traditional resumes become less relevant to employers, new forms of screening processes as part of job applications may also emerge, the experts say.
Pollak suggests businesses will want to meet prospective employees earlier in the recruitment process than they currently do, even if that is just virtually, or add more skills assessments into their hiring approach.
New ways of assessing candidates may also emerge, Rizzo said.
"We could see some interesting evolutions that include a shift away from listing jobs held to emphasizing skills acquired and demonstrating those skills through a greater array of initial screenings that include gamified assessments/simulations, and real-time problem solving activities that translate more directly to the relevant work situations the individual will encounter," he explained.
References and endorsements could also grow in importance, he added, and become part of Rizzo's idea of "digital dossiers."
So while Rizzo does not believe in the future of the classic, traditional resume, he does think some form of document or profile that loosely resembles one will stick around.
Meanwhile, ZipRecruiter's Pollak is not anticipating the end of a high quality resume.
"A perfect resume won't become obsolete. Rather, it will become table stakes," she said. Even if there will be some adjustments to its content or the overall application process.