Completed Thesis Projects
Saumil Jadhav — Acceptability and Feasibility of Healthcare Communication Consideration for Altering Perceptions toward Influenza Vaccine: A Qualitative Study
Shishir Maharjan — Opioid Tapering and Mental Health Crisis in Older Adults
Irene Nsiah — Factors Influencing Postpartum Contraception Uptake
Queenie Paltanwale — Understanding Attitudes Towards Deprescribing Among Older Adults with Osteoporosis
Wesley Sparkmon — Community Pharmacist Perceptions of Increased Technician Responsibility
Ian Freeman — The Association between Patient Characteristics and Use of Statin and Metformin among Elderly Women with Breast Cancer and Diabetes
Sonam Nair — Facilitators and Barriers to Biosimilar Adoption: A Systematic Review of the Global Stakeholder Perspective
David Allen III — Electronic Nicotine Delivery System (ENDS): Reasons for Use and Associated Factors in Self-Selected Nicotine Concentrations
Siddhi Korgaonkar — Comparative Effectiveness and Safety of Non-Vitamin K Antagonists Oral Anticoagulants and Warfarin in Elderly Patients with Non-Valvular Artial Fibrillation and Diabetes
Chukwuebuka Dibie — Predictors of Dental Opioid Analgesic Prescribing, Opioid Use and Dental Emergency Department Visits in the Mississippi Medicaid Population
Yiqiao Zhang — Opioid Use for Treatment of Acute Pain among Children and Adolescents enrolled in Mississippi Medicaid
Ashley Crumby — The Decision to Pursue Pharmacy Residency Training: Motivators, Barriers, and the Fear of Missing Out
Neeri Wahidullah — Predictors of Medication Nonadherence in Children/Adolescents with Attention Deficit Hyperactivity Disorder (ADHD) in Mississippi Medicaid Program
Kaustuv Bhattacharya — Burden of Depression among Irritable Bowel Syndrome Patients Enrolled in National Medicaid
Nicholas Keeling — Payer Perspectives on Preemptive Pharmacogenetic Testing
Sasikiran Nunna — Biological and Psychosocial Risk Factors of Stroke in African Americans Enrolled in the Jackson Heart Study (JHS)
Tristen Jackson — Primary Care Providers' Provision of Therapeutic Lifestyle Change Counseling for Patients with Cardiovascular Risk
Sujith Ramachandran — Determining Physician and Patient Characteristics that Predict the Use of Atypical Antipsychotics Children with Mental Health Disorders
Divya Verma — Impact of Refill Synchronization Medication Adherence for Chronic Disease
James Parrett — Pharmacists' Preparedness for Acute Medical Emergencies
Ruchitbhai Shah — Community Pharmacists' Attitudes Toward an Expanded Class of Nonprescription Drugs
Sai Dharmarajan — Case-Mix Adjustment of Adherence Based Pharmacy Quality Indicator Scores
Namita Joshi — Factors Affecting Community Pharmacy Owners' Attitudes toward and Likelihood to Adopt RxSync Service
Tasneem Lokhandwala — Do statins improve outcomes in patients with asthma on inhaled corticosteroid therapy? A retrospective analysis of the Mississippi Medicaid database 2002-2004
Hafiz Oko-Osi — Market Response to FDA Safety Warnings: A Case Study Using an Interrupted Time Series Analysis of the Medicare Database for 2006-2008
Tushar Padwal — An Examination of Factors Influencing the Program Choice of Graduate Students in the Pharmaceutical Sciences
Zainab Shahpurwala — Pharmacy-level Quality Measures and the Consumer: Preferences and Attitudes
Sumit Verma — The Strategic Value Driver Model: A Methodology For Examining Value Drivers For A New Pharmaceutical Product In Diabetes
Amod Athavale — The Measurement of Pharmacy Loyalty and its Use in the Development of Marketing Strategies for the RxSync Service™
Ram Sankar Basak — Willingness to Influence Indication-Based Off-Label Prescribing: An Investigation of Hospital Pharmacies
Krutika Jariwala — Factors that Physicians Find Encouraging and Discouraging about Electronic Prescribing: A Quantitative Study
Clive Mendonca — Product-Specific and Disease-Specific Direct-to-Consumer Drug Advertising (DTCA): An Investigation of Post-Exposure Information Search Behavior
Kyle Null — Consumer Acceptance of Health-Related Technologies: Incorporating Perceived Health Risk into the Technology Acceptance Model
Vennela Thumula — Type 2 Diabetes in Children: Estimates of Epidemiology, Quality of Care, Costs and Resource Utilization in a Medicaid Population
Leonardo Torres — Pharmacists' Rating of Relevance of Available Information in Deciding the Validity of Opioid Medication Prescriptions
Philip Schwab — Cigarette Sales in Pharmacy: An Examination of the Relationship Value of Customers Who Purchase Cigarettes in Retail Pharmacies
Gayatri Gopal — Examining the Influence of Perceived Risk, Perceived Variability, and Confidence on Consumers Intentions to Seek OTC Medication Advice from Health Professionals
Su Bunniran — Examining Attributions of Blame and Consumer Trust Following Market Withdrawal of a Pharmaceutical Product
Nekshan Jalnawala — A Study of the Influence of Detail Message Characteristics on Physicians' Beliefs about Medications and Credibility
Doug Paul — Pharmaceutical Marketers' Perceptions of the Benefits and Drivers of the First-Mover Advantage in Pharmaceutical Markets: An Exploratory Study
Ravi Sadasivan — The Effect of Visual Images in Printed Direct-to-Consumer Advertising of Prescription Medications on External Information Search
William Lobb — The Effect of a School of Origin Variable on the Traditional Predictors and Prediction of Undergraduate Pharmacy Students' Academic Performance
Mansi Shah — Effects of Direct-to-Consumer Advertising on the Quality of the Patient-Physician Relationship
Kornkanok Arntson — Determinants of Influence: An Investigation of Pharmacist Activity in the Pharmacy and Therapeutics Committee
James Blake Thompson — College Preparation for Pharmaceutical Sales Careers
Saurabh S. Sewak — Cybermarketing of Pharmaceuticals: A Case for Style Over Substance?
Vivek Kaisare — An Exploratory Investigation of the Potential for Direct-to-Consumer Advertising in the Type 2 Diabetes Market
Joseph Keith Bonnarens — Determining the Level of Patient Care Specialty Service Development and Entrepreneurial Characteristics Present in Independent Community Pharmacy
Donna Sue West — Information Technologies in Community Pharmacy Practice
Alicia Corrine Sanders Bouldin — Pharmacists' Perceptions of Herbal Medicines: A Descriptive Study
John Paul Bentley — A Study of the Feasibility of the Utilization of Health Related Quality of Life Instruments in the Community Pharmacy Settings
Ram Mohan Chukkapalli — Consumer Self-Medication Behavior: the Influence of Different Factors on Consumer's Purchase Decisions in the Selection of OTC Analgesics
For thesis project titles prior to 1995, please see the Department History page .
Pharmacy Administration Student Discusses His Academic Journey
UKnowledge > College of Pharmacy > Theses & Dissertations
Theses and Dissertations--Pharmacy
Theses/dissertations from 2022 2022.
Response of Dopaminergic System to Cocaine Exposure, Recovery after Cocaine Abstinence, and Impact of a Long-acting Cocaine Hydrolase , Jing Deng
ANALYSIS OF POTENTIAL FACILITATORS TO USE OF HIV PRE-EXPOSURE PROPHYLAXIS (PrEP) IN A YOUNG TRANSGENDER POPULATION , Noah Dixon
Studies Toward the Development of an Improved Countermeasure for Synthetic Opioid Overdose , Sidnee L. Hedrick
Development of zafirlukast derivatives active against Porphyromonas gingivalis , Kaitlind C. Howard
Investigating the Physical Stability of Amorphous Pharmaceutical Formulations , Travis W. Jarrells
THE RELATIVE CONTRIBUTION OF LIVER AND INTESTINE IN REVERSE CHOLESTEROL TRANSPORT , Rupinder Kaur
LIPOSOMAL TECHNOLOGIES TO IMPROVE GENE DELIVERY , David Nardo Padron
DEVELOPMENT OF ACCURATE AND EFFICIENT COMPUTATIONAL METHODOLOGIES FOR PREDICTING PROTEIN-LIGAND AND PROTEIN-PROTEIN BINDING FREE ENERGIES , Alexander Hamilton Williams
BUILDING TOOLS FOR IMPROVED MODULATION OF THE HUMAN GABAA RECEPTOR, A CENTRAL NERVOUS SYSTEM TARGET FOR THE TREATMENT OF ANXIETY , Garrett Edward Zinck
Theses/Dissertations from 2021 2021
UNDERSTANDING ABSORPTION, SUPERSATURATION, AND DRUG ACTIVITY IN SOLUTION: WORKING TOWARDS DEVELOPING A MORE BIORELEVANT MEDIA , Freddy Arce
Delineating the Biosynthesis of Capuramycin-type Antibiotics , Ashley L. Biecker
TOWARDS A HOLISTIC RISK MODEL FOR SAFEGUARDING THE PHARMACEUTICAL SUPPLY CHAIN: CAPTURING THE HUMAN-INDUCED RISK TO DRUG QUALITY , Heather R. Campbell
Examining Childhood Outcomes in Neonatal Abstinence Syndrome , Kailyn Conner
Understanding the Impact of Solvents in Oral Solid Dosage Formulation and Process Development , Matthew Kyle Defrese
IDENTIFICATION AND CHARACTERIZATION OF EPITOPE SPECIFIC IMMUNE RESPONSES IN HUMANS AND MICE , David Henson
HUMAN REGULATORY T CELLS CONTROL INFLAMMATION FROM EFFECTOR T CELLS IN PREDIABETES , Rui Liu
Pharmacist Provision of Contraception Services in Kentucky: Opinions and Policy Interventions , Dustin K. Miracle
INVESTIGATION OF THE BIOSYNTHESIS OF THE NUCLEOSIDE ANTIBIOTIC SPHAERIMICIN , Jonathan Overbay
ABC TRANSPORTERS IN GLIOBLASTOMA: ANTICANCER DRUG TRANSPORT AND TRANSPORTER REGULATION AT THE BLOOD-BRAIN BARRIER , Julia A. Schulz
ELUCIDATING THE ROLE OF THE TYROSINE PHOSPHATASE, SHP-2, IN REGULATION OF PD-L1 EXPRESSION IN NON-SMALL LUNG CANCER USING BOTH BIOCHEMICAL ANALYSES AND REAL-WORLD GENOMIC INFORMATION , Keller Toral
INTERACTIONS OF POST-PKS ENZYMES OF THE MITHRAMYCIN BIOSYNTHETIC PATHWAY , Ryan Wheeler
Theses/Dissertations from 2020 2020
Correlating the Physicochemical Properties of Magnesium Stearate with Tablet Dissolution and Lubrication , Julie L. Calahan
NOVEL SMALL MOLECULE ANTIFUNGALS FOR INVASIVE FUNGAL INFECTIONS , Emily Dennis
COMBINATION OF INVESTIGATIONAL CELL-BASED THERAPY AND DEEP BRAIN STIMULATION TO ALTER THE PROGRESSION OF PARKINSON'S DISEASE , Nader El Seblani
EXTENSIVELY DRUG-RESISTANT PSEUDOMONAS AERUGINOSA IN VITRO SUSCEPTIBILITY AND MECHANISMS OF RESISTANCE , Chanah Gallagher
Page 1 of 8
Advanced Search
Notify me via email or RSS
Collections
Disciplines
Author Corner
Home | About | FAQ | My Account | Accessibility Statement
Privacy Copyright
UMB Digital Archive
School of Pharmacy
Theses and Dissertations School of Pharmacy
Filter by category.
Publication Date Authors Titles Subjects
Search within this collection:
Full text for dissertations and theses included in this collection dates back to 2011. For older dissertations, check the library's catalog CatalogUSMAI or Dissertations and Theses database .
Recent Submissions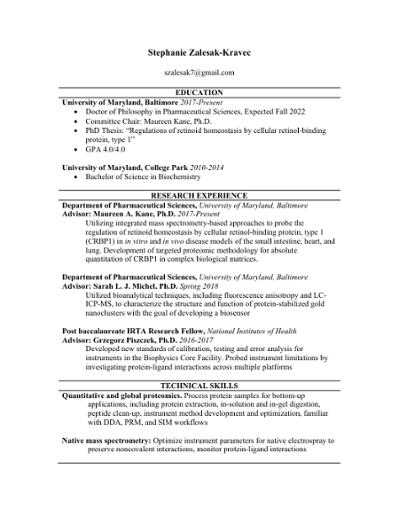 Regulation of retinoid homeostasis by cellular retinol-binding protein, type 1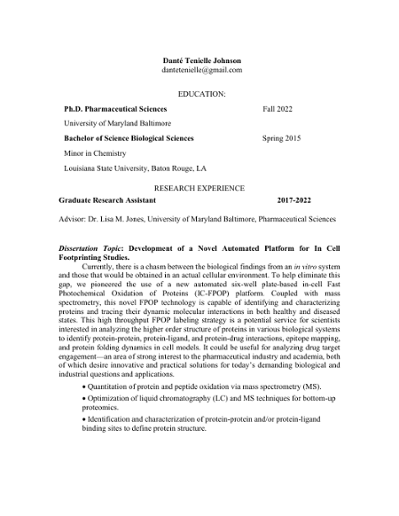 Method Optimization of a New Automated Platform for Proteome-Wide Structural Biology
Effect of Excipients on the Performance of Spray-dried Amorphous Solid Dispersion (ASD) in Tablets
The Regulatory Role of the Cytoplasmic Heme Binding Protein PhuS in Pseudomonas aeruginosa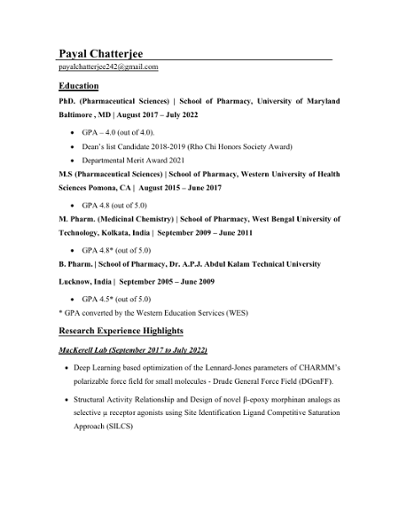 Development of the Lennard-Jones Parameters for the Polarizable Classical Drude Oscillator Force Field
Design, Development, and Characterization of Gallium (III) Salophen Metallotherapeutics Targeting Heme Sensing and Iron Acquisition Pathways in Pseudomonas aeruginosa
Impact of Undertreatment of Depression on Suicide and Suicide Attempt among Children and Adolescents: A Simulation Study with Microsimulation and Agent-Based Models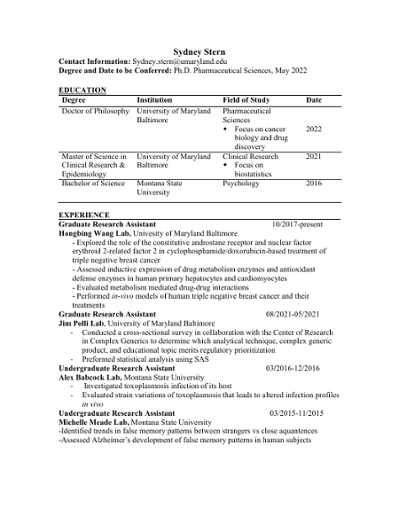 The Role of CAR and Nrf2 Dual Activation in doxorubicin/cyclophosphamide-based treatment of triple negative breast cancer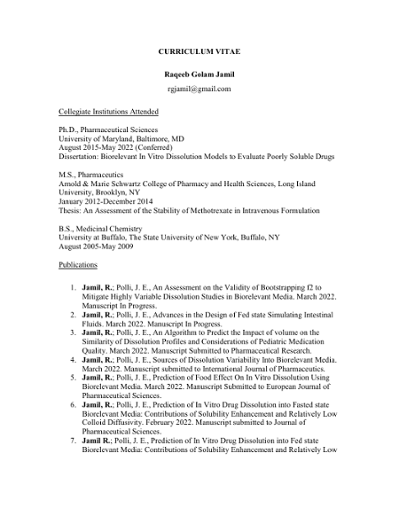 Biorelevant In Vitro Dissolution Models to Evaluate Poorly Soluble Drugs
Predictors and subsequent healthcare utilization associated with CDC-guideline opioid thresholds among commercially insured new chronic opioid users
Lessons learned from the characterization of cpsf30 – a zinc finger protein containing an unexpected 2fe-2s cluster.
Evaluation of In Vitro-In Vivo Correlations in Topical and Transdermal Drug Delivery Systems by In Vitro Permeation Testing and Pharmacokinetic Studies for Bioavailability/Bioequivalence and Heat Effect Assessment
In Vitro Dissolution, Supersaturation, and Permeation to Predict In Vivo Oral Drug Absorption
Novel Measurements of Impaired Hepatobiliary and Intestinal Transport
Healthcare Resource Utilization and Costs Associated with Antiretroviral Regimen Complexity
Patterns, Factors and Outcomes associated with Gabapentin use in Combination with Opioids and Benzodiazepines among Social Security Disability Insurance (SSDI)-eligible Medicare Beneficiaries
Exploiting Vulnerabilities in Cancers with Activated Extracellular Signal-Regulated Kinase (ERK1/2)
Association of Patient Cost Sharing and Area Deprivation with Multiple Myeloma Treatment Receipt and Outcomes
A Cluster Analytic Approach to Identify Insomnia Subtypes and Their Relationship with Economic Outcomes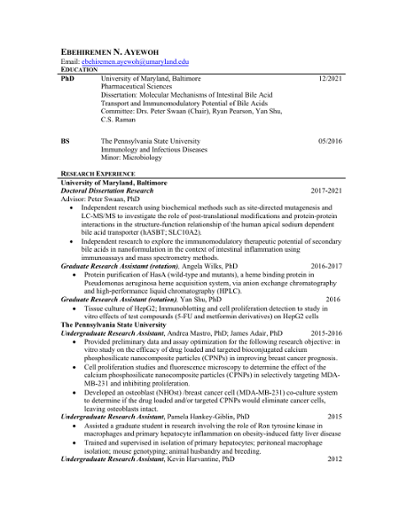 Molecular Mechanisms of Intestinal Bile Acid Transport and Immunomodulatory Potential of Bile Acids
Export search results.
The export option will allow you to export the current search results of the entered query to a file. Different formats are available for download. To export the items, click on the button corresponding with the preferred download format.
By default, clicking on the export buttons will result in a download of the allowed maximum amount of items.
To select a subset of the search results, click "Selective Export" button and make a selection of the items you want to export. The amount of items that can be exported at once is similarly restricted as the full export.
After making a selection, click one of the export format buttons. The amount of items that will be exported is indicated in the bubble next to export format.
Chapman University Digital Commons
Home > Dissertations and Theses > Pharmaceutical Sciences (MS) Theses
Pharmaceutical Sciences (MS) Theses
Below is a selection of dissertations from the Master of Science in Pharmaceutical Sciences program in the School of Pharmacy. Additional dissertations from years prior to 2019 are available through the Leatherby Libraries' print collection or in Proquest's Dissertations and Theses database.
Theses from 2022 2022
Approvals and Prices of Systemic Antibiotics in Saudi Arabia and the United States , Saad Alharthi
Investigating Hybrid Cyclic/Linear and Linear Peptides as Vehicles for Nucleic Acid Delivery , Abdulelah Alhazza
Design, Synthesis, and Evaluation of N-Methylated H2R2W4 , Talal Alrubaie
Content and Activity of Cytochrome P450 3A in Rat Brain Microsomes and Mitochondria , Nouf Alshammari
Role of Macrophages in Ocular Surface Fibrosis , Alyanna Corpuz
Cyclic and Linear Cell-Penetarating Peptides Composed of Tryptophan (WW) and Arginine (RR) Residues as Molecular Transporters , Lois Kim
Effects of nNOS Inhibitors on Melanoma-Induced Immunosuppression , Kate Alison Lozada
The Development of a Novel Peptide-Drug Conjugate for Treating Triple-Negative Breast Cancer , Phi-Phung Than
Theses from 2021 2021
The Development of a Cancer-Targeting Peptide-Drug Conjugate for the Treatment of Melanoma , Cassandra Dill
Characterization of The Growth Factor Receptor Network Oncogenes in Lung Cancer , Ashley Duche
Hybrid Cyclic-Linear Cell-Penetrating Peptides Containing Alternative Positive and Hydrophobic Residues as Molecular Transporters , Sorour Khayyatnejad Shoushtari
Cost-Effectiveness Analysis of Tisagenlecleucel, Blinatumomab, and Clofarabine for Treatment of B-cell Precursor Acute Lymphoblastic Leukemia , Kamron Lotfi
Establishing the Role of DC-SIGN and Glycoprotein H for KSHV Entry in B Lymphocytes , Nancy Palmerin
Amphiphilic Cell-Penetrating Peptides Containing Natural and Unnatural Amino Acids as Drug Delivery Tools and Antimicrobial Agents , David Salehi
Modulation of Antibacterial Activity and Cytotoxicity in Amphipathic Cyclic Peptide [R4W4] Using Histidine Substitution , Ryan Stueber
Theses from 2020 2020
Hybrid Cyclic/Linear Peptides in a Multi-Component Lipid Structure as a siRNA Delivery System , Abdulaziz Alasmari
Effect of Diabetes Mellitus on Ocular Surface Tight Junctions and Glycocalyx , Saleh M. Alfuraih
Role of Protein Phosphatase-2A in Regulating Monocyte Activation by Soluble and Crystalline Uric Acid in Gout , Sandy ElSayed
Design and Evaluation of Peptide Lipid-Associated Nucleic Acids (PLANAs) for siRNA and CRISPR/Cas9 Delivery and Protein Silencing , Ryley Hall
Theses from 2019 2019
Targeting Primary Cilia Immune Receptor Proteins for the Treatment of Polycystic Kidney Disease Mechanisms , Nedaa Alomari
Identification of Molecules by Spectral Imaging , Qamar Alshammari
Proteomic Evaluation and Cytotoxicity of Red Maple (Acer rubrum) Leaves , Saud Alshammari
Trends in Prices of Insulin Marketed in the US , Hana Althobaiti
Proteomics and Biological Evaluation of Marshmallow (Althea officinalis) Seeds , Mahshid Amini
Altering the Regiospecificity of C6 Indole Prenyltransferase Enzymes Towards Drug Development , Ahmed R. Aoun
Gender Differences in Opioid Prescribing Patterns among Adults in the US , Salena Marie Preciado
The Development of Novel Apurinic/Aprymidinic Endonuclease/Redox-factor 1 Inhibitors for the Treatment of Human Melanoma , Bella Sharifi
Theses from 2018 2018
SK Channel Modulators as Drug Candidates and Pharmacological Tools , Razan Orfali
Advanced Search
Notify me via email or RSS
Author Corner
Submit Research
Rights and Terms of Use
Leatherby Libraries
Chapman University
ISSN 2572-1496
Home | About | FAQ | My Account | Accessibility Statement
Privacy Copyright

Home > PHARMACY > PHP > PHP_ETD
Pharmacy Practice Department Theses and Dissertations
Theses/dissertations from 2022 2022.
TREPROSTINIL, A PROSTACYCLIN ANALOG, PROTECTS KIDNEY FROM RENAL ISCHEMIA-REPERFUSION INJURY: PRECLINICAL STUDIES IN A RAT MODEL OF ACUTE KIDNEY INJURY , Meiwen Ding
THE MECHANISTIC AND ETIOLOGICAL LINK BETWEEN BILE ACID DYSREGULATION AND PRETERM BIRTH , Syed Fayaz Ul Haq Hashmi
TREPROSTINIL IMPROVES HEPATIC CYTOCHROME P450 METABOLISM DURING RENAL ISCHEMIA REPERFUSION INJURY , Daniel Kelly
PREDICTORS OF EPI PROCOLON UTILIZATION , Eric Lamy
AN EVALUATION OF THE EFFECTIVENESS AND SAFETY OF DIRECT ORAL ANTICOAGULANTS VERSUS WARFARIN IN CHRONIC LIVER DISEASE, AND AFTER ANTICOAGULANT-RELATED MAJOR BLEEDING , Oluwadolapo D. Lawal
CHEMICAL BIOLOGY OF DNA ADDUCT REPAIR, BYPASS AND MUTAGENESIS , Rui Qi
CHEMICAL INVESTIGATION OF METABOLITES PRODUCED BY MARINE PSEUDOALTEROMONAS SPP. , Margaret Rosario
A PROTEOMIC APPROACH TO UNDERSTANDING REGULATORY PATHWAYS IN NON-ALCOHOLIC FATTY LIVER DISEASE (NAFLD) , Teresa Sierra
IMPACTS OF HYPERTENSION AND THROMBOSIS IN A RAT MODEL OF CEREBRAL AMYLOID ANGIOPATHY (rTg-DI) , Aleksandra Stanisavljevic
PHYTOCHEMICAL ANALYSIS AND BIOLOGICAL EVALUATION OF MAPLE (Acer saccharum) SAP WATER , Kara Torrey
TRANSLATION AND VALIDATION OF MYELOID DERIVED SUPPRESSOR CELL PROTEOMIC TARGETS IN LIVER AND LUNG TUMORS , Justin Trickett
A MULTI-YEAR INVESTIGATION OF THE SPECIALIZED METABOLITE COMPOSITION OF TRICHODESMIUM SPP. , Christopher William Via
Theses/Dissertations from 2021 2021
PHARMACIST-ADMINISTERED PEDIATRIC INFLUENZA VACCINATION IN THE UNITED STATES , Dana M. Gates
DUAL-DRUG NANOPARTICLE FORMULATION FOR INHALED DELIVERY IN IDIOPATHIC PULMONARY FIBROSIS TREATMENT , Moez Ghumman
INVESTIGATING TOLFENAMIC ACID AND ITS ANALOGS AS POTENTIAL ALZHEIMER'S DISEASE THERAPEUTICS , Jaunetta Hill
HEPATOPROTECTIVE EFFECTS OF TREPROSTINIL DURING RENAL ISCHEMIA-REPERFUSION INJURY , Joyce Hou
EVALUATING NATURAL PRODUCT LIBRARIES WITH EMPHASIS ON IN VITRO PERMEABILITY WORKFLOWS , Riley D. Kirk
ANTI-INFLAMMATORY EFFECTS OF POLYPHENOL-ENRICHED EXTRACTS , Chang Liu
REAL-WORLD UTILIZATION AND EXPENDITURE OF TOP-DOWN AND STEP-UP THERAPY IN INFLAMMATORY BOWEL DISEASE , Kanya K. Shah
EVALUATION OF MEDICATIONS FOR OPIOID USE DISORDER ON OVERDOSE AND HEALTHCARE UTILIZATION IN THE US , Tianyu Sun
SELF-ADJUVANTED VIRUS-LIKE PARTICLE FOR SAFE AND HIGHLY IMMUNOGENIC VACCINATION , Yiwen Zhao
Theses/Dissertations from 2020 2020
PERFLUOROOCTANESULFONIC ACID (PFOS) AS A POTENTIAL RISK FACTOR FOR LATE-ONSET ALZHEIMER'S DISEASE , Veronia Basaly
THE COMPARATIVE EFFECTIVENESS, SAFETY, AND COST OF ORAL P2Y12 ANTIPLATELET AGENTS FOLLOWING ACUTE CORONARY SYNDROMES , Nicholas Belviso
PRESCRIPTION CONTROLLED SUBSTANCE UTILIZATION: EVALUATING BENZODIAZEPINE DOSE INTENSITY, DEVELOPMENT AND APPLICATION OF A MEASUREMENT FRAMEWORK, AND USE OF TRAMADOL AMONG PATIENTS WITH HIGHER RISK , Eric P. Borrelli
CHEMICAL INVESTIGATION OF BACTERIAL INTERACTIONS INVOLVING PATHOGENS , Hilary Joan Grant Ranson
EVALUATION OF KEY PERFLUOROALKYL SUBSTANCES TO INDUCE LIVER STEATOSIS IN MOUSE AND HUMAN MODELS , Emily Sara Marques
CHEMICAL INVESTIGATIONS OF PECTIC OLIGOSACCHARIDES FROM VACCINIUM MACROCARPON , Zhiyuan Peng
DRUG-INDUCED LIVER INJURY: A PREDICTIVE MODEL, MITOCHONDRIAL TOXICITY MECHANISMS RISK, AND ANTIPSYCHOTIC MEDICATIONS RISK IN A REAL-WORLD SETTING , Payal Rana
EVALUATION OF THE RELATIONSHIP BETWEEN CENTRALITY AND INDIVIDUAL-LEVEL CHARACTERISTICS AMONG PWID , Benjamin Skov
Theses/Dissertations from 2019 2019
COMPARATIVE EFFECTS OF TOLFENAMIC ACID AND DONEPEZIL ON BEHAVIOR AND TAU PATHOLOGY BIOMARKER LEVELS , Abdullah G. Alharbi
POLYPHARMACY IN CANCER PATIENTS: HEALTH-RELATED QUALITY OF LIFE, EXPENDITURES, AND ADVERSE EVENTS , Zachary R. Babcock
USE OF HYPHENATED MASS SPECTROMETRY TO UNCOVER TRUE NAFLD EFFECT ON HUMAN DRUG DISPOSITION PROTEINS , Benjamin Joseph Barlock
DNA damage, repair and mutational spectrum , Ke Bian
ANTI-INFLAMMATORY EFFECTS OF POLYPHENOL-ENRICHED EXTRACTS AND THEIR GUT MICROBIAL METABOLITES , Nicholas A. DaSilva
BUDGET IMPACT ANALYSIS OF NOVEL ABUSE DETERRENT OPIOID FORMULATIONS IN A POPULATION OF CHRONIC OPIOID USE , Andrew Descoteaux
DEVELOPMENT OF PEDIATRIC ANTI-HIV FORMULATIONS WITH IMPROVED DISSOLUTION CHARACTERISTICS , Ryan Ivone
LASER-ASSISTED TRANSDERMAL DRUG DELIVERY AND VACCINATION , Prateek Kakar
SHORT-TERM COST-EFFECTIVENESS OF SECOND-GENERATION LONG-ACTING INJECTABLE ANTIPSYCHOTICS AS COMPARED WITH ORAL ANTIPSYCHOTICS IN PREVENTING REHOSPITALIZATION OR TREATMENT SWITCH IN PATIENTS WITH SCHIZOPHRENIA , Tyler Mantaian
AN 'OMICS APPROACH TO DIET & STRUCTURE IMPACT ON PERFLUOROALKYL SUBSTANCE INDUCED LIVER DISEASE , Marisa Pfohl
AN OMICS BASED APPROACH FOR THE IDENTIFICATION OF BIOMARKERS IN NON-ALCOHOLIC FATTY LIVER DISEASE USING IN VITRO MODELS OF HEPATIC STEATOSIS , Anitha Saravanakumar
OVERCOMING CONTEMPORARY OBSTACLES IN DRUG DELIVERY VIA ACETALATED DEXTRAN PARTICLE FORMULATIONS , Nishan K. Shah
CHEMICAL SYNTHESIS, CHARACTERIZATION AND BIOLOGICAL EVALUATION OF METHYLATION AND GLYCATION DNA ADDUCTS , Qi Tang
Theses/Dissertations from 2018 2018
EXPRESSION AND ACTIVITY OF CYP2C8 AND 2C9 IN DIABETES MELLITUS AND NONALCOHOLIC FATTY LIVER DISEASE , Ghadah Alghaith
Economic Burden and Mortality Associated With Prescription Opioid Use , Hilary A. Aroke
MECHANISMS OF INDIVIDUAL VARIATION IN GLUCURONIDATION, SULFONATION, AND AMIDATION: BISPHENOL A AND BILE ACIDS , Adam Michael Auclair
Phytochemical Investigation of a Native North American Species, " Acer saccarinum " and an Endemic Saudi Arabian Species, " Euphorbia saudiarabica " , Abdullatif Bin Muhsinah
In Vitro Drug Metabolism and Population Pharmacokinetics as Tools for Elucidating Pharmacokinetic Variability , Enoch Cobbina
An Evaluation of Atypical Antipsychotic Use, Costs and Effectiveness in the Pediatric Population , Kellye A. Donovan
THE BIOLOGICAL FUNCTION OF HUMAN EPIDIDYMIS PROTEIN 4 IN EPITHELIAL OVARIAN CANCER , Nicole Elizabeth James
EFFECT OF NON-ALCOHOLIC FATTY LIVER DISEASE (NAFLD) ON HEPATIC DRUG METABOLISM ENZYMES IN HUMAN , Rohitash Jamwal
REGULATION OF UBIQUITIN SPECIFIC PEPTIDASE 2 EXPRESSION BY FARNESOID X RECEPTOR IN HEPATOCELLULAR CARCINOMA , Christina Nadolny
Predictors of Concomitant Use of Prescription Opiods and Benzodiazepines in Rhode Island , Emily Patry
EFFECT OF ETHANOL ON GASTROINTESTINAL TIGHT JUNCTIONS AND P-GLYCOPROTEIN EXPRESSION AND FUNCTIONALITY , Armin Sadighi
Facilitated Excretion of Gold Nanoparticles by Copper Sulfide Nanoparticles Through the ATP7B Transporter , Xiaodong Wang
Theses/Dissertations from 2017 2017
Biotransformation and Pharmacokinetic Evaluation of PF-5190457, A Novel Drug Candidate for Alcoholism , Sravani Adusumalli
The Physiological Glucagon Receptor in Rat Heart , Kevin Agostinucci
Concomitant Use of Central Nervous System Stimulants and Depressants Prescribed in Rhode Island , Aram Babcock
Health Outcomes Research of Novel Disease Modifying Medications in Alzheimer's Disease and Cost Burden of Early Onset Dementia , Rami Beiram
Conformational Insights Into Aminobiphenyl-Modified DNA: Implications for Mutation and Repair , Ang Cai
Using Natural Products to Treat Resistant and Persistent Bacterial Infections , Robert W. Deering
Predictors of Infection in Rheumatoid Arthritis Patients Using Anti-Tumor Necrosis Factor Agents , Tasia Liu
Circadian Rhythm: A Functional Connection Between SHP and DEC1 Transcription Factor , Marek Matczynski Marczak
Novel Pharmacological Action of Clozapine at D2 Dopamine Receptors , Joseph Michael Schrader
CES Involved Inhibition and Regulation , Yuanjun Shen
Novel Methods for Delivering and Promoting the Endosomal Escape of Nucleic Acid Based Drugs: Chiral Polyamines and Hydrophobic Nanoparticle-Containing Liposomes , Ruchi Verma
Flavin-Containing Monooxygenase-3 and 5: Tissue Distribution, Age-Related Expression and Regulation by Endoplasmic Reticulum Stress , Zhen Xu
Cardiovascular Adverse Events in Patients Receiveing QT Interval Prolonging Medications , Yizhou Ye
Theses/Dissertations from 2016 2016
Effect of Disease State on Human Carboxylesterase 1 Expression and Activity , Abdullah Aljutayli
Healthcare Costs and Impact of Medication Adherence on Outcomes in Patients on Novel Anticoagulant Therapy , Chinmay Deshpande
A Study of the Increased Risk of Bleeding Events in Patients with Blood Clotting Disorders, Associated with Antidepressant Medication Use , Adam Ehrenborg
Retrospective Cohort Study of Tobacco Dependence Treatment Patterns in a US Commercially Insured Population , Elizabeth Anne MacLean
Factors Associated With Sustained Release Psychostimulant Prescriptions for Pediatric ADHD , Robert McConeghy
Isolation, Synthesis, and Metabolism of Polyphenols: Stilbenoids, Gallotannins and Ellagitannins , Daniel B. Niesen
Antimicrobial Resistance Patterns and Protective Effects of Statins in Bacteremic Patients , Ajinkya Pawar
Investigations on Biologically Active Carbohydrates from Natural Sources , Jiadong Sun
Measuring Adherence with Antidepressant Medication: Comparison of HEDIS and PDC Methodologies , Carmen Monica Telinoiu
Cadmium Contributes to Breast Cancer Development by Influencing Cell Adhesion Network , Zhengxi Wei
Bile Acids and Premature Labor in Intrahepatic Cholestasis of Pregnancy , Sangmin You
Theses/Dissertations from 2015 2015
A Cross-Sectional Analysis of Bronchodilator Prescribing in COPD and Cardiovascular Comorbidity , Damilola Tejumola Adesanoye
NRF as an Oxidative Stress and Nutrient Responsive Transcription Factor in Calorie Restriction , Laura Armstrong
Synthesis of 2-Amino-α-Carboline and Analogues Relevant for Structural Investigations of the Corresponding DNA Adducts , Matthew S. Blake
Tolfenamic Acid: A Potential Modifier of Tau Protein in Alzheimer's Disease , Joanna K. Chang
CHEMICAL INVESTIGATION OF CANDIDATE PROBIOTICS IN AQUACULTURE AND FORMULATION OF A PROBIOTIC AGENT FOR OYSTER LARVICULURE , Christine Anh Dao
Therapeutic Drug Monitoring of Immunosuppresive , Mwlod A. Ghareeb
Effects of intensified care management activities and diabetes medication copayment reduction on medication adherence and health care costs , Kyungwan Hong
DEVELOPMENT OF COPPER SULFIDE NANOPARTICLES FOR PHOTOTHERMAL AND CHEMO THERAPY OF CANCER CELLS , Yajuan Li
EVALUATION OF IN VITRO ANTI-INFLAMMATORY, ANTI-DIABETIC AND ANTI-LIPOGENIC ACTIVITY OF NATURAL POLYPHENOLIC EXTRACTS AND THEIR PURE CONSTITUENTS , Pragati P. Nahar
EFFECTS OF PERFLUORINATED COMPOUNDS (PFCs) ON METABOLIC TISSUES AND THE BENEFITS OF CALORIC RESTRICTION , Deanna M. Salter
Role of Nuclear Factor E2 Related Factor 2 (Nrf2) in Environmental Chemical Induced Steatosis and Adipogenesis , Prajakta Shimpi
GARCINIA KOLA : PHYTOCHEMICAL, BIOLOGICAL AND FORMULATION STUDIES , Yasah Vezele
Theses/Dissertations from 2014 2014
EFFECT OF HOSPITALIZATION ON THE INTEGRITY OF THE MEDICATION REGIMEN IN PATIENTS WITH DIABETES MELLITUS , Matthew J. Alcusky
MOLECULAR INTERACTION IN CARBOXYLESTERASES-BASED CATALYSIS: ONTOGENIC EXPRESSION AND INDUCTION THROUGH A NOVEL ELEMENT , Yi-Tzai Chen
MEASURING AND PREDICTING THE FACTORS ASSOCIATED WITH PERSISTENCE TO ANTIDEPRESSANT THERAPY IN PATIENTS WITH DIABETES , Harini Chinthapatla
FACTORS ASSOCIATED WITH SUBOPTIMAL SAFETY LABORATORY OF METFORMIN THERAPY , Yu Seon Jung
PHYTOCHEMICAL INVESTIGATION OF THE TRADITIONAL BOTANICAL MEDICINE IRESINE CELOSIA , Caroline Grace Killian
PHYTOCHEMICAL AND BIOLOGICAL INVESTIGATION OF GALLOTANNINS FROM RED MAPLE ( ACER RUBRUM ) SPECIES , Hang Ma
LIPOSOMES FOR THE CONTROLLED DELIVERY OF MULTIPLE DRUGS , Swapnil A. Malekar
THE EVALUATION OF DOCTOR OF PHYSICALTHERAPY STUDENTS' CONFIDENCE AND SATISFACTION USING HUMAN PATIENT SIMULATION , Brooke O'Connell
COMPARTMENTALIZED D2-DOPAMINE RECEPTORS: ROLES IN SIGNALING & POTENTIAL MECHANISM OF ANTIPSYCHOTIC DRUG ACTION , J. Christopher Octeau
AMPHIPHILIC CYCLIC CELL-PENETRATING PEPTIDES AS DRUG DELIVERY VEHICLES AND ANTIMICROBIAL PEPTIDES , Donghood Oh
Advanced Search
Notify me via email or RSS
Collections
Disciplines
Author Corner
OA icon designed by Jafri Ali and dedicated to the public domain, CC0 1.0.
All other icons designed by Adrien Coquet and licensed under CC BY 4.0.
Home | About | FAQ | My Account | Accessibility Statement
Privacy Copyright
The Ohio State University
BuckeyeLink
Find People
Search Ohio State
KB Home
Undergraduate Research Theses and Honors Research Theses
Pharmacy Undergraduate Research Theses and Honors Research Theses
Browsing Pharmacy Undergraduate Research Theses and Honors Research Theses by Title
More information.
Knowledge Bank Center
KB License Agreement
Submission Instructions
Title Issue Date Accession Date
ascending descending
5 10 20 40 60 80 100
Now showing results 1-20 of 33
Activity of Galeterone in Hepatocellular Carcinoma and Description of Androgen Receptor Expression in Mouse Liver 
Antibiotic Efficacy in Treating Variant Pseudomonas aeruginosa and Staphylococcus aureus Biofilms 
Antipsychotic Drugs Influence Dopamine Neuron Terminals via Action on D2-receptors and Vesicles 
An Assessment of Pharmacist & Patient Knowledge of and Attitudes Toward Reporting Adverse Drug Reactions in Patients with Epilepsy 
Bioactivity-Guided Fractionation of Taxodium distichum 
Characterization of microRNAs as Post-Transcriptional Modulators of DNA Topoisomerase IIα in Etoposide (VP-16) Resistant K562 Cells. 
Computational Simulations of Dopaminergic Varicosities Suggest Two Sources of DOPAC Rather Than Two Populations of Dopamine Storage Vesicles 
Computational Studies on Effects of Cocaine on Fast-paced Dopamine Neurons 
D-RING MODIFICATIONS OF THE PHYLLANTHUSMIN CLASS OF ARYLNAPHTHALENE LIGNAN NATURAL PRODUCTS 
EFFECT OF STRUCTURAL MODIFICATIONS OF ANTHRACYCLINE AGAINST DRUG-SENSITIVE AND RESISTANT CANCER CELLS 
The effects of age-related changes in color vision on the ability of older adults to properly take medication 
Enhancing the Care of Pregnant Women with Epilepsy: A Focus Group Approach 
Evaluating decision-making in patients with epilepsy 
An Evaluation of Medication Adherence and Self-Managment Techniques in Patients with Epilepsy 
Identification of NF-κB Inhibitors from Watercress 
In Vitro Stability and Pharmacokinetics of Novel Antileishmanial Compounds 
Mechanistic Studies of Pentamidine Analogs on Leishmania donovani Promastigotes 
Memantine, an NMDA Receptor Antagonist, Prevents Thyroxin-Induced Hypertension, but Not Cardiac Remodeling 
Mitogen and stress-activated protein kinase (MSK1/2) regulates ischemia-induced neurogenesis and morphological maturation 
Novel Selective Estrogen Receptor Modulator (SERM) OSU-ERβ-12 Demonstrates Anti-fibrotic Efficacy 
(2019-05) activity of galeterone in ..., (2019-05) antibiotic efficacy in ..., (2013-05) antipsychotic drugs influence ..., (2008-06) an assessment of pharmacist ..., (2013-05) bioactivity-guided fracti ..., (2019-05) characterization of micrornas ..., (2008-06) computational simulations ..., (2006-06) computational studies on ..., (2019-05) d-ring modifications of the ..., (2005-06) effect of structural ..., (2008-06) the effects of age-related ..., (2008-06) enhancing the care of ..., (2012-06) evaluating decision-making ..., (2007-12) an evaluation of medication ..., (2013-05) identification of nf-κb ..., (2007-06) in vitro stability and ..., (2006-08) mechanistic studies of ..., (2017-05) memantine, an nmda receptor ..., (2013-05) mitogen and stress-activated ..., (2020-12) novel selective estrogen ....
MS Thesis Program
About the program.
The School of Pharmacy offers training at the graduate level to unique, highly motivated individuals. Our mission is to train the next generation of leaders and decision makers seeking to improve the health of the community through outstanding basic and clinical research. Major strengths include highly accomplished, well funded research faculty, multidisciplinary training opportunities, and cutting edge technologies.
Program Tracks
There are six areas that students may select to specialize their education.
Clinical Pharmaceutical Scientist
Medicinal Chemistry
Pharmaceutical Outcomes and Policy Research
Pharmaceutics
Pharmacology
Pharmacometrics and Systems Pharmacology (PSP)
Training consists of a sequence of required core courses, elective courses, journal clubs, faculty-directed research, and an original research project leading to a final thesis.  30 credit hours of coursework are required. See the full curriculum .
Timeline/Milestones
The understanding of the various milestones will help assist you towards a successful completion of the program.
Apply/ Contact Information
Lori M. Altenbaugh Graduate Program Coordinator University of Pittsburgh School of Pharmacy 229 Salk Hall Pittsburgh, PA 15261 [email protected] 412-648-1014
Pharmacy Guide: Resources for Writing a Thesis
Getting Started
Use the Library
Begin my Assignment
Search for Resources
Evaluate What I Find
Avoid Plagiarism
Search Smarter
Articles, Books & More
Drugs, Medications and Alternative Medicine
Websites - Dosage calcs, compounding and chemistry
Websites - Evidence based practice
Websites - Patient Information and Travel Medicine
Websites - Phytopharmacy, Pharmacokinetics and Toxicology
Websites - Professional Organisations and History
Referencing
Measuring Research Impact
Publishing Academic Research
Resources for Working With Data
Resources for Writing a Thesis
Literature Reviews
Finding Statistics
Using Reference Materials
Quality journals - Peer Review
Scholarly vs. Popular
Reliable Websites
Writing a thesis
Staying Up to Date: Alerting & Current Awareness Services Guide
Thesis Formatting Guide
Guidelines for Submitting a JCU Digital Thesis to

[email protected]
Keeping up with the literature
@jcu thesis search.
The library holds all PhD and Masters by Research theses completed at JCU, as well as some Honours theses. Use the link below to limit your results to our thesis collection.
Find JCU, Australian and International theses
Books @ JCU Library
Here is a small selection of books available in JCU Library.
Thesis collections
JCU Theses Collection This link takes you to a box on the One Search Guide to show you how to find JCU theses in our catalogue
<< Previous: Resources for Working With Data
Next: Help with... >>
Last Updated: Feb 20, 2023 2:42 PM
URL: https://libguides.jcu.edu.au/pharmacy
PhD Dissertations
Nazneen shaikh.
Incidence of Cancer, Depression, and Economic Burden of Prescription NSAIDS among Older Adults with Osteoarthritis: Statistical and Machine Learning Approaches
Degree - PhD Advisors  – Usha Sambamoorthi, PhD, and Traci LeMasters, PhD
Yifan Zhang
Screen Media Use Among Children and Adolescents - Applications of Supervised and Unsupervised Machine Learning and Sentiment Analysis
Amanda Stover
Breaking the Chain: Evaluating the Links Between Opioid Use Disorder, Overdose, and Suicide
Degree - PhD Advisor  – Erin Winstanley, PhD
Multimorbidity, Immune Checkpoint Inhibitor Use, and Healthcare Expenditures among Older Patients with Late-stage Melanoma
Degree - PhD Advisor  – Usha Sambamoorthi, PhD
Asthma-COPD Overlap among Elderly Medicare Beneficiaries: Economic Burden and Medication Adherence
Jayeshkumar Patel
Predictors of Cardiovascular and Gastrointestinal Disorders, Inappropriate Non-steroidal Anti-inflammatory Drug Use, and Dementia in Older Adults with Osteoarthritis
Degree - PhD Advisors  – Usha Sambamoorthi, PhD and Nilanjana Dwibedi, PhD
Khalid Alhussain
Applications of Machine Learning Methods in Health Outcomes Research: Heart Failure in Women
Chibuzo Iloabuchi
Association of Incident Cancer to Low-Value Care and Healthcare Cost Burden Among Elderly Medicare Beneficiaries
Degree - PhD Advisors – Usha Sambamoorthi, PhD and Nilanjana Dwibedi, PhD
Drishti Shah
Predictors and Health Outcomes of Treatment-Resistant Depression among Adults with Chronic Non-Cancer Pain Conditions and Major Depressive Disorder
Xiaohui Zhao
Adoption and Impact of Tele-mental Health on Healthcare Outcomes in the United States
Degree : PhD Advisor : Usha Sambamoorthi, PhD
Rashmi Goyat
Impact of Comorbidities on Diabetes and Hypertension Co-management and Healthcare Expenditures
Degree - PhD Advisors – Suresh Madhavan, PhD & Xi Tan, PharmD, Ph
Omar Attarabeen
Tobacco Use, Serious Smoking Cessation Attempts, and Interest in Lung Screening among Adults Muslims in the US   
Degree : PhD Advisor : Kimberly Kelly, PhD
Xu (Snow) Feng
Switching from Vitamin K Antagonists to Non-Vitamin K Oral  Anticoagulants, Drug-drug Interactions and Health Outcomes  among Working-age Adults with Atrial Fibrillation
Degree – PhD Advisor – Xi Tan, PharmD, PhD
Arijita Deb
Depression, Treatment Response to TNFi, and Economic Outcomes among Working-age Adults with Rheumatoid Arthritis
Degree:   PhD Advisor:   Usha Sambamoorthi, PhD
Doug Thornton
Transitions within Opioid Therapy and their Impact on Morbidity, healthcare utilization and Costs
Degree - PhD Advisor - Nilanjana Dwibedi, PhD
Ebtihag O.Alenzi
Impact of Diabetes Complications on Breast Cancer on Breast Cancer Screening, Diagnosis, and Prognosis among Elderly Women with Pre-existing Diabetes Using the SEER-Medicare Dataset
Degree - PhD Co-Advisors - S. Suresh Madhavan, PhD, Xi Tan, PharmD, PhD
Ishveen Chopra
Impact of incident cancer on CAD-related concomitant medication adherence, short-term health and economic outcomes among elderly Medicare beneficiaries with CAD with Incident Breast, Colorectal, and Prostate Cancer
Degree - PhD Advisor - Usha Sambamoorthi, PhD
The impact of Diffuse Large B-Cell Lymphoma on Primary Care and Costs of Chronic Conditions in Elderly Medicare Beneficiaries
Degree - PhD Advisor - Kimberly Kelly, PhD
Abdulkarim Meraya
The Dynamic Relationship between Economic Indicators and Health among Working-Age Adults
Degree - PhD Co-Advisors - Nilanjana Dwibedi, PhD and Usha Sambamoorthi, PhD
Monira Alwhaibi
Risk of Newly-diagnosed Depression, Treatment, and Its Economic Outcomes among Elderly Medicare Beneficiaries with Incident Breast, Colorectal, and Prostate Cancer
Autism Spectrum Disorders among Adults: Burden of Health Services Utilization and Expenditures
Degree - PhD Advisor - S. Suresh Madhavan, PhD
Parul Agarwal
Longitudinal Patterns and Economic Consequences of Emergency Department Visits among Medicaid Enrollees
Degree - PhD Co-Advisors - Thomas Bias, PhD and Usha Sambamoorthi, PhD
Impact of Chronic Conditions on Treatment, Cancer-and Non-Cancer Outcomes among Elderly Men with Incident Prostate Cancer
Traci LeMasters
An Analysis of Treatment Patterns, Receipt of Guideline-Concordant Care, and Survival Outcomes among Elderly Women with Non-Metastatic Breast Cancer Using the SEER-Medicare Linked Dataset
Mayank Ajmera
Multimorbidity, Management of COPD and Health Outcomes among Medicaid Beneficiaries
Rituparna Bhattacharya
Types of Co-existing Chronic Physical Conditions and Newly-diagnosed Depression, its Treatment and Economic Outcomes among Medicaid Beneficiaries with Type 2 Diabetes
Burden of Breast Cancer and Associated Health and Economic Outcomes in Elderly Women In West Virginia: Comparison with National Estimates
Sandipan Bhattacharjee
Burden of Illness among Elderly Individuals with Parkinson's Disease
Pallavi Rane
Burden of Colorectal Cancer among the elderly Medicare Beneficiaries in West Virginia A comparative analysis with National data
Pramit Nadpara
Patterns of Lung Cancer Care and Associated Health Outcomes among Elderly Medicare Fee-For-Service Beneficiaries in West Virginia and in the United States
Colorectal Cancer Disease in Appalachia: Symptom Interpretation and Cancer Worry Predictors
Degree - MS Advisor - Kimberly Kelly, PhD
Access to Services, Quality of Care, and Family Impact for Caregivers of Children with Autism Spectrum Disorders: A National Perspective Using 2009-2010 Children with Special Health Care Needs (CSHCN) Survey
Degree - MS Advisor - S. Suresh Madhavan, PhD
Tricia Lee Wilkins
Healthcare Quality and Expenditure Benchmarks along the Continuum of Care: The Role of Primary Care Continuity and Community Healthcare Resources
Impact of Diabetes on Colorectal Cancer Outcomes
Degree - PhD Co-Advisor - Joel Halverson, PhD and S. Suresh Madhavan, PhD
Predictors of Adherence to Mammography Screening Guidelines and Preferences for Intervention Strategies in a Mobile Mammography Program
A National Study of Health Behaviors and Health related Quality of Life among Survivors of Breast, Prostate, and Colorectal Cancer Compared to Propensity Score Matched Controls, as well as Comparisons by Type
Abhijeet Bhanegaonkar
Patient Preferences for Benefits and Risks Associated with Disease Modifying Drug Treatments in Multiple Sclerosis
Gretchen Peirce
Controlled Drug Substance Use in West Virginia an Investigation into Doctor Shopping, Pharmacy Shopping, and Prescription Histories
Degree - MS Advisor - Michael Smith, PhD
Changes in Body Mass Index and Short-term Healthcare expenditures in a Medicare population
Degree - MS Advisor - Usha Sambamoorthi, PhD
Kimberly Bosworth Blake
Assessing the Influence of Coronary Heart Disease Knowledge, Perception of Personal risk, and Delay Discounting of Future Health on Diet and Physical activity
Degree - PhD Advisor - Carole V. Harris, PhD
Rahul Khanna
Burden of Care and Health-Related Quality of Life among Caregivers of Children with Autism Spectrum Disorder
Andrea Pfalzgraf
Self-Reported Physician Prescribing Behavior and Factors Related to Antidepressant Prescribing to Children and Adolescents with Major Depressive Disorder
Degree - PhD Advisor - Virginia G. Scott, PhD
Jarrett (Jay) Coffindaffer
Pharmacists and Tobacco Cessation Counseling: Attitudes and Beliefs, Impact of Cessation Training on Practice, and Feasibility of Training and Implementation into the Pharmacy Practice Setting
Degree - PhD Advisors - Irene Tessaro, DrPH & Lesley-Ann Miller, PhD
Murali Sundaram
Development and Validation Of A Diabetes-Specific Health State Classification System and Valuation Function Based On The Multi-Attribute Theory
Degree - PhD Advisor - Michael Smith, PhD
Anuja N. Roy
Impact of Co-morbid Insomnia on Health-Related Quality of Life and Patient Preferences in the Primary Care Setting
Predicting Physicians' Intention to Measure Body Mass Index and Assessing their Identification and Evaluation Practices in Overweight Children and Adolescents
Degree - MS Advisor - Jan Kavookjian, PhD
Vivek Pawer
An Overview of Health Related Quality of Life Assessment in Multiple Sclerosis: Comparison of Measures, Identification of Predictors, and Use in Clinical Practice
Degree - PhD Advisor - Lesley-Ann Miller, PhD
Anna D'Souza
Clinically Relevant and Economic Outcomes of Maintenance Pharmacotherapy in Chronic Obstructive Pulmonary Disease (COPD)
Jay Coffindaffer
Colorectal Cancer: Cost-Effectiveness of Screening and Chemoprevention in Average Risk Patients
Degree - MS Advisor - Lesley-Ann Miller, PhD
Mariam Hassan
Evaluating Medication Utilization Patterns and Healthcare Outcomes in Patients receiving Antipsychotics
Khalid M. Kamal
Assessing the Cost-Effectiveness of Tumor Necrosis Factor Inhibitors and Prescribing Practices of Rheumatologists In Patients with Rheumatoid Arthritis
Quality of Life and Clinical Outcomes in Type 2 Diabetes Patients at the Primary Care Clinics of West Virginia University Hospital
Economic Evaluation of Prophylactic Antiemetic Regimens for Prevention of Chemotherapy-Induced Nausea and Vomiting (CINV)
Ashish Joshi
Economic and Humanistic Impact of Medication Nonadherence in Patients with Asthma and Chronic Obstructive Pulmonary Disease
Iftekar Kalsekar
Epidemiological Burden of Depression and its Impact on Adherence to Oral Hypoglycemics and Related Economic Outcomes in Type II Diabetes Patients
Siddhesh Kamat
Validating a Measure Comparing Physician Readiness to Prescribe Beta Blockers, ACE Inhibitors, and Asprine Therapy to Post-Myocardial Infarction Patients
Ancilla Fernandes
Evaluating Utilization of Beta-blockers as Secondary Prevention for Post Myocardial Infarction in a Medicaid Population
Rohit Borker
Economic Evaluation of Primary and Secondary Prevention Strategies for Breat Cancer in a Medicaid Program
Lee Ann Thayer
Evaluating the Cost-Effectiveness of St. John's Wort versus Fluoxetine for the Treatment of Mild to Moderate Depression
Degree - MS Advisor - Virginia G. Scott, PhD
Economic Evaluation of Three Preventive Drug Therapies for Osteoporotic Fractures Among Women at Different Risk Levels
Evaluating Diagnostic and Treatment Modalities in the Management of Benign Prostatic Hyperplasia in the Veterans Administration Population
Degree - MS Advisor - Mayur Amonkar, PhD
Joshua Blevins
West Virginia's Perceptions and Use of Complementary Medicine
Degree - MS Advisor - David Nau, PhD
Aiman Momani
Assessment of the Impact of the West Virginia Medicaid's Prior Authorization Policy for NSAIDs on Chronic Patients: Economic and Humanistic Outcomes
Influences of Disease Severity on Health Beliefs and Treatment Adherence among HIV Patients
Steve Small
Psychological Influences on Reporting Medication Errors
Ambarish Ambegaonkar
Evaluation of the WV Medicaid Prior Authorization Program for Anti-Ulcer Medications
Mayur Amonkar
Matching Preventive Care Needs of Appalachians and Managed Care Strategies
Krithika Rajagopalan (Venkataraman)
Enhancing Medical Care Outcomes Through Patient Empowerment
Degree - PhD Advisor - Folakemi Odedina, PhD
Consumers' Perceptions of Drug-Management Strategies in Private Managed Care
Degree - MS Advisor - Folakemi Odedina, PhD & Alan Rosenbluth, PhD
Lionel Pinto
Expectation, Satisfaction, and Perceived Service Quality Paradigm in Asthma Patients' Assessment of Pharmacists' Services
Degree - MS Advisor - Folakemi Odedina, PhD
Assessing Pharmacist's Role in Primary Care A: A Strategy for Enhancing Rural Health in WV
Prasanna R. Gore
Childhood Immunizations in Rural WV: Identification of Immunization Barriers and Development of Persuasion Strategies
Rao Pippalla
An Impact Assessment of Pharmacist Counseling on Pharmaceutical Care of Hypertensive's Interrelationships of Compliance, Quality of Life, and Therapeutic Outcomes, with Some Policy Perspectives
Degree - PhD Advisor - David A. Riley, EdD
Explanation of Mothers' Illness Behavior Intentions, Attitudes, and Choice: An Application of the Theory of Reasoned Action
Degree - MS Advisor - Vijit Chinburapa, PhD
Credibility of the Sources of Information for Nonprescription Medicines