Most Popular
Best article rewriter: top 15, michael keaton's 'beetlejuice 2' comeback possibly revealed in leaked image – explore 'beetlejuice' essay topics.
12 days ago
Education Copilot Review: AI for Teaching
13 days ago
Best Citation Generator: Top 7
Themes of "night" by elie wiesel, climate change thesis statement examples.
freepik.com
Climate change is an urgent global issue, characterized by rising temperatures, melting glaciers, and extreme weather events. Writing a thesis on this topic requires a clear and concise statement that guides the reader through the significance, focus, and scope of your study. In this piece, we will explore various examples of good and bad thesis statements related to climate change to guide students in crafting compelling research proposals.
Good Examples
Focused Approach: "This thesis will analyze the impact of climate change on the intensity and frequency of hurricanes, using data from the last three decades." Lack of Focus: "Climate change affects weather patterns."
The good statement is specific, indicating a focus on hurricanes and providing a time frame. In contrast, the bad statement is too vague, covering a broad topic without any specific angle.
Clear Stance: "Implementing carbon taxes is an effective strategy for governments to incentivize companies to reduce greenhouse gas emissions." Not So Clear: "Carbon taxes might be good for the environment."
The good statement takes a clear position in favor of carbon taxes, while the bad statement is indecisive, not providing a clear standpoint.
Researchable and Measurable: "The thesis explores the correlation between the rise in global temperatures and the increase in the extinction rates of North American mammal species." Dull: "Global warming is harmful to animals."
The good statement is researchable and measurable, with clear variables and a focused geographic location, while the bad statement is generic and lacks specificity.
Bad Examples
Overly Broad: "Climate change is a global problem that needs to be addressed."
This statement, while true, is overly broad and doesn't propose a specific area of focus, making it inadequate for guiding a research study.
Lack of Clear Argument: "Climate change has some negative and positive effects."
This statement doesn't take a clear stance or highlight specific effects, making it weak and uninformative.
Unoriginal and Unengaging: "Climate change is real."
While the statement is factual, it doesn't present an original argument or engage the reader with a specific area of climate change research.
Crafting a compelling thesis statement on climate change is crucial for directing your research and presenting a clear, focused, and arguable position. A good thesis statement should be specific, take a clear stance, and be researchable and measurable. Avoid overly broad, unclear, unoriginal, or unengaging statements that do not provide clear direction or focus for your research. Utilizing the examples provided, students can navigate the intricate process of developing thesis statements that are not only academically rigorous but also intriguing and relevant to the pressing issue of climate change.
Follow us on Reddit for more insights and updates.
Comments (0)
Welcome to A*Help comments!
We're all about debate and discussion at A*Help.
We value the diverse opinions of users, so you may find points of view that you don't agree with. And that's cool. However, there are certain things we're not OK with: attempts to manipulate our data in any way, for example, or the posting of discriminative, offensive, hateful, or disparaging material.
Cancel reply
Your email address will not be published. Required fields are marked *
Save my name, email, and website in this browser for the next time I comment.
More from Thesis Statement Examples and Samples
Gender & Sexuality Studies Thesis Statement Examples
Criminal Justice Reform Thesis Statement Examples
Sustainable Development Goals (SDGs) Thesis Statement Examples
Remember Me
What is your profession ? Student Teacher Writer Other
Forgotten Password?
Username or Email
Write my thesis
Thesis writers
Buy thesis papers
Bachelor thesis
Master's thesis
Thesis editing services
Thesis proofreading services
Buy a thesis online
Write my dissertation
Dissertation proposal help
Pay for dissertation
Custom dissertation
Dissertation help online
Buy dissertation online
Cheap dissertation
Dissertation editing services
Write my research paper
Buy research paper online
Pay for research paper
Research paper help
Order research paper
Custom research paper
Cheap research paper
Research papers for sale
Thesis subjects
How It Works
Global Warming Thesis Statement Topics & Guide On How To Write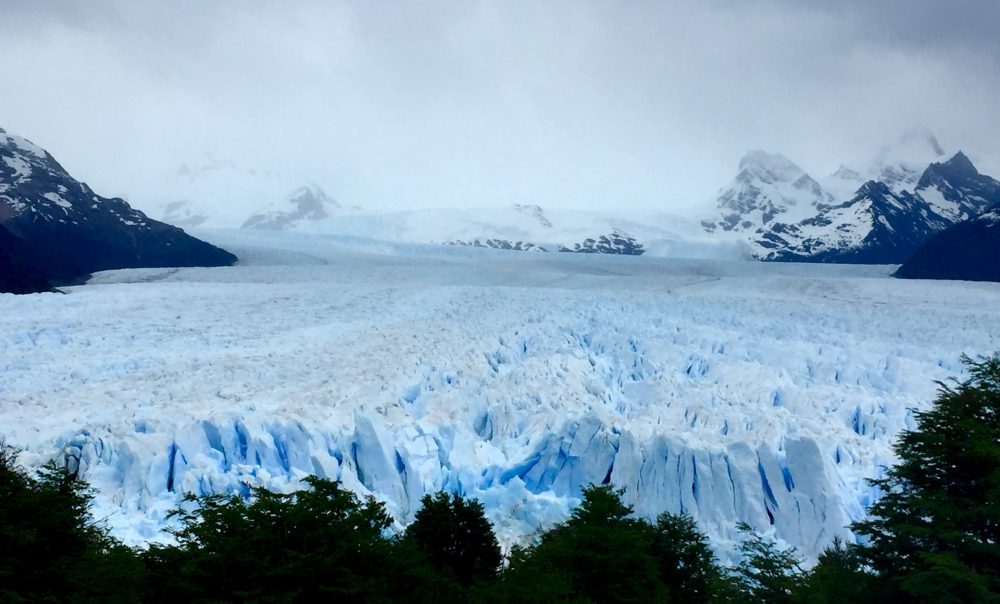 Global warming has increased globally over the last six years. With the melting of the ice rocks at the arctic and Antarctic poles, there is a need to worry. The frequent fires at the Amazon forest have also been witnessed in recent years. It is therefore impossible to miss a global warming thesis in light of all these developments.
What Is Global Warming?
It is a phenomenon of climate change characterized by a general increase in the earth's average temperatures. These developments modify weather balances and ecosystems for a long time. Global warming continues to be the greatest challenge of the 21st century with the industrial and technological innovations taking place.
The impacts of global warming are adverse, and that is why it is a global pandemic.
How To Write a Thesis About Global Warming
A paper on global warming can be said to be one of the cheapest to write. The backing for this statement is the extensive research in this area. However, some students still have difficulties writing a climate change thesis.
So, what is a thesis statement for global warming?
It is found in the introduction section of the essay or research paper. A research paper has three parts:
Therefore, the thesis statement on global warming falls in the first section, and it expresses the main idea of your paper or essay. An impressive thesis statement for global warming has to meet the criteria highlighted below:
It must be specific
It should summarize what you intend to cover in your paper
It should highlight the scope of your study
The global warming thesis statement research paper appears in the last line of your paper's first paragraph.
What Constitutes A Strong Global Warming Thesis Statement?
When writing a thesis on climate change, interrogate the following questions:
Does it answer the question? – Helps you remain focused on the question Is my position on the topic debatable? – Are there opposing ideas to your thesis statement? Have I specified my stance well enough? – Does it address a specific issue? Does it pass the 'so what' question? – Ensure that it clarifies any penitent issue at hand Do I have enough evidence to back up my thesis statement? Does it answer the 'how and why' question?
Now that global warming is a large field with subsequent segments, ensure that you plan on what you specifically intend to cover beforehand. Your thesis statement will dictate the paper's direction; therefore, make it as precise and manageable as possible.
Formula For Writing A Climate Change Thesis Statement
Most students prefer a template to have a good starting point for their thesis statement. Below are is a template you can use when thinking of writing a global warming thesis statement.
"Global warming is a leading cause of health-related problems."
From the example above, you can note that we have mentioned the issue at hand (global warming) and the paper's direction (health effects of global warming). Since global warming affects many spheres of life, it is necessary to narrow down one in your thesis statement.
A climate change thesis will require you to identify a specific area of implication, which you will tackle in the rest of your paper. Narrowing it down will help you major in one area and prevent you from wandering about in your paper.
Expert Tips For A Global Warming Thesis Statement
On top of considering the format of your thesis statement, there are other critical considerations for a thesis statement on global warming:
Position: It comes at the beginning of your essay paper. Its strategic position is in line with its purpose – to tell the reader what you will discuss.
Length: Depending on the number of arguments you will cover, a thesis statement can either be long or short. In most cases, a thesis statement is one sentence long that is concise. The number of words is approximately 30 to 40 words long.
Strength: Have an arguable statement for your thesis on climate change. It should not be apparent, or one that everyone agrees is true.
Below are global warming thesis statement ideas that you can find motivation from for your global warming thesis:
Global warming is adversely affecting marine life, especially in the polar regions
An analysis of climate change reveals one challenge facing Mother Nature: Depletion of natural resources
High temperatures typically characterize global warming
Global warming should be treated as a global pandemic to increase its awareness globally.
To eradicate global warming, experts have to adhere to strict scientific ethics and principles.
Identify the purpose of your paper first (to persuade, inform, or argue) and then make it evident in the thesis statement .
Let us explore some global warming topics for the research paper:
Global Warming Research Paper Topics
The role of UNEP is creating awareness and sensitization towards the adverse effects of global warming
How industrialization is slowly depleting the ozone layer
Increase in greenhouse gases: Are human activities the leading cause of the rising temperature levels?
How exploitation of forests is leading to climate change
The adverse effects of fossil fuels on climate change: A case study of gas, oil, and burning charcoal
Anti-Global Warming Thesis Topics
How fungicides and pesticides are affecting the safety and portability of water
The role of reliable waste management Programmes in reducing garbage levels
Why the use of explosives in mining should be prohibited: An analysis of cyanide and mercury effects.
Why stiffer penalties and fines should be imposed on offenders of climate change
The need to create a multi-agency body specifically for monitoring the global warming situation and providing recommendations
You can consider the topics above to write on or further your research on global warming as a world pandemic.
By the way, we not only provide good topics for your research paper. We provide professional thesis writing help for those seeking a paper from scratch. All you need to do is click the 'write my thesis' tab and get your fully furnished paper in no time!
Leave a Reply Cancel reply
Sciencing_Icons_Science SCIENCE
Sciencing_icons_biology biology, sciencing_icons_cells cells, sciencing_icons_molecular molecular, sciencing_icons_microorganisms microorganisms, sciencing_icons_genetics genetics, sciencing_icons_human body human body, sciencing_icons_ecology ecology, sciencing_icons_chemistry chemistry, sciencing_icons_atomic & molecular structure atomic & molecular structure, sciencing_icons_bonds bonds, sciencing_icons_reactions reactions, sciencing_icons_stoichiometry stoichiometry, sciencing_icons_solutions solutions, sciencing_icons_acids & bases acids & bases, sciencing_icons_thermodynamics thermodynamics, sciencing_icons_organic chemistry organic chemistry, sciencing_icons_physics physics, sciencing_icons_fundamentals-physics fundamentals, sciencing_icons_electronics electronics, sciencing_icons_waves waves, sciencing_icons_energy energy, sciencing_icons_fluid fluid, sciencing_icons_astronomy astronomy, sciencing_icons_geology geology, sciencing_icons_fundamentals-geology fundamentals, sciencing_icons_minerals & rocks minerals & rocks, sciencing_icons_earth scructure earth structure, sciencing_icons_fossils fossils, sciencing_icons_natural disasters natural disasters, sciencing_icons_nature nature, sciencing_icons_ecosystems ecosystems, sciencing_icons_environment environment, sciencing_icons_insects insects, sciencing_icons_plants & mushrooms plants & mushrooms, sciencing_icons_animals animals, sciencing_icons_math math, sciencing_icons_arithmetic arithmetic, sciencing_icons_addition & subtraction addition & subtraction, sciencing_icons_multiplication & division multiplication & division, sciencing_icons_decimals decimals, sciencing_icons_fractions fractions, sciencing_icons_conversions conversions, sciencing_icons_algebra algebra, sciencing_icons_working with units working with units, sciencing_icons_equations & expressions equations & expressions, sciencing_icons_ratios & proportions ratios & proportions, sciencing_icons_inequalities inequalities, sciencing_icons_exponents & logarithms exponents & logarithms, sciencing_icons_factorization factorization, sciencing_icons_functions functions, sciencing_icons_linear equations linear equations, sciencing_icons_graphs graphs, sciencing_icons_quadratics quadratics, sciencing_icons_polynomials polynomials, sciencing_icons_geometry geometry, sciencing_icons_fundamentals-geometry fundamentals, sciencing_icons_cartesian cartesian, sciencing_icons_circles circles, sciencing_icons_solids solids, sciencing_icons_trigonometry trigonometry, sciencing_icons_probability-statistics probability & statistics, sciencing_icons_mean-median-mode mean/median/mode, sciencing_icons_independent-dependent variables independent/dependent variables, sciencing_icons_deviation deviation, sciencing_icons_correlation correlation, sciencing_icons_sampling sampling, sciencing_icons_distributions distributions, sciencing_icons_probability probability, sciencing_icons_calculus calculus, sciencing_icons_differentiation-integration differentiation/integration, sciencing_icons_application application, sciencing_icons_projects projects, sciencing_icons_news news.
Share Tweet Email Print
Home ⋅
Science ⋅
Nature ⋅
Environment
Global Warming Thesis Statement Ideas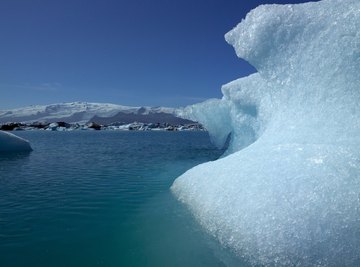 Economic Impact of Coastal Erosion
Global warming is a complex problem that often sparks policy debates. When writing about it, stick to the facts and make sure that your thesis statement -- the central assertion of your essay -- is supported by research. Some global warming topics have produced extensive research worldwide and can serve as topical guides in formulating your thesis statement.
Manmade Causes versus Natural Causes
The causes of global warming are complex, including natural and man-made emissions of carbon dioxide and methane. Use your thesis to highlight the difference between natural sources and man-made sources. For example, according to the Environmental Protection Agency, carbon dioxide concentrations in the atmosphere have risen from 280 parts per million in the 18th century to 390 parts per million in 2010. Human activities release more than 30 billion tons of carbon dioxide each year, or 135 times as much as volcanoes. Focus your thesis on this discrepancy, how man-made carbon dioxide sources such as fossil fuel consumption, have eclipsed natural sources of the gas.
Rising Temperatures and Declining Sea Ice
Your thesis statement may focus on the relationship between rising surface temperatures and declining sea ice, specifically ice in the Arctic. For instance, since 1901, sea surface temperatures have risen at an average rate of 0.13 degrees Fahrenheit per decade, with the highest rates of change occurring in the past three decades alone, according to the EPA.
Your thesis may establish the inverse relationship between these rising surface temperatures and the shrinking ice coverage in the Arctic. Arctic sea ice extent in December 2014, for instance, was the ninth lowest in the satellite record. The rate of decline for December ice alone is 3.4 percent per decade, according to the National Snow and Ice Data Center.
Effects of Melting Glaciers on Water Supply
Along with sea ice, many of the world's glaciers are melting due to climate change. Since the 1960s, the U.S. Geological Survey has tracked the mass of two glaciers in Alaska and one in Washington state, all three of which have shrunk considerably in the past 40 years.
Research other mountain ranges and compare the glaciological data. Use your thesis to answer the question of what melting glaciers will mean for populations dependent on the ice flows for their fresh water supply. For example, much of Peru's population depends on Andean glaciers not only for drinking water but for hydroelectricity.
Effects of Drought on Food Production
While global warming is projected to raise sea levels and flooding in coastal regions, it's also been credited for changes in weather patterns and extreme drought, according to the EPA. In the arid American Southwest, for example, average annual temperatures have increased about 1.5 degrees Fahrenheit over the past century, leading to decreased snowpack, extreme drought, wildfires and fierce competition for remaining water supplies.
As drought still rages in this region, your thesis can explore the relationship between global warming and agriculture, specifically in California's Central Valley, which provides produce for much of the country. It's possible that hotter, longer growing seasons are beneficial to California crops, but that shrinking water supplies threaten the viability of commercial agriculture.
Ocean Acidification and Global Seafood Stocks
Increased carbon dioxide emissions don't just impact our air quality. These emissions also result in increased acidity of our planet's oceans. An immense range of shellfish and other molluscs, such as clams, oysters, crabs, lobsters and more, face immediate population decline due to ocean acidification weakening their calcium carbonate shells.
Your thesis can explore the mechanics of ocean acidification as well as the potential economic impact to the fisheries that rely upon these marine animals for survival. You can also explore the potential ecosystem impact for the predators that feed upon these animals.
Related Articles
Ice caps melting facts, efforts to protect the tundra, what drives the process of plate tectonics, effect of human activities on the environment, the top 10 topics for research papers, how to calculate a p-value, how to make a glacier, persuasive speech topics on water, brine vs. conductivity, how to do a bell curve on a ti, how to contact your representative about climate change, how to calculate exceedance probability, what is the meaning of sample size, the difference between an earthquake & a volcano, the history of volcanology, how bitcoin is polluting the planet, how to report a sample size, the effects of human intervention on the environment, the scientist henry hess invented what kind of devices.
U.S. Environmental Protection Agency: Causes of Climate Change
U.S. Environmental Protection Agency: Climate Change Indicators in the United States
National Snow and Ice Data Center: Artic Sea Ice News and Analysis
U.S. Geological Survey: 3-Glacier Mass Balance Summary
National Geographic: Signs from Earth: The Big Thaw
U.S. Environmental Protection Agency: Climate Impacts in the Southwest
Alaska Public Media: Ocean Acidification
About the Author
Scott Neuffer is an award-winning journalist and writer who lives in Nevada. He holds a bachelor's degree in English and spent five years as an education and business reporter for Sierra Nevada Media Group. His first collection of short stories, "Scars of the New Order," was published in 2014.
Photo Credits
Purestock/Purestock/Getty Images
Find Your Next Great Science Fair Project! GO
We Have More Great Sciencing Articles!
Thesis statements
Printable version of Thesis statements (PDF) .
A thesis statement articulates a writer's main argument, point, or message in a piece of writing. Strong thesis statements will tell your audience what your topic is and what your position on that topic is. Also, they will often provide an overview of key supporting arguments that you will explore throughout your paper. A well-written thesis statement demonstrates that you have explored the topic thoroughly and can defend your claims.
For short, undergraduate-level papers, a thesis statement will usually be one to three sentences in length, often occurring at the end of the first paragraph. Its main function is to tie all of your ideas and arguments together. As you continue to present your evidence and argue your stance, your thesis will run throughout your essay like a thread.
Building effective thesis statements
A strong thesis statement should be clear, concise, focused, and supportable. Unless your essay is simply explanatory, it should also be debatable (i.e., if your position on a topic is one that almost nobody would dispute, it may not be the best choice for an argumentative paper). The following steps will help you throughout the process of developing your thesis statement:
Read the assignment thoroughly. Make sure you are clear about the expectations.
Do preliminary, general research : collect and organize information about your topic.
  What's new about this topic?
What important about this topic?
What's interesting about this topic?
What have others missed in their discussions about this topic?
What about this topic is worth writing about?
Do additional research. Once you have narrowed your focus, you can perform targeted research
Refine your thesis statement. After doing extensive research and evaluating many sources, rewrite your thesis so it expresses your angle or position on your topic more clearly.
Sample thesis statements
General Tip: This guide offers some essential tips on thesis statements, but it's important to note that thesis statement content, structure, and placement can vary widely depending on the discipline, level, and genre. One good way to get a sense of how thesis statements might be constructed in your field is to read some related scholarly articles.
Back to Writing Centre Resources .
The Center for Global Studies
Climate change argumentation.
Carmen Vanderhoof, Curriculum and Instruction, College of Education, Penn State
Carmen Vanderhoof is a doctoral candidate in Science Education at Penn State. Her research employs multimodal discourse analysis of elementary students engaged in a collaborative engineering design challenge in order to examine students' decision-making practices. Prior to resuming graduate studies, she was a secondary science teacher and conducted molecular biology research.
Subject(s): Earth Science
Topic: Climate Change and Sustainability
Grade/Level: 9-12 (can be adapted to grades 6-8)
Objectives: Students will be able to write a scientific argument using evidence and reasoning to support claims. Students will also be able to reflect on the weaknesses in their own arguments in order to improve their argument and then respond to other arguments.
Suggested Time Allotment: 4-5 hours (extra time for extension)
This lesson is derived from Dr. Peter Buckland's sustainability presentation for the Center for Global Studies . Dr. Peter Buckland, a Penn State alumnus, is a postdoctoral fellow for the Sustainability Institute. He has drawn together many resources for teaching about climate change, sustainability, and other environmental issues.
While there are many resources for teaching about climate change and sustainability, it may be tough to figure out where to start. There are massive amounts of data available to the general public and students need help searching for good sources of evidence. Prior to launching into a search, it would be worthwhile figuring out what the students already know about climate change, where they learned it, and how they feel about efforts to reduce our carbon footprint. There are many options for eliciting prior knowledge, including taking online quizzes, whole-class discussion, or drawing concept maps. For this initial step, it is important that students feel comfortable to share, without engaging in disagreements. The main idea is to increase students' understanding about global warming, rather than focus on the potential controversial nature of this topic.
A major goal of this unit is to engage students in co-constructing evidence-based explanations through individual writing, sharing, re-writing, group discussion, and whole group reflection. The argumentation format presented here contains claims supported by evidence and reasoning (Claims Evidence Reasoning – CER). Argumentation in this sense is different from how the word "argument" is used in everyday language. Argumentation is a collaborative process towards an end goal, rather than a competition to win (Duschl & Osborne, 2002). Scientific argumentation is the process of negotiating and communicating findings through a series of claims supported by evidence from various sources along with a rationale or reasoning linking the claim with the evidence. For students, making the link between claim and evidence can be the most difficult part of the process.
Where does the evidence come from?
Evidence and data are often used synonymously, but there is a difference. Evidence is "the representation of data in a form that undergirds an argument that works to answer the original question" (Hand et al., 2009, p. 129). This explains why even though scientists may use the same data to draw explanations from, the final product may take different forms depending on which parts of the data were used and how. For example, in a court case experts from opposing sides may use the same data to persuade the jury to reach different conclusions. Another way to explain this distinction to students is "the story built from the data that leads to a claim is the evidence" (Hand et al., 2009, p. 129). Evidence can come from many sources – results from controlled experiments, measurements, books, articles, websites, personal observations, etc. It is important to discuss with students the issue of the source's reliability and accuracy. When using data freely available online, ask yourself: Who conducted the study? Who funded the research? Where was it published or presented?
What is a claim and how do I find it?
A scientific claim is a statement that answers a question or an inference based on information, rather than just personal opinion.
How can I connect the claim(s) with the evidence?
That's where the justification or reasoning comes in. This portion of the argument explains why the evidence is relevant to the claim or how the evidence supports the claim.
Implementation
Learning context and connecting to state standards.
This interdisciplinary unit can be used in an earth science class or adapted to environmental science, chemistry, or physics. The key to adapting the lesson is guiding students to sources of data that fit the discipline they are studying.
For earth science , students can explain the difference between climate and weather, describe the factors associated with global climate change, and explore a variety of data sources to draw their evidence from. Pennsylvania Academic Standards for earth and space science (secondary): 3.3.12.A1, 3.3.12.A6, 3.3.10.A7.
For environmental science , students can analyze the costs and benefits of pollution control measures. Pennsylvania Academic Standards for Environment and Ecology (secondary): 4.5.12.C.
For chemistry and physics , students can explain the function of greenhouse gases, construct a model of the greenhouse effect, and model energy flow through the atmosphere. Pennsylvania Academic Standards for Physical Sciences (secondary): 3.2.10.B6.
New Generation Science Standards (NGSS) Connections
Human impacts and global climate change are directly addressed in the NGSS. Disciplinary Core Ideas (DCI): HS-ESS3-3, HS-ESS3-4, HS-ESS3-5, HS-ESS3-6.
Lesson 1: Introduction to climate change
What are greenhouse gases and the greenhouse effect? (sample answer: greenhouse gases like carbon dioxide and methane contribute to overall heating of the atmosphere; these gases trap heat just like the glass in a greenhouse or in a car)
What is the difference between weather and climate? (sample answer: weather is the daily temperature and precipitation measurements, while climate is a much longer pattern over multiple years)
Drawing of the greenhouse effect – as individuals or in pairs, have students look up the greenhouse effect and draw a diagram to represent it; share out with the class
Optional: figure out students' beliefs about global warming using the Yale Six Americas Survey (students answer a series of questions and at the end they are given one of the following categories: alarmed, concerned, cautious, disengaged, doubtful, dismissive).
Lesson 2: Searching for and evaluating evidence
Compare different data sources and assess their credibility
Temperature
Precipitation
Storm surge
Ask the students to think about what types of claims they can make about climate change using the data they found (Sample claims: human activity is causing global warming or sea-level rise in the next fifty years will affect coastal cities like Amsterdam, Hong Kong, or New Orleans).
Lesson 3: Writing an argument using evidence
Claim – an inference or a statement that answers a question
Evidence – an outside source of information that supports the claim, often drawn from selected data
Reasoning – the justification/support for the claim; what connects the evidence with the claim
Extending arguments – have students exchange papers and notice the strengths of the other arguments they are reading (can do multiple cycles of reading); ask students to go back to their original argument and expand it with more evidence and/or more justification for why the evidence supports the claim
Anticipate Rebuttals – ask students to think and write about any weaknesses in their own argument
Lesson 4: Argumentation discussion
rebuttal – challenges a component of someone's argument – for example, a challenge to the evidence used in the original argument
counterargument – a whole new argument that challenges the original argument
respect group members and their ideas
wait for group members to finish their turns before speaking
be mindful of your own contributions to the discussion (try not to take over the whole discussion so others can contribute too; conversely, if you didn't already talk, find a way to bring in a new argument, expand on an existing argument, or challenge another argument)
Debate/discussion – In table groups have students share their arguments and practice rebuttals and counterarguments
Whole-group reflection – ask students to share key points from their discussion
Lesson 5: Argumentation in action case study
Mumbai, india case study.
Rishi is a thirteen year old boy who attends the Gayak Rafi Nagar Urdu Municipal school in Mumbai. There is a massive landfill called Deonar right across from his school. Every day 4,000 tons of waste are piled on top of the existing garbage spanning 132 hectares (roughly half a square mile). Rishi ventures out to the landfill after school to look for materials that he can later trade for a little bit of extra money to help his family. He feels lucky that he gets to go to school during the day; others are not so lucky. One of his friends, Aamir, had to stop going to school and work full time after his dad got injured. They often meet to chat while they dig through the garbage with sticks. Occasionally, they find books in okay shape, which aren't worth anything in trade, but to them they are valuable.
One day Rishi was out to the market with his mom and saw the sky darken with a heavy smoke that blocked out the sun. They both hurried home and found out there was a state of emergency and the schools closed for two days. It took many days to put out the fire at Deonar. He heard his dad say that the fire was so bad that it could be seen from space. He wonders what it would be like to see Mumbai from up there. Some days he wishes the government would close down Deonar and clean it up. Other days he wonders what would happen to all the people that depend on it to live if the city shuts down Deonar.
Mumbai is one of the coastal cities that are considered vulnerable with increasing global temperature and sea level rise. The urban poor are most affected by climate change. Their shelter could be wiped out by a tropical storm and rebuilding would be very difficult.
Write a letter to a public official who may be able to influence policy in Mumbai.
What would you recommend they do? Should they close Deonar? What can they do to reduce air pollution in the city and prepare for possible storms? Remember to use evidence in your argument.
If students want to read the articles that inspired the case study direct them to: http://unhabitat.org/urban-themes/climate-change/
http://www.bloomberg.com/slideshow/2012-07-06/top-20-cities-with-billions-at-risk-from-climate-change.html#slide16
http://www.bloomberg.com/news/articles/2015-07-26/smelly-dumps-drive-away-affordable-homes-in-land-starved-mumbai
http://www.cnn.com/2016/02/05/asia/mumbai-giant-garbage-dump-fire/
Resources:
Lines of Evidence video from the National Academies of Sciences, Engineering, and Medicine http://nas-sites.org/americasclimatechoices/videos-multimedia/climate-change-lines-of-evidence-videos/
Climate Literacy and Energy Awareness Network (CLEAN)
Climate maps from the National Oceanic and Atmospheric Administration
Sources of data from NASA
Explore the original source of the Proceedings of the National Academies of Sciences (PNAS) study
Differentiated Instruction
For visual learners – use diagrams, encourage students to map out their arguments prior to writing them
For auditory learners – use the lines of evidence video
For ESL students – provide them with a variety of greenhouse gases diagrams, allow for a more flexible argument format and focus on general meaning-making – ex. using arrows to connect their sources of evidence to claims
For advanced learners – ask them to search through larger data sets and make comparisons between data from different sources; they can also research environmental policies and why they stalled out in congress
For learners that need more support – print out excerpts from articles; pinpoint the main ideas to help with the research; help students connect their evidence with their claims; consider allowing students to work in pairs to accomplish the writing task
Argument write-up – check that students' arguments contain claims supported by evidence and reasoning and that they thought about possible weaknesses in their own arguments.
Case study letter – check that students included evidence in their letter.
References:
Duschl, R. A., & Osborne, J. (2002). Supporting and promoting argumentation discourse in science education.
Hand, B. et al. (2009) Negotiating Science: The Critical Role of Argumentation in Student Inquiry. Portsmouth, NH: Heinemann.
McNeill, K. L., & Krajcik, J. (2012). Claim, evidence and reasoning: Supporting grade 5 – 8 students in constructing scientific explanations. New York, NY: Pearson Allyn & Bacon.
Sawyer, R. K. (Ed.). (2014). The Cambridge handbook of the learning sciences. New York, NY: Cambridge University Press.
https://www3.epa.gov/climatechange/kids/basics/today/greenhouse-gases.html
http://unhabitat.org/urban-themes/climate-change/
Climate Change
UBC Resources & Guides
Articles & Databases
Archives & Historical Sources
UBC Theses & Dissertations
Reports & Policies
Data Sources & Visualizations
News & Social Media
Civic Engagement
Indigenous Perspectives
UBC Library Climate Action
Across UBC, faculty and students contribute to research on climate change. See below for recent theses on a few select topics, and search cIRcle , UBC's open access repository, for publications, theses/dissertation, and presentations to find more.
RSS feed searching the UBC Theses and Dissertations Collection for: "Global warming" OR "Climate change" OR "Greenhouse gas" OR "Renewable energy":
UBC Theses and Dissertations UBC graduate theses and dissertations are available through the Open Collections portal dating back to 1919.
NDLTD: Networked Digital Library of Theses and Dissertations A collaborative effort of the NDLTD, OCLC, VTLS, and Scirus, the NDLTD Union Catalog contains more than one million records of electronic theses and dissertations.
OAIster OAIster is a union catalog of millions of records representing open access digital resources. OAIster is useful for searching multiple online archives for theses and dissertations simultaneously. Set the Content option to Theses/Dissertations to limit the search.
UBC Library Guide: Theses and Dissertations A research guide for locating theses and dissertations from UBC, British Columbia, Canada, and International databases and repositories.
<< Previous: Archives & Historical Sources
Next: Reports & Policies >>
Last Updated: Aug 8, 2023 2:18 PM
URL: https://guides.library.ubc.ca/climate
Research Foundations: Develop a Thesis Statement
Information Literacy
The Information Timeline
Popular, Scholarly, & Trade Publications
Primary, Secondary, & Tertiary Materials
Information Formats
Evaluate Information
Chapter 1 Self Quiz
The Pre-Research Process
Decide on a Topic
Find Background Information
Refine Your Topic
Develop a Thesis Statement
Choose Keywords
Create Search Statements
Chapter 2 Self Quiz
Search the Library Catalog
Call Numbers
Request Books
Book Research Streamlined
Viewing eBooks
Access Media
Chapter 3 Self Quiz
About Library Databases
Find Articles in Databases
Modify Your Search
Reading Scholarly Articles
Chapter 4 Self Quiz
Citation Styles
Locate Citation Information
Copyright & Fair Use
Creative Commons
Find & Attribute Images
Chapter 5 Self Quiz
Developing a Thesis Statement
Now that you've learned about your topic through background research and developed your topic into a research question, you can formulate a solid thesis statement . The thesis statement can be looked at as the answer to your research question. It guides the focus of your research and the direction of your arguments, and also prevents any unnecessary tangents within your project. A strong thesis statement will always make it easier to maintain a clear direction while conducting your information search.
Thesis statements are one sentence long and are focused, clear, declarative, and written in third person voice. Read the sections below for more information and view examples.
Focus on a single position or point of view in your thesis statement. You cannot effectively address multiple perspectives within a single paper, as you want to make coherent points to support your position.
Weak Thesis: Underfunded arts programs, underpaid teachers, and standardized testing are all factors in underachieving students in public schools.
Stronger Thesis: The emphasis on standardized testing is a critical factor in the underperformance of public school students.
Present your argument or position clearly and precisely. A clear thesis statement will avoid generalizations and make your position known.
Weak Thesis: The lack of funding in public schools is a major issue in the American education system.
Stronger Thesis: Underfunding arts programs in public schools does not adequately prepare students for college.
3. Declarative
Present your position or point of view as a statement or declarative sentence. Your research question helped guide your initial searching so you could learn more about your topic. Now that you have completed that step, you can extract a thesis statement based on the research you have discovered.
Weak Thesis: Does car exhaust impact climate change?
Stronger Thesis: Car exhaust is a leading contributor to climate change.
4. Third Person
Write your thesis statement in third person voice. Rather than addressing "I," "we," "you," "my," or "our" in your thesis, look at the larger issues that affect a greater number of participants. Think in terms like "citizens," "students," "artists," "teachers," "researchers," etc.
Weak Thesis: I think using your cell phone while driving is the leading cause of traffic deaths for people in my age group.
Stronger Thesis: Cell phone use is the leading cause of traffic deaths in teenagers.
<< Previous: Refine Your Topic
Next: Choose Keywords >>
Last Updated: May 25, 2023 9:24 AM
URL: https://libguides.seminolestate.edu/researchfoundations
Purdue Online Writing Lab Purdue OWL® College of Liberal Arts
Tips and Examples for Writing Thesis Statements

Welcome to the Purdue OWL
This page is brought to you by the OWL at Purdue University. When printing this page, you must include the entire legal notice.
Copyright ©1995-2018 by The Writing Lab & The OWL at Purdue and Purdue University. All rights reserved. This material may not be published, reproduced, broadcast, rewritten, or redistributed without permission. Use of this site constitutes acceptance of our terms and conditions of fair use.
This resource provides tips for creating a thesis statement and examples of different types of thesis statements.
Tips for Writing Your Thesis Statement
1. Determine what kind of paper you are writing:
An analytical paper breaks down an issue or an idea into its component parts, evaluates the issue or idea, and presents this breakdown and evaluation to the audience.
An expository (explanatory) paper explains something to the audience.
An argumentative paper makes a claim about a topic and justifies this claim with specific evidence. The claim could be an opinion, a policy proposal, an evaluation, a cause-and-effect statement, or an interpretation. The goal of the argumentative paper is to convince the audience that the claim is true based on the evidence provided.
If you are writing a text that does not fall under these three categories (e.g., a narrative), a thesis statement somewhere in the first paragraph could still be helpful to your reader.
2. Your thesis statement should be specific—it should cover only what you will discuss in your paper and should be supported with specific evidence.
3. The thesis statement usually appears at the end of the first paragraph of a paper.
4. Your topic may change as you write, so you may need to revise your thesis statement to reflect exactly what you have discussed in the paper.
Thesis Statement Examples
Example of an analytical thesis statement:
The paper that follows should:
Explain the analysis of the college admission process
Explain the challenge facing admissions counselors
Example of an expository (explanatory) thesis statement:
Explain how students spend their time studying, attending class, and socializing with peers
Example of an argumentative thesis statement:
Present an argument and give evidence to support the claim that students should pursue community projects before entering college
Dissertation
PowerPoint Presentation
Book Report/Review
Research Proposal
Math Problems
Proofreading
Movie Review
Cover Letter Writing
Personal Statement
Nursing Paper
Argumentative Essay
Research Paper
Mistakes to avoid when writing a research paper on climate change
There are some traps you should watch out for;
Having a topic that is too general or too specific
Depending on one source for all your content
Forgetting to cite a source used in your paper amounts to plagiarism
Not having body paragraphs that flow from one to the next which will leave your reader confused
Not proofreading your research paper which might leave some careless errors
Now you know what to do and what not to do when working on your climate change paper. While it may seem like a difficult task at first, make sure to use our simple guide to help you write your research paper.
Do not forget to watch out for the common mistakes students make when writing a research paper.
Writing a Good Tornado Research Paper
How to Write Your Dissertation Chapter 3?
Tips on How to Write Analysis Paper
26158766f7f76c0d163cbc4d15ae3f59
Questions about Expos?
Writing Support for Instructors
Your thesis is the central claim in your essay—your main insight or idea about your source or topic. Your thesis should appear early in an academic essay, followed by a logically constructed argument that supports this central claim. A strong thesis is arguable, which means a thoughtful reader could disagree with it and therefore needs your careful analysis of the evidence to understand how you arrived at this claim. You arrive at your thesis by examining and analyzing the evidence available to you, which might be text or other types of source material.
A thesis will generally respond to an analytical question or pose a solution to a problem that you have framed for your readers (and for yourself). When you frame that question or problem for your readers, you are telling them what is at stake in your argument—why your question matters and why they should care about the answer . If you can explain to your readers why a question or problem is worth addressing, then they will understand why it's worth reading an essay that develops your thesis—and you will understand why it's worth writing that essay.
A strong thesis will be arguable rather than descriptive , and it will be the right scope for the essay you are writing. If your thesis is descriptive, then you will not need to convince your readers of anything—you will be naming or summarizing something your readers can already see for themselves. If your thesis is too narrow, you won't be able to explore your topic in enough depth to say something interesting about it. If your thesis is too broad, you may not be able to support it with evidence from the available sources.
When you are writing an essay for a course assignment, you should make sure you understand what type of claim you are being asked to make. Many of your assignments will be asking you to make analytical claims , which are based on interpretation of facts, data, or sources.
Some of your assignments may ask you to make normative claims. Normative claims are claims of value or evaluation rather than fact—claims about how things should be rather than how they are. A normative claim makes the case for the importance of something, the action that should be taken, or the way the world should be. When you are asked to write a policy memo, a proposal, or an essay based on your own opinion, you will be making normative claims.
Here are some examples of possible thesis statements for a student's analysis of the article "The Case Against Perfection" by Professor Michael Sandel.  
Descriptive thesis (not arguable)  
While Sandel argues that pursuing perfection through genetic engineering would decrease our sense of humility, he claims that the sense of solidarity we would lose is also important.
This thesis summarizes several points in Sandel's argument, but it does not make a claim about how we should understand his argument. A reader who read Sandel's argument would not also need to read an essay based on this descriptive thesis.  
Broad thesis (arguable, but difficult to support with evidence)  
Michael Sandel's arguments about genetic engineering do not take into consideration all the relevant issues.
This is an arguable claim because it would be possible to argue against it by saying that Michael Sandel's arguments do take all of the relevant issues into consideration. But the claim is too broad. Because the thesis does not specify which "issues" it is focused on—or why it matters if they are considered—readers won't know what the rest of the essay will argue, and the writer won't know what to focus on. If there is a particular issue that Sandel does not address, then a more specific version of the thesis would include that issue—hand an explanation of why it is important.  
Arguable thesis with analytical claim  
While Sandel argues persuasively that our instinct to "remake" (54) ourselves into something ever more perfect is a problem, his belief that we can always draw a line between what is medically necessary and what makes us simply "better than well" (51) is less convincing.
This is an arguable analytical claim. To argue for this claim, the essay writer will need to show how evidence from the article itself points to this interpretation. It's also a reasonable scope for a thesis because it can be supported with evidence available in the text and is neither too broad nor too narrow.  
Arguable thesis with normative claim  
Given Sandel's argument against genetic enhancement, we should not allow parents to decide on using Human Growth Hormone for their children.
This thesis tells us what we should do about a particular issue discussed in Sandel's article, but it does not tell us how we should understand Sandel's argument.  
Questions to ask about your thesis  
Is the thesis truly arguable? Does it speak to a genuine dilemma in the source, or would most readers automatically agree with it?  
Is the thesis too obvious? Again, would most or all readers agree with it without needing to see your argument?  
Is the thesis complex enough to require a whole essay's worth of argument?  
Is the thesis supportable with evidence from the text rather than with generalizations or outside research?  
Would anyone want to read a paper in which this thesis was developed? That is, can you explain what this paper is adding to our understanding of a problem, question, or topic?
Tips for Reading an Assignment Prompt
Asking Analytical Questions
Introductions
What Do Introductions Across the Disciplines Have in Common?
Anatomy of a Body Paragraph
Transitions
Tips for Organizing Your Essay
Counterargument
Conclusions
Strategies for Essay Writing: Downloadable PDFs
Brief Guides to Writing in the Disciplines
Quick Links
Schedule an Appointment
English Grammar and Language Tutor
Drop-in hours
Harvard Guide to Using Sources
Departmental Writing Fellows
Writing Advice: The Harvard Writing Tutor Blog
Thesis Helpers
Find the best tips and advice to improve your writing. Or, have a top expert write your paper.
Top 100 Climate Change Topics To Write About
Climate change issues have continued to increase over the years. That's because human activities like fossil fuel usage, excavation, and greenhouse emissions continue to drastically change the climate negatively. For instance, burning fossil fuels continues to release greenhouse emissions and carbon dioxide in large quantities. And the lower atmosphere of the earth traps these gasses thereby affecting the global climate. To enhance their awareness of the impact of global warming, educators ask learners to write academic papers and essays on different climate change topics.
According to statistics, global warming affects the climate in different ways. However, the earth has experienced a general temperature increase of 0.85 degrees centigrade over the last 100 years. Such statistics show that this increase will eventually pass the acceptable thresholds in the next 10 years or less. And this will have dire consequences on human health and the global climate. As such, writing a paper about a topic on climate change is a great way to educate the masses.
However, some learners have difficulties choosing topics for their papers and essays on climate change. That's because this is a relatively new subject. Nevertheless, students that are pursuing ecology, political, and biology studies are conversant with this subject. If struggling to decide what to write about, consider this list of topics related to climate change.
Climate Change Topics for Short Essays
Perhaps, your educator has asked you to write a short essay on climate change. Maybe you're yet to decide what to write about because every topic you think about seems to have been written about. In that case, use this list of climate change topics for inspiration. You can write about one of these topics or develop it to make it more unique.
How climate change is responsible for the disappearing rainforest
The effects of global warming on air quality within the urban areas
Global warming and greenhouse emissions- Possible health risks
Is climate change responsible for irregular weather patterns?
How has climate change affected the food chain?
The negative effects of climate change on human wellbeing
How global warming affects agriculture
How climate change works
Why is climate change dangerous to human health?
How to minimize global warming effects on human health
How global warming affects the healthcare
Effects of climate change of life quality in rural and urban areas
How warmer temperatures support allergy-related illnesses
How climate change is a risk to life on earth
How climate change and natural disasters correlate
How climate change affects the population of the earth
How climate change relates to global warming
How global warming has caused extreme heating in most urban areas
How wildfires relate to climate change
How ocean acidification and climate change affect the world's habitat
These climate change essay topics cover different aspects of human activities and their effects on the earth's ecosystem. As such, writing a research paper or essay on any of these topics requires extensive research and analysis of information. That's the only way you can come up with a solid paper that will impress the educator to award you the top grade.
Climate Change Issues that Make for Good Topics
Maybe you want to research issues that relate to climate change. Most people may have not considered such issues but they are worthy of climate change debate topics. In that case, consider these issues when choosing your climate topics for papers and essays.
Climate change and threat to natural biodiversity are equally important
Climate change in Miami and Saudi Arabia- How the effects compare
Climate change as a human activity's effect on the environment
Preventing climate change by protecting forests
Climate change in China- How the country has declined to head to the global call about saving Mother Nature
Common causes of climate change
Common effects of climate change
The definition of climate change
What is anthropogenic climate change
Describe climate change
What drives climate change?
Renewable energy sources and climate change
Human and economics induced climate change
Climate change biology
Climate change and business
Science, Spin, and climate change
Climate change- How global warming affects populations
Climate change and social concepts
Extreme weather and climate change- How they relate
Global warming as a complex issue in climate change
These are great climate change topics for research papers and essays. However, writing about these topics requires extensive research. You should also be ready to spend energy and time finding relevant and latest sources of information before you write about these topics.
Interesting Climate Change Topics for Papers and Essays
Perhaps, you want to write an essay or paper about something interesting. In that case, consider this list of interesting climate change research paper topics.
Climate change across the globe- What experts say
Development, climate change, and disaster reduction
Critical review- Climate change and agriculture
Schools should include climate change as a subject in geography courses
Consumption and climate change- How the wind blows in Indiana
How the United Nations responds to climate change
Snowpack and climate change
How climate change threatens global security
The effects of climate change on coastal areas' tourism
How climate change relates to Queensland Australia's floods
How climate change affects the tourism and hospitality industry
Possible strategies for addressing the effects of climate change on urban areas
How climate change affects indigenous people
How to avoid the threats of climate change
How climate change affects coral triangle turtles
Climate change drivers in the Asian countries
Economic discourse analysis methodology in climate change
How climate change affects New Hampshire businesses
How climate change affects the life of an individual
The economic cost of the effects of climate change
These are fantastic climate change paper topics to explore. Nevertheless, you must be ready to research your topic extensively before you start writing your academic paper or essay.
Major Topics on Climate Change for Academic Writing
Perhaps, you're looking for topics related to climate change that you write major papers about. In that case, you should consider these global climate change topics.
Early science on climate change
How the world can manage the effects of climate change
Environmental issues relating to climate change
Views comparison about the climate change problem
Asset-based community development and climate change
Experts' evaluation of climate change
How science affects climate change
How climate change affects the ocean life
Scotland's vulnerability to climate change
How energy conservation can solve the climate change problem
How climate change affects the world economy
International collaboration and climate change
International relations view on climate change
 How transportation affects climate change
Climate change and technology
Climate change policies and human rights
Climate change from an anthropological perspective
Climate change as an international security issue
Role of the United Nations in addressing climate change
Climate change and pollution
This category has some of the best climate change thesis topics. That's because most people will be interested in reading papers on such topics due to their global perspectives. Nevertheless, you should prepare to spend a significant amount of time researching and writing about any of these topics on climate change.
Climate Change Topics for Presentation
Perhaps, you want to write papers on topics related to climate change for presentation purposes. In that case, you need topics that most people can resonate with. Here is a list of topics about climate change that will interest most people.
How can humans stop global warming in the next ten years
Could humans have stopped global warming a decade ago?
How has the environment changed over the years and how has this change caused global warming?
How did the Obama administration try to limit climate change?
What is the influence of chemical engineering on global warming?
How is urbanization connected to climate change?
Theories that explain why some nations ignore climate change
How global warming affects the rising sea levels
How anthropogenic and natural climate change differ
How the war against terrorism differs from the war on climate change
How atmospheric change influences global climate change
Negative effects of global climate change on Minnesota
The greenhouse effect and ozone depletion
How greenhouse affects the earth's environment
How can individuals reduce the emissions of greenhouse gasses
How climate change will affect humans in their lifetime
What are the social, physical, and economic effects of climate change
Problems and solutions to climate change on the Pacific Ocean
How climate change relates to species' extinction
How the phenomenon of denying climate change affects animals
This list prepared by our  research helpers has some of the best essay topics on climate change. Pick one of these ideas, research it, and then compose a winning paper.
Make PhD experience your own
Leave a Reply Cancel reply
Your email address will not be published. Required fields are marked *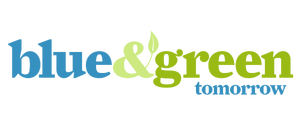 Environment
How to write the perfect essay on climate change.

Writing an essay on green living or other environmental issues can be difficult. You need to make sure that you get your points right. One of the issues is that environmental research is changing at a breathtaking pace, so it is easy to use outdated data to make your point.
Creating the Perfect Essay on Climate Change or Any Environmental Topic
Essay writing is a task which poses an immense challenge to many students. This is because it not only has many requirements, but also requires one to have professional writing skills to produce a top-notch paper. This is especially complicated for climate change papers.
Additionally, many students find it hard to distinguish the type of paper they are writing. Hence, they end up producing the wrong article. Environmental science professors and instructors often give college and university students writing assignments.
You can always hire a professional paper writer to help you. However, you will learn more if you go through the process on your own. But how can you write a paper easily with limited time as a student?
You need to be familiar with the concepts behind climate change if you are planning on writing a paper on it. You should start by looking at previous papers and research on the topic. Global Change has a large list of all major climate change papers .
However, you are going to need to write your own paper and it needs to meet the school's quality standards. It is up to you to ensure that you understand the distinction between various types of essay writing tasks. Cody Rhodes has been gracious enough to speak with us to clarify what a descriptive essay is and the goal or objective of writing one. Rhodes has said that there are a lot of great insights for people learning to create better papers on climate change.
What is a descriptive essay on Climate Change?
Before we go deeper into descriptive essay writing tips, you need to know what a descriptive essay is. A descriptive essay is a type of academic writing which involves describing a specific place, event, or person to the readers. You must do this in a way that creates a portrait in their minds by engaging their senses: touch, sound, smell, sight, and taste. Your ability to do this guarantees your success. Before you write your descriptive essay, you need to lay the foundation of the entire work.
Choose a topic related to climate change or green living
What topic is best for climate change? You can't just focus on climate change in general , Rhodes tells us. He says that you need to get into the nuances of specific elements of the subject. You might want to talk about the fact that the minimum arctic ice levels have fallen over 12% a decade since the 1980s . Covering a very specific climate change topic makes things easier.
So, you need to select a topic which you can write a lot about. Your professor may give you one or they may leave it up to you to choose. So, ensure you pick a topic which allows you to convey your opinion about it through your description of it and how you want things laid out for the audience.
Also, you must ensure you structure your essay in a way that helps your topic to have meaning or make sense. A description of an event has paragraphs arranged chronologically, whereas a description of a person or a place has paragraphs arranged generally so that it allows you to go deeper into the specifics. The introduction paragraph of your essay should set out the key points you will discuss in your article as it sets the tone for the rest of the paper.
But what do you do once you've chosen your topic? If you need to learn how to write a descriptive essay about a place, event or person consider the following tips.
Do statement
Now that you have chosen a topic, develop a thesis statement for your climate change topic. An example could be "The hospitality sector's global initiative has contributed to the climate crisis."
A thesis statement is a statement which holds or supports the argument in the topic of your paper. Additionally, it lays out the purpose of the essay. It is prominent throughout the entire paper. Hence, when creating it, you need to make it precise, avoid clichés, and include it in the introductory paragraph.
Engage your readers' senses
The audience will be able to comprehend what your paper is about if you create an image in their minds by engaging their senses. So, how do you get the senses right?
Take a sheet of paper and partition it into five columns. Note down all the senses. This will help you sort your thoughts and ideas as you elucidate your topic. Write any feelings or sensations which relate to the topic you are writing about. Back up your thesis statement by providing full sensory details. Utilize literary tools to perfect your paper such as personification, similes, and metaphors.
Write an outline
Once you get the senses right, you can proceed to the next step, which is creating a descriptive essay outline. A descriptive essay outline is essential in writing a descriptive essay as it not only acts as a road map to your essay but also simplifies the writing process. Additionally, it helps to show how the structure of your paper ought to appear. A descriptive essay outline constitutes three main components: the introduction body, and conclusion.
Develop a strong hook which will capture the attention of your audience. They need to be attracted to your paper by reading the introduction. Also, remember to include the thesis statement.
Writing a descriptive paragraph(s)is not easy if you do not have a thesis statement. This is because it is where you provide support or backup the thesis statement (shows the purpose of your essay). So, ensure you begin each paragraph with a topic sentence. Use transitional phrases to show the readers that your essay is continuous.
Conclude your paper with a summary of your main points. Restate your thesis statement.
Create a conclusion
The conclusion of your descriptive essay is fundamental as it shows the reader(s) that your article has come to an end. It needs to be strong, especially if you are trying to make a case in a subject as controversial as climate change.
So, when creating it, ensure you provide a summary of your key points. Restate your thesis statement. Also, remember not to include any new information which you have not mentioned in your paper.
If you do not know how to structure a descriptive essay, follow the format above or have a look at some of the descriptive essay examples written by other students or professionals.
Polish and finish
You can begin writing your essay now that you have a guiding map (outline) you can use. After writing your paper, ensure you take a break then resume to revise it. Go through it and eliminate all the mistakes you may have made during the writing process. Polish it in a way that ensures you have met all the writing instructions and requirements.
Writing a Great Essay on Climate Change Doesn't Have to Be Overwhelming
Climate change is a complicated topic . Fortunately, writing an essay on climate change doesn't have to be overwhelming. Writing a descriptive essay on any environmental topic is not hard as long as you know the purpose it seeks to serve. The tips listed above along with someone from WriteMyPaperHub will help you learn how to write a descriptive essay on global warming.

You may like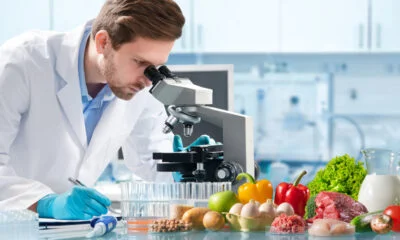 FoodTech Advances Can Feed the World Despite Climate Change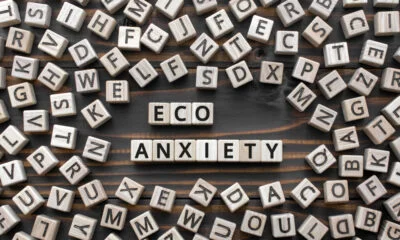 5 Coping Strategies for Anxiety Over Climate Change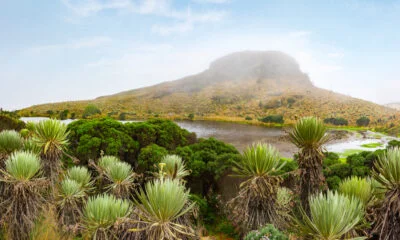 Coffee Farms & Cloud Forests: Colombia's New Eco Initiatives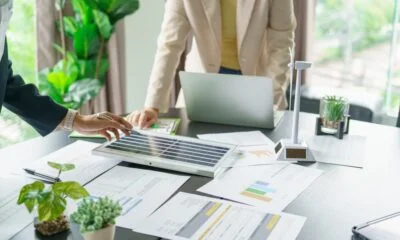 5 Key Areas to Look at When It Comes to Business Sustainability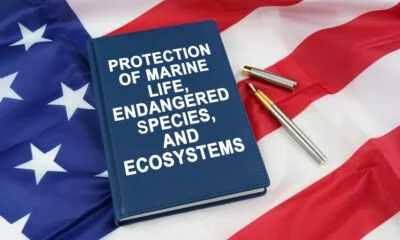 Great Books That Help You to Understand the Climate Crisis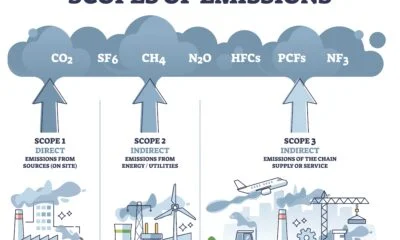 Why Should Companies be Required to Reveal Their Scope 3 Emissions?
Like our Facebook Page

How to Design a Backyard Garden with Sustainability in Mind

Unlocking the Past: Tracing the Rich History of Curaçao

5 Recyclable Metals You Might Not Know About

Eco-Friendly Businesses Must Prioritize Employee Safety

Water Jet Cutting's Role in Eco-Friendly Manufacturing

Is it More Eco-Friendly to Repair or Replace Your Heating System? 5 Factors to Consider

Maximizing Yield: Environmental Benefits of Salt Tolerant Farming

Embrace Sustainability: Eco-Friendly Travel to Cyprus

How Metal Recycling Contributes to a More Sustainable World

A Greener Holiday: Uncovering the Journey of Sustainable Decorations

Sustainable Tips for Your Next Camping Trip

Sustainable Travel Tips for Students Studying Abroad

The Circular Economy is Conserving Biodiversity

A Greener Way to Manufacture Your Food Products

Create an Eco-Friendly Outdoor Space with Expert Garden Design

Prolonging Driveway Life: The Benefits of Driveway Sealing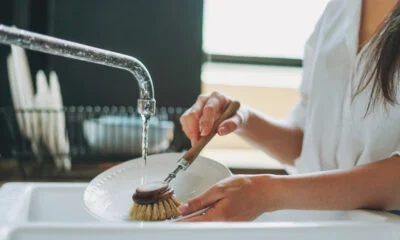 What is the Eco-Friendliest Option to Wash Your Dishes?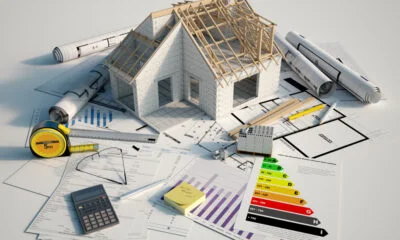 6 Home Improvements You Can Make to Help the Environment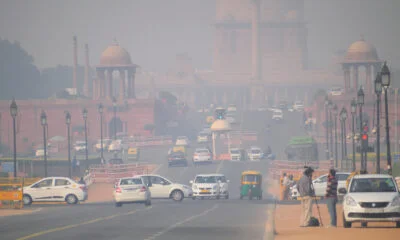 What Are the Leading Sources Causing Delhi's Air Pollution?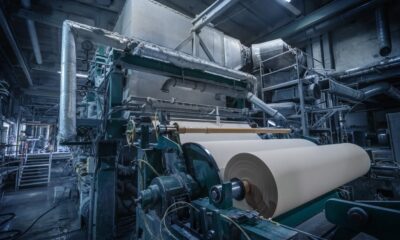 The Pulp & Paper Industry is Reaching its Sustainability Goals
Climate Change: Evidence and Causes: Update 2020 (2020)
Chapter: conclusion, c onclusion.
This document explains that there are well-understood physical mechanisms by which changes in the amounts of greenhouse gases cause climate changes. It discusses the evidence that the concentrations of these gases in the atmosphere have increased and are still increasing rapidly, that climate change is occurring, and that most of the recent change is almost certainly due to emissions of greenhouse gases caused by human activities. Further climate change is inevitable; if emissions of greenhouse gases continue unabated, future changes will substantially exceed those that have occurred so far. There remains a range of estimates of the magnitude and regional expression of future change, but increases in the extremes of climate that can adversely affect natural ecosystems and human activities and infrastructure are expected.
Citizens and governments can choose among several options (or a mixture of those options) in response to this information: they can change their pattern of energy production and usage in order to limit emissions of greenhouse gases and hence the magnitude of climate changes; they can wait for changes to occur and accept the losses, damage, and suffering that arise; they can adapt to actual and expected changes as much as possible; or they can seek as yet unproven "geoengineering" solutions to counteract some of the climate changes that would otherwise occur. Each of these options has risks, attractions and costs, and what is actually done may be a mixture of these different options. Different nations and communities will vary in their vulnerability and their capacity to adapt. There is an important debate to be had about choices among these options, to decide what is best for each group or nation, and most importantly for the global population as a whole. The options have to be discussed at a global scale because in many cases those communities that are most vulnerable control few of the emissions, either past or future. Our description of the science of climate change, with both its facts and its uncertainties, is offered as a basis to inform that policy debate.
A CKNOWLEDGEMENTS
The following individuals served as the primary writing team for the 2014 and 2020 editions of this document:
Eric Wolff FRS, (UK lead), University of Cambridge
Inez Fung (NAS, US lead), University of California, Berkeley
Brian Hoskins FRS, Grantham Institute for Climate Change
John F.B. Mitchell FRS, UK Met Office
Tim Palmer FRS, University of Oxford
Benjamin Santer (NAS), Lawrence Livermore National Laboratory
John Shepherd FRS, University of Southampton
Keith Shine FRS, University of Reading.
Susan Solomon (NAS), Massachusetts Institute of Technology
Kevin Trenberth, National Center for Atmospheric Research
John Walsh, University of Alaska, Fairbanks
Don Wuebbles, University of Illinois
Staff support for the 2020 revision was provided by Richard Walker, Amanda Purcell, Nancy Huddleston, and Michael Hudson. We offer special thanks to Rebecca Lindsey and NOAA Climate.gov for providing data and figure updates.
The following individuals served as reviewers of the 2014 document in accordance with procedures approved by the Royal Society and the National Academy of Sciences:
Richard Alley (NAS), Department of Geosciences, Pennsylvania State University
Alec Broers FRS, Former President of the Royal Academy of Engineering
Harry Elderfield FRS, Department of Earth Sciences, University of Cambridge
Joanna Haigh FRS, Professor of Atmospheric Physics, Imperial College London
Isaac Held (NAS), NOAA Geophysical Fluid Dynamics Laboratory
John Kutzbach (NAS), Center for Climatic Research, University of Wisconsin
Jerry Meehl, Senior Scientist, National Center for Atmospheric Research
John Pendry FRS, Imperial College London
John Pyle FRS, Department of Chemistry, University of Cambridge
Gavin Schmidt, NASA Goddard Space Flight Center
Emily Shuckburgh, British Antarctic Survey
Gabrielle Walker, Journalist
Andrew Watson FRS, University of East Anglia
The Support for the 2014 Edition was provided by NAS Endowment Funds. We offer sincere thanks to the Ralph J. and Carol M. Cicerone Endowment for NAS Missions for supporting the production of this 2020 Edition.
F OR FURTHER READING
For more detailed discussion of the topics addressed in this document (including references to the underlying original research), see:
Intergovernmental Panel on Climate Change (IPCC), 2019: Special Report on the Ocean and Cryosphere in a Changing Climate [ https://www.ipcc.ch/srocc ]
National Academies of Sciences, Engineering, and Medicine (NASEM), 2019: Negative Emissions Technologies and Reliable Sequestration: A Research Agenda [ https://www.nap.edu/catalog/25259 ]
Royal Society, 2018: Greenhouse gas removal [ https://raeng.org.uk/greenhousegasremoval ]
U.S. Global Change Research Program (USGCRP), 2018: Fourth National Climate Assessment Volume II: Impacts, Risks, and Adaptation in the United States [ https://nca2018.globalchange.gov ]
IPCC, 2018: Global Warming of 1.5°C [ https://www.ipcc.ch/sr15 ]
USGCRP, 2017: Fourth National Climate Assessment Volume I: Climate Science Special Reports [ https://science2017.globalchange.gov ]
NASEM, 2016: Attribution of Extreme Weather Events in the Context of Climate Change [ https://www.nap.edu/catalog/21852 ]
IPCC, 2013: Fifth Assessment Report (AR5) Working Group 1. Climate Change 2013: The Physical Science Basis [ https://www.ipcc.ch/report/ar5/wg1 ]
NRC, 2013: Abrupt Impacts of Climate Change: Anticipating Surprises [ https://www.nap.edu/catalog/18373 ]
NRC, 2011: Climate Stabilization Targets: Emissions, Concentrations, and Impacts Over Decades to Millennia [ https://www.nap.edu/catalog/12877 ]
Royal Society 2010: Climate Change: A Summary of the Science [ https://royalsociety.org/topics-policy/publications/2010/climate-change-summary-science ]
NRC, 2010: America's Climate Choices: Advancing the Science of Climate Change [ https://www.nap.edu/catalog/12782 ]
Much of the original data underlying the scientific findings discussed here are available at:
https://data.ucar.edu/
https://climatedataguide.ucar.edu
https://iridl.ldeo.columbia.edu
https://ess-dive.lbl.gov/
https://www.ncdc.noaa.gov/
https://www.esrl.noaa.gov/gmd/ccgg/trends/
http://scrippsco2.ucsd.edu
http://hahana.soest.hawaii.edu/hot/
Climate change is one of the defining issues of our time. It is now more certain than ever, based on many lines of evidence, that humans are changing Earth's climate. The Royal Society and the US National Academy of Sciences, with their similar missions to promote the use of science to benefit society and to inform critical policy debates, produced the original Climate Change: Evidence and Causes in 2014. It was written and reviewed by a UK-US team of leading climate scientists. This new edition, prepared by the same author team, has been updated with the most recent climate data and scientific analyses, all of which reinforce our understanding of human-caused climate change.
Scientific information is a vital component for society to make informed decisions about how to reduce the magnitude of climate change and how to adapt to its impacts. This booklet serves as a key reference document for decision makers, policy makers, educators, and others seeking authoritative answers about the current state of climate-change science.
Welcome to OpenBook!
You're looking at OpenBook, NAP.edu's online reading room since 1999. Based on feedback from you, our users, we've made some improvements that make it easier than ever to read thousands of publications on our website.
Do you want to take a quick tour of the OpenBook's features?
Show this book's table of contents , where you can jump to any chapter by name.
...or use these buttons to go back to the previous chapter or skip to the next one.
Jump up to the previous page or down to the next one. Also, you can type in a page number and press Enter to go directly to that page in the book.
Switch between the Original Pages , where you can read the report as it appeared in print, and Text Pages for the web version, where you can highlight and search the text.
To search the entire text of this book, type in your search term here and press Enter .
Share a link to this book page on your preferred social network or via email.
View our suggested citation for this chapter.
Ready to take your reading offline? Click here to buy this book in print or download it as a free PDF, if available.
Get Email Updates
Do you enjoy reading reports from the Academies online for free ? Sign up for email notifications and we'll let you know about new publications in your areas of interest when they're released.
Impact of climate change-induced warming on groundwater temperatures and quality
Review Article
Open access
Published: 14 November 2023
volume  13 , Article number:  235 ( 2023 )
You have full access to this open access article
Harald Neidhardt   ORCID: orcid.org/0000-0002-9612-1274 1 &
Wen Shao 1  
126 Accesses
Explore all metrics
Cite this article
The impacts of climate change-induced warming on our ecosystems can no longer be neglected, but our understanding of consequences for groundwater ecosystems in general and groundwater quality in particular is alarmingly incomplete. In this review, we therefore provide an overview of the current state of knowledge related to the impact of global warming on our precious groundwater resources. Groundwater warming in shallow aquifers is closely associated with increasing average land surface temperatures and has already reached + 1 K compared to pe-industrial times. Until the end of the twenty-first century, temperature increases in local groundwater of up to + 10 K are possible. Monitoring data, laboratory and field experiments all provide evidence that such temperature increases are sufficient to substantially modify groundwater quality through numerous and interlinked biogeochemical processes, which we have summarized in a conceptual overview. Warming impacts on groundwater are highly site-specific and spatially heterogeneous, which complicates their assessment and prediction. Locally, shallow unconfined and nutrient-rich floodplain aquifers are most susceptible to warming-induced changes. Importantly, processes affecting water quality are not only modified by a long-term rise in groundwater temperatures, but also in the short-term during weather extremes, which is of great relevance for riverbank filtration. At the regional scale, aquifers in cold regions impacted by permafrost thawing are especially vulnerable to warming. As the majority of temperature-sensitive processes affecting groundwater quality are not or only very slowly reversable, we pressingly require comprehensive mechanistic understanding before it is too late to develop suitable countermeasures and management strategies.
Avoid common mistakes on your manuscript.
Introduction: the impact of temperature on groundwater quality
Evidence for the consequences of climate change-induced warming on our environment is growing by the day (Ripple et al. 2022 ), but the resulting impacts on groundwater are still largely unknown (Riedel 2019 ). The majority of studies and review papers published until now focused on the quantitative impact of climate change on this natural georesource (i.e. changes in groundwater recharge and its implications for management practices) (Costa et al. 2021 ; Green et al. 2011 ; Johnson et al. 2022 ; Kløve et al. 2014 ; Taylor et al. 2013 ). On the other hand, climate change-induced influences on physico-chemical and biochemical properties and underlying processes in aquifers have received little attention so far (Bloomfield and Jackson 2013 ; Green et al. 2011 ; Hemmerle and Bayer 2020 ). Without going into details, the sixth assessment report (AR6) of the Intergovernmental Panel on Climate Change (IPCC) states medium confidence that climate change is impacting groundwater quality negatively (Pörtner et al. 2022 ). As groundwater is the most important source of raw drinking water and for irrigation (Margat and Van der Gun 2013 ; UN 2022 ), potential negative impacts of global warming on its quality cannot be ignored.
By groundwater, all forms of subsurface water is included in the following, reaching from the saturated zone near the soil surface down to depths of hundreds of m in thick alluvial or karstic aquifer systems. Defining the term groundwater quality is more challenging, as two only partially overlapping points of views shall be considered here. From the anthropogenic perspective, using groundwater as drinking water and for irrigation, it is primarily a question of the absence of substances hazardous to health (such as heavy metals, organic pollutants or pathogenic germs). Considering drinking water production, other physico-chemical properties are also important, such as pH, salinity and the concentration of dissolved organic carbon (DOC), reduced Fe 2+ and Mn 2+ that can interfere with raw water treatment and therefore impact on production costs. From an ecological point of view, aquifer systems represent complex ecosystems and habitats for diverse communities of organisms, which are vulnerable to hazardous compounds as well. Moreover, most inhabitants of aquifer ecosystems (i.e. stygobionta) react highly sensitive to changes in physico-chemical parameters such as temperature, dissolved oxygen (DO) concentration or redox conditions (Goldscheider et al. 2006 ; Hahn 2006 ; Humphreys 2009 ).
While the demands of human use on groundwater quality are very clear and legally regulated, the ecological perspective of groundwater systems is often neglected (Griebler et al. 2014 ). This is even more concerning in regard to the upcoming effects of climate change on groundwater systems, which is likely to affect a number of essential ecosystem services, comprising provision and production of safe drinking water, degradation of pollutants, retention of nutrients or elimination of pathogenic microorganisms (Goldscheider et al. 2006 ; Griebler et al. 2019 ).
Impacts of climate change on groundwater quality are already observable in aquifers. The impact of temperature change on abiotic reactions (i.e. individual mineral solubilities, sorption equilibria, reaction kinetics) was largely assessed through laboratory experiments (Jesußek et al. 2013 ; Partey et al. 2008 ; Welch and Ullman 2000 ). However, our understanding of how biogeochemical cycles and processes in aquifers are altered by warming is incomplete (Green et al. 2011 ). Studies investigating climate change-induced feedbacks on groundwater quality can be generally categorized based on the impact pathway: (1) increasing water temperatures, (2) changing groundwater tables (increases and decreases) and (3) sea water intrusion in the case of coastal aquifers. Whereas (2) and (3) are rather locally constrained, warming of groundwater (1) represents a global phenomenon.
To discuss how warming may affect groundwater quality, it is first important to know how much groundwater temperatures have risen so far and could continue to rise. Published groundwater temperature data from long-term monitoring programs is yet scarce, but several studies consistently described increases in groundwater temperatures along with increasing mean air and land surface temperatures (Kurylyk et al. 2013 ; Menberg et al. 2014 ). Groundwater temperatures are being modified by climate change either due to an increase in the temperature of recharge water (Burns et al. 2017 ) and/or from thermodynamic coupling between the atmosphere and the ground (Hemmerle and Bayer 2020 ). A detailed overview of documented increases in groundwater temperatures is provided in the following section.
The overarching aim of this review is to summarize the present knowledge on climate change-induced warming on groundwater temperatures and quality. We have therefore applied a systematic literature review by conducting a rigorous literature research based on Clarivate's™ Web of Science core collection. We used case studies to synthesize the current state of knowledge, which we complement by own reflections wherever appropriate. This work distinguishes itself from previous reviews, which generelly focused on the entire impact of climate change on groundwater systems and considered quality related impacts only briefly, if at all (Amanambu et al. 2020 ; Earman and Dettinger 2011 ; Green et al. 2011 ; Kløve et al. 2014 ).
The following three main sections are each attributed to a specific research question: How much have groundwater temperatures increased so far and what can we expect for the near future (Sect. 2)? How does climate change-induced warming modify groundwater quality, and which biogeochemical processes are responsible (Sect. 3)? Which aquifers are most vulnerable to groundwater warming and resulting consequences for water quality (Sect. 4)?
Impact of climate change on groundwater temperatures
Current state of groundwater warming.
In general, groundwater temperatures are closely linked to land surface temperatures (Menberg et al. 2014 ; Taylor and Stefan 2009 ). For shallow groundwater down to a depth of 60 m below ground level, a near-linear relationship between both has been reported for a global data set with groundwater temperatures ranging from 1 to 31 °C (Benz et al. 2017 ). Considering the close relationship between land surface and groundwater temperatures, it is not surprising that the impact of global warming is already visible in groundwater temperatures. For example, the regional mean annual air temperature in Bavaria (southern Germany) has increased by + 0.035 K a −1 between the early 1990s to 2015, which was closely followed by temperatures in shallow groundwater with an increase of + 0.028 K a −1 at 20 m and + 0.009 K a −1 at 60 m depth, respectively (Hemmerle and Bayer 2020 ). Similarly, surface air temperatures in Austria have increased on average by + 0.025 K a −1 from 1994 to 2013, while groundwater temperatures rose by + 0.035 K a −1 (Benz et al. 2018b ). Annual warming of groundwater and aquifers in range of + 0.01 to + 0.04 K a −1 since the late 1970s has further been described for the UK (Bloomfield and Jackson 2013 ; Stuart et al. 2010 ), the Netherlands (Bense and Kurylyk 2017 ), Switzerland (Figura et al. 2011 ) and Germany (Menberg et al. 2014 ; Riedel 2019 ). Note that several studies reported accelerating groundwater warming rates since the 1990s (Figura et al. 2011 ; Menberg et al. 2014 ), which was especially pronounced in shallow groundwater bodies. Looking at the last three decades, the warming for shallow groundwater totals almost + 1 K, which corresponds to the general regional warming effects.
Thermal signals from changing regional air temperatures arrive damped and delayed in the subsurface (Hemmerle and Bayer 2020 ; Menberg et al. 2014 ), which emphasizes vertical aspects of groundwater warming. The faster the groundwater recharge, the faster warming progresses into the subsurface, which is especially pronounced for small, shallow unconfined aquifers as compared to usually larger, deep confined aquifers (Kløve et al. 2014 ).
It should not go unmentioned that anthropogenic activities may cause additional groundwater warming. In densely populated areas, subsurface energy fluxes are modified through buildings and infrastructure, which amounts to the so-called urban heat island effect (Benz et al. 2018a ; Perrier et al. 2005 ; Taniguchi et al. 2007 ). Groundwater temperatures can be also affected by managed aquifer recharge (MAR), in which treated waste water or excess water is introduced into receiving aquifers (Dillon et al. 2019 ). Through aquifer thermal energy storage (ATES), thermal energy is seasonally stored and recovered from aquifers for heating purposes (Dillon et al. 2019 ; Doughty et al. 1982 ). More recently, open- or closed-loop ground source heat pump (GSHP) systems (including groundwater heat pump systems, GWHP) are installed for heating and/or cooling purposes, which have lasting effects on shallow groundwater temperatures (Lee and Hahn 2006 ; Russo et al. 2012 ). Another important anthropogenic activity affecting groundwater temperatures is riverbank filtration (RBF), which is commonly used in drinking water production. Here, the recharge of near-surface and unconfined floodplain aquifers from river water is forced through targeted pumping in extraction wells (Eckert et al. 2008 ; Ray et al. 2002 ; Schubert 2002 ). While all anthropogenic effects causing groundwater heating overlap with indirect warming through climate change, comparisons with groundwater temperatures in rural and less anthropogenically disturbed areas allow to distinguish between the different warming effects (Taniguchi et al. 2007 ; Taylor and Stefan 2009 ).
In summary, global warming is increasing groundwater temperatures, which is already detectable in monitoring data (for an overview of literature documenting groundwater warming, refer to Table 1 ). Note that the presented studies have a strong spatial focus on regions in Europe, whereas other regions remain largely understudied. However, considering the global increases in surface and air temperatures, it is safe to assume that many shallow porous and fast-recharging fissure aquifers have already suffered increases in groundwater temperatures of + 1 K as compared to pe-industrial times. Larger temperature increases at a local to regional scale are further likely considering the spatially uneven distribution of global warming (Hansen and Sato 2016 ; Pörtner et al. 2022 ).
Future trends and regional differences
To tackle the potential impact of warming on groundwater for the near future, it is of great importance to provide robust estimates of water temperature increases at a regional to local scale. Unfortunately, only few modeling-based predictions for groundwater temperatures are currently available. For a shallow aquifer in Minnesota (US), outcomes of a heat transport model suggested an increase in groundwater temperature of + 3 to + 4 K within the next decades (Taylor and Stefan 2009 ). This estimated range of groundwater warming agrees well with other local and regional modeling studies. For example, based on General Circulation Models (GCM) and different greenhouse gas emission scenarios (Representative Concentration Pathway, RCP), Gunawardhana and Kazama ( 2012 ) estimated that aquifer temperatures at 8 m depth in the humid subtropical climate of the Sendai Plain (Japan) will increase by + 1.00 to + 4.28 K until 2080 as compared to 2007 observations. For northern European cold-water springs in Finland and Sweden, a mean water temperature increase of + 0.7 (RCP2.6 scenario) to + 5.9 K (RCP8.5 scenario) was predicted by 2086 (Jyväsjärvi et al. 2015 ). This is in line with modeling-based estimate of a + 3 K increase for temperature of discharged shallow groundwater in temperate forests of Canada (Kurylyk et al. 2014 ).
Considering regional model predictions for surface temperatures (see IPCC Interactive Atlas; Masson-Delmotte et al. 2021 ), greatest warming is expected for the Arctic and midlatitudes in the northern hemisphere (Cogswell and Heiss 2021 ). Here, the predicted median of mean temperature change in the Russian Arctic Region for the 2081–2100 period (relative to 1850–1900, based on CMIP6 and a pessimistic global warming level of 4°C under SSP5-8.5) is an impressive + 9.6 K. Based on previous observations that show a tight correlation between land surface and groundwater temperatures (Benz et al. 2017 ), it is reasonable to assume that warming of shallow groundwater in northern regions may reach values close to + 10 K.
Consequences of warming for groundwater quality
Microbial activity, community structure and metabolic pathways.
The intensification of microbial metabolic rates represents one of the most important consequences of rising temperatures in groundwater for most aquifers (Brielmann et al. 2011 ). For example, a higher microbiological activity as indicated by increasing microbial colony counts was reported from an ATES field site at the Netherlands, where 16 °C warm water was seasonally introduced into the aquifer (Bonte et al. 2011 ). However, linking increasing microbial activities to warming in aquifer systems is extremely difficult because of analytical limitations. Therefore, indirect proxies for microbial activities in groundwater are commonly monitored, such as DOC and NH 4 + that are released as by-products during the microbial mineralization of organic matter (OM) (Brons et al. 1991 ; Du et al. 2020 ; Rivett et al. 2008 ).
In order to alter groundwater properties in the long-term under rising temperatures, microbial activities require sufficient supplies with key nutrients, terminal electron acceptors (TEA) and degradable OM (Brielmann et al. 2011 ; Griebler 2015 ; Griebler et al. 2016 ). Degradable OM comprises DOC (e.g. from sewage contamination) or sedimentary OM that is contained within the aquifer matrix. However, the response of microbial activities to warming is complex and non-linear, especially due to the involvement of a vast variety of microorganisms and aquifer properties that may considerably vary at a small scale (Griebler 2015 ). Generally, eutrophic aquifers are especially vulnerable to warming-induced changes through an intensification of microbial activities as high amounts of degradable OM and nutrients are available (Griebler et al. 2016 ).
The intensification of microbial activities may also result in the consumption and depletion of DO, causing a shift from oxic to anoxic conditions. A shift to anoxic conditions has several further important consequences for groundwater ecosystems. A gradual or temporary depletion in DO leads to a decline in the local redox potential, a change in the microbial community structure and also shifts in the dominant metabolic pathways as described in the following. Generally, the consumption of DO succeeds with the reduction of dissolved NO 3 − (Borch et al. 2010 ). For example, a depletion in DO during summer at a RBF site in Germany (Flehe Waterworks at the River Rhine, Düsseldorf) showed that microbial communities shifted from aerobic respiration toward anoxic denitrification (Sharma et al. 2012 ). Increasing groundwater temperatures further enhance microbial NO 3 − reduction rates if conditions are already anoxic (Cogswell and Heiss 2021 ). At the same time, NH 4 + is released as by-product, which accumulates in groundwater near-proportionally to the decline in NO 3 − (Cogswell and Heiss 2021 ). Predominating redox processes may also shift due to different temperature optima of the microbial redox processes involved (Bonte et al. 2013a ). For example, microcosm incubations of original groundwater and aquifer material from two ATES sites in the Netherlands showed that an increase in water temperature from 11 °C (natural background) to 25 °C caused a shift from Fe(III)- to SO 4 -reduction and methanogenesis (Bonte et al. 2013a ). Similar observations were made by Jesußek et al. ( 2013 ), who incubated Tertiary lignite sand from an aquifer in northern Germany. As a response to warming, redox conditions shifted from NO 3 − - (10 °C) to NO 3 − - and Fe(III)-reduction (at 25 and 40 °C).
Increasing groundwater temperatures also cause shifts within the microbial community structure. This was shown for example for an aquifer impacted by a closed-loop GSHP system in New Jersey (USA) (Sowers et al. 2006 ). Although limited to culturable bacteria, the outcomes from two sampling campaigns (1997 and 2005) suggested pronounced changes in the microbial community structure. Warming-induced shifts in microbial communities and dominant metabolic pathways were further observed for two Quaternary alluvial aquifers in southern Germany (Munich and Freising), representing eutrophic and oligotrophic aquifer systems, respectively (Brielmann et al. 2009 , 2011 ; Griebler et al. 2016 ). Here, warming resulted in complex changes within the aquifers, comprising the chemical composition (e.g., depletion in DO), the microbial biodiversity and community composition as well as metabolic processes and finally ecosystem functions. Specifically, the diversity of aquifer microbial communities increased with warmer temperatures and the microbial community structure changed. Whereas natural ground water temperatures of 10–12 °C provided ideal living conditions for psychrophile und psychrotolerant microorganisms, warming to 15—20 °C fostered the prevalence of mesophile species. Importantly, microbial biomass and activities were found to additionally depend on the availability of nutrients and substrates (e.g., OM, P). When groundwater temperatures exceeded 20 °C, P limitation occurred due to an increase in metabolic activities and an associated demand in essential nutrients. Thus, not only the relative changes in groundwater temperatures are important in regard to the water quality, but also absolute temperatures that are reached.
Impact on water quality
One major change in groundwater properties arising from an increase in microbial metabolic activity is the shift from oxic to anoxic conditions (Stumm and Sulzberger 1992 ). In addition to the consumption of DO by microorganisms, warming of groundwater also reduces the solubility of oxygen in infiltrating water. A gradually decreasing O 2 saturation (on average − 0.24% a −1 ) parallel to rising groundwater temperatures (+ 0.012 K a −1 ) was observed by Riedel ( 2019 ) for groundwater in southern Germany. Furthermore, a temporary DO depletion in groundwater was reported for shallow floodplain aquifers used for RBF. For example, an exceptionally hot and dry summer in 2003 caused a temporary temperature increase close to 20 °C in groundwater of the Lower Rhine Valley (Germany), which was accompanied by an approximately four months long decline in DO concentrations to below 1 mg L −1 (Eckert et al. 2008 ). Similar observations were made in 2003 for the River Thur (Switzerland), where an increase in microbial activity resulted in DO depletion in groundwater near the river (Hoehn and Scholtis 2011 ). The impact of rising groundwater temperatures on DO during summer months was further observed in shallow groundwater below stormwater infiltration basins (Datry et al. 2004 ; Foulquier et al. 2009 ). Thus, temperature-induced changes in surface waters that precede groundwater recharge can further enhance DO depletion in shallow unconfined aquifers, which is particularly important during the summer months.
Note that groundwater warming and an associated shift from oxic to anoxic conditions is highly problematic for groundwater invertebrates. Field observations and controlled experiments showed that species-dependent threshold values exist regarding groundwater temperatures and DO concentrations (Brielmann et al. 2011 ; Foulquier et al. 2011 ; Griebler 2015 ). For example, no invertebrates were found in shallow groundwater of a stormwater infiltration site when the DO declined to below 0.5 mg L −1 (Foulquier et al. 2011 ).
The enhanced microbial mineralization of OM is accompanied by the release of CO 2 as a byproduct, which raises in turn the CO 2 partial pressure (pCO 2 ) and causes a subsequent decline in pH (Hoehn and Scholtis 2011 ). This was observable in southern Germany, where rising groundwater temperatures (on average, + 0.012 K a −1 ) were found to be negatively correlated with pH values (-0.003 a −1 ) (Riedel 2019 ). This observation was further in line with the outcomes of laboratory incubation experiments, which used original aquifer material from an ATES site (Brons et al. 1991 ). Here, controlled temperature increases resulted in CO 2 production from the microbial mineralization of OM, which finally caused a decrease in pH.
A decreasing pH results in turn in the dissolution of calcite and the release of dissolved Ca 2+ into groundwater (McDonough et al. 2020 ). Furthermore, pH-controlled silicate dissolution and an associated release of Si and K + has been observed in field (Saito et al. 2016 ) as well as laboratory warming experiments (Arning et al. 2006 ; Bonte et al. 2013b ). Enhanced mineral weathering resulting from a decreasing pH has also been attributed an increase in geogenic contaminants such as F − (Riedel 2019 ), which can ultimately lead to a deterioration in groundwater quality.
Microbial mineralization of OM may also cause a depletion of TEA and subsequently a decrease in the redox potential. A change in the redox potential toward more reducing conditions is further modifying the mobility of toxic trace elements. Here, Mn 2+ is of particular importance as chronic overexposure was found to be associated with neurotoxic health effects in humans (O'Neal and Zheng 2015 ) as well as negative effects in aquatic organisms (Peters et al. 2011 ). The removal of Mn 2+ during water treatment requires additional efforts and therefore costs (Tobiason et al. 2016 ). Reduced Mn 2+ is easily released into groundwater due to microbial redox reactions as soon as anoxic conditions are reached, which is often associated with shallow aquifers that are prone to warming impacts (Riedel 2019 ).
Warming-induced Mn 2+ releases into groundwater have been well-documented at RBF sites, where the raw water composition is closely monitored. For example, substantial increases in dissolved Mn 2+ concentrations from below 0.1 to above 0.6 mg L −1 were observable during the 2015 summer at the Waterworks Dresden-Tolkewitz (East Germany), when river-water temperatures rose to over 20 °C for three months (Paufler et al. 2018 ). (Paufler et al. 2018 ). Moreover, Mn 2+ concentrations were found to be constrained by sorption as well as (re-)oxidation and precipitation of Mn-oxides along the groundwater flow path due to changing hydrogeochemical conditions. Similarly, Mn 2+ concentrations in groundwater at the Lot River (France) were found to be positively correlated to the water temperature (Bourg and Bertin 1994 ). Here, a threshold groundwater temperature of 10 °C was reported that triggered microbial Mn(IV)-reduction.
Due to the pollution of the river Rhine with degradable dissolved organic substances in the 1970s, connected floodplain aquifers also became extensively anoxic, leading in turn to considerable increases in dissolved Mn 2+ as observed from 1968 on at Düsseldorf (Germany) (Kübeck et al. 2009 ). As the water quality of the Rhine improved, Mn 2+ concentrations in shallow groundwater decreased sharply from 1988. Thus, changes in the river water composition can be also relevant regarding the quality of associated groundwater bodies in addition to increasing temperatures (Sprenger et al. 2011 ). On the other hand, the river water composition, especially DO concentrations, are increasingly impacted by warming (Ducharne 2008 ; Whitehead et al. 2009 ), which will in turn impact redox conditions in shallow floodplain aquifers.
Local shifts toward anoxic conditions during summer months reaching Mn(IV)- and even Fe(III)-reducing conditions were reported from stormwater infiltration basins (Fischer et al. 2003 ; Massmann et al. 2006 ). The reductive dissolution of Mn(IV)- and Fe(III)-(hydr)oxides may also release other problematic geogenic trace elements such as As or P, which are either sorbed to the mineral surfaces or are incorporated as impurities within the crystal lattices (Borch et al. 2010 ; Neidhardt et al. 2021 ).
Furthermore, warming-induced releases of trace elements into groundwater have been observed in several field and laboratory experiments, comprising a wide range of temperatures and elements such as B, Li, As, Mo, V, P, Sb, Ba, Co, Tl, Mn, and U (Bonte et al. 2013a , b , 2011 ; Lüders et al. 2020 ; Saito et al. 2016 ). While the reductive dissolution of Mn(IV)- and Fe(III)-(hydr)oxides was generally considered as principal mobilization mechanism for these elements, several authors argued that temperature-dependent cation exchange as well as anion desorption may have also been involved (Bonte et al. 2013b ; Lüders et al. 2020 ; Saito et al. 2016 ). The latter is of relevance for all elements that form oxyanions, comprising As, V, Mo and P. Knowledge of the release mechanisms involved is important because some (i.e. the release of cations and anions through adsorption reactions) are reversible if groundwater temperatures should decline (Lüders et al. 2020 ).
Warming may also provide ideal conditions for the degradation of organic pollutants (Cavelan et al. 2022 ; Popp et al. 2015 ). For example, the outcomes of a microcosm experiment using contaminated soil and aquifer material showed that warming did not only result in a shift in the composition and activity of microbial communities, but also in an increased degradation of aromatic hydrocarbons (Zeman et al. 2014 ).
In addition to the previously mentioned impacts of warming on abiotic processes (e.g., ion exchange, desorption, and solubility of minerals and gases, see Table 2 ), rising water temperatures also influence various hydrogeological properties like water density and viscosity. While these properties influence groundwater flow velocity and contaminant transport, it can be assumed that their combined effects on groundwater quality are only minor compared to the direct impact of biogeochemical processes.
A summary of groundwater warming and its impacts on biogeochemical processes and water quality in aquifers is provided in Fig.  1 and Table 2 . For a detailed overview of publications reporting on impacts of warming on groundwater the reader is referred to Table 3 . The studies presented cover a wider range of methodological approaches and are based on groundwater monitoring data from regular aquifers, systems particularly influenced by warming effects (RBF, ATES and MAR sites) and temperature manipulation experiments in the field and in the laboratory. Note that the studies presented all share a pronounced spatial focus on regions in Europe and northern America. However, the consequences of warming on biogeochemical reactions and microbial communities can largely be applied to aquifers in general.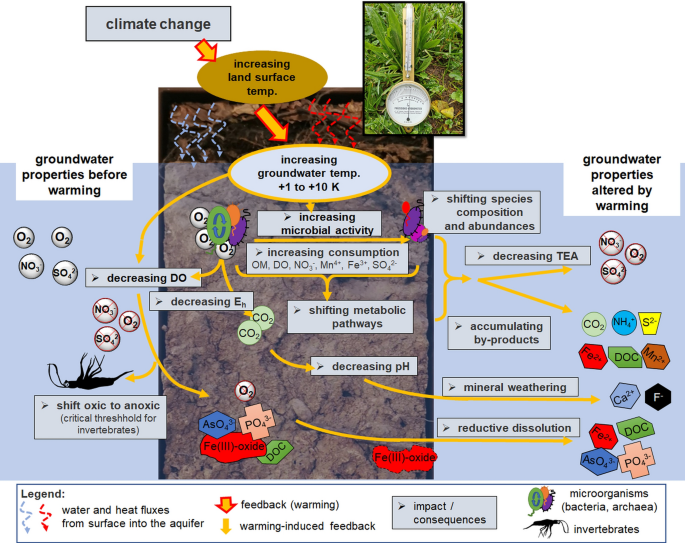 Conceptual overview how groundwater warming impacts on water properties and biogeochemical processes. DO dissolved oxygen, DOC dissolved organic carbon, TEA terminal electron acceptor, OM organic matter, E h redox potential, temp. temperature
Aquifers affected by groundwater warming
Changing groundwater temperatures at a regional scale.
Current and future temperature changes and associated consequences for aquifers are highly variable for different climatic regions. In the vast cold regions of the Arctic and Antarctic tundra as well as in parts of the boreal coniferous forests, increases in surface temperatures already clearly exceed the global average (Anisimov and Nelson 1996 ; Pörtner et al. 2022 ; Romanovsky et al. 2019 ). In the Russian Arctic, Alaska and Arctic Canada, average ground temperatures rose during the last three to four decades with a rate of 0.1–1.4 K decade −1 (Biskaborn et al. 2019 ; Pörtner et al. 2022 ; Romanovsky et al. 2019 ). This regional pattern will further accelerate during the next decades according to modeling predictions. For example, under the business as usual scenario (RCP8.5), GCM projections predict most pronounced temperatures increases in the 2090s for countries with boreal forests (i.e. Canada with 5.44 °C followed by Finland 5.37 °C (Lee et al. 2019 )). Due to the close relationship of land surface and groundwater temperatures (Benz et al. 2017 ), similar regional warming patterns can be expected for shallow groundwater.
Groundwater warming in temperate regions has been documented by some few previously mentioned studies (Hemmerle and Bayer 2020 ; Riedel 2019 ). So far, observed temperature increases in shallow groundwater closely followed the average global land surface warming. It is therefore reasonable to expect similar warming patterns for temperate aquifers in the near future. However, temperatures in Europe have increased more than twice the global average during the 1991–2021 period (WMO 2022 ). Therefore, many temperate aquifers are also likely to be affected by warming above the global average.
In dry regions, the impact of climate change-induced warming on groundwater temperatures should be less and also slower due to a generally lower and more episodic recharge as compared to temperate regions (Opie et al. 2020 ). However, these considerations only apply to anthropogenically undisturbed catchments. The impact of irrigation on temperatures of shallow groundwater can be severe in dry regions, which artificially increases recharge during summer with warm water (Riedel 2019 ).
For tropic regions, information on groundwater warming is scarce. Available data mainly originates from densely populated urban areas, showing an additional warming due to anthropogenic heat fluxes (heat island effects, see Taniguchi et al. 2007 ).
In sum, current and future groundwater warming at a regional scale may largely exceed global average warming, especially in regions of high latitudes, dry regions under irrigation as well as densely populated areas. However, there is a considerable lack of case studies to estimate warming impacts as well associated consequences for groundwater quality at regional scales.
Aquifers vulnerable to warming-induced changes in groundwater quality
The impacts of warming on groundwater resources may vary spatially, in both vertical (local scale) and horizontal (regional scale) extent. At the local scale, shallow and unconfined aquifer systems and fractured rock aquifers respond faster to groundwater warming as deeper and confined aquifers (Cavelan et al. 2022 ; Hemmerle and Bayer 2020 ). In addition, from a microbial point of view, organic-rich aquifers are especially sensitive to temperature changes, comprising anthropogenically contaminated urban or agricultural areas as well as natural alluvial floodplains. Here, a temperature increase of only a few K can already lead to an increased turnover of OM and related DO depletion, which strongly affects the local groundwater fauna (Griebler 2015 ).
At the regional scale, groundwater systems in continental northern latitudes or alpine regions (e.g. Canada, Scandinavia, Russia) are especially sensitive to warming, where aquifers are heavily impacted by thawing permafrost (Haldorsen et al. 2012 ). Assuming a + 2 K global warming under the RCP8.5 scenario, about one-third of the permafrost will disappear during the next decades (Kong and Wang 2017 ; Wang et al. 2019 ), which fundamentally alters the local hydrology by modifying for example recharge and groundwater tables (Haldorsen et al. 2012 ; Walvoord and Kurylyk 2016 ; Walvoord and Striegl 2007 ). Consequently, entire aquifer systems are being (re-)activated (Bense et al. 2009 ), facilitating microbial activities and associated biogeochemical redox processes (Cochand et al. 2019 ; Pi et al. 2021 ). For example, the microbial mineralization of the often considerable OM stocks results in a rapid depletion in DO triggering in turn anoxic biogeochemical reactions, which release nutrients (P) and toxic trace elements into the groundwater (Bonte et al. 2013b ; Pi et al. 2021 ). Permafrost thawing and (re-)activation of dormant groundwater systems may also feedback on surface waters, increasing for example the export of DOC and DON (dissolved organic nitrogen) into rivers (Walvoord and Striegl 2007 ). Despite the pronounced consequences of permafrost thawing for groundwater quality, only few field studies provided detailed insights into the underlying processes and spatial extent so far (Cochand et al. 2019 ).
Aquifers in temperate and humid regions may also react fast to changing land surface temperatures as observed for several aquifers in Europe (Bense and Kurylyk 2017 ; Bloomfield and Jackson 2013 ; Hemmerle and Bayer 2020 ). Here, temperature thresholds can be locally reached that lead to a shift in microbial communities and associated redox processes (Griebler et al. 2016 ). However, further field-based verification is required to assess the spatial extent of the aquifers affected.
A schematic overview of the estimated vulnerability of aquifers to warming within different climatic regions is provided in Fig.  2 . Here, the aspect "cold" comprises regions at high altitudes as well as high latitudes, whereas "dry" includes regions with an aridity index of < 0.65 (Middleton and Thomas 1997 ). "Shallow" and "deep" refer to the depth below ground (< 60 and > 60 m, respectively). "Unconfined" conditions usually apply to shallow and porous floodplain aquifers or fractured aquifer systems, whereas "confined" aquifers are often found in floodplains and river deltas, where clayey and loamy deposits form confining layers. The properties "eutrophic" (i.e. nutrient-rich) and "oligotrophic" (nutrient-poor) are related to groundwater quality. For example, shallow oligotrophic aquifers are sensitive to increasing water temperatures, but warming has only little impact on the water quality as microbial activities are limited by a low nutrient availability. Eutrophic but confined aquifers are only minor susceptible to warming and warming-induced quality changes due to slow recharge.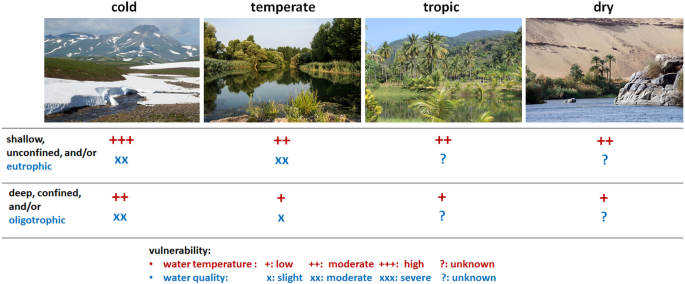 Schematic overview illustrating the vulnerability of aquifers in different climatic regions to warming-induced changes in groundwater temperature (red text) and quality (blue text). Photographs by Pixabay
In sum, aquifers can be considered vulnerable either due to (i) pronounced absolute increases in groundwater temperatures (e.g. organic-rich unconfined shallow alluvial aquifers), or (ii) significant changes that arise even from small temperature increases (as for example in permafrost regions).
The effects of climate change-induced warming on groundwater temperature (Sect. 2) and groundwater quality (Sect. 3) are already visible in groundwater monitoring data sets. So far, groundwater temperatures have risen by up to + 1 K compared to pre-industrial times and will likely rise up to + 10 K on a local to regional scale by the end of the twenty-first century.
Changes in groundwater quality due to rising temperatures are driven by a number of closely interrelated, temperature-sensitive biogeochemical processes, with microbial activity playing a central role. From the perspective of water work operators, resulting changes in groundwater quality are not (yet) problematic, but the transition from oxic to anoxic conditions marks a critical threshold for all groundwater organisms that depend on the availability of oxygen.
There is also a pronounced temporal aspect to warming-related impacts on groundwater. In addition to gradual long-term warming trends, short-term impacts on shallow alluvial aquifers become increasingly important as the frequency of weather extremes and especially dry spells increases globally. The resulting short-term impacts are especially relevant regarding the operation of RBS systems as well as MAR sites.
Importantly, not all groundwater bodies are equally vulnerable to warming and resulting quality changes (Sect. 4). Deep, confined and/or nutrient-poor aquifers are far more robust to warming and associated water quality deteriorations as compared to shallow, unconfined and nutrient-rich groundwater bodies. In addition, some regions are more vulnerable to groundwater warming than others. For example, large areas in the northern latitudes are currently affected by the thawing of permafrost, which has a strong impact on the groundwater systems there. Warming-induced impacts on groundwater quality may also overlap with other environmental changes such as water table fluctuations (induced by changing recharges, pumping activities or land use changes) or sea-water intrusion.
Knowledge gaps and future challenges
The importance of understanding and predicting ongoing changes in groundwater systems cannot be overstated. However, there is a pronounced lack of studies that evaluate long-term monitoring data sets in terms of warming-induced impacts. The scarce amount of published studies contrasts with the meticulously collection of data over often decades by many authorities, waterworks or environmental protection agencies. To identify and tackle upcoming changes in groundwater quality, we require solid baseline data. Furthermore, the studies published so far had a strong regional focus on Europe and northern America. Thus, there is a systematic lack of information on main aquifer types in different climatic regions. Finally, we generally lack knowledge regarding the impact of warming on microbial communities and the complex biogeochemical interactions they maintain in groundwater ecosystems.
To tackle these knowledge gaps, we suggest:
Consequent evaluation of long-term monitoring data sets, ideally following the principles of open data.
Installation and operation of international monitoring sites, especially in remote areas.
Combination of remote sensing products with groundwater monitoring data and spatial modeling approaches.
Truly interdisciplinary research approaches that cover basic physico-chemical properties of groundwater as well as microbiological parameters.
Since most of the temperature-dependent processes affecting groundwater quality are not or only very slowly reversable, we urgently need comprehensive knowledge about the changes currently taking place before it is too late to develop appropriate countermeasures and management strategies.
Data availability
All necessary data are presented in the document.
Abbreviations
Aquifer thermal energy storage
Degree celsius
Coupled Model Intercomparison Project Phase 6
Dissolved oxygen
Dissolved organic carbon
Dissolved organic nitrogen
Redox potential
General Circulation Models
Ground source heat pump
Groundwater heat pump
Intergovernmental Panel on Climate Change
Light non-aqueous phase liquids
Land surface temperature
Managed artificial recharge
Mean annual air temperature
Organic matter
CO 2 partial pressure
Riverbank filtration
Representative Concentration Pathway
Shared Socioeconomic Pathways Scenario
Trichloroethene
Amanambu AC, Obarein OA, Mossa J, Li L, Ayeni SS, Balogun O, Oyebamiji A, Ochege FU (2020) Groundwater system and climate change: present status and future considerations. J Hydrol 589:125163
Article   Google Scholar  
Anisimov OA, Nelson FE (1996) Permafrost distribution in the Northern Hemisphere under scenarios of climatic change. Global Planet Change 14:59–72
Arning E, Kölling M, Schulz H, Panteleit B, Reichling J (2006) Einfluss oberflächennaher Wärmegewinnung auf geochemische Prozesse im Grundwasserleiter. Grundwasser 11:27–39
Bense VF, Kurylyk BL (2017) Tracking the subsurface signal of decadal climate warming to quantify vertical groundwater flow rates. Geophys Res Lett 44:12,244-212,253
Bense V, Ferguson G, Kooi H (2009) Evolution of shallow groundwater flow systems in areas of degrading permafrost. Geophys Res Lett 36:L22401
Benz SA, Bayer P, Blum P (2017) Global patterns of shallow groundwater temperatures. Environ Res Lett 12:034005
Benz SA, Bayer P, Blum P, Hamamoto H, Arimoto H, Taniguchi M (2018a) Comparing anthropogenic heat input and heat accumulation in the subsurface of Osaka, Japan. Sci Total Environ 643:1127–1136
Benz SA, Bayer P, Winkler G, Blum P (2018b) Recent trends of groundwater temperatures in Austria. Hydrol Earth Syst Sc 22:3143–3154
Biskaborn BK, Smith SL, Noetzli J, Matthes H, Vieira G, Streletskiy DA, Schoeneich P, Romanovsky VE, Lewkowicz AG, Abramov A (2019) Permafrost is warming at a global scale. Nat Commun 10:1–11
Bloomfield JP, Jackson CR, Stuart ME (2013) Changes in groundwater levels, temperature and quality in the UK over the 20th century: an assessment of evidence of impacts from climate change. https://nora.nerc.ac.uk/id/eprint/503271/1/1%20Groundwater%20levels%2C%20temperature%20and%20quality.pdf
Bonte M, Stuyfzand P, Van den Berg G, Hijnen W (2011) Effects of aquifer thermal energy storage on groundwater quality and the consequences for drinking water production: a case study from the Netherlands. Water Sci Technol 63:1922–1931
Bonte M, Röling WF, Zaura E, van der Wielen PW, Stuyfzand PJ, van Breukelen BM (2013a) Impacts of shallow geothermal energy production on redox processes and microbial communities. Environ Sci Technol 47:14476–14484
Bonte M, van Breukelen BM, Stuyfzand PJ (2013b) Temperature-induced impacts on groundwater quality and arsenic mobility in anoxic aquifer sediments used for both drinking water and shallow geothermal energy production. Water Res 47:5088–5100
Borch T, Kretzschmar R, Kappler A, Cappellen PV, Ginder-Vogel M, Voegelin A, Campbell K (2010) Biogeochemical redox processes and their impact on contaminant dynamics. Environ Sci Technol 44:15–23
Bourg AC, Bertin C (1994) Seasonal and spatial trends in manganese solubility in an alluvial aquifer. Environ Sci Technol 28:868–876
Brielmann H, Griebler C, Schmidt SI, Michel R, Lueders T (2009) Effects of thermal energy discharge on shallow groundwater ecosystems. FEMS Microbiol Ecol 68:273–286
Brielmann H, Lueders T, Schreglmann K, Ferraro F, Avramov M, Hammerl V, Blum P, Bayer P, Griebler C (2011) Shallow geothermal energy usage and its potential impacts on groundwater ecosystems. Grundwasser 16:77–91
Brons H, Griffioen J, Appelo C, Zehnder A (1991) (Bio) geochemical reactions in aquifer material from a thermal energy storage site. Water Res 25:729–736
Burns ER, Zhu Y, Zhan H, Manga M, Williams CF, Ingebritsen SE, Dunham JB (2017) Thermal effect of climate change on groundwater-fed ecosystems. Water Resour Res 53:3341–3351
Cavelan A, Golfier F, Colombano S, Davarzani H, Deparis J, Faure P (2022) A critical review of the influence of groundwater level fluctuations and temperature on LNAPL contaminations in the context of climate change. Sci Total Environ 806:150412
Cochand M, Molson J, Lemieux JM (2019) Groundwater hydrogeochemistry in permafrost regions. Permafr Periglac 30:90–103
Cogswell C, Heiss JW (2021) Climate and seasonal temperature controls on biogeochemical transformations in unconfined coastal aquifers. J Geophys Res Biogeosci 126:e2021JG006605
Costa D, Zhang H, Levison J (2021) Impacts of climate change on groundwater in the Great Lakes Basin: a review. J Great Lakes Res 47:1613–1625
Datry T, Malard F, Gibert J (2004) Dynamics of solutes and dissolved oxygen in shallow urban groundwater below a stormwater infiltration basin. Sci Total Environ 329:215–229
Dillon P, Stuyfzand P, Grischek T, Lluria M, Pyne R, Jain R, Bear J, Schwarz J, Wang W, Fernandez E (2019) Sixty years of global progress in managed aquifer recharge. Hydrogeol J 27:1–30
Doughty C, Hellström G, Tsang CF, Claesson J (1982) A dimensionless parameter approach to the thermal behavior of an aquifer thermal energy storage system. Water Resour Res 18:571–587
Du Y, Deng Y, Ma T, Xu Y, Tao Y, Huang Y, Liu R, Wang Y (2020) Enrichment of geogenic ammonium in quaternary alluvial-lacustrine aquifer systems: evidence from carbon isotopes and DOM characteristics. Environ Sci Technol 54:6104–6114
Ducharne A (2008) Importance of stream temperature to climate change impact on water quality. Hydrol Earth Syst Sci 12:797–810
Earman S, Dettinger M (2011) Potential impacts of climate change on groundwater resources—a global review. J Water Clim Change 2:213–229
Eckert P, Lamberts R, Wagner C (2008) The impact of climate change on drinking water supply by riverbank filtration. Water Sci Technol 8:319–324
Google Scholar  
Figura S, Livingstone DM, Hoehn E, Kipfer R (2011) Regime shift in groundwater temperature triggered by the Arctic Oscillation. Geophys Res Lett 38:L23401
Fischer D, Charles EG, Baehr AL (2003) Effects of stormwater infiltration on quality of groundwater beneath retention and detention basins. J Environ Eng 129:464–471
Foulquier A, Malard F, Barraud S, Gibert J (2009) Thermal influence of urban groundwater recharge from stormwater infiltration basins. Hydrol Process 23:1701–1713
Foulquier A, Malard F, Mermillod-Blondin F, Montuelle B, Dolédec S, Volat B, Gibert J (2011) Surface water linkages regulate trophic interactions in a groundwater food web. Ecosystems 14:1339–1353
Goldscheider N, Hunkeler D, Rossi P (2006) Review: microbial biocenoses in pristine aquifers and an assessment of investigative methods. Hydrogeol J 14:926–941
Green TR, Taniguchi M, Kooi H, Gurdak JJ, Allen DM, Hiscock KM, Treidel H, Aureli A (2011) Beneath the surface of global change: impacts of climate change on groundwater. J Hydrol 405:532–560
Griebler C, Malard F, Lefébure T (2014) Current developments in groundwater ecology—from biodiversity to ecosystem function and services. Curr Opin Biotechnol 27:159–167
Griebler C, Brielmann H, Haberer CM, Kaschuba S, Kellermann C, Stumpp C, Hegler F, Kuntz D, Walker-Hertkorn S, Lueders T (2016) Potential impacts of geothermal energy use and storage of heat on groundwater quality, biodiversity, and ecosystem processes. Environ Earth Sci 75:1–18
Griebler C, Avramov M, Hose G (2019) Groundwater ecosystems and their services: current status and potential risks. In: Schröter M, Bonn A, Klotz S, Seppelt R, Baessler C (eds) Atlas of ecosystem services: drivers, risks, and societal responses. Springer, Cham, pp 197–203
Chapter   Google Scholar  
Griebler C (2015) Auswirkungen thermischer Veränderungen infolge der Nutzung oberflächennaher Geothermie auf die Beschaffenheit des Grundwassers und seiner Lebensgemeinschaften: Empfehlungen für eine umweltverträgliche Nutzung. Umweltbundesamt. https://www.umweltbundesamt.de/sites/default/files/medien/378/publikationen/texte_54_2015_auswirkungen_thermischer_veraenderungen_infolge_der_nutzung_obenflaechennaher_geothermie_0.pdf
Gunawardhana LN, Kazama S (2012) Statistical and numerical analyzes of the influence of climate variability on aquifer water levels and groundwater temperatures: The impacts of climate change on aquifer thermal regimes. Global Planet Change 86:66–78
Hahn HJ (2006) The GW-Fauna-Index: a first approach to a quantitative ecological assessment of groundwater habitats. Limnologica 36:119–137
Haldorsen S, Heim M, van der Ploeg M (2012) Impacts of climate change on groundwater in permafrost areas: case study from Svalbard, Norway. In: Treidel H, Martin-Bordes JL, Gurdak JJ (eds) Climate change effects on groundwater resources: a global synthesis of findings and recommendations. CRC Press, pp 323–340
Hansen J, Sato M (2016) Regional climate change and national responsibilities. Environ Res Lett 11:034009
Hemmerle H, Bayer P (2020) Climate change yields groundwater warming in Bavaria, Germany. Front Earth Sci 523
Hoehn E, Scholtis A (2011) Exchange between a river and groundwater, assessed with hydrochemical data. Hydrol Earth Syst Sci 15:983–988
Humphreys WF (2009) Hydrogeology and groundwater ecology: does each inform the other? Hydrogeol J 17:5–21
Jesußek A, Grandel S, Dahmke A (2013) Impacts of subsurface heat storage on aquifer hydrogeochemistry. Environ Earth Sci 69:1999–2012
Johnson T, Butcher J, Santell S, Schwartz S, Julius S, LeDuc S (2022) A review of climate change effects on practices for mitigating water quality impacts. J Water Clim Change 13:1684–1705
Jyväsjärvi J, Marttila H, Rossi PM, Ala-Aho P, Olofsson B, Nisell J, Backman B, Ilmonen J, Virtanen R, Paasivirta L (2015) Climate-induced warming imposes a threat to north European spring ecosystems. Global Change Biol 21:4561–4569
Kløve B, Ala-Aho P, Bertrand G, Gurdak JJ, Kupfersberger H, Kværner J, Muotka T, Mykrä H, Preda E, Rossi P (2014) Climate change impacts on groundwater and dependent ecosystems. J Hydrol 518:250–266
Kong Y, Wang C-H (2017) Responses and changes in the permafrost and snow water equivalent in the Northern Hemisphere under a scenario of 1.5 C warming. Adv Clim Change Res 8:235–244
Kübeck C, Hansen C, Bergmann A, Kamphausen S, König C, van Berk W (2009) Model based raw water quality management–manganese mobilization induced by bank filtration. Clean: Soil, Air, Water 37:945–954
Kurylyk BL, Bourque C-A, MacQuarrie KT (2013) Potential surface temperature and shallow groundwater temperature response to climate change: an example from a small forested catchment in east-central New Brunswick (Canada). Hydrol Earth Syst Sci 17:2701–2716
Kurylyk BL, MacQuarrie KT, Voss CI (2014) Climate change impacts on the temperature and magnitude of groundwater discharge from shallow, unconfined aquifers. Water Resour Res 50:3253–3274
Lee J-Y, Hahn J-S (2006) Characterization of groundwater temperature obtained from the Korean national groundwater monitoring stations: implications for heat pumps. J Hydrol 329:514–526
Lee JY, Kim H, Gasparrini A, Armstrong B, Bell ML, Sera F, Lavigne E, Abrutzky R, Tong S, Coelho MdSZS (2019) Predicted temperature-increase-induced global health burden and its regional variability. Environ Int 131:105027
Lüders K, Dahmke A, Fiedler M, Köber R (2020) Temperature influence on mobilization and (re) fixation of trace elements and heavy metals in column tests with aquifer sediments from 10 to 70° C. Water Res 169:115266
Margat J, Van der Gun J (2013) Groundwater around the world: a geographic synopsis. CRC Press, Boca Raton
Book   Google Scholar  
Massmann G, Greskowiak J, Dünnbier U, Zuehlke S, Knappe A, Pekdeger A (2006) The impact of variable temperatures on the redox conditions and the behavior of pharmaceutical residues during artificial recharge. J Hydrol 328:141–156
Masson-Delmotte V, Zhai P, Pirani A, Connors SL, Péan C, Berger S, Caud N, Chen Y, Goldfarb L, Gomis M (2021) Climate change 2021: the physical science basis. Contribution of working group I to the sixth assessment report of the intergovernmental panel on climate change, 2
McDonough LK, Santos IR, Andersen MS, O'Carroll DM, Rutlidge H, Meredith K, Oudone P, Bridgeman J, Gooddy DC, Sorensen JP (2020) Changes in global groundwater organic carbon driven by climate change and urbanization. Nat Commun 11:1–10
Menberg K, Blum P, Kurylyk BL, Bayer P (2014) Observed groundwater temperature response to recent climate change. Hydrol Earth Syst Sci 18:4453–4466
Middleton N, Thomas D (1997) World atlas of desertification, 2nd edn. Hodder Headline, PLC, Arnold
Neidhardt H, Rudischer S, Eiche E, Schneider M, Stopelli E, Duyen VT, Trang PTK, Viet PH, Neumann T, Berg M (2021) Phosphate immobilization dynamics and interaction with arsenic sorption at redox transition zones in floodplain aquifers: insights from the Red River Delta, Vietnam. J Hazard Mater 411:125128
O'Neal SL, Zheng W (2015) Manganese toxicity upon overexposure: a decade in review. Curr Environ Health Rep 2:315–328
Opie S, Taylor RG, Brierley CM, Shamsudduha M, Cuthbert MO (2020) Climate–groundwater dynamics inferred from GRACE and the role of hydraulic memory. Earth Syst Dyn 11:775–791
Partey F, Norman D, Ndur S, Nartey R (2008) Arsenic sorption onto laterite iron concretions: temperature effect. J Colloid Interface Sci 321:493–500
Paufler S, Grischek T, Benso MR, Seidel N, Fischer T (2018) The impact of river discharge and water temperature on manganese release from the riverbed during riverbank filtration: a case study from Dresden, Germany. Water 10:1476
Perrier F, Le Mouël JL, Poirier JP, Shnirman M (2005) Long-term climate change and surface versus underground temperature measurements in Paris. Int J Climatol 25:1619–1631
Peters A, Lofts S, Merrington G, Brown B, Stubblefield W, Harlow K (2011) Development of biotic ligand models for chronic manganese toxicity to fish, invertebrates, and algae. Environ Toxicol Chem 30:2407–2415
Pi K, Bieroza M, Brouchkov A, Chen W, Dufour L, Gongalsky KB, Herrmann A, Krab E, Landesman C, Laverman AM (2021) The cold region critical zone in transition: responses to climate warming and land use change. Annu Rev Environ Resour 46:111–134
Popp S, Beyer C, Dahmke A, Bauer S (2015) Model development and numerical simulation of a seasonal heat storage in a contaminated shallow aquifer. Energy Procedia 76:361–370
Pörtner HO, Roberts DC, Adams H, Adler C, Aldunce P, Ali E, Begum RA, Betts R, Kerr RB, Biesbroek R (2022) Climate change 2022: impacts, adaptation and vulnerability. IPCC Sixth Assessment Report. https://www.ipcc.ch/report/ar6/wg2/
Ray C, Grischek T, Schubert J, Wang JZ, Speth TF (2002) A perspective of riverbank filtration. J Am Water Works Assoc 94:149–160
Riedel T (2019) Temperature-associated changes in groundwater quality. J Hydrol 572:206–212
Ripple WJ, Wolf C, Gregg JW, Levin K, Rockström J, Newsome TM, Betts MG, Huq S, Law BE, Kemp L, Kalmus P, Lenton TM (2022) World scientists' warning of a climate emergency 2022. Bioscience 1149–1155
Rivett MO, Buss SR, Morgan P, Smith JWN, Bemment CD (2008) Nitrate attenuation in groundwater: A review of biogeochemical controlling processes. Water Res 42:4215–4232
Romanovsky V, Smith S, Isaksen K, Shiklomanov N, Streletskiy D, Kholodov A, Christiansen H, Drozdov D, Malkova G, Marchenko S (2019) Terrestrial permafrost [in "State of the Climate in 2018"]. Bull Am Meteorol Soc 100
Russo SL, Taddia G, Verda V (2012) Development of the thermally affected zone (TAZ) around a groundwater heat pump (GWHP) system: a sensitivity analysis. Geothermics 43:66–74
Saito T, Hamamoto S, Ueki T, Ohkubo S, Moldrup P, Kawamoto K, Komatsu T (2016) Temperature change affected groundwater quality in a confined marine aquifer during long-term heating and cooling. Water Res 94:120–127
Schubert J (2002) Hydraulic aspects of riverbank filtration—field studies. J Hydrol 266:145–161
Sharma L, Greskowiak J, Ray C, Eckert P, Prommer H (2012) Elucidating temperature effects on seasonal variations of biogeochemical turnover rates during riverbank filtration. J Hydrol 428:104–115
Sowers L, York KP, Stiles L (2006) Impact of thermal buildup on groundwater chemistry and aquifer microbes. Proc Ecostock 1–7
Sprenger C, Lorenzen G, Hülshoff I, Grützmacher G, Ronghang M, Pekdeger A (2011) Vulnerability of bank filtration systems to climate change. Sci Total Environ 409:655–663
Stuart M, Jackson C, Bloomfield J (2010) Preliminary analysis of trends in UK groundwater temperature measurements from England and Wales. British Geological Survey Internal Report IR/10/033
Stumm W, Sulzberger B (1992) The cycling of iron in natural environments: considerations based on laboratory studies of heterogeneous redox processes. Geochim Cosmochim Acta 56:3233–3257
Taniguchi M, Uemura T, Jago-on K (2007) Combined effects of urbanization and global warming on subsurface temperature in four Asian cities. Vadose Zone J 6:591–596
Taylor CA, Stefan HG (2009) Shallow groundwater temperature response to climate change and urbanization. J Hydrol 375:601–612
Taylor RG, Scanlon B, Döll P, Rodell M, Van Beek R, Wada Y, Longuevergne L, Leblanc M, Famiglietti JS, Edmunds M (2013) Ground water and climate change. Nat Clim Change 3:322–329
Tobiason JE, Bazilio A, Goodwill J, Mai X, Nguyen C (2016) Manganese removal from drinking water sources. Curr Pollut Rep 2:168–177
UN (2022) The United Nations world water development report 2022. United Nations Paris
Walvoord MA, Kurylyk BL (2016) Hydrologic impacts of thawing permafrost—a review. Vadose Zone J 15:1–20
Walvoord MA, Striegl RG (2007) Increased groundwater to stream discharge from permafrost thawing in the Yukon River basin: potential impacts on lateral export of carbon and nitrogen. Geophys Res Lett 34:L12402
Wang C, Wang Z, Kong Y, Zhang F, Yang K, Zhang T (2019) Most of the northern hemisphere permafrost remains under climate change. Sci Rep 9:1–10
Welch SA, Ullman WJ (2000) The temperature dependence of bytownite feldspar dissolution in neutral aqueous solutions of inorganic and organic ligands at low temperature (5–35 C). Chem Geol 167:337–354
Whitehead PG, Wilby RL, Battarbee RW, Kernan M, Wade AJ (2009) A review of the potential impacts of climate change on surface water quality. Hydrol Sci J 54:101–123
WMO (2022) State of the climate in Europe 2021 (WMO-No. 1304). Geneva, Switzerland
Zeman NR, Irianni Renno M, Olson MR, Wilson LP, Sale TC, De Long SK (2014) Temperature impacts on anaerobic biotransformation of LNAPL and concurrent shifts in microbial community structure. Biodegradation 25:569–585
Download references
Acknowledgements
The authors would like to thank Hannah Lemke for graphic design support, Martina Adamek for internal review, and the two anonymous reviewers and the handling editor, Enrico Drioli, for their helpful comments. We are further grateful for financial support from the German Research Foundation (DFG) and the Open Access Publication Fund of the University of Tübingen.
Open Access funding enabled and organized by Projekt DEAL. This review paper was funded by the German Research Foundation and the Open Access Publication Fund of the University of Tübingen. WS was further supported by the CSC-Tübingen PhD Program. Note that the funders had no role in the study design, literature research and analysis, decision to publish, or preparation of the manuscript.
Author information
Authors and affiliations.
Geoecology, Eberhard Karls University Tübingen, 72070, Tübingen, Germany
Harald Neidhardt & Wen Shao
You can also search for this author in PubMed   Google Scholar
Contributions
HN had the idea for the article, the literature search, synthesis, figures and tables was performed by HN and WS, the text was written by HN and critically revised by WS.
Corresponding author
Correspondence to Harald Neidhardt .
Ethics declarations
Conflict of interest.
The authors declare that they have no conflicts of interest.
Additional information
Publisher's note.
Springer Nature remains neutral with regard to jurisdictional claims in published maps and institutional affiliations.
Rights and permissions
Open Access This article is licensed under a Creative Commons Attribution 4.0 International License, which permits use, sharing, adaptation, distribution and reproduction in any medium or format, as long as you give appropriate credit to the original author(s) and the source, provide a link to the Creative Commons licence, and indicate if changes were made. The images or other third party material in this article are included in the article's Creative Commons licence, unless indicated otherwise in a credit line to the material. If material is not included in the article's Creative Commons licence and your intended use is not permitted by statutory regulation or exceeds the permitted use, you will need to obtain permission directly from the copyright holder. To view a copy of this licence, visit http://creativecommons.org/licenses/by/4.0/ .
Reprints and Permissions
About this article
Neidhardt, H., Shao, W. Impact of climate change-induced warming on groundwater temperatures and quality. Appl Water Sci 13 , 235 (2023). https://doi.org/10.1007/s13201-023-02039-5
Download citation
Received : 31 January 2023
Accepted : 24 October 2023
Published : 14 November 2023
DOI : https://doi.org/10.1007/s13201-023-02039-5
Share this article
Anyone you share the following link with will be able to read this content:
Sorry, a shareable link is not currently available for this article.
Provided by the Springer Nature SharedIt content-sharing initiative
Groundwater
Climate change
Water temperature
Water quality
Vulnerability
Aquifer ecosystem
Find a journal
Publish with us