Tutorial Essays

Sections on this page:
How long should they be, what should a good essay contain, how do i cope with an enormous reading list.
Surprisingly, this is a question on which there seems to be no standard answer. There are, however, two practical constraints. The first is that your tutor will probably ask you to read your essay out loud during the tutorial (though some will take them in and read them in advance). The maximum practicable length that will allow your essay to be read and adequately discussed is about five thousand words.
The second is that in order to do justice to the subject and provide yourself with an adequate basis for subsequent revision, the minimum length you can reasonably write is about two thousand words (unless you are an absolute master of concise prose). It follows that somewhere around two and a half thousand words may be a good average to aim for (the current Theology Faculty Handbook recommends between two and three thousand), but this is not a total that need to be adhered to slavishly on every occasion.
There is no set formula, and to some extent it is a good idea to write to please yourself. The best way to tackle a topic will naturally depend on what the topic is. There are, however, a number of factors worth bearing in mind. The first, of course, is that your essay must answer the question your tutor has set you, and not some other (possibly more interesting) question roughly in the same subject area.
The second is that, wherever it is relevant and possible to do so, a good essay should always consider more than one point of view, contain a good selection of the relevant facts, and come to a well argued conclusion. (The right balance of fact, references to other scholars' opinions, and your own argument will vary from topic to topic and also according to your own inclination, but a good essay will contain a mix of all three). It is never a question of coming to the "right" answer (though you can expect a tutor to defend his or her position if it differs from yours) but rather of demonstrating that you understand what the issue is about and that you can produce a well-reasoned, balanced and critical argument concerning it.
The third, and possibly most important, factor to bear in mind is that your essays will probably constitute your prime source of revision material. It is thus often worth looking at past papers to see what other essay questions have been set in the same general area, and trying to include enough basic information in your essay to cover the range of ways in which past examiners have slanted their questions. You may find this particularly helpful when the question your tutor has set you seems rather broad or vague.
Whether or not you spend time preparing an essay plan before you start to write is largely a matter of your own preference. Writers seem naturally to divide themselves into "planners" and "drafters", the former planning carefully in advance and then writing to their plan, the latter plunging straight in and then re-drafting their first attempt. There is no "right" method and you just have to follow whichever suits you best, though it is a lot easier to be a "drafter" if you use a word-processor!
The current Theology Faculty Handbook contains guidelines on writing tutorial essays, and there are probably similar guidelines in other Faculty Handbooks too. The advice given there should take priority over anything I've said above, particular in disciplines other than Theology where the approach required may differ.
The first thing to remember is that no tutor who issues a lengthy reading list ever seriously expects any student to read everything on it. The list should be regarded as a series of suggestions for texts you are likely to find helpful, not as a sequence of works which must be read before trying to tackle the essay.
Some tutors are much better than others at giving clear directions concerning which are the most important texts to consult. Where such guidance is lacking, the best strategy is to start with some broad, general or summary work which enables you to get a feel for what the topic may be about and then try to read at least two moderately substantial (i.e. manageable but not too thin) texts by scholars with opposing or at least substantially differing views. This is usually far more satisfactory than relying on a second-hand account of what some important scholar thinks: a summarizer will inevitably leave out much of importance, and an opponent is quite likely to distort; you will often find that your own understanding of what someone is saying when you encounter them at first hand is rather different from that gained at second-hand.
Again, it is important to have looked at any primary text or primary sources relevant to your essay topic. Obviously, the more widely you can read on any topic the better. If you have the time, energy, and inclination to read three, four, five or more different scholars' views, well and good. Probably the best way to know when to stop is via effective time management. You will soon get to know how long it takes you to write an essay and what margin you want to leave yourself between completing an essay and attending the relevant tutorial. From that you can easily work back to the point at which you need to stop reading and start writing. Do as much reading as you can up to that point and then stop, even if you have not read everything you would like to have read. (It follows that you should prioritize your reading to try to make sure you read the most important texts first). For how much time this may take, see the discussion above.
Taking Notes
One difficult question is that of taking notes while reading. My own personal preference has been to keep note-taking to a minimum, since I find that constant note-taking while reading slows me down far too much (an exception being when working from a text confined to a library, when there is really no alternative to fairly extensive note-taking). A technique I found worked well on more discursive texts was to read through a chapter or two and then write down a quick summary of the argument from memory.
Sometimes it helps to tabulate different writers' views under different headings (for me this seemed to be particularly useful in Old Testament study for some reason). For the most part, though, my preferred technique has been to rely on memory and have the relevant texts to hand for reference while writing.
You will probably have to experiment to find what works best for you; but I would say that some of the note-taking techniques suggested in some of the guides to study methods in the college library seem to me to be far too elaborate to be workable within the time constraints facing an Oxford student.

Next Up: Books and Libraries
Have a language expert improve your writing
Run a free plagiarism check in 10 minutes, generate accurate citations for free.
The Beginner's Guide to Writing an Essay | Steps & Examples
An academic essay is a focused piece of writing that develops an idea or argument using evidence, analysis, and interpretation.
There are many types of essays you might write as a student. The content and length of an essay depends on your level, subject of study, and course requirements. However, most essays at university level are argumentative — they aim to persuade the reader of a particular position or perspective on a topic.
The essay writing process consists of three main stages:
Preparation: Decide on your topic, do your research, and create an essay outline.
Writing : Set out your argument in the introduction, develop it with evidence in the main body, and wrap it up with a conclusion.
Revision:  Check the content, organization, grammar, spelling, and formatting of your essay.
Table of contents
Essay writing process, preparation for writing an essay, writing the introduction, writing the main body, writing the conclusion, essay checklist, lecture slides, frequently asked questions about writing an essay.
The writing process of preparation, writing, and revisions applies to every essay or paper, but the time and effort spent on each stage depends on the type of essay .
For example, if you've been assigned a five-paragraph expository essay for a high school class, you'll probably spend the most time on the writing stage; for a college-level argumentative essay , on the other hand, you'll need to spend more time researching your topic and developing an original argument before you start writing.
Receive feedback on language, structure, and formatting
Professional editors proofread and edit your paper by focusing on:
Academic style
Vague sentences
Style consistency
See an example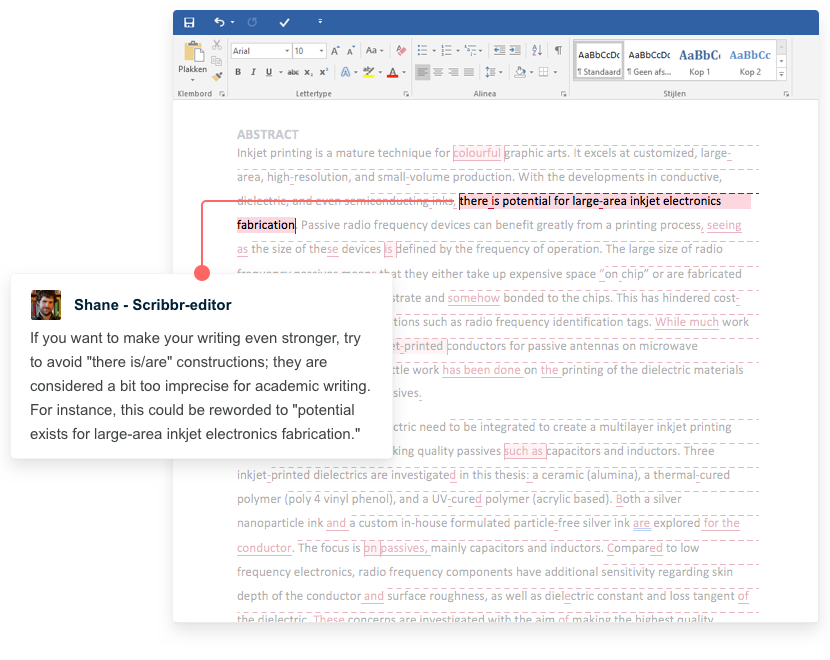 Before you start writing, you should make sure you have a clear idea of what you want to say and how you're going to say it. There are a few key steps you can follow to make sure you're prepared:
Understand your assignment: What is the goal of this essay? What is the length and deadline of the assignment? Is there anything you need to clarify with your teacher or professor?
Define a topic: If you're allowed to choose your own topic , try to pick something that you already know a bit about and that will hold your interest.
Do your research: Read  primary and secondary sources and take notes to help you work out your position and angle on the topic. You'll use these as evidence for your points.
Come up with a thesis:  The thesis is the central point or argument that you want to make. A clear thesis is essential for a focused essay—you should keep referring back to it as you write.
Create an outline: Map out the rough structure of your essay in an outline . This makes it easier to start writing and keeps you on track as you go.
Once you've got a clear idea of what you want to discuss, in what order, and what evidence you'll use, you're ready to start writing.
The introduction sets the tone for your essay. It should grab the reader's interest and inform them of what to expect. The introduction generally comprises 10–20% of the text.
1. Hook your reader
The first sentence of the introduction should pique your reader's interest and curiosity. This sentence is sometimes called the hook. It might be an intriguing question, a surprising fact, or a bold statement emphasizing the relevance of the topic.
Let's say we're writing an essay about the development of Braille (the raised-dot reading and writing system used by visually impaired people). Our hook can make a strong statement about the topic:
The invention of Braille was a major turning point in the history of disability.
2. Provide background on your topic
Next, it's important to give context that will help your reader understand your argument. This might involve providing background information, giving an overview of important academic work or debates on the topic, and explaining difficult terms. Don't provide too much detail in the introduction—you can elaborate in the body of your essay.
3. Present the thesis statement
Next, you should formulate your thesis statement— the central argument you're going to make. The thesis statement provides focus and signals your position on the topic. It is usually one or two sentences long. The thesis statement for our essay on Braille could look like this:
As the first writing system designed for blind people's needs, Braille was a groundbreaking new accessibility tool. It not only provided practical benefits, but also helped change the cultural status of blindness.
4. Map the structure
In longer essays, you can end the introduction by briefly describing what will be covered in each part of the essay. This guides the reader through your structure and gives a preview of how your argument will develop.
The invention of Braille marked a major turning point in the history of disability. The writing system of raised dots used by blind and visually impaired people was developed by Louis Braille in nineteenth-century France. In a society that did not value disabled people in general, blindness was particularly stigmatized, and lack of access to reading and writing was a significant barrier to social participation. The idea of tactile reading was not entirely new, but existing methods based on sighted systems were difficult to learn and use. As the first writing system designed for blind people's needs, Braille was a groundbreaking new accessibility tool. It not only provided practical benefits, but also helped change the cultural status of blindness. This essay begins by discussing the situation of blind people in nineteenth-century Europe. It then describes the invention of Braille and the gradual process of its acceptance within blind education. Subsequently, it explores the wide-ranging effects of this invention on blind people's social and cultural lives.
Write your essay introduction
The body of your essay is where you make arguments supporting your thesis, provide evidence, and develop your ideas. Its purpose is to present, interpret, and analyze the information and sources you have gathered to support your argument.
Length of the body text
The length of the body depends on the type of essay. On average, the body comprises 60–80% of your essay. For a high school essay, this could be just three paragraphs, but for a graduate school essay of 6,000 words, the body could take up 8–10 pages.
Paragraph structure
To give your essay a clear structure , it is important to organize it into paragraphs . Each paragraph should be centered around one main point or idea.
That idea is introduced in a  topic sentence . The topic sentence should generally lead on from the previous paragraph and introduce the point to be made in this paragraph. Transition words can be used to create clear connections between sentences.
After the topic sentence, present evidence such as data, examples, or quotes from relevant sources. Be sure to interpret and explain the evidence, and show how it helps develop your overall argument.
Lack of access to reading and writing put blind people at a serious disadvantage in nineteenth-century society. Text was one of the primary methods through which people engaged with culture, communicated with others, and accessed information; without a well-developed reading system that did not rely on sight, blind people were excluded from social participation (Weygand, 2009). While disabled people in general suffered from discrimination, blindness was widely viewed as the worst disability, and it was commonly believed that blind people were incapable of pursuing a profession or improving themselves through culture (Weygand, 2009). This demonstrates the importance of reading and writing to social status at the time: without access to text, it was considered impossible to fully participate in society. Blind people were excluded from the sighted world, but also entirely dependent on sighted people for information and education.
See the full essay example
The conclusion is the final paragraph of an essay. It should generally take up no more than 10–15% of the text . A strong essay conclusion :
Returns to your thesis
Ties together your main points
Shows why your argument matters
A great conclusion should finish with a memorable or impactful sentence that leaves the reader with a strong final impression.
What not to include in a conclusion
To make your essay's conclusion as strong as possible, there are a few things you should avoid. The most common mistakes are:
Including new arguments or evidence
Undermining your arguments (e.g. "This is just one approach of many")
Using concluding phrases like "To sum up…" or "In conclusion…"
Braille paved the way for dramatic cultural changes in the way blind people were treated and the opportunities available to them. Louis Braille's innovation was to reimagine existing reading systems from a blind perspective, and the success of this invention required sighted teachers to adapt to their students' reality instead of the other way around. In this sense, Braille helped drive broader social changes in the status of blindness. New accessibility tools provide practical advantages to those who need them, but they can also change the perspectives and attitudes of those who do not.
Write your essay conclusion
Checklist: Essay
My essay follows the requirements of the assignment (topic and length ).
My introduction sparks the reader's interest and provides any necessary background information on the topic.
My introduction contains a thesis statement that states the focus and position of the essay.
I use paragraphs to structure the essay.
I use topic sentences to introduce each paragraph.
Each paragraph has a single focus and a clear connection to the thesis statement.
I make clear transitions between paragraphs and ideas.
My conclusion doesn't just repeat my points, but draws connections between arguments.
I don't introduce new arguments or evidence in the conclusion.
I have given an in-text citation for every quote or piece of information I got from another source.
I have included a reference page at the end of my essay, listing full details of all my sources.
My citations and references are correctly formatted according to the required citation style .
My essay has an interesting and informative title.
I have followed all formatting guidelines (e.g. font, page numbers, line spacing).
Your essay meets all the most important requirements. Our editors can give it a final check to help you submit with confidence.
Open Google Slides Download PowerPoint
An essay is a focused piece of writing that explains, argues, describes, or narrates.
In high school, you may have to write many different types of essays to develop your writing skills.
Academic essays at college level are usually argumentative : you develop a clear thesis about your topic and make a case for your position using evidence, analysis and interpretation.
The structure of an essay is divided into an introduction that presents your topic and thesis statement , a body containing your in-depth analysis and arguments, and a conclusion wrapping up your ideas.
The structure of the body is flexible, but you should always spend some time thinking about how you can organize your essay to best serve your ideas.
Your essay introduction should include three main things, in this order:
An opening hook to catch the reader's attention.
Relevant background information that the reader needs to know.
A thesis statement that presents your main point or argument.
The length of each part depends on the length and complexity of your essay .
A thesis statement is a sentence that sums up the central point of your paper or essay . Everything else you write should relate to this key idea.
The thesis statement is essential in any academic essay or research paper for two main reasons:
It gives your writing direction and focus.
It gives the reader a concise summary of your main point.
Without a clear thesis statement, an essay can end up rambling and unfocused, leaving your reader unsure of exactly what you want to say.
A topic sentence is a sentence that expresses the main point of a paragraph . Everything else in the paragraph should relate to the topic sentence.
At college level, you must properly cite your sources in all essays , research papers , and other academic texts (except exams and in-class exercises).
Add a citation whenever you quote , paraphrase , or summarize information or ideas from a source. You should also give full source details in a bibliography or reference list at the end of your text.
The exact format of your citations depends on which citation style you are instructed to use. The most common styles are APA , MLA , and Chicago .
Is this article helpful?
Other students also liked.
How long is an essay? Guidelines for different types of essay
How to write an essay introduction | 4 steps & examples
How to conclude an essay | Interactive example
More interesting articles
Checklist for academic essays | Is your essay ready to submit?
Comparing and contrasting in an essay | Tips & examples
Example of a great essay | Explanations, tips & tricks
Generate topic ideas for an essay or paper | Tips & techniques
How to revise an essay in 3 simple steps
How to structure an essay: Templates and tips
How to write a descriptive essay | Example & tips
How to write a literary analysis essay | A step-by-step guide
How to write a narrative essay | Example & tips
How to write a rhetorical analysis | Key concepts & examples
How to Write a Thesis Statement | 4 Steps & Examples
How to write an argumentative essay | Examples & tips
How to write an essay outline | Guidelines & examples
How to write an expository essay
How to write the body of an essay | Drafting & redrafting
Kinds of argumentative academic essays and their purposes
Organizational tips for academic essays
The four main types of essay | Quick guide with examples
Transition sentences | Tips & examples for clear writing
What is your plagiarism score?
You are here
Essay tutorial.
The text which learners have created will be scanned for keywords that have been defined by an author beforehand.
When to use Essay
An Essay content type can be used for various types of exercises. In this tutorial, we will use Essay to get a summary of the book the learner has read. Also, we will define some keywords for which we will give points/feedback if the learner mentions them in his or her answer.
Step 1: Topic
This content should assist the learner to write an  Essay on the novel "The Hobbit" by J.R.R. Tolkien with at least 100 characters. The learner will be awarded points and receive feedback if he or she use specific keywords.
Step 2: Creating an Essay
Select the  New content  option and choose  Essay  from the list of Content types: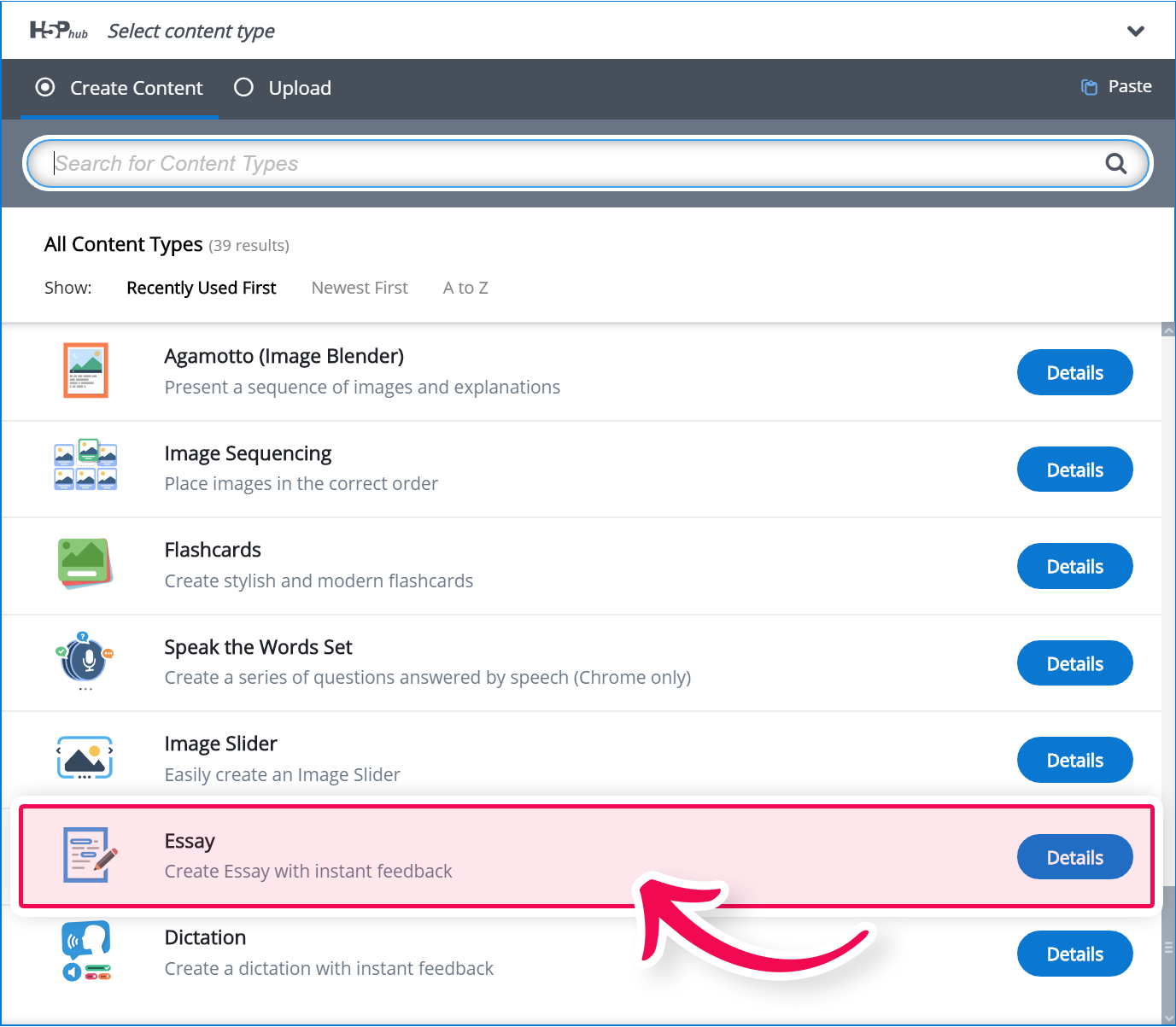 Step 3: Creating an Essay
The Essay editor should now appear. The main part of the editor looks like this: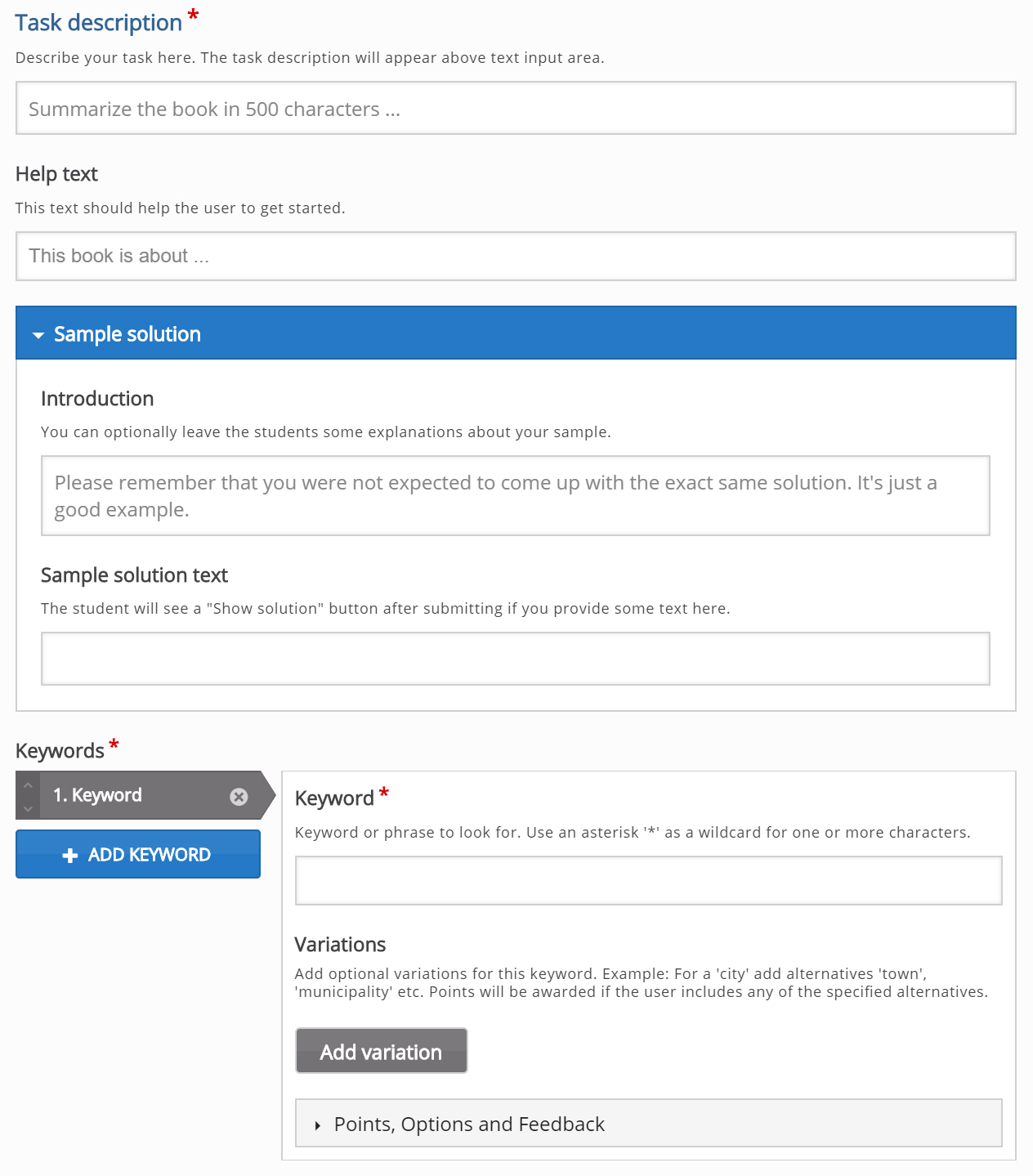 The Essay editor consists of  Task description, Help text, Sample solution  and  Keywords .
Step 4: Task description 
In the Task description field, we give the learner basic instructions or introduce the problem to be solved. We'll use this text for the Task description:   Please describe the novel "The Hobbit" by J.R.R. Tolkien with at least 100 characters and up to 500 characters.
Step 5: Help text
In the  Help text  field, we give the learner some line to help start the writing process. This text will appear as a placeholder text inside the input field where the learner will type his answer. This text is optional. In our example, we'll use this text for the Help text :   In a hole in the ground there lived a hobbit ...
Step 6: Sample solution
In the  Sample solution , we show the learner an example of how the finished essay can look. The student will see this sample after he is done. This text is optional. For our example, type this for  Sample solution :  Introduction:   Please remember that you were not expected to come up with the exact same solution. It is just a good example.
Sample solution text :  The book is about a guy called Bilbo. One day, he gets some unexpected visitors: Gandalf, the wizard, and nine dwarfs. Some of them had strange names such as Gloin or Dori. Together, they go on an adventure and try to retrieve a treasure from Smaug, an old dragon. Bilbo somewhat betrays the dwarfs, but still is the hero. Bilbo is a good guy.
Step 7: Keywords
Using  keywords we define how many points we will attribute for the appearance of a specific word. In our example we want to set points for these keywords:
It is possible to add variations for each keyword, for example: (adventure or quest or journey). T he learner will get 10 points if he mentions any variation of this word.

Points - The number of points a learner will earn if this word is used
Occurrences - How many times we should give the points for this word
Case sensitive - Is the answer case sensitive or not
Forgive minor mistakes - Accepting minor spelling mistakes ( 3-9 characters: 1 mistake, >9 characters: 2 mistakes)
Feedback if keyword included  - Provide feedback if the user has used this word
Feedback if keyword missing  - Provide feedback if the user did not use this word 
Step 8: Behavioural settings
Below are the optional settings for this content type, like minimum and a maximum number of characters  the learner is supposed to type, enabling Retry and more: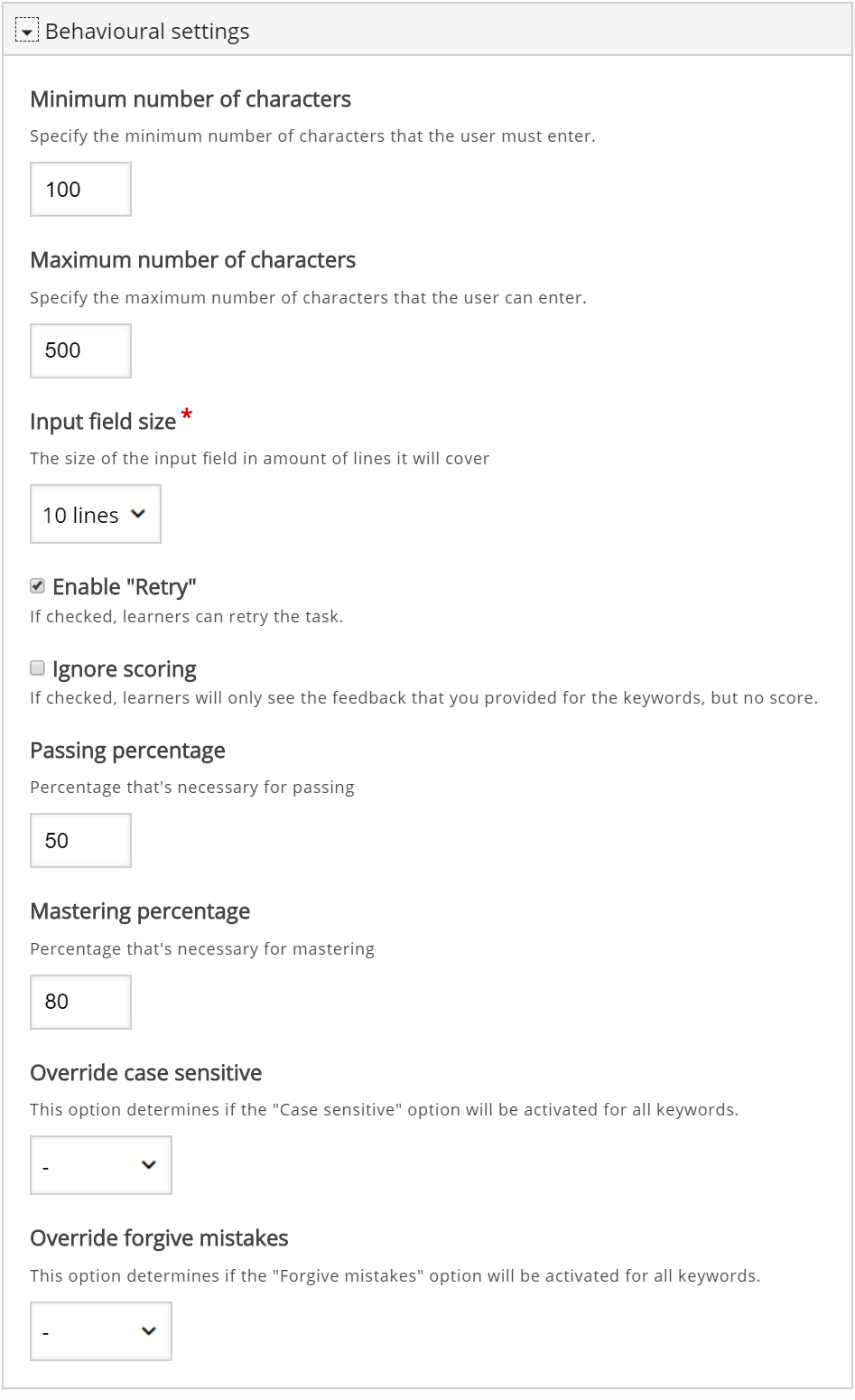 Step 9: Finishing up
Save the node/article to view your finished Essay. You should now have the same result as the example on top of the page.    Feel free to leave any comments or suggestions on how to improve this tutorial.
Tue, 07/02/2019 - 16:28
FYI - This is one of the feedback questions from the example.
Did you possible forget to mention what a certain Wizard did?
Log in or register to post comments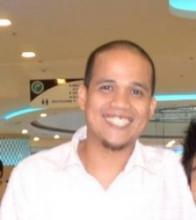 Wed, 07/03/2019 - 08:14
Hi ajwalsh,Thank you for the
Hi ajwalsh,
Thank you for the feedback.
Tue, 07/16/2019 - 22:23
Essay no keywords?
Hello! I'm wondering if there's a way to set up an essay type question without requiring keywords! We would simply like students to submit an answer to a question without checking that they included specific words first, and to include a 'thank you' once they've submitted. Is this currently possible?
Wed, 07/17/2019 - 18:33
Hi ajturner3,This is not
Hi ajturner3,
This is not possible with essay. Why not use Questionnaire instead, this provides you with an option to add an open ended question without having to keyword and it also doesn't give a score.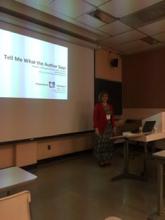 Wed, 09/18/2019 - 14:17
Punctuation
Would it be possible to also track sentence types, word form or word order? For example:
1. Using a dependent clause followed by a comma and an independent clause or independent + dependent
2. Use of comma, semi-colon, and full stop
3. Subjec and verb agreement or verb tenses
4. Subject + verb + complement (sentence patterns)
It would be great if feedback on grammar usage is included.
Fri, 03/27/2020 - 09:12
How can I see what my students have written
I'm using H5P as a moodle plug in and I'd like to see what my students have actually written in their essays (and not just the grades).
Is there a way to do this?
Thanks!
Fri, 03/27/2020 - 17:49
Hi tkollewe,I'm afraid this
Hi tkollewe,
I'm afraid this is not possible.
Fri, 03/27/2020 - 16:44
Essay Content Type Not Working
I'm trying to reuse the code for the essay in my H5P instance, but when I upload the file it says a library is missing. Please advise.
Fri, 03/27/2020 - 18:17
Hi eilawan,Please provide the
Hi eilawan,
Please provide the following information:
Where did you download the "code"?
Where are you uploading it (Moodle, Worpress, Drupal) and version.
Screenshot of the error.
Mon, 03/30/2020 - 01:19
Screenshot of Error
Thanks for your reply!
1. I downloaded the code from the reuse button on the H5P Examples and Downloads page
2. I'm uploading it into an instance of H5P in Canvas LMS.
3. How do I add an image to the comments area here? Error message when uploading essay content type says: "
Validating h5p package failed.
Missing required library H5P.Essay 1.2 Get help
Mon, 03/30/2020 - 18:42
Hi eilawan,If I;m not
If I;m not mistaken you are using H5P.com. If so you need to enable Essay by going to Manage Organization -> Settings -> Content Type settings.
Sat, 03/28/2020 - 12:33
Essay not showing up
Essay isn't showing up as an option. What should I do?
Mon, 03/30/2020 - 12:33
Hi triantac,Please make sure
Hi triantac,
Please make sure that you have the latest version of the H5P plugin. You can also download the sample content and upload it to your system.
If in case you are using H5P.com you need to enable Essay by going to Manage Organization -> Settings -> Content Tyoe settings.
Tue, 04/14/2020 - 13:14
Grades - how to see
I'm using H5P as a moodle plug in and I'd like to see the grades of my students.
What I'm doing wrong?
Tue, 04/14/2020 - 18:37
Hi Rhona,Please make sure
Please make sure that the students are clicking the 'check' button. All content types have triggers to when they will send the scores to the Gradebook, most of them would be after clicking the 'check' button.
Fri, 07/10/2020 - 11:13
Change number of characters
Is it possible to change the number of characters to number of words?
I think it's more useful for exams...
Fri, 07/10/2020 - 11:15
Is it possible to change the number of characters to number of words of Essay?
It's more useful for exams
Mon, 07/13/2020 - 18:19
Hi Acing,I'm afraid this is
Sabina Lukežič
Tue, 11/24/2020 - 10:14
slovenščina
Pozdravljeni!
Zakaj pri vsebini esej ne vidim kaj so mi učenci zapisali? Učenci so rešili, kliknili na "preveri". Zakaj jaz ne vidim njihovih zapisov v "ocenah"?
Tue, 11/24/2020 - 18:44
Hi Sabina,Make sure that you
Make sure that you are using the latest version of the H5P plugin and Essay.
Chus del Pozo
Thu, 03/04/2021 - 11:29
Evitar el uso de traductores
Una pregunta, se puede configurar una tarea para evitar que los alumnos usen los traductores, es decir, que copien y peguen los textos??
Thu, 03/04/2021 - 17:32
"A question, can a task be
"A question, can a task be configured to prevent students from using the translators, that is, to copy and paste the texts?
All the best"
I'm afraid there is no feature in Essay that can do this. The good thing about H5P is that it is open sourced so you or anyone else can make the changes to the code. You can also help by developing or help (crowd) fund the development of this feature.
nikki.andersen
Tue, 06/29/2021 - 03:45
Downloading essay answer
Can students download their answer to the essay for personal use? if so, how can they do this?
Tue, 06/29/2021 - 19:09
Hi Nikki,I'm sorry but this
I'm sorry but this is not possible within the features of the content. It may be possible however depending on the CMS/LMS that you are using as well as the plugin that you use to capture the scores/data. For example in Moodle it is possible for teachers/admin to download this information although I'm not sure if it is possible for students to do this.
Examples & Downloads
Documentation
Goals & Roadmap
Connect with H5P
Contact Form
H5P is an open source community driven project. Join the Community and help us create richer online experiences!
Project Licensing Information
About the Project
H5P is a registered trademark of H5P Group Privacy policy | Copyright © 2023

Jump to Headline
Jump to Navigation
Jump to Content
Prospective Students
Current Students
Faculty & Staff
Department of History
Writing Advice
Research Links
Curriculum Vitae
Dr. Timm's Style Sheet
Grading Criteria
Timm's how-to sheets
Clarification of "scholarly article"
Essay-Writing Tutorial
Note-Taking Advice
Department of History Essay Guide
Useful Writing Links
Links for Graduate Students
Credits: This tutorial was the result of a collaborative effort by Annette Timm, Alexander Hill, and Jerremie Clyde. It was written by Nicole Freiheit under the supervision of Drs. Timm and Hill.
Navigation Instructions: The tutorial is broken up into six parts. Each of these parts includes an overview and sections on research strategies, writing, strategies, and thoughts and feelings. You can reach individual sections by clicking on the hyperlinks in the "Table of Contents."
Quiz Instructions: Some of you will have navigated to this page because you are taking a course that includes an essay-writing quiz. After you have read the tutorial, go to the Blackboard site for your course to take the quiz, following your professor's instructions on deadlines and timing.
Table of Contents
Part 1: Topic Selection Part 2: Pre-Focus Research Part 3: Formulating an Argument Part 4: Focused Research Part 5: Refining an Argument Part 6: Presenting an Argument
Topic Selection
What is a history paper?  What should you write about?
Historians are interested in understanding and explaining cause, consequence, change, continuity, similarity and difference in human history. They make arguments explaining how and why things happened in the past on the basis of evidence that has survived into the present.
Historians attempt to understand the actions of individuals and societies in the past in the context of the time; they do not set out to moralize about the past.
An undergraduate history research essay seeks to answer a specific question about the past. A history essay does more than list facts and dates or summarize a topic or event. It explores a historical problem by analyzing the sources that address it.  The frist step in writing any research paper is to identify, locate and retrieve the relevant sources. 
The sources you use, how you organize your evidence, and the form of your argument will determine how compelling your explanation is and ultimately how successful your paper will be.
Research Strategies
Topics When selecting a topic (if one is not assigned to you) you should start by consulting your textbook. Not only will this provide you with the general facts surrounding possible topics, but the bibliography will also be a springboard for further research. You might also consult your lecture notes or research databases such as Historical Abstracts or Oxford Reference Online , available through the library website, for relevant books and articles (more on this in the next section).
In the light of your initial research, you may need to narrow your focus down by asking a more specific question to answer in your paper. If you have chosen your own topic, run it past your professor or TA to make sure it is manageable.
Types of Sources For a research paper, you will consult a variety of sources, some you will cite in your essay and some you will not. There are three different types of sources.
Primary sources come from the time period that you are studying. They include diaries, memoirs, newspaper articles, government documents, speeches, court transcripts and artwork. For example, if you are writing a research essay on World War I, you might consult newspapers from the period or a soldier's diary. Primary sources are the closest sources temporally to the time at which the event or events occurred that are available to historians to study an event or person. They must be critically analyzed. Ask for what purpose the source was produced and what factors might have influenced its content. Your professor may ask that you use one or more primary sources to complete your assignment.
Primary sources can be rich with relevant information for a project, but you cannot simply accept everything they say as fact. You must interpret their meaning in light of the author, the context, the purpose and the intended audience of the work.
Some questions you should be asking yourself about a primary source:
For what purpose was the source produced? How has this influenced content?
How well informed was the author about the subject under discussion?
Does the source contain useful information peripheral to the principle purpose of the document that might be less influenced by the personal motives of the author than other content?
Secondary sources are typically works written about the past by contemporary scholars. Secondary sources include books, chapters and articles. At the undergraduate level, the majority of your research materials will be secondary sources.
A good secondary source is written by a professional or academic historian and is based on extensive primary source research. Historians publish their latest research as chapters in edited works, books and in articles in scholarly journals. There are journals concerned with numerous facets of history, including the Middle Ages, China, Alberta, war, labour, women, science and so on. You are advised to only use articles from peer-reviewed journals. Peer review means that other scholars in the field have critically reviewed the article and its research and found it to be sound.
Use a variety of secondary sources for your paper. Books tend to have a broader scope, while articles and chapters are more specific. You should be using both.
Some sources are not clearly either primary or secondary. While the memoirs of a prominent political figure might primarily be concerned with the author's personal recollections or portrayals of events, they are often embellished with material from secondary sources. In this case it would also be important to consider how long after the events being described the memoirs were written. The longer after the events the more likely the author's portrayal has been influenced by other sources.
Some sources can be both primary and secondary sources depending on the way in which you use them. An article in a magazine such as Time or MacLean's written about the anniversary of an important event would be a secondary source if you were writing about the event—avoid using such sources for this purpose. However, if you were looking at the cultural impact of the event on a particular society it could become a primary source!
Tertiary sources are primarily encyclopedic and include dictionary entries as well as textbooks. Tertiary sources provide the basic facts about the past and are based on secondary sources. While you may find it useful to consult an encyclopedia or a dictionary for information about an important person or a definition of a word, tertiary sources do not count towards the total number of sources required for a paper. Your textbook is a great springboard for topic ideas and primary and secondary sources, but the information a textbook contains is often too general to be directly applied to a research assignment.
Scholarly versus Popular is an important distinction and one you need to keep in mind.  You want to make sure your secondary sources are sound, and the way to do that is to make sure they are scholarly.  Most things in the University Library or available through the University Library's website are scholarly, but not everything.  The Calgary Public Library contains both popular and scholarly books, and if you use books from there you should be more careful about examining their quality. Books that you use for your essays should have footnotes or endnotes and a bibliography. You should be able to easily determine what evidence was used to make the argument.  Journal articles will be similar, and should be in a scholarly journal.  Most scholarly journals use a process called peer-review to ensure they only publish quality research.  Each article that is submitted is reviewed by subject experts to make sure it is of reasonable quality.
Writing Strategies
Time management. Students tend to underestimate how long a project will take. The sooner you start your research the more likely the books you need will be in the library.  If a book you need is signed out it can take up to two weeks before you can get it.  If the book you need has to come from another library it can take even longer.  Not getting the resources you need is no excuse for turning in a paper late (although it could be the reason if you are not careful). 
Students should allow a few weeks to work on their essay, ideally allowing some time between stages for reflection. Allot at least two hours of work for each page of your essay. 
Thoughts and Feelings
The Topic Selection Phase is often characterized by uncertainty and apprehension, but also anticipation as it can be exciting to learn about a new topic area. Some causes of this are:
Not understanding the assignment - you may feel uncertain about the assignment when you read through it at first. It may seem overwhelming, difficult, or even impossible. However, spending time reviewing all the criteria for the assignment helps to alleviate some uncertainty. Often professors and instructors provide detailed instructions in the assignment that you need to consider even before choosing your general topic.
Not knowing anything about a topic - professors often provide a list of topics from which you can pick. You may be apprehensive when scanning the list and realizing you don't know anything about any of the proposed topics. Or you are able to choose your own topic for the research paper, but you are unable to do so because you don't know anything yet about the topics discussed in class. You can alleviate some of your apprehension by starting to think about appropriate topics right at the beginning of the term. As new ideas are presented in class and your assigned readings, your knowledge base builds so that you can make a more informed decision on topic selection.
Now write Quiz 1 on Blackboard!
Pre-Focus Research
Frequently characterized by confusion, uncertainty and doubt, this is often the most difficult part of the research process. So if you are experiencing frustration, don't despair! This is normal.  Really, it is.
Many students feel they should be able to go straight from topic selection into the focused research stage or even presenting their arguement, and frequently try to do so. This will seldom be productive. You need to learn more about your topic, the details, nuances, and issues surrounding it, in order to find a focus for your research.
It is a misconception that the more information you find on a topic, the clearer things become. In the process of exploring your topic, you will find information that is sometimes contradictory, questionable or incompatible with your ideas. It takes time and persistence and to wade through this information and make sense of it. One researcher referred to this type of exploration as a process of "patience and faith". Eventually, you will be able to find a focus for your research.
The purpose of this phase is to investigate information with the intent of finding a focus, choosing not only your topic but how you want to approach it or what you will say about it.  This will mean using the library, whether it is print resources in the library itself or electronic ones that the library provides access to.  At this stage in your research you will be primarily looking for tertiary sources and some secondary sources. 
There are a few initial steps you can take to ensure your research time is effective and well spent.  Skipping these steps often results in frustrating and unsuccessful searches, leaving the research with the feeling that there is nothing on the topic.  The reality however might be that there is plenty of information available, but unless it is approached in a particular way it can not be found.
As a general rule make sure what you are looking at is scholarly.  There is a lot of information out there and many different sources, but scholarly or academic sources are most efficient as they provide you with the clues you need to find more items on the same topic.  Ideally every source you find should be able to lead you to another related source.
Using what you already know . Searching the library, whether its print collection using the online catalogue or its online journals can be a challenge if you don't know exactly what you are looking for.  The search tools all work best when you are looking for something you already know exists, or should exist.  The first place to start then is to look at your course readings and lecture notes. 
You will want to make some notes from these to guide your research.  These notes are not necessarily about the topic itself but also about the research on the topic.  Note the following types of information:
authors of course readings that deal with your topic
authors of other books or articles listed in the footnotes or bibliographies of your course readings
dates of the relevant events you are looking at (if you happen to have them in your notes)
particular individuals or places involved in the event - proper nouns are very effective search tools
all the different names for the event or issue - do your readings and lecture notes describe the same event but call it something different?  If so note this down. 
i.e. - Falklands War, Falklands Conflict, Falklands Crisis, Malvinas War, Guerra de las Malvinas
Using the library website: encyclopaedias. There are a number of encyclopedias you can link to from the library's website.  Oxford Reference Online is often a great tool to start your search with.  Taking the notes you compiled from lectures and readings, search Oxford Reference Online for information on your topic.  You will find articles from several different Oxford resources.  These articles are not something you should cite or will count towards your total number of sources, they are tertiary.  You are looking at them to get a broader understanding of the topic, to find different terms or words to describe the topic (which are necessary for effectively finding online articles), to make sure that you have all the relevant dates and spellings for places, persons and things, and finally and maybe most importantly for the list of related readings at the bottom.  They will not only give you other books or articles to look for on your topic but also the names of some researchers who work on your topic.  You can then search the catalogue or online databases with the author's name to find what else they have written on the topic.
Using the library website: subject guides & bibliographies. There are a number of subject guides setup on the library websites.  It can take time to search through them but it can be time well spent. The most important thing to look for on these pages when you are just starting a topic are bibliographies.  The majority of bibliographies are in print and while they may seem less convenient than, say, a google search from the comfort of your own home, they can make research both fast and easy. 
Bibliographies are books that organize, list, and often comment on all the published research on a given topic up to the date of the bibliography's publication.  Bibliographies often organize the existing research in the field by how authors have approached the topic -- what particular aspects of it they have looked at. This organization gives you a good idea how the information on your topic is organized and described. From a bibliography you will get the following information:
Titles of books or articles on your subject which can then be looked up in the catalogue and online resources
The names of researchers working on your topic who you will want to look up in the catalogue and online resources
Subject headings for how your topic is organized, which can be used as keywords in catalogue and online resource searches
Background and context for how your topic has been approached.  Approaching it in similar ways, at least while doing your research makes research  much easier.
A place to browse!  The call number on the bibliography will be the same as other works on the same subject, so you can browse the shelves in the Library Tower and in the reference collection using the bibliography's call number as a guide.
If the bibliography is a little bit older that is not necessarily a problem as research in history does not become irrelevant simply because it is old.  The bibliography will also give you names of researchers who work on the topic, and you can use those names in searches to find what they have written since the bibliography was published.
Using the library website: the catalogue. The library catalogue is the main tool for finding  books and  journals  held on campus.  It works best when you are searching for a known title, author or subject heading.  The steps above give you the first of these three things.  The subject headings are a set of controlled vocabulary used to organize and describe the knowledge that books contain.  They govern how the library is organized and get broken down to call numbers (those things on the book) so that books on the same topic are shelved together.  You can determine the third in the following way.
Go to the library website and click on the "direct to catalogue" link
In the "search for" box enter a likely keyword for your topic. You can find them by looking in a book's front papers under the copyright information (if you already have a book) or choose a country then history (i.e. Canada History) or an individual's name (last name first). 
Click off Browse under the search box then click on subject
You can then browse forward and back (do not use browser navigation, but use the previous and next links at the top of the search results) to see how your subject is handled by the catalogue and if you look to the right of a subject how many books have that subject attached.  Clicking on the subject brings up the books themselves
Once you find a likely looking book click on it, and using the tabs at the top open ups its complete record.  At the bottom of the record you will see the subjects attached to the book at the bottom.  Clicking on anyone of those will start a search.       
Journal Articles and Electronic Books. At this point, you can also start searching journal article databases, primarily Historical Abstracts and the electronic books in Ebrary using authors names, but the more information you have the better you can use these tools.  Scholarly articles are detailed and specific and are easier to use when you know exactly what it is you are looking for.  Ebrary lets you search within the full text of books, but to do that effectively you need as much detail as possible.  The use of Historical Abstracts/America History and Life and Ebrary will be discussed under focused research .
Read looking for questions rather than just information.   Be open to the ideas you read about and be conscious of what questions pop into your mind as you are reading. What are the important aspects of this topic? Who are the key people involved? Why was this written? Is there more you'd like to know about that you aren't finding out?
Be tolerant of inconsistency . There is often a huge variety of expert opinions on a topic. Scholars do not always agree and are frequently critical of one another's approach or findings. This does not necessarily mean that one is right and the other wrong, but simply that there are many possible answers to complex issues or problems. The aspects of a topic where scholars don't agree are often the most interesting ones to research!
At this stage you are doing more reading than writing, but try to be aware of what you are doing.  Take appropriate notes and read effectively.
Don't forget to keep notes on both your search itself (what was done where and what has and has not worked) and on your topic.
Take notes on facts and ideas . Write things down that stand out, look for aspects of the topic that interest you or for elements of the topic that seem controversial or open to various interpretations. Intentionally seek these aspects as a possible focus for your research. Write down key terms that describe these ideas.
Record relevant citations.  Keep a record of those sources of information you use that you may want to return to, and make sure to keep bibliographic information with your notes. Consider using a reference manager software program like Zotero, DEVONthink or Reference Manager to keep notes and bibliographic information linked and organized. It's very frustrating when you want to use a particularly interesting idea or great quote and can't remember where you found it! Bibliographic software will also help you create your footnotes when you are ready to write.
Reading effectively will speed up the research phase considerably. When looking at a book pertaining to your topic, check the table of contents first to see if there are especially relevant chapters to your essay. You will likely not need to read the whole book, as most of it will be irrelevant. Next look for some key terms in the index at the back. Look for the same nouns (person, place, event or thing) you searched in the library catalogue and research databases. The index will point you to specific pages where you might find pertinent information. Now that you know what parts of the book are relevant to your essay, skim the book's introduction and conclusion to see if the author makes an important argument relevant to your topic. Often an author's thesis statement will vary from others who have written on the topic or even challenge what others have written. Take notes as you read. Mark down all pertinent information for future citation, including page numbers, of passages that will be useful when you sit down to write your paper. Take notes in your own words; only write out verbatim particularly poignant passages, and be sure to clear mark these in your notes as direct quotations. You might want to quote these passages in your essay to support your argument.
To identify a secondary source's thesis statement , closely read the introduction. The thesis statement should make itself clear. Historians will often examine what has previously been written then situate their own methodology (method of study) and argument within that context. When comparing thesis statements and how they might be discussed in your essay, ask: What sources do the authors use? Do newer works use sources and methods that make older sources obsolete?  This is a key piece of information to consider with every source you are looking at.
The Pre-focus Exploration Phase is often characterized by anxiety and uncertainty. Some causes of this are:
Information encountered doesn't fit . It is natural to feel frustrated and possibly overwhelmed when you encounter a large amount of new information, especially when much of that information seems contradictory or inconsistent. This may lead to feelings of personal inadequacy (I can't do this!) or frustration with library systems (this library doesn't have what I'm looking for!)
Inability to express information need . Because you haven't reached a focus yet, it's often hard to articulate what it is you're looking for. This can increase the frustration of using research tools like the library catalogue and databases because you aren't sure what terms to use.
Feeling that time is being wasted.  Research shows that students frequently feel unproductive during this stage because it may not seem like they are moving forward with their research. Many abandon their topic altogether. But the exploration phase is essential; it simply takes time and patience.
Not open to change and adjustment.  If you have too firm an idea of what you're looking for at this point, it may only increase your frustration if the information you find doesn't fit. Try to be receptive to new concepts and flexible in your approach.
Now write Quiz 2 on Blackboard!
Formulating an Argument
Formulating an Argument: The Thesis Statement
Developing a thesis statement is the first major writing step and is crucial for directing both your research and how you formulate your argument.  Do not delay on this step.
Your essay's thesis statement is , above all, an answer to a question. The question might be one that interests you from the list provided by your professor or one you have thought of on your own. Historians do not ask questions with definite answers. They ask questions with debatable answers. It is crucial to note that a "debatable" question cannot be answered with a statement of personal belief. Your purpose in writing a history paper is not to articulate your own values, but rather to offer a convincing argument about why or how things happened. You must concentrate on explanation rather than moral judgment and you must go beyond a mere description of what happened. For instance, instead of asking "What did Britain's navy do during World War II?" ask "Did Britain's navy contribute to the Allies' victory in World War II?" The first question's answer would be merely descriptive. The second question demands an assessment and a persuasive argument. Never write a paper that implicitly or explicitly answers a moral question such as why slavery is wrong or how horrible the Holocaust was. Answering these questions inevitably involves moralizing rather than analytical argument.
Assess whether you have enough information to proceed.   Some of the information you have gathered will be of the most general, factual kind. They are the things that you needed to learn to understand the basic narrative of your subject. While you might need this information to introduce your theme, it probably will not help you to make your specific argument. Other bits of information will no longer be specifically relevant to the topic as you have now narrowed it down. You should understand each bit of evidence that you have collected as a sub-argument of your larger thesis—your answer to the specific historical problem that you have outlined for yourself. Look at your notes to determine if you have enough to sustain your argument, likely you will need to do some directed research to support your thesis.
Construct a working thesis statement early. While it will change as your research continues, thinking about what you want to argue while you are still conducting your research will help focus your reading and note taking. Always choose a topic that you are personally interested in, whether it is something you have formulated yourself or something you have chosen from your professor's list of questions. If you choose your own subject, first pick the topic, then think about how it can be broken up. For instance, if you want to study the Civil War for an American history class, you might break it up into smaller subjects: economy, slavery, Union army, Confederate army, Abraham Lincoln. When you narrow your topic down in this way, you can focus your reading so that questions will inevitably emerge upon which you can take a "side," or argue a position in your paper. For example, as you read general sources on the American Civil War, you can begin gathering information to make an argument about how the agricultural economy of the South affected the Confederates' military campaign. This narrows your topic down from the more general focus on the whole Civil War. You will come to a specific and debatable question that you can appropriately argue and defend in a short research paper.
As you begin formulating the argument for your essay, the confusion of the pre-focus exploration phase gives way to a sense of clarity and confidence. This is a result of:
Identifying pertinent ideas . From the lists you composed during your exploratory reading, certain themes, issues or elements of the topic will begin to stand out. Your understanding increases and you can start to focus on those ideas that will inform your further research.
Predicting outcomes . Measuring possible foci for your research against the criteria of task, time, interest and information available, you will see which ones might be suitable to choose.
Experiencing the 'aha' moment.  Some students report that they experience a sudden understanding or a moment of insight where the focus of their research becomes obvious.
Making a decision . After all the muddling about of the exploration phase, the Focus Formulation phase requires a decision. This will set you off in a particular direction and is the stage at which students feel they can really start to make progress.
Now write Quiz 3 on Blackboard!
Focused Research
Although you have been gathering information up to this point, once you have clearly defined the focus of your topic by developing your thesis statement you are best able to conduct a literature search for information that defines, extends, and supports it. Now you should be ready to really dive in to the research databases and dig out the research and sources to support your arguement.
This is the phase where you'll really get to know your subject-specific research databases. You'll search them, along with consulting other resources such as the library catalogue for books (also known as monographs) and subject experts, to pull together the information required to support your thesis.
The purpose of this phase is to actually find the scholarly articles and books (monographs) and/or primary sources that will enable you to complete your research.  The best way to do this is to refer to your thesis statement, take it apart to its basic components.  Based on what you learned in your initial research what now do you need to know to make an effective argument to support your thesis?  At this you will either start to find what you need or realize you need to reconsider your thesis and try again.
To do this, you will want to do two things (in addition to the techniques used earlier) citation mining and database searching. Citation mining This might the single most important technique you will use in your research, and you have already started using it in your initial searches.  Citation mining means going into the citations, the bibliographies and footnotes or endnotes of every relevant source you find to identify further research materials.  It is not too difficult to do, but it is often forgotten. Citation mining only really works well when you are using a scholarly or academic source.  Popular histories general do not have the level of citation necessary to make this effective.  This is also one of the most effective ways to identify relevant primary sources.
For every book you find that is on your topic look through the endnotes or footnotes, particularly for those areas that relate directly to your thesis.  Note down any source used by the author that looks relevant or useful.  Take the full information, because depending on what the source is you will need different parts of it to find the citation.  Here are some examples of citations with comments on what you would do with them to track down both the source itself and other possibly relevant sources.
Assisted Citation Mining Some technical assistance is available at this step, or at least as you move forward in to the next step.  When you are searching databases, whether Historical Abstracts or Google Scholar, watch for links on record descriptions such as as "cites" or "cited by".  These will either directly you to sources used in the writing of the article you are looking at, or better still "cited by" links you to other articles that used your current article in their research.  Often those items found with a "cited by" link are also relevant to what you are doing.  Basic citation mining lets you know everything that came before a relevant article.  Assisted Citation Mining with the "cited by" link helps you identify things on the same topic that came after!
Digital Sources   The two digital sources you are likely to be using most are Historical Abstracts or Ebrary.  Historical Abstracts is used to find scholarly articles and Ebrary is used to find the digital version of books.  In addition to these two tools there are a host of databases that have the digital versions of primary sources ranging from government documents to newspaper articles.  Please note though, if your topic is set prior to 1450 Historical Abstracts will not be helpful and instead you will use International Medieval Bibliography and ITER: Gateway to the Middle Ages and Renaissance.
Identify the most appropriate databases for your topic . This is one of the most important things you can do. Many hours have been misspent searching Historical Abstracts for a Medieval topic, or searching the catalogue for an article. All of the library research databases are arranged by subject, and have brief descriptions of the content covered. Be sure to read these descriptions (including the dates of coverage) before entering a given database to ensure you're starting in the right place.  The history databases are listed under Social Sciences as History AND History - Primary .Sources.  History Primary Sources pulls out those databases are you are most likely to use when looking for primary sources.  Many primary sources are also kept on microfiche. For these you will have to search the library catalogue.
Brainstorm the terminology you'll use to describe your topic to the research database (or person you're talking to). In the research world this terminology is variously described as descriptors, subject headings, and key words. This is part of the reason for the Pre-Focus Research, as it will have provided you with a list of terms ready to be worked with.  You will also be using information that you mined from the citations of other relevant works.
Combining Search Terms . Library research databases make use of something called Boolean operators to combine different search terms. While it may sound foreign, it simply means the use of the word AND to combine unrelated terms, OR to combine synonyms, and NOT to exclude certain terminology. Here's another example of how Boolean operators work . Truncation is a useful search tool as well. You use a special symbols such as * ? (which differ from database to database) to compensate for variant spellings or plurals, so a search on multipl* would automatically search multiple, multiples, multiply, multiplication, multipliers ... Here's a good example that may help you visualize truncation.
Methodically search relevant databases . You'll discover some overlap in the various databases you search, but no single database (and that includes Google when searching the web) covers all literature. This means you'll need to repeat your search several times using the same or similar terminology in several different databases.  Click here for an example of what you might find and miss using four popular search engines (click the name of each search engine once you get there). Results highlighted in yellow are content that is unique to that particular search engine, and represents results you would not have found had you only searched one of the other two in this example. You will find similar results using library databases!   Searches in Historical Abstracts can be complimented by searches in other databases such J-Store, Project Muse, Google Scholar, and Web of Science (despite its name it does have some historical data).
Request assistance from experts: Database searching is technically simple but that does not mean it is easy to do effectively!
Make an appointment with the history librarian or drop in at his office hours for help in searching databases and retrieving results.
Meet with your professor for guidance on the most important authors and researchers in your topic area
Take good notes and save documents / citations as you go! There are few things worse than knowing you found a really good article two days ago, but not being able to find it again today.
At this state you are thinking about your outline and thesis and trying to find relevant information, and taking a large amounts of notes.
There is more than one way to take notes and different tools to use depending on how you do it (you may use a combination of methods).  You can use whatever method you like, but you should do it intentionally so that it is effective and gives you what you need in order to write.
Most importantly, you must always record citation information, the author, title, publisher, place of publication and date of publication for books.  For articles be sure to record the author, title of the article, title of the journal, page numbers, issue and volume numbers and publication date.  This information is necessary for your own bibliography and notes, and it is vital if you need to try to find the source again.
These notes will be what you use to write, they are in addition to notes you have been keeping on the research process itself (whether in digital format or on paper).
Two popular methods of taking notes are as follows: 1. Post-it Notes  or Cards:  Some people like to take notes sparingly and carefully, use post-it notes or recipe cards either inserted in the source itself or stacked together.  You don't have a lot of space to write in this method so you end up only recording what is most important, and often summarizing ideas.  This can make writing simpler latter and help prevent unintentional plagiarism.
2. Notepad, Word Processor etc.:  Some people prefer to take copious amounts of notes, either typing them into their computer while looking at sources or cutting and pasting from electronic sources.  If you take this approach you are likely to have plenty of notes to work with when you start writing your first draft.  On the other hand you might have too many.  You may find yourself trying to utilize all the information, cramming it in even when it doesn't support your thesis or when it is only marginally relevant.  This can weaken your argument.  You may also find yourself using too many block quotes: long quoted sections of the original works. Even with proper attribution, it is better to provide the original author's argument in your own words than just using theirs. So while you will have plenty of notes this approach may make the writing more challenging.
No matter how you take notes though, take the notes with your thesis in mind,  think about how the notes you are taking support your thesis.  When you look over your notes and start building your outline, think of each idea in your outline or each point in your argument as a short-answer question that needs to be answered with research. Then make sure the notes you take from your sources are answering those questions.
You should start to feel a sense of accomplishment during this phase, though you may encounter setbacks as well.
During this phase you will have a better realization of the extent of work to be done and the extent of time commitment to complete the assignment.
You will feel a greater level of confidence in your ability to successfully complete your research, and an increased interest in your topic as you continue to uncover "the good stuff".
Now write Quiz 4 on Blackboard!
Refining an Argument
What follows is one way to approach the final stages of completing a history essay.  It focuses on refining an argument through creating an outline
Outlining your information before you write is crucial to constructing a coherent, organized argument. Not only does an outline aid in the writing process (you will never wonder what you are going to write next), it ensures that your essay is complete. By reviewing your outline, you can see immediately what points are irrelevant and what is missing from your argument. An outline will also help you determine whether you have too much or too little information and whether you might need to modify your argument accordingly. Most importantly, you should use your outline as a way of considering whether your essay will have a logical structure and flow.
There are many ways of organizing historical essays, though they tend to proceed chronologically or thematically depending on the topic. If you choose a thematic approach, you must still pay attention to the chronological order in which events occurred. Going backwards in time will confuse your reader
There are four basic steps to compiling an outline: preparation of notes, brainstorming, categorizing, and ordering. You do not necessarily have to do things in this precise order. But each step is important.  You may also find as you go through these steps that you may need additional information from your sources.  Don't be afraid to take the time to get the information you need. In fact as you will now be addressing very specific questions as determined by your outline it shouldn't take very long.  This step is about directly applying your research to your thesis.
Preparing your notes. First compile a complete bibliography to make sure that you will not lose or confuse any citations. Now divide up your notes into discrete bits of evidence. How you physically do this will depend upon how you took your notes (i.e. handwritten, on computer, or perhaps even into a database). To simplify the explanation, think about these discrete bits of evidence as separate note cards. Each note card should have a short descriptive heading and a brief citation to the source at the top (you could, for instance, just temporarily number the sources in your bibliography), followed by the actual evidence/notes with page numbers from the source. If you have handwritten your notes, you might need to cut them apart or use a system of colour-coding with highlighters or sticky-note tabs. Dividing up your notes in this way may seem tedious, but it will pay off quickly in speeding up the organization and writing process. Set any note cards aside that you already think will not be useful, but do not throw them away. You might change your mind later.
Brainstorming. Now that you have headings for your note cards, it is a simple matter to make a point-form list of the subjects that you would like to address in your essay. You might make a simple list, or you might use a flow-chart style map to do this, drawing connecting lines between related ideas. There are various software programs (such as the shareware program FreeMind) that might help with this stage.
Categorizing. Relying on your brainstorming, sift through your notes and group together related pieces of evidence. Physically organize your notes cards into these new piles (or word processed sections). If you have used colour-coding or tabs, you will need to write in new headings. At this point, you should also be cutting down on the number of separate sub-headings, and you should be deciding where an analysis of your primary source and/or your most important secondary sources will work best.
Ordering. Now the real outlining can begin. Take a look at the sub-categories of evidence that you have wound up with. Group these together into an even smaller number of headings. There is no rule on how many you will need, but it should be a number that is not too large to easily describe in your introduction. Your outline will now look something like this:
            i) a one-sentence version of your provisional thesis (you can change it later)
            ii) a brief description of the outline of your essay (a list of the sub-arguments below)
A. First Sub-argument
            a) topic of first paragraph to include:
                        i) evidence
                        ii) analysis
                        iii) link to thesis
            b) same structure as above…
                        iv) transition to next sub-argument
B. Second Sub-argument
   … paragraphs structured as above
C. Third Sub-argument
  …. paragraphs structured as above
            i) wrap up, restating argument with reference to evidence in the essay             ii) perhaps a reference to wider context or future research
Note on the importance of paragraph structure . Paragraphs are not simply a stylistic feature. They are units of argument. The more attention you pay to structuring coherent paragraphs, the easier it will be for your reader to follow your logic. All paragraphs should make a specific point (usually described in an opening topic sentence) and contain specific evidence. Most should also make an obvious link to your thesis. Making sure that all these elements are present is easiest if you actually outline your paragraphs in advance.
Assess your outline. While you were compiling your outline, repetitions in argument or conflicting viewpoints might have appeared. In a history essay, it is also important to make sure that you have not confused the chronology of events. Reviewing your outline before writing should also reveal if you have omitted important points or if many of your notes are now irrelevant because of the direction your paper took. You might also need to do more research. If you have started your paper early enough, filling in the gaps in your notes should not be a problem. Keep all your notes just in case you may need them later.
Compiling an outline as we have described will make the writing process much easier. But as you write you must pay even closer attention to matters of argument, evidence, logic and structure. Try thinking of your essay as a journey. You want your reader to come along for the ride and to arrive with you at the destination that you have chosen. To make sure this happens, you have to make the trip comfortable by ensuring that there are not too many bumps on the road (grammatical or stylistic problems), distractions (extraneous bits of evidence), wrong turns (illogical statements), or road-side bandits (misleading uses of evidence or plagiarized wordings or arguments).
The actual writing process is quite personal and can be accomplished by using various strategies. You can write a rough draft in any order. You may want to start with the body of the work or even the conclusion, if you have a good idea for how to end your essay. Whichever order you write, it is always a good idea to go back to the introduction once you are done and make sure that you have actually proven what you said you were going to. The most important thing is to give yourself enough time so that you can write a rough draft, be able to set it aside for at least a day or two, and then edit it carefully before turning in your essay. See the section on time management (in "Topic Selection" - "Writing Strategies").
The introduction is the most significant part of your essay. It must introduce the general topic area, concisely outline the argument you will be making, and provide the reader with a map to how your essay will proceed. You must explain where your reader is going and how he/she will be getting there. At the undergraduate level, it is also recommended that your introduction include your thesis statement. Given the length of papers that are generally assigned at the undergraduate level, this almost always means that your thesis should be in your first paragraph.
You must begin by clarifying the who, what, where, and when of your topic. Who is involved? What is the issue? Where and when did this historical event take place? You must then concisely state your argument. And, finally, you must describe how the essay will proceed. Providing your readers with a brief description of your outline (i.e. describing the headings of your sub-arguments) will make it much easier for them to follow your logic as they proceed into the body of your paper. It is also a good way of double-checking that your argument makes sense. If you cannot construct a concise description of how the various parts of your essay fit together, you probably have not thought hard enough about whether all your evidence is related to your thesis. If there is no logical flow between your sub-arguments, some sections of your essay will seem irrelevant, and your writing will seem choppy.
Evaluate your introduction before you begin writing the rest of your paper. Try giving your introduction to friends or family members to read and ask them to explain to you what they think your essay is about. If they cannot do this or if they do not know what you plan to argue, then your professor will also likely be confused. An adequate introduction should be roughly ten percent of the overall paper, but it can be shorter.
The body of your essay answers "How?" and "Why?" How and why did things come to be? How did change occur over time? If you thought carefully about your outline, writing the body of your work should be relatively straightforward. The paragraphs will flow logically, one idea or argument to the next, building your case in answer to the original question set out. In each paragraph, you present evidence, either through the research of other historians and/or through primary sources, and argue what that evidence means and what can be concluded from it. In other words, you should regularly make some kind of explicit reference to the central thesis of the paper. This is analysis. If you have found evidence counter to your main argument or if one of the historians you cite has a different interpretation, include that information and provide a reasoned argument about why your interpretation is more appropriate. Including the other side lets the reader know that this subject is debatable. A successful counter-argument will also strengthen your paper.
Between themes , or at the end and beginning of paragraphs, you should always have a transitional sentence or two that tells the reader where you are going to go next with your overall argument. If you cannot think of a way to tie parts of your essay together, they may need reordering. Transitional sentences are often called signposts because they give direction to the reader about where you are going. An example of a weak signpost might sound like this: "I first discussed the economy and now I will discuss politics." Instead, explain why you are going from one theme to the next: "An analysis of the economic climate allows us to better understand why politicians reacted the way they did. The stable economy permitted political leaders to spend time and money on external affairs." That next paragraph would then be about foreign policy.
The conclusion is not merely a regurgitation of the introduction. Avoid repeating point for point what you just wrote in your essay. Briefly summarize the overall argument of your essay and reveal how the subject and your arguments about it are significant. This might include setting the subject in a wider context or indicating what further research could be done. One way to evaluate your conclusion is to read it immediately after the introduction. They should flow together.
Quotations serve to prove to the reader that what you are arguing is indeed true. But quotations, especially longer ones, should be used carefully and sparingly. Limit direct quotations to poignant, strong and well-worded passages. The most useful quotations come from primary sources, because they present the moment or idea as it was originally recorded. Limit quotations from secondary sources to those that present strong arguments or particularly well-worded descriptions. An essay challenges you to synthesize the ideas of others to form your own argument. You cannot simply copy out what others have written. For information on the mechanics of inserting quotations into your essay refer to Formatting Essentials .
Proper citation allows the reader to reconstruct the argument from the sources used. To be convincing in a scholarly way it must be possible for your reader to use your footnotes to easily find the exact source that you used. This is the reason that all disciplines have developed detailed rules for citing sources. (The citation formats used in the History Department are described in Presenting an Argument - Research Strategies .) Proper citation is also the only way to avoid plagiarism .
Definition of Plagiarism:
Plagiarism includes:
copying phrases or sentences from another source, including Internet sources. (This means that using someone else's words without quotation marks is plagiarism whether or not a footnote to the source is provided.)
using someone else's argument or analytical reasoning without footnoting the author. (Depending upon the specific assignment, an in-text reference might suffice. Follow assignment directions.)
sustained paraphrasing of someone else's argument without proper footnoting.
turning in work that was originally written for a different course.
turning in someone else's work as your own (including purchased or ghost-written papers).
Plagiarized papers automatically receive a failing grade (possibly resulting in a failing grade for the entire course). The Faculty of Social Sciences might also apply more severe academic penalties as outlined in the University of Calgary Calendar.
What to cite. It should be clear that you must cite your sources for direct quotations. But it is just as important that you provide proper documentation when you paraphrase what others have said in both primary and secondary sources. There is only one exception. You do not need to document your source of information if it is considered general knowledge. While you might have read in Historian A's book that Sir Alexander Fleming discovered penicillin in 1928, you do not need to cite Historian A for that information. Historian A did not uncover the discovery through her own research; it is common knowledge available in an encyclopedia or textbook. However, if Historian A has developed an argument about the significance of Fleming's discovery or researched the scientific community's reaction to the discovery and you want to paraphrase this information, you must present your source, including page numbers, in a footnote or endnote. Specific information and arguments stemming from a historian's labours must be attributed to that historian. Otherwise, it appears as though you are presenting that information as your own research, which is plagiarism. The same argument goes for primary sources. If you describe the contents of someone's diary to illustrate your point, you must cite the diary in a note.
Upon reviewing the content of your rough draft , ask yourself several specific questions beyond "Is this good?" For instance: do you make a compelling case? Are your arguments clear and do they flow logically? Are your quotations interesting and insightful? Have you used too many quotations? If so, remove or paraphrase some of them. Are your quotations seamlessly woven into your essay, so that the reader sees the relationship between them and your argument? If not, link them more explicitly to your central thesis or the sub-argument. Have you been sloppy about citation or paraphrasing anywhere in the essay? Above all, did you stay on topic and answer the question?
If you have identified gaps in your essay or perhaps quotations that do not quite work, return to your notes to fill in the gaps. Hopefully in the main research stage, you read enough from a diversity of sources and took clear enough notes so that you do not have to return to the library or electronic databases. (This is also the reason why it is vital to take down the bibliographic information and page numbers in the early stage of your research, and even some notes on the search process. You might end up having to repeat some of this process. If you find you relied heavily on one or two authors, try at this stage to interchange them with other sources. Your argument will seem more thorough if you present the views of many historians.
At this stage, you should begin to feel confident and your anxiety should be relieved somewhat. This is a result of:
Staying on track . If you have managed to stay focused on your topic, keeping course guidelines and criteria in mind, as well as time constraints, your anxiety about completing the paper should be relieved.
Close to completion .  You should now be in a very good situation to wind down searching for information and really concentrate on finishing writing your paper/assignment. At this point you should feel confident that you have successfully gathered all the relevant information that you need.
Still anxious . If you find that you have not been able to find all the relevant information, or that you have very limited time left in order to finish the assignment, your anxiety level might increase. Rethink what you can finish in the time allotted, what information is still required, and perhaps return to the focus formulation phase to revise your topic into something that you can complete with the given information and time constraints.
Now write Quiz 5 on Blackboard!
Presenting an Argument
The final stage of Presenting an Argument  focuses on the final draft of essay.
The language you use and the format of your essay might seem less important than the ideas you express and the evidence you provide to support them, but appropriate language and, to a lesser extent, appropriate formatting are essential if you are to score highly. As regards language, following grammatical and spelling rules enables us to understand each other, assisted by clear formatting. As in any discipline, historians abide by standards so that others can easily understand their work. Improper formatting, footnoting, style, spelling and syntax inhibit the clear expression of your argument and bring down your grade.
Title page should include an original title for your paper, your name and student number, the professor's name, possibly the teaching assistant's name, the course name and date.
Font should be 12-point and Times New Roman for the body of the essay. Footnotes should be 10-point (standard in MS Word).
Margins should be one inch on the top and bottom and left and right.
Page numbers should be on every page, excluding the title page, which is not included in the page count.
Double-space your essay with no extra spaces between paragraphs. Single space block quotations and footnotes.
There are essentially two ways to quote. The first is the shorter blended quotation. If a quotation is less than three lines, it is 'blended' together with your own words. Together, your words and the quotation should form a grammatical sentence. In other words, the sentence would be grammatically correct even if you removed the quotation marks. For example:
According to local newspapers, gangs of women took to the streets "bearing torches and setting fire to the homes of prominent merchants." 27
Shorter quotations never stand as sentences of their own, but are blended into your own words. Only use an ellipsis, three periods spaced out ( . . . ), if you omit words from the middle of a quotation. Commas and periods go inside quotation marks; semi-colons and colons go outside. Question marks only go inside the quotation marks if the original quotation was a question.
Quotations longer than three lines are block quotes. This means that they are a separate, indented, and single-spaced paragraph.
Block Quotes
Indent the first line of each paragraph. Block quotes should have a space on the top and bottom. Example:
A block quote is single-spaced and indented on both sides so that it is set off from the main body of the work and the reader can easily identify it. A block quote should only be used for particularly poignant quotations, usually from primary sources. DO NOT insert quotation marks around a block quote. 12
The line immediately following a block quote is left-aligned with no indent on either side, as it is a continuation of the paragraph preceding it.
Not only should you get the format of footnotes right, but you should be using them appropriately to add weight to your arguments.
It should be obvious whether ideas and arguments are your own or those of someone else—if they are your own then it is particularly important that you back them up with specific evidence (footnoted if it is more than accepted factual information such as the date of a well-known event), and if those of someone else they should be attributed to them either by both mentioning the author in the text and the source in a footnote or simply the latter. Since you are footnoting the exact source, you should not use the title of the book or article that you are citing in the text of your essay, unless you are purposely distinguishing between several works by the same author.
If a paragraph contains more than one piece of information from consecutive pages of a single source then do not provide a footnote for each piece of information—use a footnote for a page range, e.g. 31–34, at the end of a paragraph.
Footnote, Endnote and Bibliography Formatting
You must have a notation system, either footnotes or endnotes, and a bibliography. Historians prefer The Chicago Manual of Style 's documentation style. The manual can be bought or borrowed from the library. Footnotes and endnotes document where you found information or a quotation in the text. They provide the exact page number, so that the reader can track down where you found your information. A footnote appears at the bottom of the page, while endnotes appear after the body of your essay, before the bibliography. Some professors have a preference for one of the other, while others do not. If you choose to use footnotes, make sure they are numbered sequentially from the first to the last page. Do not begin each new page's footnotes with 1. Refer to your word processing software's guide to learn how to insert either style of notation. (Be careful when switching between footnotes and endnotes. MS Word will sometimes change the numbering to Roman numerals, and you will have to figure out how to change back to digits or risk frustrating your professor.) Do not indent any line of a note. Notes are left-aligned.
The bibliography should contain every source you cited in your notes as well as other works you may have consulted for your essay, excluding textbooks and encyclopaedias. (If you picked up a book but immediately put it down -- in other words if it did not influence your argument at all -- then do not include it in your bibliography. Just adding titles to your bibliography is known as "bibliography padding" and is not an acceptable research practice.) Unlike your essay, the bibliography is single-spaced. The entries are alphabetized by the first word, usually the author's or editor's last name, and the second line is indented. Do not number the entries.
The examples here follow the Chicago Manual . B = Bibliographic entry. N = Note entry , either footnote or endnote. Upon second and subsequent reference, you can shorten the note entry. In a note, the page(s) where you found the information go(es) last. If you are noting the same source as the one directly preceding it, you may insert: Ibid. or Ibid., 117 (if it is the same source but a different page number). If you are citing the same page(s) as the preceding note, you do not need to include the page number(s) again. You cannot use ibid if the preceding note contains more than one source.
Single-author book
Donnelly, James. The Great Irish Potato Famine . Gloucestershire: Sutton Publishing, 2001.
James Donnelly, The Great Irish Potato Famine (Gloucestershire, Sutton Publishing, 2001), 126.
N Second and subsequent reference
Donnelly, The Great Irish Potato Famine , 211.
Multi-edition book
Roy, Tirthankar. The Economic History of India, 1857–1947 . 2nd ed. New Delhi: Oxford University Press, 2001.
Tirthankar Roy, The Economic History of India, 1857–1947 , 2nd ed. (New Delhi: Oxford University Press, 2001), 95.
Multi-author/editor book – two or three authors
Bay, Edna, and Donald Donham, eds. States of Violence: Politics, Youth, and Memory in Contemporary Africa . Charlottesville: University of Virginia Press, 2006.
Edna Bay, and Donald Donham, eds. States of Violence: Politics, Youth, and Memory in Contemporary Africa (Charlottesville: University of Virginia Press, 2006), 9-10.
Bay and Donham, eds. States of Violence , 15.
Multi-author/editor book – four or more authors
–Because only one name is used, use the first name listed on the title page of the book.
Prentice, Alison, et al. Canadian Women: A History . 2nd ed. Toronto: Harcourt Brace Canada, 1996.
Alison Prentice, et al., Canadian Women: A History , 2nd ed. (Toronto: Harcourt Brace Canada, 1996), 298.
Chapter or contribution to a multi-author book
–General format:
Contribution author's last name, first name. "Title of Contribution." In Title of Book . Edited by editor's name(s), page numbers of contribution. City of publication: Publisher, year of publication.
Harrison, Dick. "Structures and Resources of Power in Early Medieval Europe." In Construction of Communities in the Early Middle Ages: Texts, Resources and Artefacts . Edited by Richard Corradini, Max Diesenberger, and Heimut Reimitz, 17–37. Leiden and Boston: Brill, 2003.
Dick Harrison, "Structures and Resources of Power in Early Medieval Europe," in Construction of Communities in the Early Middle Ages: Texts, Resources and Artefacts , ed. Richard Corradini, Max Diesenberger, and Heimut Reimitz (Leiden and Boston: Brill, 2003), 25–26.
Article in a scholarly (peer-reviewed) journal
Author's last name, first name. "Title of Article." Title of Journal volume number, issue number (date of publication): page numbers.
Combs-Schilling, M. Elaine. "Etching Patriarchal Rule: Ritual Dye, Erotic Potency, and the Moroccan Monarchy." Journal of the History of Sexuality 1, no. 4 (April 1991): 658–681.
M. Elaine Combs-Schilling, "Etching Patriarchal Rule: Ritual Dye, Erotic Potency, and the Moroccan Monarchy," Journal of the History of Sexuality 1, no. 4 (April 1991): 672.
Combs-Schilling, "Etching Patriarchal Rule," 673.
Book review in a scholarly journal
Duncanson, Dennis. Review of Orientalism , by Edward Said. Asian Affairs 11, no. 2 (June 1980): 200-201.
Dennis Duncanson, review of Orientalism , by Edward Said, Asian Affairs 11, no. 2 (June 1980): 201.
Your writing style is crucial in convincing the reader of the validity of your argument.
Verb tense should be in the past for a research essay.
Passive voice should typically be avoided. "The government's distribution policies were claimed to be responsible for the food shortages according to the farmers" should be reworked into the active voice , so there is a doer of the action: "The farmers blamed the government's distribution policies for the food shortages." Similarly, avoid beginning sentences with "It was." Rather than "It was the farmers who blamed the government," write "The farmers blamed the government." Active voice essentially follows the format—subject–verb–object. Active sentences are clearer, because there is no mistaking who did what to whom , and they make a stronger statement.
The passive voice should be avoided when asserting an argument so that it is obvious whose argument is being expressed!
Word choice can either weaken or strengthen your arguments. While you should try to avoid repeating the same words in your paper, do not merely grab a word from a thesaurus that "sounds clever." Check the exact definition and make sure you know how to use it. The more precise your word choice, the better.
For example: "Residential school officials denied Aboriginal children their heritage." "Heritage" here is vague. Were the children brainwashed into thinking they were no longer Aboriginal? Instead, "Residential school officials denied Aboriginal children from practicing their traditional customs" is clear and indicates to the reader you are about to discuss some of the forbidden customs.
Also, never write about "the people." "The people" is vague and indefinite. Instead, be precise and say who exactly was doing what, such as the protesters, the villagers, the majority of the upper class, etc.
Use upper case for proper nouns and titles only. Do not capitalize words like "the third world" and "the law" to stress their importance. Names of acts and treaties should be capitalized when using their formal titles. So, capitalize Act of Union, but lowercase it when you refer to it simply as "the union."
Upper case personal titles that go before a name, but the title should be in lower case if it stands alone. For example: "Kaiser Wilhelm II gave the order," but "the kaiser gave the order." "The Archbishop of Canterbury signed the document," but "the archbishop signed the document." Always use upper case for ethnic and racial groups, i.e. First Nations, Natives and Native art, African American literature, Asian trade routes, Caucasian etc.
When referring to people by their skin colour, e.g., black and white, you do not need to use upper case. However, if you prefer to, be consistent. If you want to upper case black, then upper case white, and do so throughout your paper.
Titles in the text are treated the same way as titles in bibliographic entries. The rule of thumb is: if the work—book, treatise, painting, report, etc.—was published on its own, the title is italicized. For example, The Last Supper , The Making of the English Working Class , The World Health Report 1995 . Religious texts like the Torah and the Kuran are not italicized. Set the title in quotation marks, no italics, if the work was published as part of something else; e.g., an article in a journal or magazine, a chapter of a book, a short poem.
Contractions should never enter formal written work, unless as part of a quotation from a primary source. Contractions are two words spliced together. They include, but are not limited to: wouldn't, couldn't, wasn't, weren't, they'd. Always write out the spliced words: would not, could not, was not, were not, they would. Essentially, you should never use an apostrophe in your formal writing unless you are showing possession, as in "the labourers' rights," or within a direct quotation.
Possession and plural If one person or thing possesses something, you add an 's: the artist's work, the country's laws. The exception is "it." Its = possessive. It's = contraction of "it is." To show plural possession, add s': the farmers' fields, the soldiers' morale. Do not use an apostrophe if you are simply making a noun plural.
Idiomatic expressions , like contractions, should not enter formal written work. Idioms, or expressions, tend to be metaphors that stray from their dictionary meaning. We might be "at our wit's end" or not wanting to "rock the boat" at work. However, in your paper, do not say that two politicians "locked horns" or that a party "ran away with" the election. Be precise by saying exactly what you mean without resorting to slang or idioms: the two politicians disagreed and the party won a significant majority of the votes.
Proofreading and copy-editing are the last steps in the completion of your essay. Comb your essay for areas where formatting and style can be improved. You should have already edited for content after finishing your rough draft. Performing a spell-check is the first and easiest part of this process. Most find it helpful to then mark up a print-out of their essay, as this is how your instructor will encounter your work. Look over your essay methodically, looking at one element at a time, such as proper indentation, spacing, footnotes and bibliography, formatting, etc. Next, read your paper for things like voice, word choice, contractions, proper use of quotation marks, etc. A spell-check will not catch the improper use of homonyms, so manually check to make sure you have used the right ones, such as "their" (possessive) and "there" (place); affect (to change) and effect (the result); than (contrast) and then (time). Once you have looked over every element of your paper carefully, enter the corrections into the computer.
Finally, print off and staple your final copy to be submitted, ensuring all pages are there and in order!
The Search Closure phase is often characterized by a sense of relief. Now you can quit looking for more information put the information you found into action! Depending on how the search process went for you, you may feel satisfied with what you've accomplished or disappointed with the results (we hope it's satisfaction you're experiencing!)
Some reasons for bringing your search to a close include:
Diminishing value of results: if you've done a fairly comprehensive search, you will find that the information you continue to find is either less relevant to your needs or that it is becoming redundant. The effort of continuing to search is greater than the worth of the information you may find.
Enough: sometimes you know there's more out there, but feel that what you've collected is adequate to meet the requirements of the assignment. If you have got everything you need (and you are quite sure that nothing more is required), there's not much point in continuing to search.
Out of Time: one of the huge challenges of being a student in the 21st century is scheduling your time so that you fit in everything that needs to be done. Often the decision to stop searching for information is driven by the assignment deadline or by the need to meet other deadlines in your life. You need to fit time into your schedule to synthesize and organize the information you've found and to prepare the final 'product'.
Now write Quiz 6 on Blackboard!
University of Calgary 2500 University Dr. NW Calgary, Alberta, Canada T2N 1N4
Copyright © 2023 Privacy Policy
About the University
At a Glance
Identity & Standards
Campus Maps
Careers at the University
Events at the University
Departments & Programs
Undergraduate Studies
Graduate Studies
International Studies
Continuing Studies
Libraries at the University
Campus Life
Active Living
Graduate Students' Association
Students' Union
Media & Publications
Media Centre
U This Week
University Calendar
Essay Writing Tutorial
Free essay samples and examples, essay writing frequently asked questions, essay resources - more essay writing help and tips.
Essay Writing for Beginners: 6-Step Guide with Examples
If you need to write an essay, whether for a college course or to pass a writing test, this guide will take you through the process step-by-step.
Even if you have never written an essay before, this guide will make the process simple and easy to follow.
It is divided into two parts. 
First, I'll show you the steps of writing an essay from scratch using a simple example. 
And in the second part, we'll go through the process together and write a complete sample essay.
Let's dive right in. 
Writing an essay is a 6-step process.  
Step 1. Decide on your main point and write it down
You could be in one of the following situations:
Your teacher or professor gave you a prompt, and you have to follow it
You are allowed to make up your own essay topic
You must pass a writing test and are practicing
Whatever the case, let's assume that you have some kind of a topic or an idea for an essay. Many essay prompts ask you to decide for or against an idea. You must agree or disagree.
And in your first step, you need to simply make that decision – whether you agree or disagree – and just write it down as a simple sentence. 
This is a very simple example, but it shows you what a thesis essentially looks like. It is also your main point.
Try not to make your thesis sentence too complicated. Keep it simple so that the point is perfectly clear to both you and the reader. 
In this case, our example thesis is:
And we're ready for the next step.
Step 2. Come up with three supporting ideas
Whether you need to write 300 or 3,000 words, as a beginner you only need three supporting points to prove your main point.
This is why I teach the Power of Three. 
So, why three? You see, you need to divide your topic into subtopics. If you don't, the whole essay writing process will be harder than it has to be.
If you divide it into only two parts, that's okay. But it doesn't give you enough meat when you'll be writing the body of the essay.
If you divide it into more than three, that is also a recipe for frustration. It's just too many. 
Three is a very comfortable number for the brain to deal with. Trust me. I've taught many, many people. 
Let's apply the Power of Three to our simple example. 
Why do I love apples? I love them for three reasons. Not one, not two, not seven. Just three reasons. 
I love apples because they are:
In this step, your job is to make sure that these three reasons are really different from one another. In this case, they are. 
Here is a wrong way to do it:
In this case, apples being filling is too similar to being nutritious. This means that when you're writing the body of the essay, you may run into writer's block.
This happens because you realize that you've already said everything there is to say about the nutrition of apples, and now them being filling is too closely related. And you're out of words to write. 
Don't let that happen. Just keep your supporting points really distinct from one another. 
Step 3. Write out the complete thesis statement
Now you have everything you need to write a complete thesis statement. You have your main and supporting points. 
Take them and write them out as complete sentences in one paragraph. Let's do it very simplistically, using our apples example:
Again, this is overly simple, and I don't expect you to write such short sentences one after another this way. 
But it's crystal clear. And the supporting points really sound like good evidence for the main point. 
In other words, this thesis statement works. 
Your Thesis Statement Is Also Your Outline
Students often ask how to write an essay outline. But once you have written your thesis statement the way I just showed you, you have yourself a nice outline. 
In addition, you already have the first paragraph. It may not be complete. You may choose to add some words to it. You will also add an introduction in a later step.
But your first paragraph is, for the main, done. It exists, and it's good to know that you just wrote a nice paragraph. 
We are ready for the next step. 
Step 4. Write the body of the essay
We already know that we have three sections in our little example. And you will also have three main sections if you apply the Power of Three to your essay.
Each of your sections will contain one or more paragraphs. 
But as a beginner, just stick to one paragraph per section. Each of your sections will be a paragraph, and you need to write only three paragraphs in the body of the essay.
Body Paragraph Structure
You must begin each of your body paragraphs with a lead sentence (also known as a topic sentence). And then your job is to fill the rest of the paragraph with evidence to support what you just stated in the lead sentence.
You may have heard that in your essay you should proceed from more general to more specific ? That is exactly right.
The lead sentence (the first sentence in the paragraph) is the most general statement in that paragraph. 
For example, in our essay about apples, the second section is about how nutritious apples are. So, you would begin your paragraph with something like this:
This is the most general statement. And now, your job would be to unpack that, to write a little more specifically. 
As an explanation , you can write a sentence or two on what kinds of nutrients apples contain. 
And as examples , you can write about what some of these nutrients do in the body that makes them nutritious. 
Does this make sense? You are proceeding from general to specific. We'll take a closer look at this process in the essay topic sample that is coming up. 
Once you've written the body paragraphs, you're ready for the next step. 
Step 5. Write the introduction and the conclusion
Introductions.
The introduction is really just a sentence (two at most) that you add in the beginning of your first paragraph. 
Introductions are not necessary. Many instructors will expect that you write them while others won't. You can go straight to the point by starting your first paragraph with the thesis. 
However, most instructors will expect an introduction, and you should know how to write one. 
To write an introduction, just zoom out a bit and write a more general and less relevant sentence. For example, we can start our essay about apples with this sentence:
And then we proceed straight to the thesis: "I love apples." And so on…
Conclusions
In your conclusion you can do one of several things. But I recommend that, as a beginner, you stick to the time-proven restatement .
Basically, you simply repeat what you stated in your thesis statement, using different words.  
Yes, this is repetitious, but that is the nature of conclusions. Don't worry. 
You can literally copy your thesis statement, paste it at the end of your essay, and make sure you change the wording so that it reads like a new paragraph.
For example, this is how we can write our conclusion about apples:
Yes, your conclusion can be just one sentence. But it can also contain many sentences. 
Step 6. Proofread
Our final step in writing an essay is to go back and proofread our draft.
We must look out for:
Any contradictions (to make sure we don't contradict our own points)
Any irrelevant material (stuff that doesn't belong in the essay at all)
Grammatical errors
Misspellings
One good, thorough round of proofreading can be enough to be ready to submit your essay for grading. 
You can use a variety of tools sto spell-check your essay. Google docs is one great tool for that. But many others, such as Grammarly, are available as well.
Guess what! Now you know how to write an essay, even if you're a beginner. 
And now, let's apply what we learned.
Let's take a sample topic and follow the 6 steps to write a nice sample essay.
Let's do this!
Sample Essay: "Parents are the best teachers." 
This essay topic came from one of my readers. Let's develop it into an essay by following the steps we just learned.
Step 1. Decide on the main point and write it
Let's say that we are given a choice – whether we agree or disagree that parents are the best teachers.
All we have to do is take a stand. We have to simply decide – yes or no.
Let's decide that parents are indeed the best teachers.
We simply state this as the main point:
Step 2. Think up three supporting ideas
Why could parents be the best teachers?
This will take some thinking. But that's what we need to do.
Let's use the Power of Three . And here is what we came up with:
They are the first teachers, and that's very important.
They have the child's best interests in mind.
They spend more time with their child than anyone else. 
We really want to make sure that these supporting points are different from one another. Are they?
If we read them over, we'll see that each of them is indeed distinct. Great!
Step 3. Write out the thesis statement
We have our main point. We have our supporting points. And writing the full thesis statement is now easy.
Let's do it:
We really just took the thesis and the supporting statements and wrote them all in a sequence as one paragraph. 
As a result, we now have a nice, clear opening paragraph.
We also now have our outline:
We know exactly how many sections our essay will have.
We also know in which order we'll be presenting our support. It's all in the thesis statement, which is also our outline. 
Now our job is to write three good supporting paragraphs, one at a time.
Let's start with the first body paragraph.
The first sentence is always the lead sentence – the most general sentence in a body paragraph. 
Writing the Lead Sentence
Let's first copy and paste our first supporting point from our thesis statement:
I copied this because this is exactly what my paragraph is about. And this would be a perfect lead sentence if it were not repetitious. 
To make sure it's not simply repetitious, we'll tweak and expand it a little:
We made sure that the subject is clear – that it is not " They " but " Parents ."
And we expanded the sentence by adding an explanation: "…because what is imprinted early stays with the child forever."
You don't have to necessarily add an explanation in the lead sentence like this. But this is an option that you have. 
All we really want to do in the lead sentence is just expand it slightly over the initial supporting point that it came from. 
Writing the Rest of the Paragraph
Let's review our body paragraph structure:
In our paragraph, we proceed from more general to more specific. Our lead sentence is the most general statement. 
The next most general part of the paragraph is where you explain your point. You can provide a scientific explanation with data and research. You can explain it logically, using your own rationale. 
But it is still a general part. Let's write it.
Explanation
We are keeping it simple and not using any references to scientific studies. You can and should cite sources in your essay when necessary.
If you're writing an essay in an exam or test, you won't need any references. You can just make things up as you go along. And it works as long as your content is logical and supports the main point.
If you're writing for a college course, you will likely need to cite sources, unless it's English 101 where you write basic essays like this one. 
But now, we have three explanatory sentences in our paragraph. Our next step is to add at least one example. You can add more, but one should do it for a beginner. 
This example presents a phenomenon that is well known in psychology. It is an example because it describes one extreme kind of a phenomenon. It is also much more specific than our explanation. 
Note that we can add more words by talking about a specific wild child from history. But let's stop here and look at our full paragraph:
We have 113 words in this paragraph. And it's a perfect body paragraph that supports the first part of our thesis statement.
Let's write the next one. 
Again, let's copy the second supporting point and then tweak and expand it.
This sentence already starts with the subject, which is " parents ." Now, all we need to do is to expand it slightly:
We added a short phrase just to make the lead sentence a little longer and more detailed. Now it doesn't read like plain repetition.
Let's write the next most general part of this paragraph – the explanation:
These three sentences explain why it makes sense that parents would have the child's best interests in mind. She is the most precious thing to them in the world. 
It's time for an example. And I'll use my personal experience:
It's totally okay to use personal examples in an essay. You can use them even in advanced research papers. Your personal experience is valuable. Use it.
Let's take a look at our second body paragraph in its entirety:
This paragraph contains 98 words of evidence to support the second point. 
It's time for the final body paragraph.
Again, you know what we'll do. We'll just copy our third supporting point and tweak and expand it a little:
Let's make sure the reader knows what the real subject is in this sentence. And let's also expand it just a bit:
Great! It's time for the explanatory part:
Again, we won't be citing any sources here and will keep it simple. This explanation works really well because it provides evidence for the third supporting point.
Let's be even more specific and write at least one example.
Again, I'm using a personal example to show that whoever spends the most time with the child will have the most influence.
And let's take a look at our third body paragraph as a whole:
We have here 116 words of great, general-to-specific content that supports our third point. 
As a result, if we look back at what we've done, we'll see that everything we wrote in the body paragraphs supports the main point that parents are the best teachers.
It's time for the next step. 
Introduction  
Our introduction will be just one sentence, which is enough. 
First, let's revisit our complete thesis statement. We will write the introductory sentence based on it. 
In this paragraph, we go straight to the point, and there's nothing wrong with that. 
However, as we know, most instructors will expect some kind of an introduction. So, we'll add one sentence before we get to the main point.
This sentence must be more general. We are zooming out a little. Let's do it:
And let's take a look at the full paragraph together with the introduction:
Note that I took out the phrase "for three reasons." It is unnecessary because it is clear that you are providing three supporting points. And the whole paragraph sounds better this way.
To write the conclusion, we'll simply reword the thesis statement. We only need to make sure that we don't sound like we're just repeating things.
That was not too hard, was it?
It's time for the final step. 
In this step, we just need to go over our essay, making final edits and corrections. And that's all.
I hope this tutorial really helps you in your essay writing. 
Stay tuned and we'll talk soon!
How to Write a 300 Word Essay – Simple Tutorial
How to expand an essay – 4 tips to increase the word count, 10 solid essay writing tips to help you improve quickly, 6 simple ways to improve sentence structure in your essays.
Tutor Phil is an e-learning professional who helps adult learners finish their degrees by teaching them academic writing skills.
You Might Also Like...
How to Paraphrase in an Essay - Tutorial with Examples
https://youtu.be/1cCD66urqwo Paraphrasing is expressing the contents of a passage in different words. It allows the student to use other people's content without copying or...
How to Expand an Essay - 4 Tips to Increase the Word Count
Do you feel that you've written all you could in this essay, but it's still short of the word count requirement? Maybe you need to add a few hundred or even a thousand words. If so, you've...