Dissertations & projects: Tenses
Research questions
The process of reviewing
Project management
Literature-based projects
On this page:
"You will use a range of tenses depending on what you are writing about . " Elizabeth M Fisher, Richard C Thompson, and Daniel Holtom, Enjoy Writing Your Science Thesis Or Dissertation!
Tenses can be tricky to master. Even well respected journals differ in the guidance they give their authors for their use. However, their are some general conventions about what tenses are used in different parts of the report/dissertation. This page gives some advice on standard practice.
What tenses will you use?
There are exceptions however, most notably in the literature review where you will use a mixture of past , present and present perfect tenses (don't worry, that is explained below), when discussing the implications of your findings when the present tense is appropriate and in the recommendations where you are likely to use the future tense.
The tenses used as standard practice in each of these sections of your report are given and explained below.
In your abstract
You have some leeway with tense use in your abstract and guidance does vary which can sometimes be confusing. We recommend the following:
Describing the current situation and reason for your study
Mostly use the present tense, i.e. "This is the current state of affairs and this is why this study is needed."
Occasionally, you may find the need to use something called the present perfect tense when you are describing things that happened in the past but are still relevant. The present perfect tense uses have/has and then the past participle of the verb i.e. Previous research on this topic has focused on...
Describing the aims of your study
Here you have a choice. It is perfectly acceptable to use either the present or past tense, i.e. "This study aims to..." or "This study aimed to..."
Describing your methodology
Use the past tense to describe what you did, i.e. "A qualitative approach was used." "A survey was undertaken to ...". "The blood sample was analysed by..."
Describing your findings
Use the past tense to describe what you found as it is specific to your study, i.e. "The results showed that...", "The analysis indicated that..."
Suggesting the implications of your study
Use the present tense as even though your study took place in the past, your implications remain relevant in the present, i.e. Results revealed x which indicates that..."
Example abstract
An example abstract with reasoning for the tenses chosen can be found at the bottom of this excellent blog post:
Using the Present Tense and Past Tense When Writing an Abstract
In your methodology
The methodology is one of the easiest sections when it comes to tenses as you are explaining to your reader what you did. This is therefore almost exclusively written in the past tense.
Blood specimens were frozen at -80 o C.
A survey was designed using the Jisc Surveys tool.
Participants were purposefully selected.
The following search strategy was used to search the literature:
Very occasionally you may use the present tense if you are justifying a decision you have taken (as the justification is still valid, not just at the time you made the decision). For example:
Purposeful sampling was used to ensure that a range of views were included. This sampling method maximises efficiency and validity as it identifies information-rich cases and ... (Morse & Niehaus, 2009).
In your discussion/conclusion
This will primarily be written in the present tense as you are generally discussing or making conclusions about the relevance of your findings at the present time. So you may write:
The findings of this research suggest that.../are potentially important because.../could open a new avenue for further research...
There will also be times when you use the past tense , especially when referring to part of your own research or previous published research research - but this is usually followed by something in the present tense to indicate the current relevance or the future tense to indicate possible future directions:
Analysis of the survey results found most respondents were not concerned with the processes, just the outcome. This suggests that managers should focus on...
These findings mirrored those of Cheung (2020), who also found that ESL pupils failed to understand some basic yet fundamental instructions. Addressing this will help ensure...
In your introduction
The introduction generally introduces what is in the rest of your document as is therefore describing the present situation and so uses the present tense :
Chapter 3 describes the research methodology.
Depending on your discipline, your introduction may also review the literature so please also see that section below.
In your literature review
The findings of some literature may only be applicable in the specific circumstances that the research was undertaken and so need grounding to that study. Conversely, the findings of other literature may now be accepted as established knowledge. Also, you may consider the findings of older literature to be still relevant and relatively recent literature be already superseded. The tenses you write in will help to indicate a lot of this to the reader. In other words, you will use a mix of tenses in your review depending on what you are implying.
Findings only applicable in the specific circumstances
Use the past tense . For example:
In an early study, Sharkey et al. (1991) found that isoprene emissions were doubled in leaves on sunnier sides of oak and aspen trees.
Using the past tense indicates that you are not implying that isoprene emissions are always doubled on the sunnier side of the trees, just that is what was found in the Sharkey et al. study.
Findings that are still relevant or now established knowledge
Mostly use the present tense , unless the study is not recent and the authors are the subject of the sentence (which you should use very sparingly in a literature review) when you may need to use a mixture of the past and present. For example:
A narrowing of what 'graduateness' represents damages students' abilities to thrive as they move through what will almost certainly be complex career pathways (Holmes, 2001).
Holmes (2001) argued strongly that a narrowing of what 'graduateness' represents damages students' abilities to thrive as they move through what will almost certainly be complex career pathways
Both of these imply that you think this is still the case (although it is perhaps more strongly implied in the first example). You may also want to use some academic caution too - such as writing 'may damage' rather than the more definite 'damages'.
Presenting your results
As with your methodology, your results section should be written in the past tense . This indicates that you are accepting that the results are specific to your research. Whilst they may have current implications, that part will not be considered until your discussion/conclusions section(s).
Four main themes were identified from the interview data.
There was a significant change in oxygen levels.
Like with the methodology, you will occasionally switch to present tense to write things like "Table 3.4 shows that ..." but generally, stick to the past tense.
In your recommendations
Not everyone will need to include recommendations and some may have them as part of the conclusions chapter. Recommendations are written in a mixture of the present tense and future tense :
It is recommended that ward layout is adapted, where possible, to provide low-sensory bays for patients with autism. These will still be useable by all patients but...
Useful links
Verb tenses in scientific manuscripts From International Science Editing
Which Verb Tenses Should I Use in a Research Paper? Blog from WordVice
<< Previous: Writing style
Next: Voice >>
Last Updated: Nov 3, 2023 3:13 PM
URL: https://libguides.hull.ac.uk/dissertations
Login to LibApps
Library websites Privacy Policy
University of Hull privacy policy & cookies
Website terms and conditions
Accessibility
Report a problem
Right usage of tenses in dissertations
Get your tenses right in your thesis/dissertation.
Master's and doctoral students often find it challenging to get their tense right when they write their thesis or dissertation.
This conclusion is based on the proofreading and editing of thousands and thousands of dissertations and essays over the years.
This article will shed light on how you, as an academic, can get your thesis written in the correct tense from start to end.
The confusion surrounding tenses often revolves chiefly around the use of the present, past and future tenses.
A key factor
A key question you need to ask yourself when you are confused as to whether which tense you should use is: "Is what I am writing about something I have already done or something I will still do?".
Your answer to this question will, in 99% of the cases, help you determine which tense you should use in the sentence, paragraph or section you are writing in your dissertation.
But let's explain in more detail how this works throughout your draft.
Thesis document
There are two ways of writing a dissertation or thesis: either gradually over time during your course of study or at the end of the academic investigation.
This likely the reason why many get confused about tenses in their academic papers, although this should not be the case.
The best way to get your tenses right is to think of a thesis manuscript as a document where you narrate and tell your readers what you DID, what you RESEARCHED, How you DID it, and what you FOUND.
So, essentially, the dissertation manuscript is a full description of your research which you have already DONE.
Where applicable?
Let's zoom in a bit more on where you need to use the past tense.
In the abstract section, you should never use the future or present tense when you explain the objective and aim of your study, i.e you should not say something like:
"This study will aim to investigate…."
"This study aims to investigate…."
You should instead say:
"This study aimed to investigate…." – this is because you have already completed your academic research and are now only reporting what you wanted to investigate.
The past tense should also always be used in the methodology section of your thesis.
For instance, you should say:
"The researcher employed a qualitative approach to investigate…."
"The research conducted interviews with the participants…."
Always remember you are telling your readers about what you did.
The past tense should also be used in the findings section, in which you, again, should be telling your readers about what you found in your research or conclusions you made based on experiments.
Exception
Although when writing your dissertation, most times you will be using the past tense, always remember that there are instances where you will have to use either future, present or present perfect.
Present tense: In the literature review section, when you refer to a study by an author/authors, you should be using the present tense.
For instance: "In his study, Robert D. (2009) explains that the best approach to studying psychology…etc"
You should also use the present tense when you are referring to opinions of other authors wherever applicable.
For instance: "Miller argues that the qualitative methodology is the most effective technique…etc"
Present perfect can be used in instances like: "Previous research has shown that...etc"
Future tense can be used in the future research recommendation section.
For example: "The research believes that more research efforts will be needed to plug this gap in research."
These are very quick and simple tips that should you get your tenses right when writing your thesis.
Still unsure how to use tenses correctly in your master thesis or dissertation and do not want to risk losing valuable marks? We are here to help. We provide very thorough and rigorous dissertation proofreading services. Just drop us a line .
See how clients review our proofreading services quality on Trustpilot.
The Ultimate Proofreader provides in-depth and professional PhD and Master's thesis proofreading services for PhD and MA students .
We also offer a specialised and bespoke paraphrasing service .
Assignment Writing Guide
Electrical Engineering
Civil Engineering
Software Engineering
Mechanical Engineering
Chemical Engineering
Computer Engineering
Robotics Assignment Help
Structural Engineering
Cryptography Assignment Help
Architecture Assignment Help
Business Assignment Help
Marketing Assignment Help
Hospitality Management
Financial Management
Hotel Management
Entrepreneurship
Asset Management
Risk Management
E Marketing Assignment Help
Childcare Assignment Help
Health Science Assignment Help
Nursing Assignment Help
Biotechnology Assignment Help
Physiotherapy Assignment Help
Human Physiology
Advanced Econometrics
Industrial Economics
Labour Economics
Petroleum Economics
Managerial Economics
International Economics
Microeconomics Assignment Help
Business Statistics
Boolean Algebra
Data Mining Assignment Help
Monte Carlo Simulation
Excel Assignment Help
MPLUS Assignment Help
SEM Assignment Help
Regression Analysis
Computer Architecture
Computer Graphics
SPSS Assignment Help
Animation Assignment Help
Big Data Assignment Help
Python Programming
Java Assignment Help
SQL Assignment Help
C Programming
Data Analysis
Computer Network
Operating System
Australian Taxation System
Managerial Accounting
Corporate Accounting
Auditing Assignment Help
MYOB Perdisco Assignment Help
XERO Assignment Help
Cost Accounting Assignment Help
Financial Accounting
Capital Budgeting
Corporate Finance
Corporate Financial Management
Business Law Assignment Help
Taxation Law Assignment Help
Commercial Law Assignment Help
Taxation Assignment Help
Corporate Law Assignment Help
Criminology
Employment Law Assignment Help
Human Rights Law Assignment Help
IT Management
Network security
Children Literature
Human Resource Management
Psychology Assignment Help
Communication Assignment Help
Consumer Behaviour
Customer Relationship Management
Artificial Intelligence
Political Science
Environmental Assignment Help
Matlab Assignment Help
Solidworks Assignment Help
Thermodynamics Assignment Help
CAD Assignment Help
AUTOCAD Assignment Help
Essay Writing Guide
Essay Writing Service
Essay Proofreading Service
Essay Editing Service
Economics Essay Writing
Law Essay Writing
Nursing Essay Writing
Scholarship Essay Writing
Dissertation Writing Guide
Finance Dissertation Help
Law Dissertation Help
Accounting Dissertation Help
Statistics Dissertation Help
Nursing Dissertation Help
Economics Dissertation Help
Marketing Dissertation Help
Management Dissertation
Academic Dissertation Help
Thesis Writing Help
Thesis Editing Service
College Coursework Help
Finance Coursework Help
Pay Someone To Do My Homework
CPM Homework Help
Algebra Homework Help
Do My Math Homework
Trigonometry Homework Help
Calculus Homework Help
Geometry Homework Help
Probability Homework Help
Regression Homework Help
Nursing Homework Help
Biology Homework Help
Chemistry Homework Help
Physics Homework Help
Python Homework Help
Java Homework Help
Spss Homework Help
Matlab Homework Help
Law Homework Help
US History Homework Help
World History Homework Help
Bond University
Charles Darwin University
Charles Sturt University
Deakin University
Melbourne University
Monash University
La Trobe University
Holmes Institute
University Of New England
University Of New South Wales
James Cook University
SOP Writing Help
LOR Writing Help
Paraphrasing Tool
Plagiarism Checker
Word Counter
APA Referencing
Harvard Referencing
Chicago Referencing
MLA Referencing
Oxford Referencing
Vancouver Referencing
Deakin Referencing
Get upto 50% discount + 10% Cashback
Share & earn.
Thank you for share referral link with your friend.
Tense Tendencies in Thesis and Dissertations
Score high grades with proper use of tenses in dissertation and thesis papers, tense trends in a dissertation: which tense to be used in which chapter.
However well and thoroughly researched your dissertation or dissertation may be, it will fail to impress and secure good grades if it has distorted grammar and spelling errors. So, before the submission of dissertation, you need to be doubly sure about your work by proofreading again and again to make it free from grammatical errors.
Let us discuss one of the most commonly made queries here. What tense to be used in which section of the dissertation? If you are confused about the same read on….
Consistency of verb throughout the dissertation ensures a smooth expression and leaves the impression of your dissertation as an impeccable one. So, which type of verb tenses should be used in the different sections of the dissertation? Here is a quick look:
When to Use Past Tense?
For describing Methodologies and Reporting Your Results:
Methodologies used is to be written in the past tense as it is something you have already attempted or completed so it should be written in the past tense only. Also, the results section is for the purpose of recording what you have found so it has to be written in past as well.
Citations or when referring to the work done by past researchers
When you cite any previous research in your dissertation, you need to use past tense. Citations of dissertation are to be written in the past tense. Whatever the previous researcher has said, did or wrote happened in the past at a specific point of time and hence it cannot be written in the present or future tense.
To describe a fact, law, finding or any other similar thing used in the dissertation which is no longer relevant or valid is to be mentioned in the past tense.
When to Use Present Tense?
For the findings that are general or universal truths or for the findings that are relevant and valid till date:
Present tense is used in the dissertations to express the findings that are still valid, relevant or true. Not only this, all the facts, general truths, conclusions, etc. that are supported by the research results and that cannot be changed are to be written in the present tense.
To refer any section or any portion which is a part of dissertation
If you refer to certain charts, tables or graphs etc. mentioned in the paper itself you should use a present tense only. Also, when you need to discuss your current findings or conclude depending on your current findings then you should use present tense.
Title: This is the place where no other tense accept present tense can be used.
Abstract of the Dissertation
Abstract of a dissertation is a short summary of a long and elaborative work. It enables the potential readers to identify what the paper is all about and decide whether the paper is worth reading or not. It includes statement of the topic, its purpose and objectives of the research. This is to be written in perfect past.
Introduction of the Dissertation:
It provides preliminary background information that puts research in context. It also clarifies the focus of study and also points out the value of research. This particular section specifies the aims and objectives of research work. It is to be written in (present and future) tense.
Methodologies Used:
In this section of the dissertation all the methods adopted for gathering and collecting data have to be mentioned along with their proper details. The section should be written in past perfect, present or in future tense.
Result of the Dissertation:
In this section of the dissertation work, you report the findings of study that are based on the methodologies used in conducting the dissertation. This section of the research work states the finding of research where researcher puts all the findings of the research logically without any interpretations. The section is to be written in Past perfect tense.
Discussions of Dissertation:
The purpose of discussion is to interpret and describe the importance of findings in the view of what is already known about the problem and to investigate and explain the understanding of dissertation. Since it is direct and straightforward, it should be written in present tense only. Since it is like a direct discussion with the readers, it needs to be in present tense only.
Conclusion:
Conclusion of a dissertation is an important section of dissertation work as it is the last part of dissertation and when you write it effectively, you will be able to create a lasting impression. So, aim towards making it the last impression and clearly state the answer of your research, make a summary of the entire research work and reflects your research. Conclusion is to be written in present tense mentioning the scope of further study on the topic.
Background: A Quick Look
There are three types of tenses that make 98% of the tensed verbs that are used in the academic writing. One of the most common tense used in writing dissertations is the present simple. Past simple and present perfect are also widely used.
Where to Use Present Simple Tense?
It is used for framing the Research paper. When you open the dissertation and begin to write what the readers already know about the topic and in the conclusion to tell what is not known.
Apart from that Present Simple is used for the following:
To point out the main focus, or argument or aim of the research paper.
To make general statements, interpretations, conclusions and other findings of the past and current research.
To refer to the findings of previous studies without the mention of author's name.
To refer to charts, tables or figures etc.
To describe the events or plots.
Where to Use Past Simple Tense?
The past simple tense is used for referring the activities that took in the past. There are some specific places where this tense is used.
To make general statements or the conclusions past simple tense is used. Sometimes, interpretations about the findings of the previous and current research are also done in past simple.
To describe methodologies or data.
To report the results of studies.
Where to Use Present Perfect Tense?
This tense is used to refer that the previous research work is valid and relevant today. This tense has three following functions.
For introducing any new topic or used for introducing a new report or a research paper.
For summarising or briefing the previous research.
For pointing out any gaps in the existing research work and to set a connection between the past and the present.
To explain any past findings without referring to the original paper.
Different sections of the dissertation take up different tenses. You need to be well aware and use your rationale to apply the correct form of tense. Future tense is used in the rare case but it can be used when future scope of any study done is discussed. There are times when you can switch tense within a paragraph or even within a sentence but you should have a good reason for doing so and the sentence should not sound weird anyway.
A glimpse of which tense to use where in dissertation
Chapter one which is an introduction or a prelude is to be written. Both the present and the past tense are used.
Chapter two is the literature review and it is to be written only in the past tense as they are the previously carried out works.
Chapter three is research analysis (specific methods chosen by the writer to carry out research work. It is to be written in past.
hapter four caters to results derived from research studies. It explains the results of objective, question and point out the salient results. It is to be written in combination of present and past.
Chapter five is conclusion, further discussions or future scope. It has to be in present tense only.
Our Services
Assignment Help
Homework Help
Dissertation Help
Thesis Help
Assignment Writing Help
Assignment Editing Service
Dissertation Writing Help
Dissertation Editing Service
Our Amazing Features
On Time Delivery
Plagiarism Free Work
24 X 7 Live Help
Services For All Subjects
Best Price Guarantee
Live Reviews
Eduardo 14 jul 2023.
I was not able to draft my assignment as per APA format. Therefore, I took help from your experts. They delivered the best-formatted work to me. Thank you!
Dimitri 14 Jul 2023
I was at a family function when I suddenly remembered my assignment being due the next day. I could not take the risk of scoring low grades hence, I got it done by your experts.
Bjorn 14 Jul 2023
You guys rock! Thanks a ton for drafting such an exceptional essay assignment for me. I got appreciated by my professors and the entire class too.
Benedict 14 Jul 2023
Thank you to your writers who wrote my chemistry assignment for me. I cannot believe I got an A grade in my university task. I would recommend your impeccable service to all my friends for sure.
Fill Your Mobile Number &
[email protected]
English English Spanish German French Turkish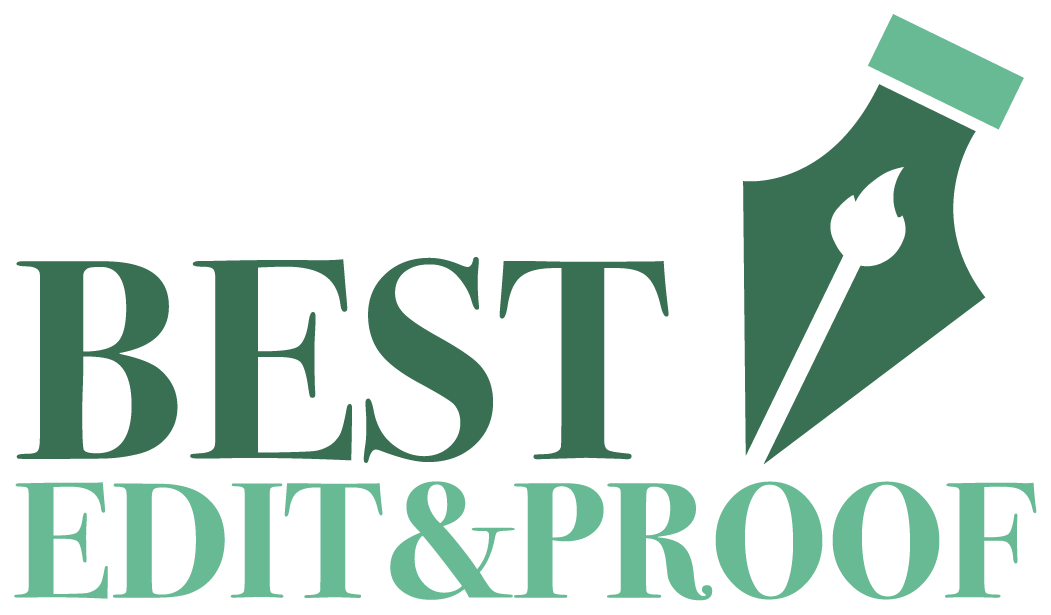 How Can You Decide on Tense Usage in Your Dissertation?
The corpus research suggests that the most often used tenses in academic writing are the simple present, the simple past, and the present perfect. Then, what comes next is the future tense.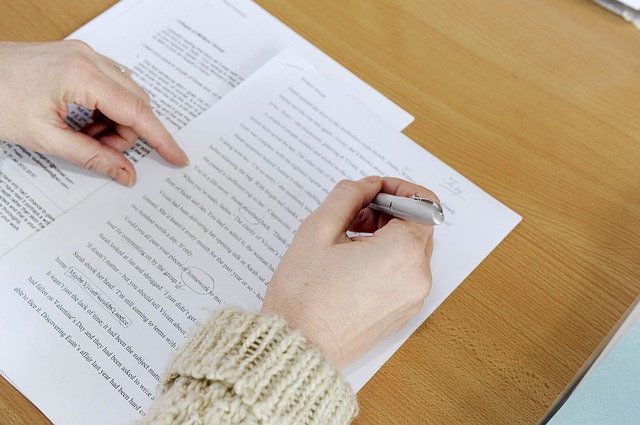 Which tenses are most common in academic writing?
The corpus research suggests that the most often used tenses in academic writing are the simple present tense, the simple past tense, and the present perfect tense. Then, what comes next is the future tense.
Simple present tense: You can use the simple present to define a general truth or a habitual action. This tense demonstrates that what you state is usually true in the past, present, and future.
Example: Water generally boils at 100C.
Simple past : You may employ the simple past tense to call a completed action that occurred at a specific point in the past (e.g., last month, one hour ago, last Sunday). The specific point of time is 2019 in the following example.
Example: The first known COVID outbreak started in Wuhan, Hubei, China, in November 2019.
Present perfect tense: The present perfect indicates an action occurring at a nonspecific time or repeatedly in the past. However, this action has a close connection with the present time. The present perfect tense may introduce background information in a paragraph, reinforcing the main idea mentioned there. Following the first sentence, switching to the simple past is possible.
Example: Many scientists have employed this method.
Example: Many researchers have investigated how a small firm can succeed after its poor start. They gradually learned what is essential in the market.
Future tense: You may use the future tense to describe an action that will occur at a particular point in the future (It is imperative when writing a research, grant, or dissertation proposal).
Example: I will conduct the ANOVA procedure in my study's statistical part.
APA guidelines concerning verb tenses
In its last published guideline, APA accentuated the consistency and accuracy in tense verb usage (APA 7, Section 4.12 and Table 4.1). It suggests that you must avoid unnecessary shifts in verb tense within a paragraph or adjacent paragraphs. This avoidance helps secure smooth expression and improves readability. It would be best if you used the past tense (e.g., scientists posed ) or the present perfect (e.g., researchers have concluded ) for the literature review . Thus, you must present the procedure description if you discuss past events. Nonetheless, it would help if you resorted to the past tense to describe the results (for example, ANOVA results revealed that the treatment improved food's shelf-life substantially). In discussing the implications of the results and present conclusions, you must use the present tense (i.e., our results suggest that alcohol consumption increases the accident incidence rate).
When you need to explain what an author or scientist stated or did, you must use the past tense.
Milliken (2012) reported, revealed, stated, found that…..…
Nevertheless, you can shift to the present tense if your research findings can be generalized or held in general:
Hunt (2010) revealed that revising a manuscript improves its chance of acceptance.
Kropf (2016) discovered that color is an essential trait of fresh meat.
Which tense should I use referring to my document (thesis, dissertation, research proposal, etc.)
If you wish to preview what is ahead in your text or elaborate on what is happening at that moment in your document, you must use either the present or future tense.
In this research, I will specify …
In this research, I specify …
In the last chapter, I will elaborate on …
In the last chapter, I elaborate on …
You can also refer back to already presented information, such as a synopsis of discussions that have already occurred or conclusions to your chapters or sections. Then, the tense you have to use is the past tense:
Chapter 1 contained the literature review.
In closing, in this section, I posed information on…
Should I use simple past tense or present perfect tense?
British and American English have slightly varying rules for using the present perfect tense. Scientists have also reported that individual preferences may dictate the usage of the simple past or the present perfect tense in American English. Put differently, an American English writer may opt for the simple past on specific occasions, whereas another American English writer may prefer the present perfect without apparent reasons.
However, you must note that the simple past tense denotes a completed action. Therefore, it usually employs signal words or phrases, including "yesterday," "last year," "a week ago," or "in 2020," to designate the specific time in the past when the action occurred.
I went to Greece in 2011 .
He finished the team member performance report last week .
The present perfect concentrates more on the action without accentuating the specific time it occurred. Note that the action has occurred even though the specific time is unavailable.
I have seen this movie three times .
The present perfect also concentrates more on the result of the action.
He has finished reviewing the manuscript.
You should be able to understand the usage of the present perfect with some signal words such as "since," "already," "just," "until now," "(not) yet," "so far," "ever," "lately," or "recently."
I have already finished the book on the Turkish economy.
Researchers have used this term since it was coined.
He has recently defended his Ph.D. dissertation.
If you need us to make your thesis or dissertation, contact us unhesitatingly!
Best Edit & Proof expert editors and proofreaders focus on offering papers with proper tone, content, and style of academic writing, and also provide an upscale editing and proofreading service for you. If you consider our pieces of advice, you will witness a notable increase in the chance for your research manuscript to be accepted by the publishers. We work together as an academic writing style guide by bestowing subject-area editing and proofreading around several categorized writing styles. With the group of our expert editors, you will always find us all set to help you identify the tone and style that your manuscript needs to get a nod from the publishers.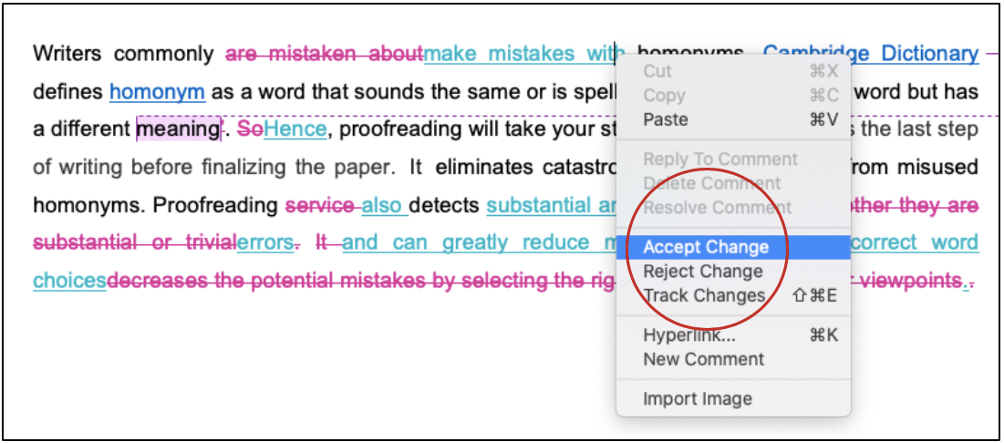 English formatting service
You can also avail of our assistance if you are looking for editors who can format your manuscript, or just check on the particular styles for the formatting task as per the guidelines provided to you, e.g., APA, MLA, or Chicago/Turabian styles. Best Edit & Proof editors and proofreaders provide all sorts of academic writing help, including editing and proofreading services, using our user-friendly website, and a streamlined ordering process.
Get a free quote for editing and proofreading now!
Visit our order page if you want our subject-area editors or language experts to work on your manuscript to improve its tone and style and give it a perfect academic tone and style through proper editing and proofreading. The process of submitting a paper is very easy and quick. Click here to find out how it works.
Our pricing is based on the type of service you avail of here, be it editing or proofreading. We charge on the basis of the word count of your manuscript that you submit for editing and proofreading and the turnaround time it takes to get it done. If you want to get an instant price quote for your project, copy and paste your document or enter your word count into our pricing calculator.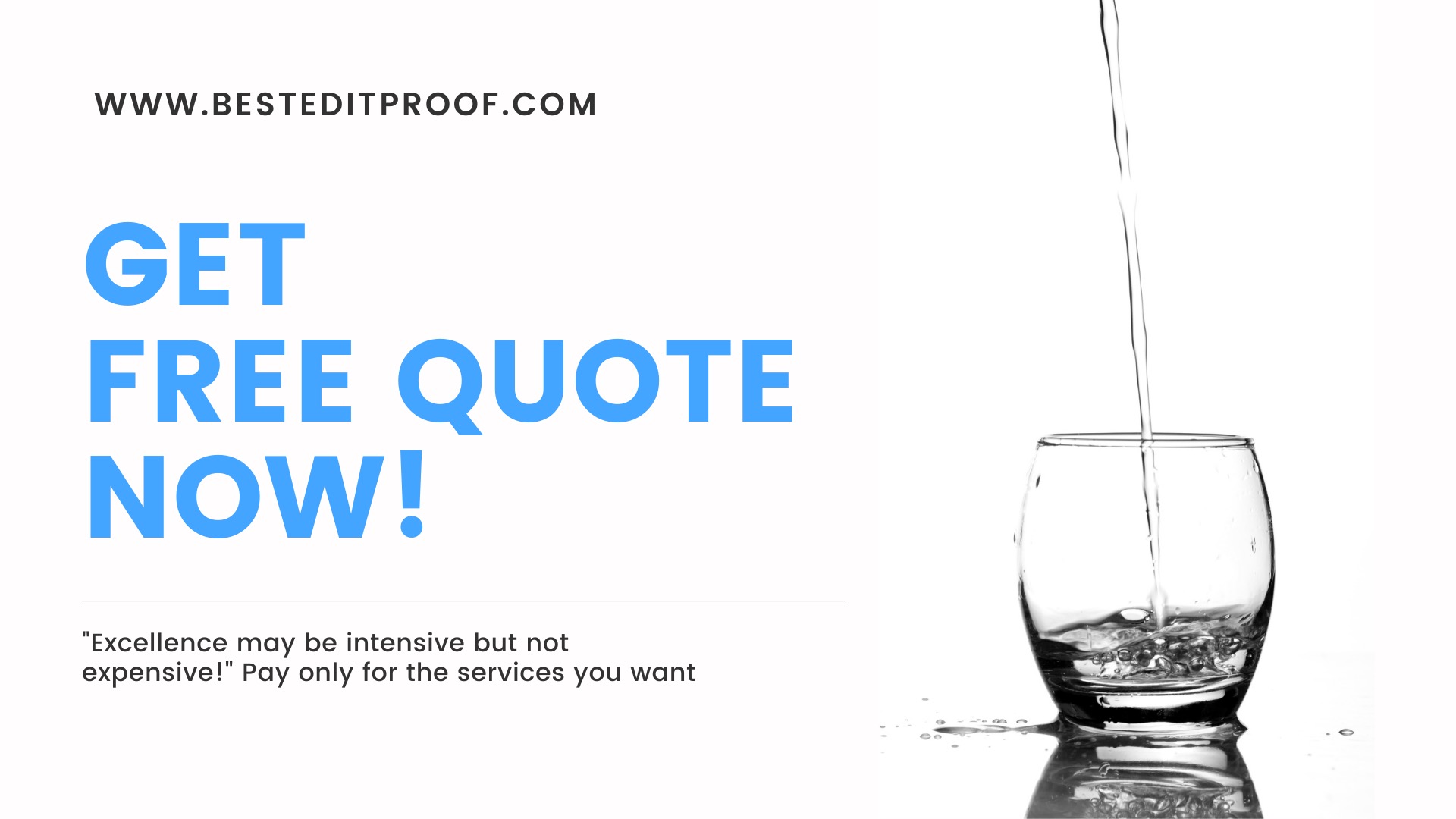 24/7 customer support | Live support
Contact us to get support with academic editing and proofreading. We have a 24/7 active live chat mode to offer you direct support along with qualified editors to refine and furbish your manuscript.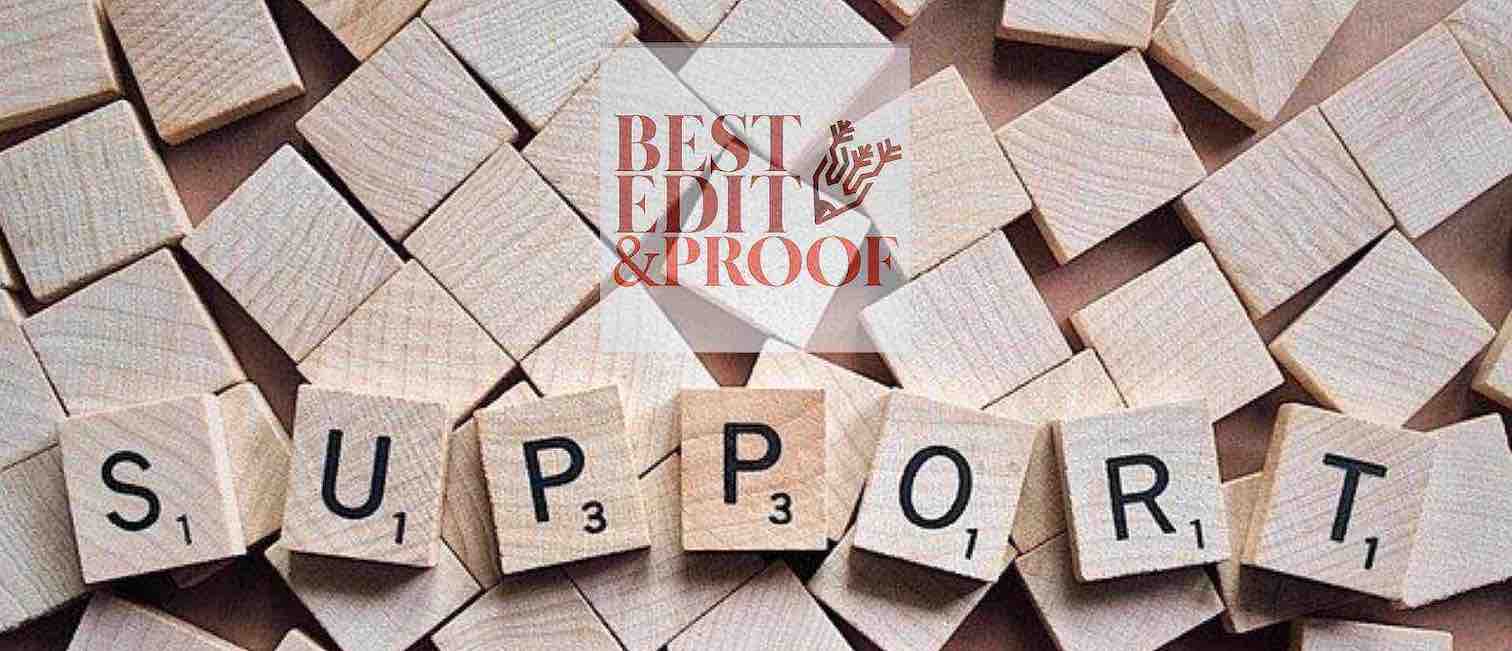 Stay tuned for updated information about editing and proofreading services!
Follow us on Twitter, LinkedIn, Facebook, Instagram, and Medium .
For more posts, click here.
This article explains how can you dictate on tense usage in a dissertation or thesis. To give you an opportunity to practice proofreading, we have left a few spelling, punctuation, or grammatical errors in the text. See if you can spot them! If you spot the errors correctly, you will be entitled to a 10% discount.
Editing & Proofreading
Citation Styles
Grammar Rules
Academic Writing
Proofreading
Microsoft Tools
Academic Publishing
Dissertation & Thesis
Researching
Job & Research Application
Similar Posts
How to Determine Variability in a Dataset
Population vs Sample | Sampling Methods for a Dissertation
7 Issues to Avoid That may Dent the Quality of Thesis Writing
How to Ensure the Quality of Academic Writing in a Thesis and Dissertation?
How to Define Population and Sample in a Dissertation?
How can You Establish Experimental Design in Your Dissertation?
How Can You Write an Abstract for Your Dissertation?
How to Build Research Methods for Your Dissertation
How to Build a Strong Hypothesis for Your Dissertation
How Can You Develop Solid Research Questions for Your Dissertation?
Recent Posts
How to Determine Central Tendency
ANOVA vs MANOVA: Which Method to Use in Dissertations?
How to Specify Study Variables in Research Papers?
They Also Read

An abstract, is an important part of an academic work and a synopsis of a longer study such as a dissertation or thesis. Its most critical aspect is precise reporting of the objectives and outcomes of your research. Thus, the readers can learn about your work by perusing your abstract.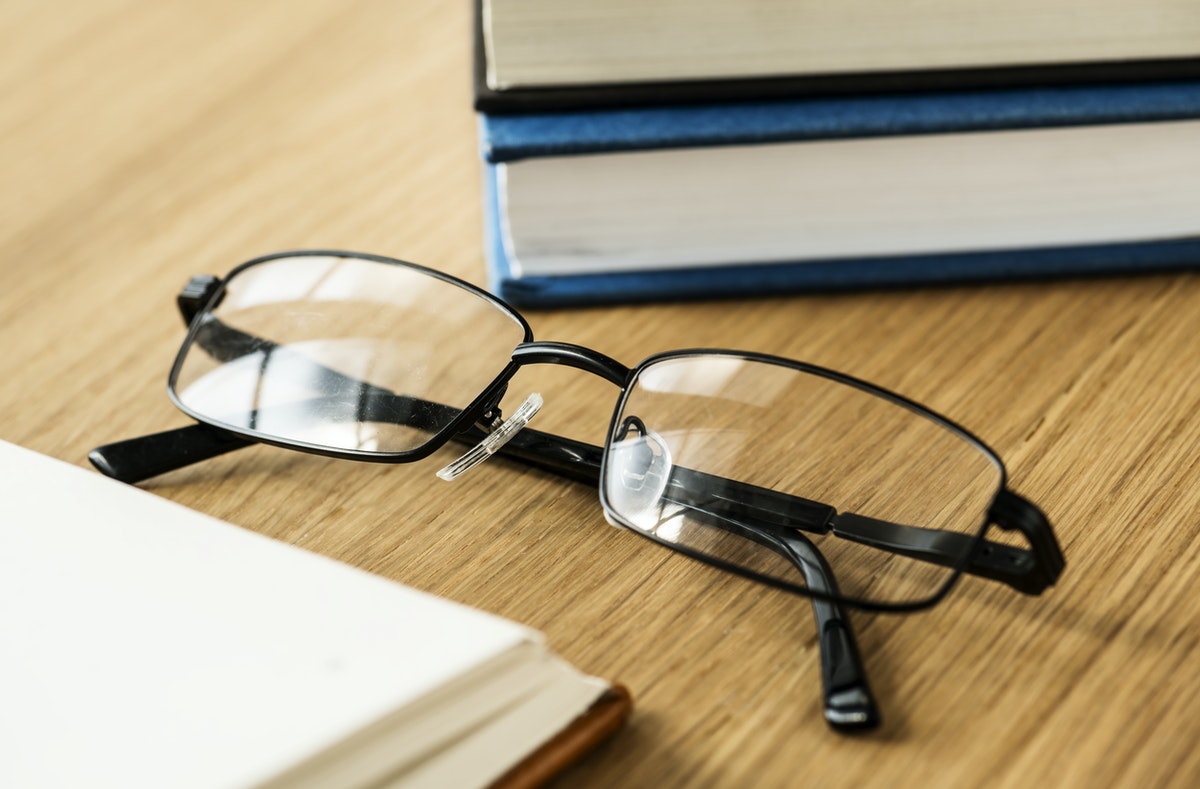 What you aim to address in your dissertation relates to a research problem. It is primarily a unique issue, challenge, paradox, or breach in the current literature. It would be best if you searched for practical problems and targeted addressing them to expand the actual knowledge.

In statistics, a population refers to the pool of individuals from which one can draw the statistical sample for a study. A population includes a complete set of individuals. That group can comprise a nation or people sharing common characteristics.
Frequently asked questions
What tense should i write the methods section in.
You should report methods using the past tense , even if you haven't completed your study at the time of writing. That's because the methods section is intended to describe completed actions or research.
Frequently asked questions: APA Style
APA footnotes use superscript numbers and should appear in numerical order. You can place footnotes at the bottom of the relevant pages, or on a separate footnotes page at the end:
For footnotes at the bottom of the page, you can use your word processor to automatically insert footnotes .
For footnotes at the end of the text in APA, place them on a separate page entitled "Footnotes," after the r eference page . Indent the first line of each footnote, and double-space them.
For both approaches, place a space between the superscript number and the footnote text.
APA Style requires you to use APA in-text citations , not footnotes, to cite sources .
However, you can use APA footnotes sparingly for two purposes:
Giving additional information
Providing copyright attribution
Yes, APA language guidelines state that you should always use the serial comma (aka Oxford comma ) in your writing.
This means including a comma before the word "and" at the end of a list of three or more items: "spelling, grammar, and punctuation." Doing this consistently tends to make your lists less ambiguous.
Yes, it's perfectly valid to write sentences in the passive voice . The APA language guidelines do caution against overusing the passive voice, because it can obscure your meaning or be needlessly long-winded. For this reason, default to the active voice in most cases.
The passive voice is most useful when the point of the sentence is just to state what was done, not to emphasize who did it. For example, "The projector was mounted on the wall" is better than "James and I mounted the projector on the wall" if it's not particularly important who mounted the projector.
Yes, APA language guidelines encourage you to use the first-person pronouns "I" or "we" when referring to yourself or a group including yourself in your writing.
In APA Style, you should not refer to yourself in the third person. For example, do not refer to yourself as "the researcher" or "the author" but simply as "I" or "me." Referring to yourself in the third person is still common practice in some academic fields, but APA Style rejects this convention.
If you cite several sources by the same author or group of authors, you'll distinguish between them in your APA in-text citations using the year of publication.
If you cite multiple sources by the same author(s) at the same point , you can just write the author name(s) once and separate the different years with commas, e.g., (Smith, 2020, 2021).
To distinguish between sources with the same author(s) and  the same publication year, add a different lowercase letter after the year for each source, e.g., (Smith, 2020, 2021a, 2021b). Add the same letters to the corresponding reference entries .
According to the APA guidelines, you should report enough detail on inferential statistics so that your readers understand your analyses.
Report the following for each hypothesis test:
the test statistic value
the degrees of freedom
the exact p value (unless it is less than 0.001)
the magnitude and direction of the effect
You should also present confidence intervals and estimates of effect sizes where relevant.
The number of decimal places to report depends on what you're reporting. Generally, you should aim to round numbers while retaining precision. It's best to present fewer decimal digits to aid easy understanding.
Use one decimal place for:
Standard deviations
Descriptive statistics based on discrete data
Use two decimal places for:
Correlation coefficients
Proportions
Inferential test statistics such as t values, F values, and chi-squares.
No, including a URL is optional in APA Style reference entries for legal sources (e.g. court cases , laws ). It can be useful to do so to aid the reader in retrieving the source, but it's not required, since the other information included should be enough to locate it.
Generally, you should identify a law in an APA reference entry by its location in the United States Code (U.S.C.).
But if the law is either spread across various sections of the code or not featured in the code at all, include the public law number in addition to information on the source you accessed the law in, e.g.:
In your APA methods section , you should report detailed information on the participants, materials, and procedures used.
Describe all relevant participant or subject characteristics, the sampling procedures used and the sample size and power .
Define all primary and secondary measures and discuss the quality of measurements.
Specify the data collection methods, the research design and data analysis strategy, including any steps taken to transform the data and statistical analyses.
With APA legal citations, it's recommended to cite all the reporters (publications reporting cases) in which a court case appears. To cite multiple reporters, just separate them with commas in your reference entry . This is called parallel citation .
Don't repeat the name of the case, court, or year; just list the volume, reporter, and page number for each citation. For example:
In APA Style , when you're citing a recent court case that has not yet been reported in print and thus doesn't have a specific page number, include a series of three underscores (___) where the page number would usually appear:
In APA style, statistics can be presented in the main text or as tables or figures . To decide how to present numbers, you can follow APA guidelines:
To present three or fewer numbers, try a sentence,
To present between 4 and 20 numbers, try a table,
To present more than 20 numbers, try a figure.
Since these are general guidelines, use your own judgment and feedback from others for effective presentation of numbers.
In an APA results section , you should generally report the following:
Participant flow and recruitment period.
Missing data and any adverse events.
Descriptive statistics about your samples.
Inferential statistics , including confidence intervals and effect sizes.
Results of any subgroup or exploratory analyses, if applicable.
When citing a podcast episode in APA Style , the podcast's host is listed as author , accompanied by a label identifying their role, e.g. Glass, I. (Host).
When citing a whole podcast series, if different episodes have different hosts, list the executive producer(s) instead. Again, include a label identifying their role, e.g. Lechtenberg, S. (Producer).
Like most style guides , APA recommends listing the book of the Bible you're citing in your APA in-text citation , in combination with chapter and verse numbers. For example:
Books of the Bible may be abbreviated to save space; a list of standard abbreviations can be found here . Page numbers are not used in Bible citations.
Yes, in the 7th edition of APA Style , versions of the Bible are treated much like other books ; you should include the edition you used in your reference list .
Previously, in the 6th edition of the APA manual, it was recommended to just use APA 6 in-text citations to refer to the Bible, and omit it from the reference list.
To make it easy for the reader to find the YouTube video , list the person or organization who uploaded the video as the author in your reference entry and APA in-text citation .
If this isn't the same person responsible for the content of the video, you might want to make this clear in the text. For example:
When you need to highlight a specific moment in a video or audio source, use a timestamp in your APA in-text citation . Just include the timestamp from the start of the part you're citing. For example:
To include a direct quote in APA , follow these rules:
Quotes under 40 words are placed in double quotation marks .
Quotes of 40 words or more are formatted as block quote .
The author, year, and page number are included in an APA in-text citation .
APA doesn't require you to include a list of tables or a list of figures . However, it is advisable to do so if your text is long enough to feature a table of contents and it includes a lot of tables and/or figures .
A list of tables and list of figures appear (in that order) after your table of contents, and are presented in a similar way.
Copyright information can usually be found wherever the table or figure was published. For example, for a diagram in a journal article , look on the journal's website or the database where you found the article. Images found on sites like Flickr are listed with clear copyright information.
If you find that permission is required to reproduce the material, be sure to contact the author or publisher and ask for it.
If you adapt or reproduce a table or figure from another source, you should include that source in your APA reference list . You should also include copyright information in the note for the table or figure, and include an APA in-text citation when you refer to it.
Tables and figures you created yourself, based on your own data, are not included in the reference list.
An APA in-text citation is placed before the final punctuation mark in a sentence.
The company invested over 40,000 hours in optimizing its algorithm (Davis, 2011) .
A recent poll suggests that EU membership "would be backed by 55 percent of Danish voters" in a referendum (Levring, 2018) .
In an APA in-text citation , you use the phrase " as cited in " if you want to cite a source indirectly (i.e., if you cannot find the original source).
Parenthetical citation: (Brown, 1829, as cited in Mahone, 2018) Narrative citation: Brown (1829, as cited in Mahone, 2018) states that…
On the reference page , you only include the secondary source (Mahone, 2018).
Popular word processors like Microsoft Word and Google Docs can order lists in alphabetical order, but they don't follow the APA Style alphabetization guidelines .
If you use Scribbr's APA Citation Generator to create citations, references are ordered automatically based on the APA guidelines, taking into account all the exceptions.
Order numerals as though they were spelled out:
"20 tips to relax" is ordered on the "T" of "Twenty".
"100 cities you should visit" is ordered on the "O" of "One hundred".
Read more about alphabetizing the APA reference page .
If the author of a work is unknown, order the reference by its title. Disregard the words "A", "An", and "The" at the beginning of the title.
The privacy concerns around social media
Teens, social media, and privacy
Yes, if relevant you can and should include APA in-text citations in your appendices . Use author-date citations as you do in the main text.
Any sources cited in your appendices should appear in your reference list . Do not create a separate reference list for your appendices.
When you include more than one appendix in an APA Style paper , they should be labeled "Appendix A," "Appendix B," and so on.
When you only include a single appendix, it is simply called "Appendix" and referred to as such in the main text.
Appendices in an APA Style paper appear right at the end, after the reference list and after your tables and figures if you've also included these at the end.
An appendix contains information that supplements the reader's understanding of your research but is not essential to it. For example:
Interview transcripts
Questionnaires
Detailed descriptions of equipment
Something is only worth including as an appendix if you refer to information from it at some point in the text (e.g. quoting from an interview transcript). If you don't, it should probably be removed.
If you adapt or reproduce a table or figure from another source, you should include that source in your APA reference list . You should also acknowledge the original source in the note or caption for the table or figure.
APA doesn't require you to include a list of tables or a list of figures . However, it is advisable to do so if your text is long enough to feature a table of contents and it includes a lot of tables and/or figures.
A list of tables and list of figures appear (in that order) after your table of contents , and are presented in a similar way.
In an APA Style paper , use a table or figure when it's a clearer way to present important data than describing it in your main text. This is often the case when you need to communicate a large amount of information.
Before including a table or figure in your text, always reflect on whether it's useful to your readers' understanding:
Could this information be quickly summarized in the text instead?
Is it important to your arguments?
Does the table or figure require too much explanation to be efficient?
If the data you need to present only contains a few relevant numbers, try summarizing it in the text (potentially including full data in an appendix ). If describing the data makes your text overly long and difficult to read, a table or figure may be the best option.
In an APA Style paper , the abstract is placed on a separate page after the title page (page 2).
An APA abstract is around 150–250 words long. However, always check your target journal's guidelines and don't exceed the specified word count.
In APA Style , all sources that are not retrievable for the reader are cited as personal communications . In other words, if your source is private or inaccessible to the audience of your paper , it's a personal communication.
Common examples include conversations, emails, messages, letters, and unrecorded interviews or performances.
Interviews you conducted yourself are not included in your reference list , but instead cited in the text as personal communications .
Published or recorded interviews are included in the reference list. Cite them in the usual format of the source type (for example, a newspaper article , website or YouTube video ).
To cite a public post from social media , use the first 20 words of the post as a title, include the date it was posted and a URL, and mention the author's username if they have one:
Dorsey, J. [@jack]. (2018, March 1). We're committing Twitter to help increase the collective health, openness, and civility of public conversation, and to hold ourselves publicly [Tweet]. Twitter. https://twitter.com/jack/status/969234275420655616
To cite content from social media that is not publicly accessible (e.g. direct messages, posts from private groups or user profiles), cite it as a personal communication in the text, but do not include it in the reference list :
When contacted online, the minister stated that the project was proceeding "according to plan" (R. James, Twitter direct message, March 25, 2017).
When you quote or paraphrase a specific passage from a source, you need to indicate the location of the passage in your APA in-text citation . If there are no page numbers (e.g. when citing a website ) but the text is long, you can instead use section headings, paragraph numbers, or a combination of the two:
(Caulfield, 2019, Linking section, para. 1).
Section headings can be shortened if necessary. Kindle location numbers should not be used in ebook citations , as they are unreliable.
If you are referring to the source as a whole, it's not necessary to include a page number or other marker.
When no individual author name is listed, but the source can clearly be attributed to a specific organization—e.g., a press release by a charity, a report by an agency, or a page from a company's website—use the organization's name as the author in the reference entry and APA in-text citations .
When no author at all can be determined—e.g. a collaboratively edited wiki or an online article published anonymously—use the title in place of the author. In the in-text citation, put the title in quotation marks if it appears in plain text in the reference list, and in italics if it appears in italics in the reference list. Shorten it if necessary.
APA Style usually does not require an access date. You never need to include one when citing journal articles , e-books , or other stable online sources.
However, if you are citing a website or online article that's designed to change over time, it's a good idea to include an access date. In this case, write it in the following format at the end of the reference: Retrieved October 19, 2020, from https://www.uva.nl/en/about-the-uva/about-the-university/about-the-university.html
The 7th edition APA Manual , published in October 2019, is the most current edition. However, the 6th edition, published in 2009, is still used by many universities and journals.
The APA Manual 7th edition can be purchased at Amazon as a hardcover, paperback or spiral-bound version. You can also buy an ebook version at RedShelf .
The American Psychological Association anticipates that most people will start using the 7th edition in the spring of 2020 or thereafter.
It's best to ask your supervisor or check the website of the journal you want to publish in to see which APA guidelines you should follow.
If you're citing from an edition other than the first (e.g. a 2nd edition or revised edition), the edition appears in the reference, abbreviated in parentheses after the book's title (e.g. 2nd ed. or Rev. ed.).
In the 7th edition of the APA manual, no location information is required for publishers. The 6th edition previously required you to include the city and state where the publisher was located, but this is no longer the case.
In an APA reference list , journal article citations include only the year of publication, not the exact date, month, or season.
The inclusion of volume and issue numbers makes a more specific date unnecessary.
In an APA journal citation , if a DOI (digital object identifier) is available for an article, always include it.
If an article has no DOI, and you accessed it through a database or in print, just omit the DOI.
If an article has no DOI, and you accessed it through a website other than a database (for example, the journal's own website), include a URL linking to the article.
You may include up to 20 authors in a reference list entry .
When an article has more than 20 authors, replace the names prior to the final listed author with an ellipsis, but do not omit the final author:
Davis, Y., Smith, J., Caulfield, F., Pullman, H., Carlisle, J., Donahue, S. D., James, F., O'Donnell, K., Singh, J., Johnson, L., Streefkerk, R., McCombes, S., Corrieri, L., Valck, X., Baldwin, F. M., Lorde, J., Wardell, K., Lao, W., Yang, P., . . . O'Brien, T. (2012).
Include the DOI at the very end of the APA reference entry . If you're using the 6th edition APA guidelines, the DOI is preceded by the label "doi:". In the 7th edition , the DOI is preceded by 'https://doi.org/'.
6th edition: doi: 10.1177/0894439316660340
7th edition: https://doi.org/ 10.1177/0894439316660340
APA citation example (7th edition)
Hawi, N. S., & Samaha, M. (2016). The relations among social media addiction, self-esteem, and life satisfaction in university students. Social Science Computer Review , 35 (5), 576–586. https://doi.org/10.1177/0894439316660340
When citing a webpage or online article , the APA in-text citation consists of the author's last name and year of publication. For example: (Worland & Williams, 2015). Note that the author can also be an organization. For example: (American Psychological Association, 2019).
If you're quoting you should also include a locator. Since web pages don't have page numbers, you can use one of the following options:
Paragraph number: (Smith, 2018, para. 15).
Heading or section name: ( CDC, 2020, Flu Season section)
Abbreviated heading:  ( CDC, 2020, "Key Facts" section)
Always include page numbers in the APA in-text citation when quoting a source . Don't include page numbers when referring to a work as a whole – for example, an entire book or journal article.
If your source does not have page numbers, you can use an alternative locator such as a timestamp, chapter heading or paragraph number.
Instead of the author's name, include the first few words of the work's title in the in-text citation. Enclose the title in double quotation marks when citing an article, web page or book chapter. Italicize the title of periodicals, books, and reports.
No publication date
If the publication date is unknown , use "n.d." (no date) instead. For example: (Johnson, n.d.).
The abbreviation " et al. " (meaning "and others") is used to shorten APA in-text citations with three or more authors . Here's how it works:
Only include the first author's last name, followed by "et al.", a comma and the year of publication, for example (Taylor et al., 2018).
APA Style papers should be written in a font that is legible and widely accessible. For example:
Times New Roman (12pt.)
Arial (11pt.)
Calibri (11pt.)
Georgia (11pt.)
The same font and font size is used throughout the document, including the running head , page numbers, headings , and the reference page . Text in footnotes and figure images may be smaller and use single line spacing.
The easiest way to set up APA format in Word is to download Scribbr's free APA format template for student papers or professional papers.
Alternatively, you can watch Scribbr's 5-minute step-by-step tutorial or check out our APA format guide with examples.
You need an APA in-text citation and reference entry . Each source type has its own format; for example, a webpage citation is different from a book citation .
Use Scribbr's free APA Citation Generator to generate flawless citations in seconds or take a look at our APA citation examples .
APA format is widely used by professionals, researchers, and students in the social and behavioral sciences, including fields like education, psychology, and business.
Be sure to check the guidelines of your university or the journal you want to be published in to double-check which style you should be using.
Yes, page numbers are included on all pages, including the title page , table of contents , and reference page . Page numbers should be right-aligned in the page header.
To insert page numbers in Microsoft Word or Google Docs, click 'Insert' and then 'Page number'.
Ask our team
Want to contact us directly? No problem.  We  are always here for you.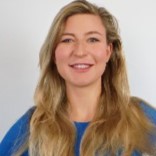 Our team helps students graduate by offering:
A world-class citation generator
Plagiarism Checker software powered by Turnitin
Innovative Citation Checker software
Professional proofreading services
Over 300 helpful articles about academic writing, citing sources, plagiarism, and more
Scribbr specializes in editing study-related documents . We proofread:
PhD dissertations
Research proposals
Personal statements
Admission essays
Motivation letters
Reflection papers
Journal articles
Capstone projects
The Scribbr Plagiarism Checker is powered by elements of Turnitin's Similarity Checker , namely the plagiarism detection software and the Internet Archive and Premium Scholarly Publications content databases .
The Scribbr Citation Generator is developed using the open-source Citation Style Language (CSL) project and Frank Bennett's citeproc-js . It's the same technology used by dozens of other popular citation tools, including Mendeley and Zotero.
You can find all the citation styles and locales used in the Scribbr Citation Generator in our publicly accessible repository on Github .
writeitrightstudycoach
Study coaching
How it works
What do my clients say?
Site details
Tips for Writing your Dissertation
Tips for Writing your Dissertation
I have listed below a few tips, which will help with your dissertation writing. The tips are about common mistakes which students make, but they can be avoided very easily. I hope this helps!
Stay impersonal in the dissertation. For example, Say: 'The following methodology was applied in the study.' Or:  'The researcher applied the following methodology in the study.' Rather than: 'I applied the following methodology in my study.'
If you want to list a number of points , or processes, Say:  'Firstly, secondly, thirdly, fourthly' etc. Rather than:  'First, second, third, fourth 'etc.
Notice the difference between the words 'dissertation' and  'research' or 'study' . Your dissertation is the paper you are writing, while your research is the activity you have just completed. Therefore, when you are writing it up, Say:  'This research investigated …' Or:  'This study investigated…' Rather than: 'This dissertation investigated…'
The term 'research' is one of those strange English words that is not used in the plural. So, Say:  'There have been many studies into…' Or:  'There has been much research into…' (and you can still then discuss several pieces of research!). Rather than: 'There have been many researches into…'
The words 'previous' or 'earlier' are commonly used in English. Say: 'Previous research has shown….' Or: 'Earlier research has shown…' Using the word 'prior' is OK, but it is a bit old-fashioned.
Using 'a' or 'the' . Use 'a' when you are talking about something in general. Use 'the' when you are talking about something in particular. For example, 'The characteristics of a company can be described as…' has a different meaning from, 'The characteristics of the company can be described as…' In the first example, you are talking about companies in general , as a generic term, while the second example refers to the particular company you are writing about. Please remember, this USUALLY works, but English is a language that has rules which get broken all the time! (Don't give up!)
Guidelines about which tense to use in different parts of your dissertation:
By the time you get to this stage, you will probably have already written a Research proposal , which will have outlined your area of interest and how you intend to do the research. This will mostly have been written in the future tense, because you have not yet done the research.
It is perfectly OK to use some of the text from your Research proposal in your dissertation, but you should change it from the future tense to the past tense. For example, 'This research will investigate…' should change to, 'This research investigated…'
In your Literature Review , it is OK to write in the present tense, but it reads better if you write it in the past tense. For example, 'Smith (1998) argues that…' is OK, but 1998 is in the past and it reads better if you say, 'Smith (1998) argued that…' Whichever tense you choose to use, make sure you are consistent . Use it throughout the Literature Review when you are discussing earlier, or previous, research.
In your Methodology Chapter , you may also be using text you have already written in your Research Proposal. Remember to change it from the future tense to the past tense, because you will have carried out the research by now, and so it is in the past.
The same thing applies to your Results and Analysis Chapter . Most of it should be written in the past tense, although if you are commenting on the results, it is OK to use the present tense. For example, 'The results showed that…' (This uses the past tense, because the results have been achieved.), but you can also say, 'The significance of these results is that …' (This uses the present tense, because you are commenting NOW on the results.).
In your Conclusions, Limitations and Recommendations for further research Chapter , your Conclusions and Limitations will generally be in the past tense. For example, 'The main conclusions of the study were…' 'There were limitations to this study…' However, the Recommendations are more likely to be in the present tense or a future tense. For example, 'Recommendations for further research are…' 'Another area to investigate could be…'
With regard to commas, colons and semi-colons :
Semi-colons are used to join two things which could be separate sentences, but which are closely linked: Whatever words follow the use of a semi-colon, they MUST be able to stand as a sentence in their own right; if they don't, you should probably use a comma.
If you check through these guidelines before you submit work to me you will be pleased to find that:
I will make fewer suggestions for improvement (makes you feel better),
The review will be completed more quickly (makes us both feel better),
The review will cost you less!
Share this:
Comments are closed.
Fiona Lindsay
Create a free website or blog at WordPress.com.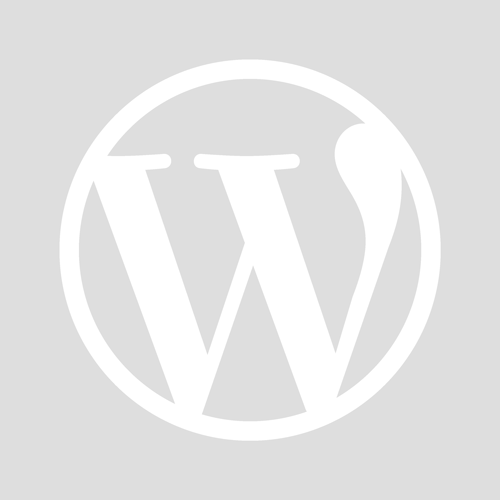 Copy shortlink
Report this content
Manage subscriptions
Something went wrong. Wait a moment and try again.